Market Intros
Bedding
BAY LINENS
New York (212) 244-4125
Bay Linens is showing luxury decorative bedding ensembles to cover a wide variety of fashion trends such as Lodge, Romantic Florals, Regal Elegance, Tropical Fantasy and Upscale Modern.
Bay Linens also presents Glencora, a decorative bedding ensemble with a soft romantic floral printed on a textured cotton ground.
DOWNTOWN CO.
Wayne, N.J. (973) 305-8030
Chelsea duvets and shams from Downtown Co. have a beautifully detailed style. The extra wide hemstitch border has two additional solid color borders as trim.The product is 100% Egyptian cotton and made in Portugal.
ELLERY HOMESTYLES
New York (212) 448-4448
Summer Hideaway is a floral made simple with its two-tone color effects. A toile-like floral design rendering coupled with a subtle use of color allows the background of Onyx to pop. Printed on 100% cotton with down-the-lane stripe alternating bands of color that create an impactful companion. This is the reverse of the comforter and Euro, bed skirt and sheet coordinate. The box quilted coverlet is in bold pineapple yellow reversing to the floral print. Comes complete with tabletop, window and duvet coordinates.
GREENLAND HOME FASHIONS
New York (800) 677-8140
Greenland Home Fashions presents Azure Prairie from the San Marino Collection. Inspired by cottage living, where azure blue water and sky meet the white sand, creating a tranquil retreat with this classic patched quilt. Ruffled trims give a homespun layered look to the 100% cotton quilt.
HALLMART COLLECTIBLES
Sun Valley, Calif. (708) 473-2877
Soquol from Hallmart Collectibles is adult bedding in a delicate coloration of light slate and rock blue to set a peaceful mood. Simple feather motif across center creates texture and style to further enhance color tone. Unique piecing and pin tuck stitching provides fashion appeal. Easy care with cotton/ poly blend. Four-piece set retails: $149 queen and $179 king.
LAMEIRINHO'S
Portugal +351253422000
Lameirinho's high-density fabrics, exquisite fiber blends, and large palette of colors have a single objective: a huge concern with the touch and softness of the fabrics and a constant search for more eco-friendly solutions for the environment.
LAWRENCE HOME FASHIONS, INC.
Quebec (514) 343-3740
As part of the Maison de Vie Collection, Green Tea and Jasmine Tea are two new spring like floral prints on a white ground with delicate embroidered tendrils adding texture and visual interest. Brea and Arona are two new contemporary and stylish patterns.
In the Suite Couture Collection, Triomphe is a new introduction, a luxurious ice blue woven jacquard with crushed velvet and jeweled beads as accents.
Lawrence Home also introduces two new designs in the Eco-friendly Sky Collection: Izumi and Chi. Both are woven with bamboo/cotton blends. Accented with intricate foliage embroidery, sheet sets are coordinated with a silky soft bamboo/cotton print with a delicate hem stitch on the cuff.
MICROTEX
New York (212) 845-9488
Silver-Tek bed set-bed linens from Microtex are made from 97% cotton and 3% Silver-Tek fiber, featuring Silver-Tek's anti-microbial, anti-odor, anti-static and heat transferring properties.
NOSTALGIA HOME
Vernon Hills, Ill. (847) 918-9930
Nostalgia Home offers the Noir Collection, including a beautifully handcrafted duvet with circular stitched medallions on a 300 thread count cotton sateen with matching shams.
PACIFIC COAST HOME FURNISHINGS
Commerce, Calif. (323) 838-7808
The Tesoro collection by Pacific Coast Home Furnishings for Jessica McClintock Home offers the classically fresh colors of gold, topaz, and amber of coral. This ensemble offers matching trims, pleating and embroidery.
PREMIER FINE LINENS
Coimbatore, India
+91 422-2221223
Premier Fine Linens introduces Ecora, a new line of exquisite and luxurious organic bed linen. Certified under Global Organic Textiles Standards (GOTS) of Control Union Certifications, Netherlands, every aspect of the organic products will meet stringent requirements, from cotton growing and harvesting through yarn spinning, fabric weaving, processing and final packaging.
RAYMOND WAITES DESIGN
New York (212) 447-8700
As well as using sophisticated sewing and construction techniques, this season Raymond Waites is paying special attention to alternative fabrics. Exquisite silks, soft linen cotton blends, and certified organic cottons are a notable few that are being used.
Market will also host the debut of Reflections, a line of bedding which is certified organic from product to packaging.
Marietta from Raymond Waites features an extravagant fern embroidery on soft sateen cotton that is able to preserve luxury-laden Mother Nature. The fern embroidery is coupled with an elaborate pin-tuck pattern and detailed with delicate macramé inserts. Both lyrical and lacy, these embroidered ferns will envelop you in the grandeur of woodlands.
RETRO USA
New York (212) 213-8838
Belgravia, the latest bedding ensemble from Retro USA, features a traditional print in bold neutral colors, with complementing stripe and accessories.
REVMAN INTERNATIONAL, INC.
New York (212) 278-0300
Laura Ashley's five new beds celebrate Spring: Bridal Lace is beautifully embellished with warm tones of ivory and taupe; Sabrina updates white on white embroidery with a border of robin's egg blue; Caroline is a fresh take on a classic blue and yellow rose print; Natalie featured a pink-toned magnolia print; Camille is an exuberant floral print in pretty shades of rose.
Columbia continues the "bed for all seasons" theme, combining all the elements needed to create both a summer and winter bed in a single package.
Perry Ellis America offers a new collection of bedding that is packaged in the "mini set" configuration targeted to the back-to-school market. One A Chord, a navy/royal blue graphic stripe with a novelty guitar print, is a sheet coordinate for boys.
Revman's own Manor Hill collection will feature five new fashion ensembles in a variety of styles and colors to reflect key trends of the season.
New to Revman's showroom: plenty by Tracy Reese. New designs include Big Blooms, Saigon and Haiku. All beds are 300 thread count cotton percale with a variety of special fabrics and embellishments for decorative accessories.
ROYALE LINENS
Kearny, N.J. (201) 997-3700
Nano-Tex teams with Yunus Textiles and U.S. division Royale Linens for the Ultimate sheeting collection. The new line features Nano-Tex Neutralizer, which neutralizes odor, wicks moisture, resists wrinkles and is permanently durable.
The Yunus / Royale Linens bedding collection will feature 400 thread count dobby stripe sateen of 100% combed cotton.
SOMMA FOR MUSE
Chicago (312) 595-9604
Somma for Muse introduces the Fedora Bed Linen Collection including a 500 thread count jacquard sateen, available in navy blue/chocolate and ivory/beige. Norma is a 500 thread count jacquard sateen in ivory and chocolate brown.
S.S. DWECK
New York (973) 735-0900
S.S. Dweck has reintroduced a new line of Eurocale sheet sets in microfiber for the "budget merchants." Feels virtually weightless against the body and is made from natural fibers, to help maintain a comfortable body temperature throughout the night. The sets are wrinkle-resistant and easy to care for and affordable.
The Innovations Collection shows a variety of spring colors on bedspread-and-sham set, with anti-pill treated fleece backing. This innovative product will replace comforters, duvets, blankets and bedspreads. The set comes in custom designs, colors, and a rope cording. Machine washable.
SUNHAM HOME FASHIONS
New York (812) 378-8872
The Passages Collection: Designer bedding that takes global to a much more reserved and classic place, perfect for any master bedroom. Highly fashion forward, this luxury woven collection is a study in texture. Oversized quilts, comforters and decorative accessories are offered as open stock and retails would range from $129 - $229 for bedding and $24.99 - $49.99 for accessories.
Also new: the Black Pearl Collection. Tai is created with the softest of 100% organic cotton base cloths and presents vermicelli in a new and surprising way. The product allows this stitching technique to become the ultimate design. Organic with a fresh perspective, Tai was inspired by nature's elements of water, air and earth. This open stock comforter program is projected to retail for $229 with decorative accessories from $39.99 - $49.99.
TOWELLERS LTD.
New York (201) 247-1328
Towellers Ltd. announces a new line of fashion bedding and sheet sets from 200 thread count to 400 count.
TRADITIONS
Claverack, N.Y. (518) 851-3975
With fall's imminent arrival, Traditions has created the Pointer Woodrose Collection, masculine bedding with enough tailored sophistication for the lady of the manor.
UNITED FEATHER & DOWN
Des Plaines, Ill. (847) 296-6500
United Feather & Down is putting the spotlight on balanced, eco-conscious living. Experience innovative, not-so-basic anymore bedding collections that offer new ways of enticing, engaging with, and exciting the growing number of environmentally and socially-conscious consumers.
United Feather & Down's September product introductions will include:
SilverFill/SilverWeave: expand the silver product roster with sheet sets made from SilverWeave. The sheets, like the company's patented SilverFill, harness the power of pure silver fibers for permanent, natural protection from odor and bacteria, along with anti-static and thermodynamic properties. The company will also introduce SilverWeave woven blankets. Unlike other silver technologies that may lose their efficacy over time, SilverFill and SilverWeave use permanently bonded X-STATIC pure silver fibers, so the protection will never wash away.
Eileen West Collections: this program expands with new duvet sets, sheet sets, pillows and comforters featuring West's prints, embroideries and signature embellishments. The nautical theme of the Eileen West Escapes hospitality collection will make its debut for the consumer marketplace, to offer consumers a relaxing hotel experience in their own home.
Joseph Abboud Collections: a new signature paisley print sheet and bedding ensemble will be unveiled.
UNIVERSAL HOME FASHIONS
New York (212) 481-7112
Several new collections are debuting for market.
A highlight in the group is Jolie, a large scale lacey floral print in a crisp blue and white colorway. The design — a feminine take on a classic nautical theme — is printed on a cotton slub fabric meant to mimic a linen look.
The Logan collection pairs a modern chenille stripe with a modern geometric pattern and marries them to solid fabrics and large pin-tuck styles.
Marcus, also a new collection, is an updated jacquard design. Using a palette comprised of spa blue, chocolate and spice orange colors, these solid fabrics are embellished for surface interest and dimension.
VIJAYESWARI TEXTILES LIMITED
New York +91 422-2252661
VTX offers five new collections of bed linen and coordinates.
The king size, 550-thread count ensemble in eco-friendly Genuisa cotton is a patterned damask embroidery in solid satin, presented in four colorways. The queen size Genuisa counterpart is a Hotel Look mix-and-match fabric presented in two options, one with running stitch detail and another with damask jacquard detail.
A triple layer jacquard and mesh fabric with embroidery detail in organic cotton with natural dyes is presented in five colorways for full size. The sheets are coordinated in 300 thread count organic cotton satin with hem stitch detail.
Another full size bed comes in organic cotton with natural dyes, presented in a handspun look fabric with organic lace, organic twill tape and hem stitch detail, presented in four color ways.
A yarn-dyed scroll Mattelasse Bedding Collection offers a diamond mattelasse border. The ensemble has a satin stitch detail. Sheets are coordinated in 330 thread count satin with scroll embroidery.
All the above are presented as complete ensembles containing sheets sets, top of bed, quilts, pajamas, wash bags and decorative pillows.
WHOLLY SHEET!
Los Angeles (310) 472-9896
Add another line to the Ed Hardy empire: Wholly Sheet! unveils a full line of boudoir couture. In 2004, Christian Audigier gained the exclusive rights to the designs of Don Ed Hardy, the "Godfather of Tattoo" and now announces his most recent line of top-of-bed products.
And here's a special feature: the Ed Hardy Stash Pocket, sewn discreetly into a corner of the sham. Ed slips his iPod into his. Available in all coordinating colors of the new Wholly Sheet! Home line.
WILH. WULFING/STELLAR ALLIANCE
New York (212) 563-6305
Wilh. Wulfing/Stellar Alliance presents Positively Paisley bedding: 85% cotton/15% linen bed sheets, pillowcases, bed skirt, shams and a reversible duvet cover are available in countless colors.
ZAMBAITI USA
Spartanburg, S.C.
(864) 576 1958
Part of Zambaiti's new bedding collection is Maestri Italiani, enriched by a new design, Tiepolo, a reversible sateen 600 thread count available in three color combinations: ivory/peach, ivory/sand, sand/French blue. Available in queen and king sheet sets and duvet set. Made in Italy.
Bath
ALLEGRA INDUSTRIES
New York (212) 725-0510
As part of the bath collection, the yarn-dyed stripe towel ensemble from Allegra comes in 12 colors; in bath 30-by-60, hand 16-by-28 and wash cloth 12-by-12. Bath retails $5.99 each.
ANNE DE SOLÈNE
Bedford, N.Y. (914) 234-6317
Anne De Solène offers coordinated embroidered bath towels with most of their styles, thread counts: 200-300. Made in France.
BACOVA GUILD LTD.
High Point, N.C. (336) 878-5584
Created by artist Anita Phillips, Bacova's new golf-inspired 19th Hole bath coordinate collection includes a heat-transfer print on 100% polyester taffeta shower curtain, carved resin accessories, 100% cotton terry with pin-tuck dobby trim and embroidery towel ensembles, and a heat-transfer print on nylon with latex back rug.
Artist Albena Hristova conjured the new Trailing Ivy pattern for a bath coordinate collection by the same name. It comprises a heath-transfer print on 100% polyester jacquard shower curtain, ceramic with decal accessories, heat-transfer print on 100% cotton velour towel ensembles and a heat-transfer print on nylon with latex back rug.
BALTIC LINEN CO.
New York (212) 545-0949
The new Sonoma bath coordinate collection is among the bath category highlights this market. Sonoma includes a subtle leaf-print on neutral ground 100% cotton duck fabric shower curtain, multi colored yarn dye jacquard towel ensembles made of 100% cotton on a light ground that reverses to dark, decaled accessories made of ceramic with an iridescent glaze accent, and resin hooks.
Baltic's longtime Spode licensed program is also an emphasis. The company is showing a collection of bath ensemble coordinates in several Spode designs. They coordinate with bedding ensembles also by Baltic.
A high-end Hotel collection is another focal point. It includes shower curtains and bath coordinates "with an unusual twist, not your usual white with mitered flanged ends," the company said.
BARDWIL LINENS
New York (212) 944-1870
The upscale Lenox Bath division is growing its assortment with the addition of the brand's Accoutrements collection by Anna Griffin. This new program's 100% cotton towel ensembles include beautiful and delicate embroideries, prints and sculpted jacquards depicting Griffin's signature roses.
BLONDER HOME ACCENTS
Cleveland (216) 431-3560
Hullabaloo is Blonder's retro, 1960s-influenced collection featuring slick patent leather-like accessories, with each modern line stitched and tailored. One version of the Hullabaloo accessories comes in periwinkle and is accented with one stripe of bright white and one stripe of glossy black.
The shower curtain is a psychedelic swirl of hypnotic geometric flowers and leaves in shades of blue, turquoise, black and olive on a bright white ground. The accent rug and towels feature these same "Outasite!" flowers.
Also new: three Woolrich collections: menswear-inspired Houndstooth with real wool and wool looks; Silver Tack, featuring hammered silver accented with dark wood; and Stonebridge, inspired by primitive American pottery with a streaked, speckled ochre theme.
BON MOTIF COMPANY
Emeryville, Calif. (510) 655-2000
Sunny is a grouping of 100% cotton bath rugs featuring trendy colored stripes. It comes in 11 colorways and two sizes – 21-by-34 and 30-by-50.
Bungalo is another bath rug collection in stripes – some coordinating and some contrasting. There are nine colorways and two sizes available.
CREATIVE HOME IDEAS/YMF
New York (212) 213-1096
The company debuts a collection of oversized two-piece sets that are heat-set and tufted in a soft olefin. The rug measures 21-by-34 and it matches with a contour and a shower curtain. Colors span tonals and multiples for the many patterns, including Avanti, Century, Aruba, Clayton, Seville, Roman key, framed flowers and French scrolls.
Also new are plush bath sets of tufted rugs with frieze, olefin heat-sets and acrylic constructions, all available at opening price points.
DOHLER USA
New York (212) 213-1271
Dohler USA offers Harmony bath ensembles, 100% ring spun cotton in bath sheets, bath towels, hand towels, washcloths and bath mats.
DOMAY
Montreal (514) 383-8989
A 100% polyester diamond design dobby shower curtain is part of the Hotel Collection by Domay, featuring metal grommets. Also new: the "environmentally friendlier" waterproof Eva vinyl shower curtain liner with durable grommets. Package features a "feel the quality" die cut.
JOHNNY KEETON STUDIOS
New York (212) 696-1717
The company is showing additions to the Kiyanitex shower curtain-in-a-bag targeting non-traditional retailers. These sets include a shower curtain, 12 rings and an attractive accessories travel bag. It was designed and developed by Kiyanitex in Pakistan.
KAREN LAWRENCE
New York (973) 768-4054
This market the company is showing many modern resin designs with new colorations in brushed stainless, copper and oil rubbed bronze. Much of the product has texture. The assortment includes tumblers, toothbrush holders, soap dishes, lotion/soap dispensers, cotton jars, boutique tissue covers, wastebaskets, bowl brushes, shower curtain hooks and towel stands.
KASSATEX
New York (212) 686-5533
Safari by Kassatex is an animal-skin inspired bath ensemble collection that includes giraffe and zebra styles. The construction of these mix-and-match towels employs an all-over pattern on a high-low terry with a band. They are 100% cotton yarn-dye jacquard towels.
To its infant and juvenile line, Kassatex is introducing its Bambini by Kassatex collection. The ABC pattern, one of many in the collection, comes in white, apple green, cool blue and pink. These towel ensembles are 100% cotton yarn-dye two-ply jacquards.
LOFTEX
New York (347) 227-4402
Introducing the Inspired Collection, featuring an array of solids and jacquards that took form from the vast imagination and the architectural influence of the Spanish architect Antonio Gaudi. An example is the Vita towel, an eco-conscious blend of cotton and aloe done in updated sophisticated shades. Jacquards that are anything but traditional emerge. Designed in the artistic style of nouveau impressionism, their task is to enhance your décor and bring a bit of renewal to your bath experience. The result is an overpowering display to texture, color and mosaics.
MESSINA AND ZUCKER
New York (212) 889-3750
Debuting are super soft and super plush nylon bath rugs in crisp tone-on-tone patterns. Designs include an oval trellis, swirl, scroll and others.
RETRO USA
New York (212) 213-8838
Embroidered novelty washcloth sets in a variety of themes and patterns include the Saigon and Haiku styles; all are in 300 thread count cotton percale.
TRADEWINDS IMPORTS
Westport, Conn. (203) 227-2234
The new "Pebble" bath accessory collection is a glass mosaic style that comes in two colorways — black or champagne.
The Basketweave grouping is made of carved soapstone and comes in natural or black.
Peyton is a third collection of accessories, these made of ceramic and metal. Its available colors are midnight and white.
Tradewinds is also showing several new bath rug styles in a variety of colors.
TWEEL HOME FURNISHINGS
Newark, N.J. (973) 286-1800
The Purr-fect bath accessories collection by Tweel comprises three-dimensional decal motifs on resin pieces that are accented with animal prints. The collection also matches to a shower curtain.
Kitchen/Tabletop
ALPHA HOME FASHIONS
Ewing, N.J. (609) 406-0914
A dressy new collection calls for quilted and beaded pin-tuck table linen coordinates.
The tablecloth, placemats and runners are made of quilted faux dupioni and are embellished with hand-sewn beads. Colorways include Mandarin, gold, chocolate, teal, sage, taupe and plum.
ANCHOR HOME PRODUCTS
Wyckoff, N.J. (201) 493-8585
Anchor is showing six new licensed patterns from Paul Brent Designs in the kitchen textiles category. They comprise Brent's recognizable coastal themes, and patterns don apropos names like Beach Signs, Costal Breeze, Nantucket, Seaside Shells, Natura Collage and Fresh Catch. Product components span kitchen towels, placemats, pot holders, oven mitts, aprons and floor mats.
BARDWIL LINENS
New York (212) 944-1870
To its upscale Lenox-branded program, Bardwil is adding the new Simply Fine Lenox collection. Under the tagline "Simply fine, simply easy, simply Lenox," this grouping includes table linens coordinating with Chirp and other Simply Fine Lenox dinnerware patterns. The Simply Fine solid-colored table linens are available in 10 colors and feature a soft hand and a spill-proof quality.
Also new to Bardwil's kitchen textiles category is the introduction of the company's first comprehensive core program under the house label. Titled Kitchen Dry Goods, this Bardwil-branded all-cotton collection comprises nine basic kitchen items likewise in nine crisp colors. A highlight of the collection is an exceptionally absorbent bamboo-and-cotton blended kitchen towel with a soft hand.
BLONDER HOME
Cleveland (216) 431-3560
The new Sunflowers kitchen textiles collection, created by designer Linda Spivey, takes earthenware pieces and brightens them with vibrant flowers bedecked with petite red berry clusters and a tin star dangling from a green plaid ribbon that is intertwined with grapevine. This cheerful collection also translates the sunflower pattern onto coordinating textile.
CREATIVE HOME IDEAS/YMF
New York (212) 213-1096
The company is showing a line of kitchen rugs comprised of groupings that are diverse in fiber and texture but that all tie together in color and design. Constructions include tufted soft olefin heat-set styles, cotton/heat-set blends and bi-levels.
Designs include the two-toned Island Stripe, Lattice Wedge, Fan Design, and a variety of kitchen motif looks titled Gourmet. Sizes span 18-by-27 to 26-by-45.
All programs are available direct from the factory in Langfang, China or from the company's Edison, N.J. distribution center.
S.S. DWECK
New York (973) 735-0900
Pop into spring with 5-pack Popcorn kitchen towels in spring colors. These towels are both thick & thirsty and made of 100% Cotton.
Area Rugs
ALLEGRA INDUSTRIES
New York (212) 725-0510
The new collection from Allegra Industries includes the polypropylene accent rug, 24-by-40.
MESSINA AND ZUCKER
New York (212) 889-3750
Messina and Zucker introduces printed accent and room size rugs. The line features solid color Berbers with coordinating stripes and tweeds, and printed kitchen slice rugs with matching sink/utility runners, as well as new fashion nylon bath rugs.
BACOVA GUILD LTD.
High Point, N.C. (336) 878-5584
The Nouveau Lux accent rug collection employs a new construction that combines solution dyed nylon colors with metallic-like yarns. Four distinctive LCL patterns in seven color combinations are available and include the Blocks pattern in a zinc/pewter colorway. A 28-by-48 is set to retail for $49.
BALTA US
Dalton, Ga. (706) 278-8008
Ultimate Shaggy is among several new lines using Balta's own B-tron-made heat-set rugs. A continuation of Balta's prior shag rugs like Shaggy and Super Shaggy, Ultimate is a deep-pile carpet with an extra long pile and very soft yarn. Its nine available colors include cream, beige, brown, grey, black and red.
The existing shag collections have been expanded in palette to now include copper, platinum, golden brown, different types of beige, black and gold.
DIRECT HOME
Atlanta (770) 591-9668
The company is showing a collection of handmade New Zealand wool rugs. They are available in 133 designs.
MOHAWK HOME
Dalton, Ga. (800) 843-4473
Many new introductions are being added to the company's various constructions.
In the woven rug category, intros include the Cambridge collection in an updated 10-color pallet with a modern influence; and the Versailles collection in a dense pencil-point construction suited for traditional styling and an equally classic 10-color palette.
The printed rug category shows new color ranges on various construction bases that span plush to loop to patterned goods. New groupings include: the 1960s pop-art inspired Eclectic in vibrant colors that work with some neutral tones supplemented by neutrals and made in both lush and patterned tufted nylon; and Tribeca, which responds to the emerging color trends in gray, purple, peacock blues, earth and stone with nuances of neutrals and browns — all of which translate into futuristic styles interpreted on loop, plush and patterned constructions.
In tufted rugs, new additions span 14 collections that emphasize the Greenworks initiative. Mohawk will recycle more than three billion plastic beverage bottles this year — or more than 14,000 bottles per minute — to make these rugs, which offer customers strong performance characteristics like stain resistance and easy maintenance. Examples: Eco Shag. Cycle Shag, Cut-Loop and DuPont Sorona corn fiber.
To its mat category, Mohawk's latest additions include: screen prints in new colors — cranberry, chocolate and green; and Daddio's Patio.
ORIAN RUGS
Anderson S.C. (800) 845-9729
Among the highlights of Orian's many new domestically made rug collections are two: Illusions and Carolina Wild.
Illusions is a woven jacquard grouping of high-pile sculptured rugs, made of heat-set polypropylene yarns. Their soft flowing textures similar to flokati styles have been made in shag-like form for added comfort.
Carolina Wild is also a woven jacquard grouping of high-density textured rugs and is similarly made of heat-set polypropylene. What is different here, though, is that the Carolina Wild rugs represent Orian's Goin' Green effort. Inspired by nature, this collection of skins, serene linear, and rolling texture patterns come in 12 colors. To boot, these shag rugs are woven with a 35-mm pile and finished with the company's "bullet proof" surging.
Dec Pillows
FLYING FIG ACCESSORIES & HOME
New York (212) 922-9169
Dandelions were the muses for a new collection of decorative pillows that includes the Dandelion Flower 20-by-20 hand embroidered on silk taffeta pillow and the complementing pure linen and hand-embroidered 20-by-20 Dandelion Buds and Dandelion Seeds pillows — all three filled with down and feather.
Also new is the Coral Garden 20-by-20 pillow collection of hand embroidered pillows, available in either silk taffeta or pure linen. All are filled with down and feather.
MESSINA AND ZUCKER
New York (212) 889-3750
Messina and Zucker's fashion futon covers provide affordable and practical looks for today's casual lifestyles. Futon covers have casual, easy living patterns that include Oriental Fusion, Denim, '60s Tie-Dyes and animal prints – just a few of the new patterns for Spring.
NOSTALGIA HOME
Vernon Hills, Ill. (847) 918-9930
Decorative pillows from Nostalgia Home are part of the Noir Collection, dressed up in striking black and white.
THRO
New York (212) 838-0822
Spring brings pillows in Thro's signature microplush fabric. The new bamboo pillows Leave, Bird of Paradise, and Lattice are made of a faux silk with painted bamboo, suitable for outdoor patios.
Also new: hand painted pillows with bamboo stitched into a silky, easy-care fabric; suggested retail price $30.
New zebra and elephant embroidered pillows are being added to a the Safari story featured last season.
WESTPORT LINENS
New York (212) 684-5707
The new hand embroidered crewel pillow from Westport Linens is available in black, gold, maroon, and red, made of 100% rayon velvet fabric and wool yarns.
Pillows, Pads, Blankets & Throws
THE ARLEE GROUP
New York (212) 689-0020
Arlee is introducing 14 new styles in throws, many of which match with decorative pillow styles. They include: Cheri, a multi-colored soft throw in the spa-like colors blossom, straw and mineral; Rath Alexis in thyme, black, mineral and taupe; and Shalimar in cocoa, grass and slate.
The company also debuts one of its largest collections ever — more than 100 new skus — of new fabrics. They are applied to all product categories, including throws and blankets that coordinate with soft window treatments; placemats; decorative pillows and chair pads. The new fabrics include textured looks, crushed velvet, embroidered styles, grass cloth, metallic fabrics, damask, 100% cotton hand-screened motif looks, and woven stripes — many with embellishments.
ECOSNUG
Philadelphia (215) 588-0085
The Royal basic mattress protector pad is mulberry silk-filled, with 330 thread count. cotton sateen cover, available in twin through Cal-king. Protects from dust mite penetration of mattress pad.
Super Deluxe pillow also in mulberry silk-filled with 300 thread count cotton sateen cover. Available in standard, queen and king.
Also new, a line of blankets including the Royal Fleece Silk blanket in ivory, made with 100% silk fleece; and the Royal Bamboo Fleece blanket also in ivory, made with 100% bamboo fleece.
The Royal Silk throw is available in ivory, wine red, black, chocolate, and lavender. Fabrication and material: 16mm charmeuse silk filled with mulberry silk, size 52-by-72.
FARIBAULT MILLS
Faribault, Minn. (562) 430-5792
Adding the successful Cannon River Wool line, Faribault introduces Cannon River Cotton, a distinctive weave in premium cotton. In beautiful pastels, twin, full, queen and King sizes, all in extra long 96-inch size.
Faribault's Outlast collection undergoes two changes. First, a beautiful new upscale package in a luxurious bio-degradable bag. Second, a cotton honeycomb weave is added to the wool honeycomb look. Outlast is a temperature-regulating fiber from Outlast Technologies.
Faribault Mills also presents an alpaca/wool throw, European luxury in a soft white upscale throw. 50-by-70.
FLYING FIG ACCESSORIES & HOME
New York (212) 922-9169
The new Bud to Seed throw is a 40-by-80 piece in hand-loomed merino wool and lined with silk. It features a hand-embroidered design that speaks to the product's name.
IBENA/STELLAR ALLIANCE
New York (212) 563-6305
The 100% cotton jacquard blanket from IBENA/ Stellar Alliance is available in a large variety of custom colors, in throw size as well as all bed sizes.
HOLLANDER HOME FASHIONS
New York (212) 354-6942
The Anniversary Collection by Laura Ashley commemorates the 10th anniversary of the Laura Ashley license at Hollander. The best Laura Ashley prints feature in updated colors on pillow gussets, down alternative comforters and other basic bedding products. These will be merchandised with new quilting techniques and new designs to make a timeless offering in keeping with the brand.
Laura Ashley down and down alternative comforters feature a range of thread counts from 220 to 500, fabrications from all cotton to cotton/silk, and innovative quilting and finishing techniques. Most notable are several new jacquard designs for down comforters and a button-tack down alternative comforter with seersucker cording: a fresh, crisp look for the spring!
Also: a down alternative comforter finished with aloe will appeal to the health and wellness consumer. The fabric is treated with aloe so that the skin can get the benefits of aloe as you sleep.
The Hollander baffle box constructed comforter shells that will be shown at the September market are a 300 thread count cotton treated with aloe, different thread counts in silk/cotton blends jacquards, cotton/bamboo blends jacquards, natural eco-friendly cotton dobby, and new 400, 450, 480, 500, 550 thread count cotton dobby stripes and jacquards. These comforters will be filled with the highest quality of white duck and white goose down ranging from 550-700 fill power.
Hollander will introduce new types of innovations and blends for the filling material in mattress pads, Fiberbeds, Cuddlebeds, and featherbeds as well as antimicrobial, stain resistant, coolest comfort, water repellent treatments for the fabric.
The black carbon/bamboo polyester fiber is one of the newest filling innovations; another one is a combination of latex foam top with puffball or bonded polyester at the bottom.
The company will also show the basic product line ranging from a Peachy 100% polyester fabric mattress pad to a 500 thread count Cuddlebed.
MESSINA AND ZUCKER
New York (212) 889-3750
Complementing basic pillows and pads, Messina and Zucker will roll out its new Perfect Dreams Sleep Center, showcasing affordable solutions for sleeping problems. These doctor-recommended pillows are specifically designed to address conditions such as sleep apnea and snoring.
Also a Perfect Dreams Loungeabout pillow with adjustable headrest is great for couch, bed or floor for watching TV or reading.
Max Pillows help prevent bed head. Also available in pillow protectors and pillowcases. New Hairdo Pillows become a "woman's best friend" when it comes to hair and a good night's sleep.
Basic programs in pillows, pads, mattress covers and pillow protectors complete this classification.
PACIFIC COAST FEATHER COMPANY
Seattle (888) 297-1778
The company introduces an extended line of irresistibly fluffy SuperLoft bedding to the comforter portfolio. Patented tufted design allows more fabric per stitched box which means the trademarked Hyperclean Pacific Coast down can fluff to the maximum. SuperLoft comforters provide more fluffy, enveloping comfort than traditional comforters assuring a blissful night's sleep.
Traditional true baffle box comforters employ internal baffles to create chambers in which down can expand. Pacific Coast Feather Co. has improved the three dimensional nature of these chambers by topping them with SuperLoft tufted corners — further enlarging each chamber. Down clusters have more room to expand and loft for enhanced fluffy comfort.
Truly unique and supremely fluffy, the SuperLoft Stratus Comforter features a pleating design that extends entirely around each sewn box. This technique more than doubles the height within each lofting chamber compared to the traditional SuperLoft comforters. Down is free to expand and loft within this comforter, creating an inviting bed that lofts and drapes around the sleeper.
The SuperLoft Comforter Collection features a patented Comfort Lock three-sided border to assure down stays in the sleep zone on top of the bed, rather than falling to the sides and bottom. Features include: 550 Fill Power Hyperclean Pacific Coast Down; 300 Thread Count Barrier Weave fabric; Allergy Free Warranty; 30 Night Comfort Guarantee. Sizes are twin, full, queen and king.
Also new: the Organic Cotton basic bedding line under the top-of-the-line Collection label by Calvin Klein Home. The full collection includes the Organic Cotton down comforter, traditional pillow and Euro square pillow.
The Organic Cotton product line has been certified for its organic cotton origins, and is filled with all-natural, eco-friendly white goose down. The traditional and Euro square pillows include an organic cotton inner shell covered by a removable organic cotton cover with hidden zipper closure. The comforter features a luxurious 20-inch baffle box design finished with a simple flat edge.
Also newly created is the Luxe Down Alternative basic bedding line under the Collection label by Calvin Klein Home. The product line features a fiber fill that mimics the insulating and lofting properties of down as well as a sumptuous 300 thread count Lyocell/cotton cover. The line includes a traditional style pillow with a 230 thread count inner shell covered by a removable cover with hidden zipper closure, and a 20-inch baffle box design comforter.
The Pacific Coast Feather Company is the basic bedding licensee for Calvin Klein Home. Basic bedding products include pillows, comforters, blankets, mattress pads and feather/fiber beds which are available in a variety of natural, synthetic and foam fill.
PDK/REGENCY
New York (212) 889-6144
Teresa is a classic Jacobean floral bedspread, part of PDK/Regency's new bedding collection. The floral has tones of sage, rose, cream and gold on a cinnabar ground. The stripe coordinate incorporates all of these colors. Cording and ruffling complete the ensemble.
The Laurel Canyon comforter features a contemporary floral and is accented with an embroidered floral border of flecked linen. A very modern look.
The Riviera quilt mixes a paisley floral print with patches of a stripe print. The border is unique, with embroidered navy lines on white. The diamond center panel combines all the elements.
PERFECT FIT INDUSTRIES
Charlotte, N.C. (704) 604-6189
Perfect Fit introduces the new bedding technology of OOdles natural filled latex/rubber products, a combination of nature and technology for great sleep. The OOdles product line will consist of proprietary new comfort filling materials used in bed pillows, specialty therapeutic pillows, mattress pads, and bed toppers. Outer-shell thread counts will range from 200-500 thread counts, from cotton sateens to cotton silks.
The OOdles line is scientifically designed and manufactured to maintain superior sleeping support and all-natural comfort. In addition, OOdles are naturally anti-bacterial, anti-microbial, dust mite resistant, naturally hypo-allergenic and temperature sensitive.
RASA HOME, INC.
Port Chester, N.Y.
(914) 244-0331
Go Green with Rasa Home, Inc. 100% recycled and naturally renewable wool is used to weave soft colorful throws/blankets.
WESTPORT LINENS INC.
New York (212) 684-5707
Westport Linens Inc. offers a woven jacquard throw with a zebra and medallion pattern, available in black/white, navy/white, sage/white, red/white, and brown/tan. 70% rayon, 30% acrylic.
A 100% cotton lightweight voile printed patchwork fabric is used in the quilts, resulting in a soft hand.
Mercerized cotton blankets are available in white, ivory, sage, chocolate, platinum and gold. The 100% cotton dobby weave mercerized fabric gives Westport's blankets a heavy weight with a soft hand.
ZAMBAITI
Spartanburg, S.C.
(864) 576 1958
From Zambaiti's Campagnia Lane Preziose collection (besides the renewed fall color of the classic Lambswool blankets line), the company introduces the Italian Ivory Collection. Key: a superfine Australian Merino Lambswool blanket finished with a touch of luxury by a jacquard woven twill ribbon with piping. The blanket is available in twin, queen, and king size. Made in Italy.
From Zambaiti's Thinkashmir Collection comes a new design of 100% cashmere, the Natalia throw. A new Jacquard woven houndstooth design is available in totally natural color and free of dyeing stuff (light beige, beige and charcoal), and in generous sizes 53-by-67. Made in Italy.
Window Coverings
ACHIM IMPORTING
New York (212) 686-6652
Carrington features elegant rose trellis embroidery on a poly/silk colored ground. The variegated embroidery enhances the luxurious look of these panels, with available decorative top treatment. Colors: chocolate, beige, cinnabar, blue and gold. 100% polyester.
ANCHOR HOME PRODUCTS
Wyckoff, N.J. (201) 493-8585
Anchor Home Products debuts additions to its patented Versa-Tie line of double-valance soft window treatments with the Crossroads collection. It employs a solid-colored linen fabric layered over a coordinating textured solid, and comes in three color stories: golden, sage and blue.
CHF INDUSTRIES
New York (212) 951-8042
CHF Industries introduces Alesandra, a gorgeous asymmetrical embroidered panel on faux silk, making a statement of luxury. Made of 100% polyester, in rose, sage, cinnabar, ivory, gold, eggplant, and chocolate.
The collection of toppers adds coloring and tailoring to the window. A bit more traditional in styling than kitchen ties, but not as decorative as long length pairing: a great alternative to finish the room! Styles include: Taffeta Stripe valance; Windsor valance is scalloped with fringe; Pleated Taffeta valance is scalloped; Mallorca is a tailored valance with beads. All come in gold, ivory, cinnabar, and chocolate, and are 100% polyester.
COMMONWEALTH
Montreal (514) 963-8145
The new Sheffield style is a fully lined velvet stripe grommet top panel. One of the many new Couture Collection items, this program is available in an array of colors. Retail is $49.99 for the 84-inch length.
DOMAY
Montreal (514) 383-8989
Domay's two-piece kitchen curtain set is crochet lace made from 100% polyester and includes topper valance.
ELLERY HOMESTYLES
New York (212) 448-4448
Ellery Homestyles presents Janie, an elegantly fluid window treatment that can be layered in order to give a more formal look, or as a stand alone window panel hung on clip rings for a more contemporary look. Janie is available in a range of colors.
PARK B. SMITH
New York (212) 889-1818
A key item: Eco Bowery jumbo grommet panel is available in denim, loden and mushroom, with a suggested retail for the 84-inch length of $34.99. Recycled cotton.
S. LICHTENBERG & CO.
New York (212) 689-4510
Energy-efficient and room-darkening window fashions continue to grow in the assortment, updated with Empire, a richly colored taffeta interlined panel with coordinating multi-colored embroidery.
Downtown is a modern geometric blackout panel, styled with contemporary grommets.
Mercer, a menswear-inspired tone-on-tone stripe, has a microfiber hand.
Classic looks expand with, as an example, the overscaled Damask print on faux silk with coordinating stripe. Faux silk continues to be an accepted, fashionable fabrication as consumers enjoy the rich silk look and also the ease of machine washabilty.
For an urban groove, Meteor is a lustrous and fluid, sophisticated panel featured in a metallic color palette. Farah is a textured all-over faux fur in sleek black and chocolate.
SOFTLINE HOME FASHIONS
Gardena, Calif. (800) 701-4220
Galano is the newest design for the Evidence of Evolution Collection. It is 50% cotton and 50% polyester. A contemporary sheer, it is available in the following colors: champagne, chocolate, copper, cream, gold, merlot, sand, and taupe. Rod pocket panels are available 55-inch wide and either 84-inch, 96-inch 108-inch or 120-inch long.
Leno stripe is part of the contemporary collection. It is available in the following colors: champagne, chocolate, copper, cream, gold, merlot, sand, and taupe. It is 100% polyester; rod pocket panels are 55-inch wide and may be either 84-inch, 96-inch 108-inch or 120-inch long.
Infant & Juvenile
ARLEY CORP.
New York (212) 686-0908
Jungle Queen from Arley shows horizontal bands combining leopard and zebra patterns intermixed with bold solid colors. A solid coordinate and leopard print sheet complete the bed.
CHF INDUSTRIES
New York (212) 951-8042
Rain Forest from CHF Industries adds delightful whimsy to a child's room. The complete bed set is 100% cotton with T-200 percale sheets.
ECOSNUG
Philadelphia (215) 588-0085
Ecosnug introduces a range of mulberry silk-filled baby comforters, each in the 32-by-48 size.
Royal Jacquard Silk baby comforter in ivory has a 19mm jacquard silk cover.
The Royal Silk Charmeuse baby comforter in champagne features a 16mm charmeuse silk cover.
Royal Basic baby comforter in white offers a 330TC cotton cover, machine washable, and comes with cotton duvet cover.
Super Deluxe baby comforter in white has a 300 thread count cotton sateen cover.
Also new: the Super Deluxe Baby Sleeping Sack in white, mulberry silk-filled with 300TC cotton sateen cover. Machine washable, in two sizes: 20-by-28, 20-by-40.
JAY FRANCO & SONS
New York (212) 679-3022
The newest juvenile bedding ensembles include a roster of new licensed programs, which include: Wolverine/X-men of Marvel Comics; Disney's Guitar Hero Toy Story; and George Lucas' Clone Wars.
The company is also showing new kids' bedding ensembles from its "evergreen" portfolio, including: Hulk; Ironman; Spider-man; Princess Fairies; Hannah Montana; High School Musical; Camp Rock; Barbie; Hot Wheels; Tweety; Pokemon; Thomas and Friends; Cars; Wall-E; Tinkerbell; Ice Age; Ben 10; Betty Boop; American Idol and others.
There are also a range of licensed looks in bath coordinates; and in the beach towel category, new brands are being added to this fiber reactive and jacquard assortment.
MANHATTAN KIDS LLC
New York (212) 845-9488
Baby Bundles are warm, light and fluffy — and the waterproof bundle gives baby the perfect protection from the wind and rain. It can be safely attached to the stroller and allow buckles to go through five point openings to go through. Filled with down alternatives and lined with microfleece. It comes with attached hood and is adjustable to protect from head to toe.
Indoors, the cover can be completely zipped off so baby is not over-heated. Colors include pink, blue, green, yellow and camouflage. Suggested retail: $69.99.
Moses Basket is made of all natural maize, lightweight and endurable. The lining comes with cushioned pink and blue polka dot coral fleece, blanket and fitted sheet. Suggested retail: $49.99.
Crib bedding set made of 100% cotton with embroidery and appliqués in these styles: At the Seaside, On Safari, Fun at the Circus, Choo Choo and Sweetheart. Suggested retail: $149.99.
The company also presents a full line of baby comforters, blankets, robes, and throws. Many are offered in certified chemical-free and organic fabrications.
MESSINA AND ZUCKER
New York (212) 889-3750
Messina and Zucker will be introducing the Slumbersoft waterproof mattress cover for cribs and carriage.
Related Content By Author
Live From New York: Fashion Comes Across the Pond

More Videos
Subscribe to
Home & Textiles Today eDaily
Receive the news you need to know about the trends in the industry delivered right to your inbox.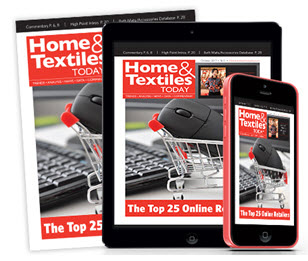 See the October 2017 issue of Home & Textiles Today. In this issue, we look at the Top 25 Online Retailers. H&TT's exclusive annual ranking of the biggest online sellers of home textiles finds that while pure play etailers continue to fly, bricks & clicks are digging into omnichannel. See details!