Suppliers Express Optimism
2007 First Half Outlook
New York — Home textiles suppliers have battled retailer consolidation, soaring raw material costs, downward price pressure, that popping sound coming from the housing market, and a host of other issues. Yet the entrepreneurial spirit is strong — many suppliers remain confident that their companies will grow and prosper in the next two quarters, and beyond. Others, of course, are less upbeat, but the overall sense is one of opportunities to be made and seized.
Here is a sampling of supplier sentiment conducted by Home Textiles Today.
Frank Petronzio, President
Anchor Home Products
"I think that we were tied to the gasoline pricing this year, and I believe the desire for the consumer to spend has been dammed up, pent up. We've seen that break for this holiday season, and I think that will continue into the first quarter next year.
"I think the first half of the year will be very good. If gas prices remain somewhere around $2, we'll experience some very nice continued growth in the first half of 2007."
David Beyda
Chairman
Town and Country Living
"We see soft home continuing to be strong in the first half of the year. We are continuing to develop our branded and private-label business across all channels."
Tom O'Connor
Executive VP
Springs Global
"We expect a lot of the one-time issues with the restructurings will be behind us in 2007. We'll begin to see significant improvement in our results, including market share gains and exciting new program and brand offerings."
Linda Johnson Smith
President
Park B. Smith Ltd.
"The ultimate consumer is looking for value at any level. The retailers who are able to provide value, which includes quality and styling, are those whom we believe will be successful."
Sanjay Purohit
President and CEO
Dan River
"My instant reaction is that business has picked up recently after months of slowdown, and that is quite encouraging. So I think that business will continue to improve in 2007. For a very considerable period of time, business was very difficult. But it is in the last few months that it has improved for us. I think having a very broad offering of product, and new types of product, has helped us.
"I think the customer is looking for value for money, whatever the price point. It makes no difference whether it is a simple product at a low price, or a more complex product, a finer product with more detailing, at a higher price point — the customer wants to think there is a very clear value there, something in addition to price, something to make the price worthwhile. So it becomes a matter of how you differentiate, how you demonstrate that value to the consumer. And if we can do that, business will continue to improve in 2007. So I am pretty optimistic. I think there is considerable opportunity."
Jeff Hollander
CEO
Hollander Home Fashions
"I believe as a whole that 2007 is going to see a slowdown — but certain comfort industries will be able to do pretty well, companies that are able to deliver products that help increase consumer comfort, help with stress management, give that satisfaction at home when they possibly may not be able to get that outside of the home.
"At Hollander, comfort is numbers one, three, and five on the list of the top six things we want in our products.
"We've stayed away from 'trends' — we investigate them, but until we're convinced it's a real value, with proven comfort, reliability, and accuracy in what the claims are — for instance our Asthma Friendly line, certified by the Asthma Allergy Foundation of America — they are the toughest testers in the world, not looking at just the properties, but also looking at post-laundering utility, durability, etc.
"Our growth has been a little more than we had hoped for — with the wind-down of our fashion bedding, [we will be] flat to slightly up."
Carl Goldstein
VP Sales
S. Lichtenberg
"I see a 10% increase in business year-to-year in 2007, and we had a 10% increase in 2006.
"There is nothing on the horizon in the economy — we lived with the high gas prices, it's kind of accepted now — interest rates have stabilized, new housing starts may decline slightly more — but as long as the interest rates for a 30-year fixed stay under 7% and for a 15-year stay under 6%...I don't see us entering any major recession.
"I expect prices of goods will go up — especially importing from China, we're looking at about a 3% increase. But the prices we are paying in goods from China compared to [what we paid] five years ago from somewhere else … we will take it in stride."
Loren Sweet
President
Brentwood Originals
"We are very bullish on first half 2007 for three reasons.
"First, we have regained some key real estate that had been moved into fashion product. Its poor productivity has led to us retaking the real estate with fashion basics.
"Second, [we have] many new fabrics, textures and treatments — which usually bodes well for sales. The customer loves newness. The explosion of product development has resulted in many new items.
"And third, generally the decorative accessory category has performed well this fall. Throws have been softer than anticipated due to the warmer weather, but pillows and window have held up strongly.
"Generally there is interest in better, bigger, step-up product with higher retails and better values. This is receiving strong consumer response and is encouraging about the trend of business in 2007."
Bob Weiss
Director of Sales
Creative Bath Products
"Another tough year ahead of us. Retailers are even more cautious on new programs and placements and are leaning toward more proven winners with less risk. An example: just re-coloring existing styles.
"Price increases are still being asked from our suppliers, almost monthly. New housing has also slowed down significantly, which will impact the economy.
"We will be looking at the higher-end retailers and the low-price discounters more in '07. Our assortments have been somewhere in the middle and now is the time to expand the spectrum at each end. We will be reintroducing our Creative Home dec pillow and bedding lines in February with an entirely new look and more innovation for less money. We will be spending and budgeting more on new product development within all divisions more than in prior years.
"Specialty destination bath chains remain a key focus. Bed Bath & Beyond, Anna's Linens, and Linens 'n Things remain steadfast for soft home but not for huge growth. Department stores like Sears, JCPenney, and Kohl's should be the big winners for vendors in 2007. Discounters — Kmart, Wal-Mart, and Target — will see tighter margin restrictions and nominal sales increases. Home centers have less and less soft home on the horizon. Off-price chains will continue to play an important factor on selling off overstocked inventory.
"Overall, we see the soft home business during the first half 2007 as flat."
Jason Carr
Founder
Softline Home Fashions
"The Showtime fabric market was real strong; we had a lot of traffic.
"Yes, the housing market is down, retail growth is down — but we are strong with the mass chains and specialty stores.
"We are a company going where the market is. The market for readymades has increased. We see that the $39 and $49 price points for window panels still outweigh the $99 and $129 range, and we specialize in volume.
"We've come out with some different, unique looks and unique textures that haven't been seen on the market — and as a whole our infrastructure has been strengthened, we've added people in the shipping, customer service, and on the management side. And we are not only sourcing in China — but developing lightweight goods elsewhere.
"Pricing is still level; I see no real increases."
Barry Leonard
President and CEO
Glenoit Universal
"I think comp-store sales for many of the retailers will probably continue to be somewhat tepid, just as they were during the second half of 2006.
"A number of retailers have cut back on store openings, so I think the first half of next year will be somewhat challenging for all people in the distribution chain of home textiles."
Wade Maples
Owner and President
Maples Industries
"The first half of the year looks really good. We've gotten a lot of new placements in department and mass merchant stores. Products are selling well and our business is way up.
"Price points seem to be going up some. I can't see gas prices having that much effect one way or another. We have more growth in bath versus accent rugs. We've gotten some significant placements for our Cannon bath line, so that has caused our bath area to grow faster. Our synthetics are much stronger than our cotton rugs in the accent area, and we don't see that changing in the near future. I don't see growth in natural fibers in accent rugs.
"Also driving our business are new fibers from Invista, which is a new, softer product that hits the upper end of retail price points at department and specialty stores. We see a lot of growth ahead for the department and specialty stores."
Bryan Siegel
President
Elrene Home Fashions
"Since the downturn in the housing sector, I believe soft home as a whole has seen solid increases. This result, which should be expected by now, is consistent with history's data that proves when our economy experiences weak real estate, rising costs and increased interest rates, consumers tend to travel less and entertain at home more. As a natural result, consumers put more focus on their homes' upkeep and appearance. As well, they choose to refresh the soft side of their homes over costly renovations or moving.
"Our outlook for the first half of 2007 remains consistent with our experiences during the last part of 2006. We believe this trend will continue and soft home will see nice comparative increases from the first half of 2006."
Related Content By Author
The Countdown to the ICON Honors Continues featuring Christophe Pourny

More Videos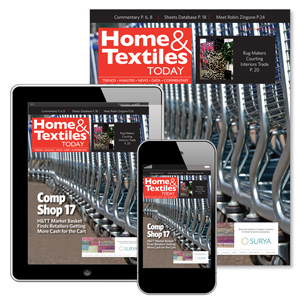 See the May 2017 issue of Home & Textiles Today. In this issue, we discuss our annual Market Basket survey, which finds higher prices and more polyester at leading retailers. See details!