A 'bumpy ride' before quotas go
The clock is ticking, and the U.S. Association of Importers of Textiles and Apparel is literally tracking every second.
"Countdown!" proclaims the association's home page. "1 year, 0 months, 21 days, 7 hours, 15 minutes and 42 seconds until the end of the current quota system."
With the last batch of quota restrictions set to disappear in less than 13 months, U.S. suppliers probably expected to find themselves preparing to take advantage of — or protect themselves from — the trove of foreign products that will become available to the market on Jan. 1, 2005.
Instead, 2004 promises a messy and complicated run-up to 2005. Suppliers at home and abroad are beset with challenges. Higher cotton prices have prompted overseas manufacturers to walk away from orders on some high-volume, low-cost goods originally scheduled to hit stores in late winter/early spring.
At the same time, overseas producers are fretting that next year's finite quota limits will fill up well before 2004 reaches its close.
Then there are the vagaries attending an election year, with the collapse of U.S. manufacturing jobs and the ascent of Chinese imports emerging as potentially potent campaign issues.
In all, the industry faces a bumpy ride to 2005.
"The environment is changing on many fronts," said Bob Dale, president, bed and bath, WestPoint Stevens. "The energy that will be required next year on some of these issues [by retailers and suppliers] is not going to suddenly go away in '05."
Ironically, the final year for quota will also be the one in which there may be insufficient quota available to meet U.S. demands for high-volume home textiles products.
Since quotas began phasing out under the World Trade Organization's Agreement on Textiles and Clothing 10 years ago, a loophole provision has allowed quota-bound producers who used up their yearly allotments to roll forward quota for the next year to fill orders. But there will be no quotas in 2005, hence no "extra" quota to tap when the 2004 supply runs dry.
The major foreign suppliers of volume textiles to the U.S. — China, India and Pakistan — have already borrowed against 2004 quota to fill this year's orders for cotton sheets and terry towels. India and Pakistan have also borrowed against quota for cotton pillowcases.
"That doesn't necessarily mean they've used it all," noted Nicole Bivens Collinson, a Washington, DC-based attorney at Sandler Travis and Rosenberg, a law firm specializing in trade issues. "If they haven't, they can roll the unused portion back into 2004."
The hitch: U.S. Customs won't recalculate 2003 quota usage until next March, at which point orders for fall 2004 shipments should be entering the system.
When quota runs out on finished goods, suppliers will be forced to ship fabric to the U.S. for cut & sew, "which will be less competitive," said Scott Gress, president of Ehrlich Gress & Company. Ehrlich Gress is the exclusive U.S. agent for Pakistani manufacturer Kohinoor, which sells greige goods, sheet sets and bed-in-the-bag into the U.S.
Worse, the impact of a quota shortfall could reverberate through the industry even before the critical back-to-school season arrives.
Often, as much as 65 percent of quota on volume replenishment goods such as sheets and towels gets spoken for within the opening months of any year. If that holds true next year, overseas manufacturers and their U.S. customers may see the last of their shipments landing on the docks in July.
"The inability for finished products exporters to borrow forward quota means some quota will run out by mid-year," Gress added.
The double-whammy
As quota levels constrict, quota costs will rise, heaping greater cost onto manufacturers. This comes as particularly bad news for producers of low-margin goods, who are already demanding increased 2004 pricing to offset the recent spike in raw material costs.
"Some suppliers have stock in the pipeline already, but all of that is going to disappear fast," said Avi Gross, president, Divatex. "The question is how quickly the market will correct itself [with pricing]. Better the market looks at reality and corrects itself now than later when there is no merchandise and we will correct through demand."
Quota premiums on sheet sets this year went as high as $8 per set, although many manufacturers averaged around $4.
Although premiums are expected to open next year at $2 to $3, prices are expected to accelerate as quota dwindles.
Base prices even before quota considerations have jumped considerably by 15 percent to 20 percent on core products such as cotton sheets.
There is mounting evidence that foreign manufacturers are closing the door on pricing freezes after years of serial rollbacks.
"You will recall that cotton prices at less than 35 cents a pound in 2002 were at a 30-year low," said Rajesh Mandawewala, executive director, Welspun, India, one of the largest exporters of towels to the U.S. "This led to lowering of prices for all textiles to unrealistic levels. Cotton prices since then have more than doubled. Price increases are therefore imminent for the industry to survive."
Nina Industries of Pakistan recently turned down an order for 100,000 units of 230-count sheets when its customer balked at price increases. It wasn't the only such incident.
"We have refused a lot of orders because we cannot afford to lose money," said Urooj Satar, general manager. "If we end up with a hole in production, fine. But it doesn't look like we'll have any holes in our production."
Indeed, a few major U.S. retailers have quietly negotiated modest increases of 3 percent to 8 percent on replenishment sheet and towel programs, several manufacturers told HTT.
Mandawewela said that, generally, "my customers are willing to make price concessions."
Some U.S. buyers of greige fabrics also have accepted that reality.
"For greige goods we sell, prices are going up 8 percent to 12 percent, and even in the U.S. they are being accepted," said Pradeep Mukherjee, vp exports, Bombay Dyeing & Manufacturing.
For Bombay, which has restructured its capacity to service a booming U.S. market, the immediate solution calls for pursuing more business in other countries during 2004.
"We may be shipping a few less containers [to the U.S.] than we were before, particularly January through June," Mukherjee acknowledged. "It is an [imperfect] solution."
Watching the clock
The difficulties are hitting overseas manufacturers just as many were preparing to profit from years of patiently gearing up to service a quota-free U.S. market.
Turkish fabric producer Seba Tekstil has doubled its warehouse capacity and acquired sampling and finishing machinery with an eye toward 2005. Orders from the U.S. are expected to leap from 8 percent of total business to as much as 40 percent after 2005, according to Umit Atilla, vp.
For fabric producer Hangzhou Hautex Industry Co., China, the U.S. already absorbs 70 percent of its exports. By next fall, it will have completed a new factory to produce sofa covers, curtains and some bedding.
"After 2005, we hope the business will increase," said president Xu Bohua.
Towellers, a Pakistani manufacturer of towels, bedding, apparel and blankets, has been snapping up idled U.S. machinery since 2002 and buying new equipment from Europe to upgrade its offerings.
"We are moving to a green field factory where a totally new setup will be put up for meeting all the social and environmental requirements," said Sh. Mohammed Obaid, managing director. "The majority of the production base would be in one location rather than 17 different areas today."
Jin Chao Co., China, has imported more than $100,000 worth of equipment to build out its fabric and bedding covers business. Although it's been shipping to U.S. wholesalers for over two years, quota is holding back its growth in the market, according to Yu Li Qiang, sales department manager.
"We think we'll do very fast business after 2005," he added. "But we're not sure [quota elimination] will happen."
Doubts remain
Will quotas disappear as planned — and if they do, will duties rise up to replace them? Some overseas manufacturers, especially in China, have their doubts. The rising chorus of anti-trade sentiment is casting an uncertain shadow over the necklace of global trading alliances as America swings into an election year.
Global sourcers fear President George W. Bush's administration will appease the South's battered textiles industry by erecting barriers to slow imports, especially from China. Lobbying organizations representing domestic manufacturers fear the administration will implement no more than token measures.
Pro-barriers lobbyists took heart recently when the administration agreed last month to impose quota restrictions on bras, dressing gowns, robes and knit fabric from China.
U.S. trade representatives must now "consult" with China to establish appropriate quota levels for the categories. If China refuses to negotiate, or fails to offer a satisfactory solution, the U.S. may unilaterally impose quota levels at 7.5 percent of the total amount of goods imported into the country during the previous 12 months.
The Washington-based organization that presented the original petition to the government, the American Manufacturing Trade Action Coalition, has vowed there will be more such actions to come.
"We're asking the government to negotiate a bilateral textiles agreement with China [that would cover all textiles categories], and we're going to keep filing petitions until we get negotiations," said Lloyd Woods, AMTAC director of media relations.
But sheets, towels and other major home textiles categories won't appear on petitions anytime soon. Before an industry can protest that imports of a particular product are causing serious damage or threatening to do so, the product must be trading free of quota. By the time the paperwork grinds through the safeguard protection evaluation process, unrestricted imports are already pouring into the market.
"The longer you wait," Woods conceded, "the bigger the base level is and the harder it is to contain."
In the meantime, the U.S. textiles industry found itself on the wrong side of the restriction process last month when the WTO granted the European Union Commission the right to "retaliate against" certain U.S. goods. Finding that the tax treatment Congress grants to foreign sales corporations constitutes an illegal export subsidy, the WTO is allowing the EU to increase tariffs on a broad array of U.S. products — including blankets, bedding, curtains, bedspreads, and table, toilet and kitchen linens.
"The list is targeted toward states that supported President Bush in the last election," noted Robert Leo, an attorney with Meeks and Sheppard, New York, counsel to the Home Fashions Products Association.
Although the EU is a small market for US home textiles producers, many of whom don't export at all, the EU can impose duties of up to five percent between March 1 and March 31.
Thereafter, it may levy import duties of 17 percent on selected goods. Those duties will remain in effect until the WTO determines the U.S. has complied with its regulations.
None of which is likely to run the quota-free textiles trade off the rails. For the retailers that sell the bulk of home textiles as well as the suppliers that provide them, the train has already left the station. The complications facing the industry in 2004 are regarded in many circles as temporary glitches on the track to 2005.
"What ultimately wins are the economics, and economics are the mechanics of trade," said Mac Ryland, principal, Kurt Salmon Associates, Atlanta. "You just can't beat it, no matter what kind of trade barriers you put in place."
Major regional flows in world exports of textiles
(Billion dollars & percentage)

Value
Annual percentage change
2002
1995-00
2001
2002
Source: World Trade Organization

Intra-Asia
38.0
-1
-10
3
Intra-Western Europe
36.4
-4
-5
-1
Western Europe to C./E. Europe/Baltic States/C
8.9
4
9
9
Asia to North America
8.3
8
-7
13
Asia to Western Europe
7.9
1
-9
1
North America to Latin America
5.7
20
2
7

Leading exporters of textiles, 2002
(Billion dollars & percentage)

Value
Share in world exports/imports
Annual percentage change
Exporters
2002
1980
1990
2000
2002
1995-00
2000
2001
2002
a - Includes significant shipments through processing zones
Source: World Trade Organization

European Union (15)
52.05
49.4
48.7
34.3
34.2
-3
-4
-3
1
Extra-exports
23.12
15.0
14.5
14.1
15.2
0
1
2
4
China a
20.56
4.6
6.9
10.5
13.5
3
24
4
22
Hong Kong, China
12.37
-
-
-
-
1
10
-9
1
Domestic exports
0.98
1.7
2.1
0.8
0.6
-8
-4
-11
-7
Re-exports
11.40
-
-
-
-
0
11
-9
2
United States
10.7
6.8
4.8
7.1
7.0
8
15
-4
2
Korea, Republic of
10.59
4.0
5.8
8.2
7.0
1
9
-14
-3
Taipei, Chinese
9.53
3.2
5.9
7.7
6.3
0
9
-17
-4
Japan
6.03
9.3
5.6
4.6
4.0
0
6
-12
-3
India b
5.38
2.4
2.1
3.9
3.7
7
18
-10
-
Pakistan
4.79
1.6
2.6
2.9
3.1
1
6
0
6
Turkey
4.24
0.6
1.4
2.4
2.8
8
6
7
8
Indonesia
2.9
0.1
1.2
2.3
1.9
5
16
-9
-10
Mexico a
2.21
0.2
0.7
1.7
1.5
15
12
-19
6
Canada
2.18
0.6
0.7
1.4
1.4
10
9
-2
1
Thailand
1.93
0.6
0.9
1.3
1.3
0
8
-4
2
Switzerland
1.42
2.8
2.5
1.0
0.9
-8
-7
-6
-2
Total for group
135.49
87.8
91.7
90.1
89.2
-
-
-
-

Leading importers of textiles, 2002
(Billion dollars and percentage)

Value
Share in world
Annual percentage change
Importers
2002
1980
1990
2000
2002
1995-00
2000
2001
2002
a - Includes significant shipments through processing zones
b - 2001 instead of 2002
c - Imports are valued f.o.b.
d - Includes Secretariat estimates
Source: World Trade Organization

European Union (15)
46.21
46.5
46.7
29.9
28.8
-3
-4
-4
-1
Extra-imports
17.27
14.0
13.2
10.7
10.8
1
2
-2
1
United States
17.0
4.5
6.2
9.8
10.6
9
12
-4
10
China a
13.06
1.9
4.9
7.9
8.1
3
16
-2
4
Hong Kong, China
12.02
-
-
-
-
-4
9
-11
-1
Retained imports
0.62
3.7
3.8
0.9
0.4
-21
-4
-30
-39
Mexico a
6.37
0.2
0.9
3.8
4.0
29
-
-3
6
Japan
4.54
2.9
3.8
3.0
2.8
-4
9
-4
-5
Canada c
3.81
2.3
2.2
2.5
2.4
5
3
-8
0
Korea, Republic of
3.17
0.7
1.8
2.1
2.0
-3
12
-9
3
Turkey
2.84
0.1
0.5
1.3
1.8
3
11
-10
48
Poland
2.73
0.5
0.2
1.5
1.7
3
-3
6
4
Romania
2.37
-
0.1
1.1
1.5
13
9
17
18
United Arab Emirates b, d
1.69
0.8
0.9
1.1
1.1
-2
7
-7
-
Thailand
1.5
0.3
0.8
1.0
0.9
1
21
-6
-2
Russian Federation d
1.48
-
-
0.8
0.9
13
23
15
3
Australia c
1.47
2.0
1.3
1.0
0.9
-2
-2
-20
13
Total for group
108.86
66.4
74.3
67.8
67.9
-
-
-
-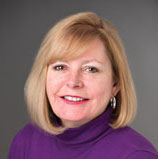 Jennifer Marks
|
Editor in Chief
jmarks@homeandtextilestoday.com
Related Content By Author
The Countdown to the ICON Honors Continues featuring Christophe Pourny

More Videos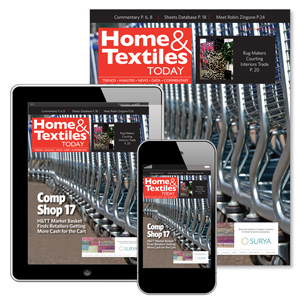 See the May 2017 issue of Home & Textiles Today. In this issue, we discuss our annual Market Basket survey, which finds higher prices and more polyester at leading retailers. See details!