The Top 50 Retailing Giants
Bed Bath & Beyond, Kohl's Repeat as Fast Gainers
Carole Sloan, July 16, 2007
The Home Textiles Today exclusive Top 50 Retailing Giants in Home Textiles continued to grow its share of the total market in 2006, increasing 5.1% to $24.7 billion, or 90% of the market.
The total home textiles retail universe in 2006 was $27.4 billion, up 3.0% from $26.6 billion in 2005.
And while the Top 10 remained the same, with sales of $17.5 billion, up 5.5% from their 2005 combined sales of $16.6 billion, there were shifts in those players' ranks. Even more significantly, the Big Three — Wal-Mart, JCPenney, and Bed Bath & Beyond — moved closer together in total home textiles revenues.
Wal-Mart, once again in first place, had 2006 home textiles revenues of $3.64 billion, up 5.1% over its 2005 sales. JCPenney had '06 home textiles revenues of $3.06 billion, a gain of 3.1% — and meanwhile Bed Bath & Beyond swelled by 11.4% to $3.04 billion over its '05 revenues.
In the sales derby among the Big Three that began with the 2005 rankings, Bed Bath is closing in on both of the leaders with significantly higher dollar and percentage sales increases.
In comparing 2006 versus 2005 among the trio, there was a difference of $575 million in '06 between JCPenney and Wal-Mart, compared with a $492 million gap between the '05 sales. However, the gap between JCP and Bed Bath & Beyond for '06 was $25 million, a dramatic closing from the $242 million that separated them in '05. And the difference between Wal-Mart and BBB closed to $600 million for '06 versus $734 million in the '05 period..
Target, for the second year, retained its fourth place slot with home textiles sales of $2.6 billion, up 4.1%.
Within the Top 10, the only rankings shift was the trading-places dance between Kohl's, attaining $1.1 billion in sales and moving to No. 5, up from No. 7 in '05, while Linens 'n Things, at $993.0 million, dropped to No. 7 from No. 5. (With new information available, privately-held LNT's home textiles volume as a proportion of total sales has been restated, corrected dramatically downward for both years.)
Just as Target retained its fourth position, others holding in place were Kmart, in sixth place at $1.0 billion, a drop of 6.3%, and T.J.Maxx/Marshall's at No. 9 with $615 million, a 3.4% gain.
New to the Top 10 list at No. 10 is Williams-Sonoma, which replaces its major division Pottery Barn (no longer reported separately in the Top 50 Retailing Giants) in that slot. Corporately, the company had home textiles sales of $595 million, up 8.2% from its '05 sales of $550. Even as Pottery Barn continues to be the major home textiles player in the company, its West Elm and Williams-Sonoma Home businesses have expanded their reach into the textiles world.
The Top 5, with sales of $13.5 billion, was up 6.8%, and accounted for 54.6% of the Top 50 compared with 53.8% in '05. This is a significant concentration of retail power — in contrast to the relatively static condition of the Top 10, which now represents 71% of the Top 50 revenues, up just slightly from 70.7% in '05.
In the rankings from No. 11 to No. 20, there are two new players — Hanover Direct, at No. 19 with sales of $230.0 million — flat with '05 but up from No. 21 in the rankings; and Lowe's, at No 20, up from No. 24 with '06 sales of $222.0 million, up 8.8% from '05.
Big Lots, now at No. 11, swapped rankings with Sears, now at No. 12. Family Dollar held its place at No. 13 with a 7.7% sales gain; Ross Stores jumped to No. 14 from No. 17 with a 16.4% increase.
As Luxury Linens, the Burlington Coat Factory division, moved down one spot with a 2.8% sales decline to $315 million, IKEA moved up from No. 20 to No. 16 with $305 million for '06. Anna's Linens, at No. 18, edged up from No. 19, on a sales gain of 13% to $260 million in home textiles.
The Top 20 represents $20.7 billion in home textiles revenues for '06, up 5.5% from '05, and 83.9% of the Top 50's revenues for '06, compared with 83.5% of the Top 50 in '05.
New to the ranks of the Top 50 below the Top 20 are The Bon-Ton Stores at No. 32, the result of the department store group's string of acquisitions, in particular the Northern Division of Saks Inc. The Bon-Ton had home textiles sales of $149.0 million, up 2.8% over '05. The other newcomer is Ashley Furniture HomeStores, the exploding retail arm of Ashley Furniture that came in at No. 46 with home textiles sales of $74.0 million.
The rankings continue to be impacted by the consolidation of statistics resulting from the acquisition of May Department Stores by Federated Department Stores — now Macy's, Inc. The 2005 sales figures included full-year results for Macy's Home Store — which was the first time the rankings combined all five Macy's divisions — as well as a five-month sales record from the former May units. The 2006 home textiles results include Macy's Home Store as well as a complete 12 months of May units. Interestingly, the ranking stays the same at No. 8, with an aggregate 5.8% increase to $820.0 million.
There were eight of the Top 50 companies who had double-digit sales gains for the '06 year, led by IKEA with a 24.5% increase, bringing its home textiles sales to $305 million. The other double-digit increasers were Kohl's with 18.3%, Ross Stores with 16.4%, Restoration Hardware with 15.7%, Big Lots at 13.2%, Anna's Linens at 13%, Costco at 12.8%, and Bed Bath & Beyond at 11.4%.
In all, 35 of the 50 retailers recorded gains.
Three companies were flat compared with '05: Hanover Direct, Country Curtains and Lands End.
On the double-digit minus side were three retailers: Sears with a decline of 11.6%, No. 42-ranked Stein Mart with a drop of 10.8%, and Linen Source at No. 48 with a drop of 10%.
There were 11 retailers recording declines for 2006.
Corp. Rank
Corporation
Home Textiles Sales ($Millions)
Percent Change
Share Of Home Textiles Universe
Number of Stores
2006
2005
2006
2005
Source: Home Textiles Today market research
1. Includes No. 1 Wal-Mart and No. 36 Sam's Club
2. Includes No. 6 Kmart, No. 12 Sears and No. 44 Lands' End
3. Includes No. 8 Macy's Home Store and No. 26 Bloomingdale's
4. Includes No. 9 T.J. Maxx/Marshalls and No. 22 HomeGoods
5. Includes No. 27 Cornerstone Brands and No. 50 HSN
1
Wal-Mart Bentonville, Ark.
$3,760.0
$3,580.0
5.0%
13.7%
3,910
3,756
2
Sears Holdings Corp. Hoffman Estates, Ill.
$1,513.0
$1,635.0
-7.5%
5.5%
2,338
2,357
3
Macy's, Inc. Cincinnati
$1,004.0
$948.0
5.9%
3.7%
858
861
4
TJX Companies Framingham, Mass.
$835.0
$805.0
3.7%
3.0%
1,839
1,765
5
IAC/Interactive Corp. New York
$242.0
$235.0
3.0%
0.9%
7
7
Rank
'05 Rank
Company, HQ & Store Type
2006
2005
Percent Change
Home Textiles as a Percentage of Store's Total Sales
Share of Home Textiles Universe
Number of Stores
2006
2005
All home textiles sales information, except for publicly held companies that break out line-of-business sales for home textiles, are Home Textiles Today market research estimates..
All data for calendar year ending Dec. 31, fiscal year-end or trailing 12 months closest to that date.
NS=No stores; NA=Not available; NR=Not ranked; R=Revised
Store type: DTC=Direct-to-consumer; CH=Chain store; DC=Discount department store; DP=Department store; FC=Furniture chain; HIC=Home improvement center; PX=Military exchange; SC= Supercenter; SP= Specialty store; W=Warehouse club
Source: Home Textiles Today market research
1
1
Wal-Mart Bentonville, Ark. DC/SC
$3,640.0
$3,464.0
5.1%
1.6%
13.3%
3,331
3,189
Fiscal year ended Jan. 31. Sales and store counts are for U.S. Wal-Mart stores only and online home textiles sales, excludes Neighborhood Markets and Sam's Clubs. Opened 15 and closed two discount stores, opened 276 supercenters including 147 discount store conversions to supercenters. Home textiles was impacted negatively by disruption from major reset program in 270 stores and overall product and marketing tradeup program as well as senior management changes. Comp sales were up 2.0 %, soft goods and domestics were up 7.8%, total '06 sales were up 7.8% to $226.3 billion.
2
2
JCPenney Plano, Texas DP/DTC
$3,065.0
$2,972.0
3.1%
15.4%
11.2%
1,033
1,019
Fiscal year ended Feb. 3. Includes sales from stores, catalog and online. Exceeded five year plan in two years: sales exceeded '06 sales plan, profit reached '07 and '08 goals. Sales per square foot were $164, up from $157 in '05. Comps were up 3.7%, internet up 24%. Major store expansion program focuses on off the mall units with plans for about 50 new units a year with Chicago and Houston metros a focus. Opened 28 in '06, 23 in new format that is more productive than mall stores. Focus on 10 power brands including Chris Madden for JCPenney Home Collection. In '08 will launch major store-wide American Living, created by Polo Ralph Lauren.
3
3
Bed Bath & Beyond Union, N.J. SP
$3,040.0
$2,730.0
11.4%
45.9%
11.1%
849
771
Fiscal year ended March 3. Sales and store counts include 815 Bed Bath stores and Christmas Tree Shops. Sales for buybuyBaby kids stores acquired in March are not included. Home textiles were 46% of total sales in '06, down from 47% in '05, following a similar decline earlier. Bed linens were 15% of sales in '06, down from 16% in '05, also following a year earlier one point decline. Introduced exclusive Modern Comfort by Angela Adams bed and bath collection. Total sales were $6.62 billion, up 13.9% from '05. Announced plans for first Canadian store.
4
4
Target Minneapolis DC/SC
$2,615.0
$2,512.0
4.1%
4.5%
9.5%
1,488
1,397
Fiscal year ended Feb.3. Opened 94 Target stores and 19 SuperTargets in '06, closed 22 stores including 18 relocations in the same trading areas. Plans 100 new Target stores including 30 to 35 SuperTargets. Aggressive online program includes expanded and upgraded home textiles offering, apart from the store assortment and suppliers. Home textiles sales declined to 4.5% of total from 4.9% of total in '05; overall home sales declined to 19% of total sales, down from 20% in '05. In-store assortments were impacted by higher price points. Remerchandised its Target Casual and Contemporary Home brands and relaunched Waverly.
5
7
Kohl's Menomonee Falls, Wis. DP
$1,100.0
$930.0
18.3%
7.1%
4.0%
817
732
Fiscal year ended Feb. 3. Opened 85 new stores in '06 and entered the Seattle and Portland, Ore., markets. Plans to open 110 to 115 in '07. Total '06 sales were up 16% to $15.54 billion. Comp sales increased 5.9%. In March 2007 rolled out its Casa Cristina collection in towels, placemats and bed linens; in May launched the Chaps collection in bedding and bath; and in September will debut Very Vera by Vera Wang in bedding and bath. Opened a New York design office in January '07.
6
6
Kmart Troy, Mich. DC/SC
$1,025.0
$1,094.0
-6.3%
5.5%
3.7%
1,388
1,416
Fiscal year ended Feb. 3. Part of publicly held Sears Holdings which includes Sears and Lands End. Operated 1,333 discount stores and 55 supercenters and online. Closed 28 stores in '06, remodeled about 200. Home brands focus on private label Essential Home and Martha Stewart Everyday. Plans major upgrade for Martha Stewart Everyday in design, construction, quality and color for fall. New marketing campaign renews a familiar image with an animated incandescent lightbulb called "Mr. Bluelight" designed to highlight new merchandise important events. Comp sales declined 0.6% in '06; total sales were down 2.9%.
7
5
Linens 'n Things Clifton, N.J. SP
$993.0
$970.0R
2.4%
38.0%
3.6%
536
512
Fiscal year ended Dec. 30. Operates 571 stores in 47 states and six in Canada. Sales and store counts are for U.S. only. New ownership, Apollo Capital, dramatically changed merchandising and operations personnel, began major inventory clearance and announced a decade long plan for recovery. Initial plans include making certain 100 best selling items are always in stock and reducing store presentation clutter. Home textiles are a major challenge and '07 is been dubbed the year for this business's recovery beginning with its sheet, towels, pillow and comforter programs. Home textiles, including rugs, increased about 2.4%, total '06 U.S. sales were up 3.1%.
8
8
Macy's Home Store New York DP
$820.0
$775.0
5.8%
NA
3.0%
820
825
Fiscal year ended Feb. 3. The division of the former Federated Department Stores, now Macy's, Inc., is centrally operated in home furnishings as Macy's Home Store. Corporate home sales accounted for 15% of total '06 sales, down from 17% in '05. Completed conversion of former May Co. stores in September '06 with major marketing thrust and renaming of May units to Macy's. Home sales were negatively impacted by marketing efforts to quickly upgrade May assortments and promotional activity which this year will be modified. Will launch exclusive Martha Stewart Collection of across the board home furnishings later this summer.
9
9
T.J Maxx/Marshalls Framingham, Mass. DC
$615.0
$595.0
3.4%
5.3%
2.2%
1,569
1,514
Fiscal year ended Jan. 27. Sales and store counts are for the Marmaxx Group (T.J. Maxx and Marshalls) in the U.S. and Puerto Rico. Does not include sales from any HomeGoods stand-alones, superstores or combo stores. T.J. Maxx and Marshalls sell quality, brand name and designer merchandise at prices 20% to 60% below department and specialty store prices. Expanding jewelry and accessories departments in T.J. Maxx, footwear departments in Marshalls. Overall, giftware and home decorative products performed well, while the soft home was weak. Total '06 sales for the Group were $11.53 billion, up 5.2% from '05.
10
NR
Williams-Sonoma San Francisco SP/DTC
$595.0
$550.0
8.2%
16.0%
2.2%
579
561
Fiscal year ended Jan. 28. Specialty home furnishings retailer selling through stores, online and catalogs under the names Pottery Barn, Pottery Barn Bed + Bath, Pottery Barn Kids, PBteen, West Elm, Williams-Sonoma, and Williams-Sonoma Home. Sales and store counts for U.S. only. Pottery Barn textiles include bed and bath, window coverings, area rugs, and kitchen textiles. Pottery Barn Kids experienced strong sales growth in all categories with the growth in textiles and furniture impressive. Although Pottery Barn had a disappointing year, textiles fared somewhat better. Total '06 net revenues were $3.73 billion, up 5.3% from '05.
11
12
Big Lots Columbus, Ohio DC
$455.0
$402.0
13.2%
9.6%
1.7%
1,375
1,401
Fiscal year ended Feb. 3. Opened 11 stores last year and closed 37. The closeout retailer plans to refine its merchandise mix, including higher thread counts in sheets and better bath towels, as well as up its marketing efforts and internet capabilities over the next three years rather than opening new stores. Purchased about 24% of its merchandise directly from overseas vendors in '06, including 19% from vendors in China. Home, including textiles and furniture, was the best performing category in '06. Home accounted for 31.1% of '06 total sales, up from 30.1% in '05. Comp store sales increased 4.6% last year. Total '06 sales were $4.7 billion, up 7.1%.
12
11
Sears Hoffman Estates, Ill. CH
$405.0
$458.0
-11.6%
1.4%
1.5%
935
924
Fiscal year ended Feb. 3. Part of publicly held Sears Holdings which includes Kmart and Lands End. Domestic sales and store counts are for 861 full line stores, 74 Sears Essentials/Grand stores and sears.com. Excludes catalog and internet sales under license to Direct Marketing Services. Combined merchandising and marketing staffs for Sears and Kmart at Hoffman Estates, Ill., headquarters. Expanding presence of Lands End merchandise in Sears stores. Launched Simply Indoors, a new home catalog highlighting proprietary products in October and recently developed "sears book", a four page glossy circular newspaper insert this year. Domestic comp sales down 6.1% in '06.
13
13
Family Dollar Matthews, N.C. DC
$400.0
$371.4R
7.7%
5.9%
1.5%
6,319
6,002
Fiscal year ended Aug. 26. Sales and store counts are for the trailing 12 months ended Feb. 25. Opened 200 new stores featuring better fixtures and new signage in January, with plans for a total of 400 new stores by end of August. Continued its "Treasure Hunt" merchandise program last year and focusing its merchandising efforts on food and apparel. Comp store sales increased 3.7% for fiscal '06. Home products, including textiles, accounted for 15.2% of fiscal '06 sales, down from 15.5% in fiscal '05. Total '06 trailing 12 month sales were $6.8 billion, up 10.5%.
14
17
Ross Stores Pleasanton, Calif. DC
$320.0
$275.0
16.4%
5.7%
1.2%
797
734
Fiscal year ended Feb. 3. Operates two chains of off-price stores — Ross Dress for Less, with 771 locations in 27 states and Guam; and 26 dd's Discounts stores in California. dd's features a lower-priced merchandise assortment. Planning for 90 new stores this year, including 27 dd's Discounts, moving the chain into Florida, Texas, and Arizona. Forty stores will open in former Albertson's supermarkets. Home was strong last year, with home accents and bed and bath accounting for about 22% of total sales, up from the 21% in '05 and '04. Total '06 sales were $5.57 billion, up 12.7% from '05.
15
14
Luxury Linens Burlington, N.J. SP
$315.0
$324.0
-2.8%
NA
1.1%
339
320
Part of privately held Burlington Coat Factory, fiscal year ended June 3, 2006. Sales and store counts are for the trailing 12 months ended March 3. Was taken private by Bain Capital Partners, LLC on April 13, 2006. As of March 3, sold linens online and through 339 Luxury Linens departments within Burlington Coat Factory stores. Stores are in 44 states. Offers midpriced to high-end linens, bath shop items, gifts and accessories. Total '06 home sales for BCF were $669.4 million, down 1.1%. Total '06 trailing 12 month sales were $3.46 billion, up 2.4% from $3.38 billion in 2005.
16
20
IKEA Conshohocken, Pa. SP
$305.0
$245.0
24.5%
12.2%
1.1%
28
24
Fiscal year ended Aug. 31. The Sweden-based specialist currently operates more than 250 stores in 34 countries. Sales and store count are U.S. only. Stores range from 250,000 to 350,000 square feet, featuring 50+ room settings, four model homes reflecting a variety of living situations, and some 9,500 products. The textiles department, with bedding, towels, pillows, and rugs, averages approximately 19,600 square feet. Will end this fiscal year with 31 stores after the opening of stores in Round Rock, Texas, and Draper, Utah earlier this year and Portland, Ore., this summer. Total fiscal year sales were $2.5 billion, up 25%.
17
18
Tuesday Morning Dallas DC
$263.0
$265.0
-0.8%
28.9%
1.0%
795
732
Fiscal year ended Dec. 31. Publicly held closeout retailer. Purchases first quality, brand name merchandise at closeout and sells it at prices 50% to 80% below those charged by department stores and specialty retailers. Is planning to open fewer new stores this year opting to pursue expansion and relocation opportunities in its existing store base. Will add 50 net new stores, expand about 25 existing stores and relocate about 50 existing stores. Total '06 sales were $911.1 million, down 2.2% from '05. Is stocking its stores with more upscale products and seasonal items, trending toward more high-end decorative categories.
18
19
Anna's Linens Costa Mesa, Calif. SP
$260.0
$230.0R
13.0%
80.5%
0.9%
246
210R
Fiscal year ended Jan. 28. Operates in 20 states selling bedding, bath and kitchen textiles as well as home décor, tabletop, and housewares. Window treatments is the single most important category for the retailer, representing about $100 million in sales. Is planning to cross the 300-store mark by early 2008. To support this growth, Anna's Linens last year began making capital investments in IT systems, supply chain upgrades and staff. Has also worked on its marketing profile debuting its first television ads in southern California last November. Total '06 sales were $323.1 million, up 12.6% over $287 million in '05.
19
21
Hanover Direct Edgewater, N.J. DTC
$230.0
$230.0
0.0%
61.6%
0.8%
3
4
Fiscal year ended Dec. 30. Direct marketer operating three catalogs and associated websites — The Company Store, Company Kids and Domestications. Also operates three retail outlet stores, two in Wisconsin and one in Roanoke, Va. The Company Store is expanding its mix with increased hardgoods. In '06, the mid-priced Domestications experienced higher demand than did its high-end counterpart, The Company Store. Total '06 catalog and Internet sales for Hanover Direct were $373.5 million, up 3.7%. Hanover is no longer a public company after being acquired by Chelsey Direct, a significant company shareholder, in April 2007.
20
24
Lowe's Mooresville, N.C. HIC
$222.0
$204.0
8.8%
0.5%
0.8%
1,385
1,234
Fiscal year ended Feb. 2. Also sells online and through its catalogs. Opened 155 stores in '06 including four relocations. New stores include a 117,000-sq.-ft. prototype for large markets and a 94,000-sq.-ft. store for smaller markets. Plans to expand into Toronto during the second half of '07 with five or six stores and into Monterrey, Mexico in '09 with three to five stores. Textiles carried include rugs, bath and soft window coverings. Comp store sales were flat in '06, ending its three year run of comps of 6% or more. Total '06 sales were $46.9 billion, up 8.5%.
21
26
Costco Issaquah, Wash. W
$220.0
$195.0
12.8%
0.4%
0.8%
371
346
Fiscal year ended Sept. 3. Sales and store counts are for the trailing 12 months ended Feb. 18 and include only stores in the U.S. and Puerto Rico, including its two Costco Home stores in Kirkland, Wash., and Tempe Ariz. Also sells online. Costco.com is on track to generate online sales of $1.2 billion for fiscal 2007, an increase of 36.4%. Plans to open 35 new stores worldwide in '07. While the free-standing Costco Home Stores are performing satisfactorily, the company has not moved forward with plans for additional outlets. Softlines comprised 12% of fiscal '06 and '05 sales. Total '06 trailing 12 month sales were $61.2 billion, up 12.1%.
22
23
HomeGoods Framingham, Mass. SP
$220.0
$210.0
4.8%
16.1%
0.8%
270
251
Fiscal year ended Jan. 27. Division of publicly held TJX Companies. Sales and store counts are for the 147 stand-alone HomeGoods stores, the 105 superstores, and the 18 combo stores. Opened HG Kids departments offering kids' furniture and accessories in 70 stores last year. Earlier this year entered into a licensing agreement with Country Living for home furnishings merchandise. Comp store sales increased 4% in '06 due to strong growth in giftware and home decorative products. Total '06 sales were $1.36 billion, up 15%. Starting to see a turnaround in soft home during the first quarter of '07, with soft home up about 5% for the quarter.
23
25
Meijer Grand Rapids, Mich. SC
$205.0
$198.0
3.5%
1.5%
0.7%
176
171
Family-owned and operated. Is recognized as the pioneer of the supercenter. Operates the majority of its stores in Michigan, with the balance in Illinois, Indiana, Kentucky, and Ohio. All stores are opened 24 hours a day and average 225,000 square feet. Opened five supercenters in '06 and plans to open five this year and seven in '08. Currently operates 13 supercenters in Chicagoland. The company's new "green" store in Allen Park, Mich., will carry energy efficient fixtures, incorporate sustainable building components and feature indoor air quality monitoring, qualifying it for LEED certification. Total '06 sales estimated at $14.1 billion.
24
22
Pier 1 Imports Fort Worth, Texas SP
$204.9
$214.6R
-4.5%
13.6%
0.7%
1,119
1,150
Fiscal year ended March 3. Operated 1,232 Pier 1 stores in the United States, Canada and Mexico. Sales and store counts for U.S. and Puerto Rico only. Will shut down its online and catalog operation and close all Pier 1 Kids stores by the end of October and all clearance centers by the end of July to focus on its full-line units. More than 2,000 new items will be introduced by January '08. Home textiles as a percent to total sales increased to 13.7% in '06 from 13% in '05. Total '06 revenues in the U.S. were $1.50 billion, down 7.1% from '05.
25
16
Mervyns Hayward, Calif. DP
$193.0
$188.5R
2.4%
NA
0.7%
189
190
Privately held promotional department store currently operating 173 stores in eight Western and Southwestern states. Opened four new stores in October '06, its first since becoming an independent retailer in '04. New stores include wider shopping aisles, new graphics and wall displays, directional signage, centrally-located customer service centers and brighter lighting. Ultimate goal is 200 stores. Exited Michigan, Oklahoma, Oregon, and Washington to focus on its core markets.
26
29
Bloomingdale's New York DP
$184.0
$173.0
6.4%
NA
0.7%
38
36
Fiscal year ended Feb. 3. Division of publicly held Macy's, Inc., formerly Federated Department Stores. Operates 39 department stores, online at Bloomingdales.com, and the Bloomingdale's by Mail catalog. The division represents 10% of the company's sales and profits. It has been on a successful major upgrade of physical plant, merchandise, presentation and marketing strategy focusing on top designer brands which include Barbara Barry, Calvin Klein, Donna Karan Home, Etro, Lauren Ralph Lauren, Natori, Pratesi, and Sferra. Expanded its California presence with a unit in Costa Mesa, its eighth store in the state.
27
28
Cornerstone Brands Waltham, Mass. DTC
$180.0
$175.0
2.9%
NA
0.7%
7
7
Fiscal year ended Dec. 31. Part of publicly held IAC/Interactive. Figures for the catalogs of Ballard Designs, Frontgate, Garnet Hill and Smith + Noble. Also sells online through each title and Ballards and Frontgate operate retail stores. Frontgate features premium, high quality bed, bath and kitchen accessories as well as outdoor and patio furnishings. Ballard Designs features European-inspired home furnishings for the bed, bath, dining and office and rugs. Garnet Hill offers bed and bath furnishings and soft goods and Smith + Noble offers custom home furnishings and window treatments. Total annual circulation in '06 was about 426 million.
28
30
QVC West Chester, Pa. DTC
$178.0
$170.0
4.7%
3.6%
0.6%
7
7
Fiscal year ended Dec. 31. Part of publicly held Liberty Media Corp. Sells domestics through its televised shopping programs on the QVC television networks, via the internet, and at its flagship store at Minnesota's Mall of America, its Studio Store located at QVC headquarters and five outlet stores in Pennsylvania, Delaware, and Florida. Home category accounted for about 44% of U.S. net revenues in '06, down from 45% in '05 due to the continued shift in the mix from home products to apparel and accessories products. U.S. sales in '06 were $4.98 billion, up 7.4% from $4.64 billion in '05.
29
27
Home Depot Atlanta HIC
$174.0
$176.0
-1.1%
0.2%
0.6%
1,872
1,793
Fiscal year ended Jan. 28. Opened 86 new stores, including eight relocations during 2006. Also sells through its Home Depot Direct catalog division and online. Debuted a smaller store model at two stores in the Bay Area in April. These "Yardbird" stores, between 35,000 and 50,000 square feet, are expected to compete with hardware chains True Value and Ace Hardware. A priority for 2007 is to hire more knowledgeable associates. Retail '06 comp store sales declined 2.8%, driven by a decline in comp store customer transactions. Average ticket sales increased 1.6% in 2006. Total retail sales were $79 billion in 2006, up 2.6%.
30
31
BrylaneHome New York DTC
$170.0
$162.0
4.9%
11.3%
0.6%
NS
NS
Fiscal year ended Dec. 31. Division of Redcats USA, which is part of the French-based Pinault-Printemps-Redoute Group. BrylaneHome consists of two divisions: BrylaneHome, known as America's White Sale Catalog, offering everything from bedding and home accents to housewares and bath shop items as well as window treatments, floor coverings, vacuums, and cleaning and ironing categories; and BrylaneHome Kitchen, offering hard-to-find kitchen and home essentials. Also operates associated e-commerce sites. Redcats USA acquired The Sportsman's Guide, a leading catalog and online marketer of outdoor and sports gear, in September. Total '06 sales were about $1.5 billion.
31
34
Restoration Hardware Corte Madera, Calif. SP
$155.0
$134.0
15.7%
21.7%
0.6%
108
106
Fiscal year ended Feb. 3. Sells through 111 stores, including eight clearance centers, in 30 states and the District of Columbia and Canada, as well as online and catalogs. Sales and store counts for U.S. only. In 2006, launched Brocade Home, a new brand targeted at the broader value market covering all categories of furniture, lighting and textiles. Also launched an Outdoor Catalog and a Gift Catalog. This April, launched its third category extension, Restoration Hardware Bed & Bath catalog. Total '06 revenues were $712.8 million, up 22.5% from '05. Is working on Restoration Hardware Kids, a premium line of children's furnishings scheduled for '08.
32
NR
The Bon-Ton Stores York, Pa. DP
$149.0
$145.0
2.8%
4.4%
0.5%
283
279
Fiscal year ended Feb. 3. Operates in 23 Northeastern, Midwestern and upper Great Plains states under eight brands - the Bon-Ton, Bergner's, Boston Store, Carson Pirie Scott, Elder-Beerman, Herberger's, Younkers, and Parisian. Acquired the 142-store Carson division from Saks, in March '06. In October, acquired five Parisian department stores from Belk. Has made significant progress integrating the various nameplates with common merchandise, including new private brands, and the implementation of a common marketing/advertising calendar. Home, 18.3% of '06 sales, was one of the best performing categories. Total sales were $3.36 billion in '06.
33
33
Fred Meyer Portland, Ore. SC
$145.0
$137.0
5.8%
NA
0.5%
152
150
Fiscal year ended Feb 3. Part of publicly held Kroger Co. Operated 128 Fred Meyer stores and 24 Marketplace stores in four Western states at the end of '06. Fred Meyer supercenters range from 66,000 square feet in size to 174,000 square feet, averaging 150,000 square feet. Stores offer one-stop stopping with more than 225,000 food and non-food products. Has been scouting the Sacramento, Calif., area for store sites, which would be its first store in California since it closed its one store there 11 years ago. Total '06 sales estimated at $7.7 billion.
34
35
Dollar General Goodlettsville, Tenn. DC
$127.0
$126.0
0.8%
1.4%
0.5%
8,229
7,929
Fiscal year ended Feb 2. Announced in March its acquisition by private equity firm Kohlberg Kravis Roberts; the transaction closed in July. Opened 537 new stores last year, remodeled or relocated 64 and closed 237. Plans to open 300 new stores this year and remodel or relocate an additional 300. Will also close 400 underperforming stores by the end of fiscal '07. Stores average 6,900 square feet of selling space. Home merchandise, including domestics, accounted for 10% of '06 sales, down from 10.6% in '05. Comp store sales increased 3.3% in '06. Total '06 sales were $9.2 billion, up 6.8%.
35
32
Value City/Filene's Basement Columbus, Ohio DC
$122.0
$121.0R
0.8%
6.8%
0.4%
144
140
Fiscal year ended Feb. 3. Part of publicly held Retail Ventures. Operates Value City, a discount general merchandise chain with 113 locations in the Midwest, Mid-Atlantic and Southeastern U. S.; and Filene's Basement, an off-price chain with 31 locations in the Northeast and Midwest. Value City continued to transition to more name brand merchandise, better assortments and more upfront purchasing. Filene's Basement plans to open stores at an increased rate, with six new stores planned for '07. Retail Ventures is exploring strategic alternatives for the Value City operations, including a possible sale. Total '06 sales for the two chains were $1.79 billion, up 1.1% from '05.
36
37
Sam's Club Bentonville, Ark. W
$120.0
$116.0
3.4%
0.3%
0.4%
579
567
Fiscal year ended Jan. 31, division of publicly held Wal-Mart. Sales and store counts are for Sam's Club division only. Operates clubs in 48 states; also sells online. Opened 15 new clubs last year and closed three. Clubs range between 72,000 and 190,000 square feet and average 132,000 square feet. Began softening its small business focus this year to reach more middle America. Began accepting MasterCard as a payment method in '06. Softgoods, including home textiles and apparel, accounted for 5% of '06 and '05 total sales. Comp '06 store sales increased 2.5%. Total '06 sales were $41.6 billion, up 4.5%.
37
36
Dillard's Little Rock, Ark. DP
$117.0
$118.0
-0.8%
1.5%
0.4%
328
330
Fiscal year ended Feb. 3. Operates in 29 states located primarily in the Southwest, Southeast and Midwest. Remained focused on positioning its merchandise mix toward a more upscale and contemporary tone and offering national brand merchandise as well as its own exclusive brands. Exclusive brands accounted for about 23.8% of '06 sales and 24.0% of '05 sales. Home furnishings, at approximately 8% of total sales in '06, lagged behind the general trend. The category was down 0.3% for the year. Total '06 sales were $7.64 billion, up 1.1% from '05. Plans to open nine stores this year including one replacement, and expand six existing locations.
38
41
Crate & Barrel Northbrook, Ill. SP
$115.0
$105.0
9.5%
9.7%
0.4%
153
145
Fiscal year ended Jan. 28. Subsidiary of German-based Otto Versand. Lifestyle specialty retailer focused primarily on contemporary and transitional home furnishings. Home textiles include its exclusive Marimekko designs in bed and bath. Offers a selected range of bed, bath, rugs, curtains, kitchen textiles and table linens. Operates two CB2 units in Chicago geared to a younger, more contemporary consumer. Will open a CB2 store in New York in '07, and its first store in Canada in '08. Home textiles accounts for a little less than 10% of total sales. Total sales were $1.19 billion in '06, up 7.6% from $1.11 billion in '05.
39
40
ShopKo Green Bay, Wis. DC
$106.0
$107.0
-0.9%
4.7%
0.4%
135
135
Privately held; taken private by investment firm Sun Capital Partners in Dec. '05. Sales and store counts are for ShopKo units only, in 13 Midwest and Northwest states, excluding three ShopKo Express Rx stores in Wisconsin. Also excludes the 216-unit Pamida discount chain, spun off in March. Stores average over 90,000 square feet. ShopKo closed two stores in Peoria, Ill., and one in Eugene, Ore., in January. Broke ground in May on a 80,000-sq.-ft. store in metro Green Bay, Wis., its first new store in six years. Total '06 sales estimated at $2.2 billion.
40
42
Direct Marketing Services Chicago DTC
$102.0
$96.0
6.3%
NA
0.4%
NS
NS
Expanded home furnishings reach through acquisition of Popular Club Plan in February, expanding Montgomery Ward brand acquired in '04 to internet and more catalogs with several million now distributed. Also merchandises and produces upscale home furnishings and gift book, Charles Keath. Under license, merchandises and products Sears ShowPlace, Sears Kitchens, Sears Rooms for Kids, and Sears Home Centers.
41
43
Belk Charlotte, N.C. DP
$95.0
$87.0
9.2%
2.6%
0.3%
315
276
Fiscal year ended Feb. 3. Privately owned department store operating in 18 states, primarily in the Southeast. Has completed the re-branding of 39 former Proffitt's and McRae's stores and acquired 40 Parisian department stores from Saks. Has sold five Parisian locations to The Bon-Ton, will divest another seven and the remaining stores will be re-branded as Belk this September. Continued to strengthen its home store business by expanding floor space and adding high capacity home store fixtures in 55 stores. Home was 11% of total '06 revenues. Total '06 sales were $3.68 billion, up 24.1%. Launched MaryJanesFarm Home, a line of bedding and decorative accessories, in February.
42
39
Stein Mart Jacksonville, Fla. DC
$91.0
$102.0R
-10.8%
6.1%
0.3%
268
262
Fiscal year ended Feb. 3. Operated 268 stores in 30 states and the District of Columbia. Home was a challenge last year. Gifts and linens accounted for about 14% of '06 total sales, down from 15% in '05. Linens dropped from about 44% of the category in '05 to 40% in '06. Will introduce a new bath shop assortment this summer, and will expand the Nina Campbell brand into towels, bath rugs and additional bedding. Has re-done the floors of the home department in five stores with a rollout to all units by August. Total '06 sales were $1.50 billion, up 1.3% from '05.
43
44
Country Curtains Stockbridge, Mass. DTC
$84.0
$84.0
0.0%
93.3%
0.3%
24
24
Private, family-owned retailer and manufacturer of window treatments, bedding, chair pads, decorative pillows, drapery hardware, rugs, trims and table linens. Operates 24 stores in 12 states up and down the east coast from New Hampshire to Virginia, and from Boston to Chicago. Stores offer window treatments in hundreds of styles, sizes and colors displayed on real windows, in real room settings to give consumers an idea of how the curtains might look in their room. Also offers custom window treatments. Total '06 sales were about $90 million, same as in '05. Factories are in Massachusetts and Connecticut.
44
45
Lands' End Dodgeville, Wis. DTC
$83.0
$83.0
0.0%
NA
0.3%
15
17
Fiscal year ended Feb. 3. Part of publicly held Sears Holdings Corp. Direct merchant offering traditionally-styled products for the home through catalogs, including the specialty Lands' End Home catalog, its retail stores, its website, and Sears full-line stores. The retail stores, averaging 8,500 square feet, offer merchandise primarily from catalog and internet channel overstocks. Expanded a test program initiated in '05 that creates a Lands' End store-within-a-store concept at certain Sears full-line locations. Approximately 100 full-line stores now feature this concept.
45
47
Army & Air Force Exchange Service Dallas PX
$82.2
$79.6
3.3%
0.9%
0.3%
177
177
Revenues based on worldwide sales, excluding food, services and vending. Market areas include worldwide Army and Air Force military posts and bases serving active-duty military personnel, guard and reservists, retirees and their families, some 7.3 million customers. Receives no funds from the Department of Defense. Has more than 150 main stores or shopping centers worldwide and in every state. Home textiles are carried only in the main stores. Also has online and print catalogs merchandising home textiles. Total '06 sales were $8.9 billion, up 8% from $8.3 billion in '05.
46
NR
Ashley Furniture HomeStores Arcadia, Wis. FC
$74.0
NA
NA
3.5%
0.3%
296
219
Fiscal year ended Dec. 31. Dedicated retail network of furniture manufacturer Ashley Furniture, one of the fastest growing retail chains, with 296 units, up from 219 in '05. Stores are licensed and company-owned, averaging 40,000 square feet. Sales exclude units in Japan, Mexico, and Canada. Develops own program of top of bed, throws and decorative pillows, as well as rugs, lighting and accessories. Merchandise is promotional to mid-priced. About 60 bedding ensembles and 90 area rugs are displayed online as well as a wide variety of different colored pillows and throws. Total sales increased to $210 million in '06, up 32.8% from '05, newly topping Furniture/Today's Top 100 furniture stores ranking.
47
49
Fred's Memphis, Tenn. DC
$72.0
$70.0
2.9%
4.1%
0.3%
677
621
Fiscal year ended Feb. 3. Operates discount general merchandise stores in 15 states, primarily in the Southeast. Opened 59 stores in '06 and closed three. Plans to open a net 35 to 40 new stores in '07. The new store prototype has 16,000 square feet of selling space. Is refreshing 550 stores with new paint, fixtures and signs, as well as expanding domestics merchandise and eliminating boys and girls apparel. Apparel and linens accounted for 12.7% of '06 total sales, down from 13.8% in '05. Comp store sales increased 2.4% last year. Total '06 sales were $1.8 billion, up 11.2%.
48
46
Linen Source Tampa, Fla. DTC
$72.0
$80.0
-10.0%
90.0%
0.3%
1
1
One of four catalog companies owned and run by Tampa's Franzblau family. Provides a selection of bedding, bath, curtains, and home decor through its catalog, wesbsite, and through its outlet store in Tampa. The outlet store is opened the first and third week of the month from Wednesday through Saturday. Mails a new copy of its catalog each month. Offers many major brands and designers of quality bedding and bath accessories, as well as its own line.
49
48
The Neiman Marcus Group Dallas DP
$69.0
$72.0
-4.2%
1.6%
0.3%
58
55
Fiscal year ended July 29, 2006. Sales and store counts are for trailing 12 months ended Jan. 27 includes sales from one Bergdorf Goodman, 38 Neiman Marcus, and 19 clearance centers, and direct to consumer sales including a wide array of home catalogs under Horchow and Neiman's brands. Testing Showrooms, a showcase of home products in six Neiman's stores, featuring catalog/Internet assortments. Direct marketing accounted for 16% of fiscal '06 sales, up from 15.6% in '05. Home furnishings and decor were 8%, down from 9% in '05. Distributed more than 100 million catalogs. Trailing 12 month sales were $4.3 billion, up 8.1%.
50
50
HSN St. Petersburg, Fla. DTC
$62.0
$60.0
3.3%
3.1%
0.2%
NS
NS
Fiscal year ended Dec. 31. Part of publicly held IAC/InteractiveCorp, which also owns Cornerstone Brands. Sells third party and private label merchandise through its television home shopping programming and its website, HSN.com. Features over 25,000 consumer products. Broadcasts live, customer interactive programming 24 hours a day, seven days a week. In '06, added more product depth to its three home lifestyle programs - Highgate Manor, Oak Creek Home, and South Street Loft - with the addition of area and accent rugs, decorative pillows, throws and lighting. Revenue at HSN was relatively flat for '06, at $2 billion.
Related Content By Author
Live From New York: Fashion Comes Across the Pond

More Videos
Subscribe to
Home & Textiles Today eDaily
Receive the news you need to know about the trends in the industry delivered right to your inbox.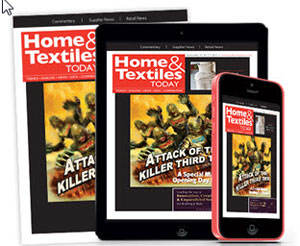 See the September 2017 issue of Home & Textiles Today. In this issue, we look at the Attack of the Killer Third Tier: Monster off-pricers are climbing to the top of the food chain, plus New Products: 40 pages of new products debuting at the New York Home Fashions Market; Home Stores: TJX unveils first U.S. HomeSense store; Clicks to Bricks: Boll & Branch moves from digital to physical retailing; and much more... See details!