Special Report
What's it going to take to goose business and restore confidence in the retail business? HTT posited the question to a number of (dare we say opinionated?) home textiles executives. Taking a hard look into the crystal ball, here's what they had to say.
NEIL ZUBER
Ashford Court, New York
"I expect a turnaround to happen this fall. But a turnaround has to start with a positive attitude. When a recession starts, you hear that voice of doom coming from the stock market and the pessimism becomes a domino effect."
VIVIE VON WALSTROM
Baltic Linen Co., Valley Stream, NY
"I think the key to staying in business during a down market is to show novel product. I think the economy has slowed enough so that six months from now we will still be in a slump."
DIANNE MORRIS
Bay Linens, New York
"Confidence is the issue right now. Generally, all of the pundits are saying that the third and fourth quarters will be much better. I hope that's the case, though with the recent stock market activity, it could take much longer, maybe about a year."
PETER MCCABE
Biederlack of Americam, Cumberland, MD
"If I knew when things were going to get better, I'd have Alan Greenspan's job. It doesn't look all that good. I don't know that I've ever seen it like this in 20 years in the business."
CHARLES D. OWEN III
Charles D. Owen Mfg., Swananoa, NC
"Business is going to turn when consumer confidence returns, when people have faith in their jobs and their pay checks and start spending money."
RICK LIPTON
Creative Bath Products Inc., Central Islip, NY
"We've talked ourselves into a recession. We had eight years of the greatest prosperity ever known to man, and then one day we stopped and worried if we were spending too much."
PATRICK CLEMENTE
Croscill Home, New York, NY
"In the general point of view, product needs to continue to be unique for business to get better. But the truth is that there is no real problem with the economy. It's just that a lot of people took advantage of the boom with the Internet but they lost perspective along the way of what a more realistic outlook is for the economy."
TOM MUSCALINO
Dan River Inc., Danville, VA
"There'll be a lot of blood on the carpet once the cycle is done. I think a lot of it is psychological. A lot of disposable income is being directed towards energy, and that's incredible."
ALEN SANDS YORK
Dormisette USA, New York
"It doesn't need turning around. I think there are more stores and more goods flowing in now than there were 10 years ago. If you're looking at the fortunes of the players, than sure it needs to be turned around. On the other hand, if one guy gets smaller, another guy gets bigger."
BOB ALTABIER
Down Lite International, Loveland, OH
"When the economy gets better. I don't think it's going to happen until the end of the year, what they call the end of the holiday gift-buying season. At the earliest maybe around mid-fourth quarter."
STEVEN GORDON
Gold Coast, New York
"I'd say we are in a psychological abyss. People are running scared, whether there is reason or not."
HERB BRIGGS
Guilford Home Fashions, New York
"I think there has been sort of a meltdown with many industries and there needs to be a redefinition of what certain companies are in the marketplace. We'll begin to see an uptick in the second half of this year when various industries have taken stock and reconfigured."
JEFF HOLLANDER
Hollander Home Fashions, Boca Raton, FL
"As far as general retailing, I think a lot of it has to do with general consumers' perceptions. I think stores need good store layouts, good customer service and good inventories, and that's what's needed to turn it around."
LONNIE SCHEPS
Hudson Industries, Richmond, VA
"The downsizing of our customer profile has to continue, i.e. more store closings. We have too many stores out there right now going against a very shy, hesitant buying public right now that's very nervous about the economy."
KURT HAMBURGER
Lintex Linens, New York
"I don't expect a turnaround until spring 2002, and what it will take will be better employment rates and better exporting of raw materials. Every one of these recessions has a cyclical effect and we have to work our way out of it."
JOHN MINIHAN
Louisville Bedding, Louisville, KY
"I don't know. I wish I knew. My crystal ball has gone completely blank."
VIVIAN ACERBO
Louisville/Saydah Home Fashions, Eminence, KY
"We're just waiting for the stock market to go up. The plunge we just saw put a scare into spending, and we're seeing it at retail."
GEORGE MATOUK
Matouk, New York
"Business will take a turn for the better sometime in May once April market is over. We just need to maintain a steady stock market. It doesn't have to go up, just as long as it stabilizes."
SCOTT SHAFRANEK
Melange Home Fashions, New York
"There's not enough innovative product within the textile world. We've taken a recess and gone back to the commodity products. It's just a question of who's going to step up and take that risk and be innovative."
PATRICK MOYER
Mohawk Home, Sugar Valley, GA
"We feel like a turn will come sometime during the second quarter once the tax relief, we hope, is passed an favorable interest rates are set."
JULIE KRUGER-LUTZ
Pacific Coast Feather Co., Seattle, WA
"I believe the market will resume high growth when consumers believe the economy has leveled off and when manufacturers and retailers better market their brands and products to consumers."
LOU MORRIS
Perfect Fit Industries, New York
"In my opinion, we will not see a turnaround in business until we get an improvement in the fundamentals of the economy, consumer purchasing begins to pick up, and we see an improvement in consumer confidence."
TOM MCELROY
Pillowtex, Kannapolis, NC
"Until consumer confidence reaches a higher level and the stock market begins to level out, domestics products, as well as most consumer products, will continue to struggle."
SCOTT SHIMIZU
Pillowtex Corp., Kannapolis, NC
"Things should start to get better when the stock market rebounds, and hopefully it will come back. We're planning [for] fall to be better business, but still not great business."
CHIP SCALA
Scala International, New York
"We have to really look into the global aspect of this business. Now, it is here and ready to bite us big time. We should work together and see what we can do to join the fight."
TOM O'CONNOR
Springs Industries, Fort Mill, SC
"We still think the first half of the year will remain challenging, but expect that the second half will improve as the inventory situation eases at retail. And we expect business to improve steadily going forward."
JEFF SWARTZ
Stone-Cline Home Fashions, New York
"We see the home textiles business already turning for the better. The retailers are buying price, innovation and style."
ALLAN WAGENHEIM
Trans-Ocean, White Plains, NY
"There are certain categories of business that are strong, and the home furnishings category is one of them. We may have hit a bump on the road with tax breaks and interest rate cuts, but I think ultimately home furnishings will lead rather than follow the economy."
LORRAINE RAGLAND MABERRY
Trendex Home Designs, New York
"In a lot of ways, we've talked ourselves into a recession, and we immediately got reactive to combat it. I think we all have to stop, take a deep breath and just come up with new and exciting product."
CHIP FONTENOT
WestPoint Stevens, New York
"People had said the second half of this year, but there won't be any kind of a surge. We'll see a gradual improvement. And I really believe that in this kind of environment, you need newness."
Related Content By Author
Live From New York: Fashion Comes Across the Pond

More Videos
Subscribe to
Home & Textiles Today eDaily
Receive the news you need to know about the trends in the industry delivered right to your inbox.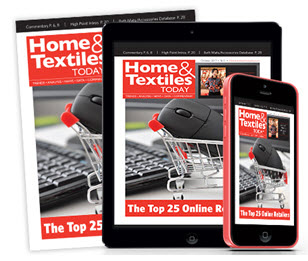 See the October 2017 issue of Home & Textiles Today. In this issue, we look at the Top 25 Online Retailers. H&TT's exclusive annual ranking of the biggest online sellers of home textiles finds that while pure play etailers continue to fly, bricks & clicks are digging into omnichannel. See details!