Big Preview
With one week before the Home Textiles market here, arm yourself with a comprehensive overview of the directional strategies and new products being launched by the biggest bedding manufacturers driving the industry. Alphabetical coverage targets vendors selling at least $25 million worth of sheeting each year at cost. For a complete listing of all fall bed, bath, window, kitchen and table, pillows, pads, blankets and throws, decorative pillows and area rugs line introductions, pick up next week's special market issue of Home Textiles Today.
CANNON
DIRECTIONS
Cannon continues to put plenty of effort into its juvenile division but, with the exception of one bed, has opted to rely mainly on in-house generated designs in the belief that non-license bedding has broader appeal. Coordinates that go with more than one pattern and may be used for either the bedroom or bathroom are aimed at making parents' decorating jobs easier.
DETAILS
Seven new juvenile and tweener patterns make their debut under the Cannon name. All of them will have 128-count muslin, 50/50 polyester/cotton sheeting. My Little Chickadee features multi-colored, whimsical chickens on a teal background while silhouettes of whimsical dogs on a royal blue background adorn Bow-wow. Cannon Airways features a patchwork design of planes and helicopters on a light blue ground while an engineered scenic of cartoon astronauts in space is Far Out's design. Blue daisies on a white ground embellishes Dancing Daisies. Lionel's Whistle Stop, which is for all ages, is the only licensed collection and features pictures of historic trains and railroad scenery. Coordinate rugs will include a rug in the shape of a large dot for My Little Chickadee and Dancing Daisies and a dog bone for Bow-wow.
Cannon
New for the Urban Avenues group under the Cannon name are Urban Check and Tattersall. Both will be sized at 27" x 52" and carry retail price points of $5.99. Urban Check will be offered in six colors: rattan, dusty teal, navy, olive, berry and eggplant. Embellishing the towel will be an over-dyed dobby check. Tattersall, a woven tattersall, will be available in nine colors, mainly from a lighter palette.
CROSCILL HOME
DIRECTIONS
Upscale products presented through a lifestyle brand remain the mainstay of Croscill. The company continues to turn out high-end bedding, building its reputation and growing through luxury top-of-the-bed items. Turning back to its roots, Croscill has seemingly revamped its soft window coverings line, introducing several jacquards that carry the signature look the company is known for.
DETAILS
Ten new beds make their debut: Windsor, Masquerade, Isabella, Josephine, Old World, Aubusson, Calabash, Cloisonne, Liseree and Essence. Sheeting for all of the introductions will have a 14-inch pocket and include 310-count oversize sheets and decorative pillows. Retail price points for a queen set will be approximately $150. From the window division, three jacquards, a damask and a textured satin represent a strong showing for Croscill. Windsor is a multi-colored jacquard with a silk look, while Masquerade is a combination of four different patterns on a warped print. Isabella, also a multi-colored fill, features a baroque design and a basket weave on the coordinating sheet, while Josephine is almost its twin but with a slightly different weave. Old World features 16 different jacquard patterns woven into one overall design, while Aubusson is reminiscent of a Turkish rug. Cloisonne is done in a full chenille, while Calabash is an updated younger approach to a patchwork pattern. Liserre is a Victorian lacquered look with a small-scale floral, while Essence is a large-scale floral done in blue and features heat-transfer sheer over a cloud print on the comforter face.
CROWN CRAFTS
DIRECTIONS
A more focused, but slimmer, product offering comes from Crown Crafts, which continues to build its luxury top-of-the-bed line.
DETAILS
Four beds utilizing 100 percent Egyptian cotton sateen construction, Bali, Jinshi, Hydrangea and Lilacs are all new. Bali, in a berry colorway, is a Middle Eastern-inspired motif arranged in bands, while Jinshi, in meridian blue, uses a unique mitered construction on the comforter face. Hydrangea is a floral pattern married with a traditional stripe accessory pattern, and Lilacs uses yarn-dyed jacquard woven patterns with a weaving technique that emulates embroidery. The Candlelights brand unveils two new colors, Lemon Grass and Smoke, as well as the addition of a sheeting program, Constantine, also with two new colors, Citrine and Lacquer.
DAN RIVER INC.
DIRECTIONS
Virtually every collection has received new additions to its line, including the Alexander Julian and Di Lewis licensed collections. Two of the new Julian lines are also making their debut as bagged ensembles.
DETAILS
The Marquis Interiors collection debuts Abington and Baroque, both of which will carry retail price points between $299 and $399; Cumberland, Oakmont and Versailles, with retail price points ranging from $199 to $299; and Cypress Park and Emporia, with 250-count Egyptian cotton sheeting and 160-count blended printed top of bed. A striae feel in sea green and creamy yellow is a feature of Abington, while Baroque is a textured reverse print in gold and russet tones. Cumberland is an abstract leaf design in neutral colors, while Oakmont possesses a rich, master bedroom look with its ornate damask and reverse foulard feel. Versailles' top of bed is done with a metallic shine, while the sheeting is done in a colorblocked branch motif.
New for the Alexander Julian collections are Calypso and Caribbean, with 220-count sheets and woven top of bed, and Cliffside and Surabaya, with 220-count sheets and 160-count blend top of bed. Cliffside and Surabaya will be offered as complete bagged ensembles with a $179 retail price points for all sizes. Also new are Coral Reef and Ocean Bluff, but with 210-count, blended yarn-dyed sheeting.
New for the Studio line are Caravan, Inspiration, Papillion and Lucerne, all with 220-count cotton sheeting and 160-count blended top of bed; Linden, Helena, Annalise, Vivienne, Lugano and Martine, all with 210-count blended sheeting and 120-count top of bed; and Limerick, Burton, Mystique and Chandi, with 180-count, blend sheeting and 120-count top of bed.
New for the Di Lewis line is Malabar and Charmaine, both with 230-count blended sheeting and 160-count blended top of bed. Both will be offered at $129 retail price points for all sizes.
Dan River/Home Fashions for Kids
While other manufacturers seem to be scaling back their pursuit of licenses, Dan River's juvenile arm continues to sign new ones. Clifford the Big Red Dog, Bob the Builder, Tonka, and Thomas and Friends are all new additions. New ensembles for the Barbie, Batman, Cardcaptors, Dan River's Casual Kids, Digimon, Dragon Tales, NFL, Olive Kids, Powerpuff Girls, Scooby-Doo and Looney Tunes will also debut, while Dan River's Teen Central will offer three new patterns, Animal Skins, Flair and Painted Denim.
FIELDCREST
DIRECTIONS
This division of Pillowtex continues to introduce new patterns and programs ranging from high end to middle-of-the-road. Despite its relatively recent Chapter 11 filing, this mill continues to forge ahead.
DETAILS
The Provisions line debuts with two patterns, Logan and Voyage, both of 100 percent yarn-dyed cotton. Logan is done in red, brown and khaki colors with coordinating plaid corduroy accessories in dark brown. The sheeting is 230-count, 100 percent cotton. The multi-colored Voyage has a yarn-dyed plaid on the comforter face with striped and textural fleece accessories. The Royal Velvet name enters the bagged ensemble arena with five beds: Zoey, Tibet, Nova, Staffield and Madeline. Zoey is a micro-denier done in black and taupe, Tibet is a jacquard woven in red with a paisley tile layout. Nova is done in neutral tones and features a cigar brand paisley design. Staffield is done in blue and beige with spirals and acanthus leaves as its design, while Madeline, done in lavender and neutral tones, is done as a woven dobby with a silk-like stripe. New additions for the Charisma Essentials line are Jasmine, Melody, Tuxedo Park and Solitude. Both Jasmine and Melody are imported and have framed components. Jasmine is offered in a warped sateen while Melody is finished with a barata stitch. Tuxedo Park is a micro-denier construction in warm neutral tones, while a soft leaf design in celadon adorns Solitude. In the Versailles collection, Empress supplants Palace as the highest level and premieres two new ensembles, Marie Antoinette and Dauphine. White with gold embellishments highlights Marie Antoinette, as do her embroidered initials. A border sham embellished with ruffles and an embroidered bedspread with a flounced border complete the look of Dauphine, which is done in soft apricot. Three new beds from Palace are also new: Partarre, Bonaparte and Bordeaux. Partarre is done in a golden neutral color with layered color accessories, while the historically inspired Bonaparte is done in French blue. Bordeaux, also historically inspired, is done in dramatic red and copper tones. Also debuting are Promenade, Avignon and Fontaine under the Trousseau line. Promenade is done in celadon and linen tones; Avignon, a chocolate toile; and Fontaine, in blue and gold.
GRAND PATRICIAN
DIRECTIONS
The Grand Patrician line of towels will see several new color introductions, while four beds will debut under the Grand Patrician bedding line. WestPoint Stevens has seemingly joined the ranks of those offering scaled-back product offerings and focusing its efforts on emphasizing quality rather than quantity.
DETAILS
Six new colors take center stage from the mill for towels, all centering around plum wine. Sapphire, aquamarine, amethyst, pale garnet, gold and red amber will all debut, while Belladonna, Jewel Chenille, Kashmir and Zephyr are new for the bedding line. All of the bedding introductions coordinate with Seduction, a 310-count, 70/30 Egyptian cotton/modal blend. Belladonna features a large-scale, multi-colored floral in soft metallic tones, while a combination of a tapestry weave and chenille make up Jewel Chenille. Garnet jewel tones offset with gold and plum accents are a feature of Kashmir, a jacquard paisley set on a striae warp, while a slubby silk-like fabric with a crushed double weave cloth gives dimension to Zephyr.
MARTEX
DIRECTIONS
Renew, the newest collection under this label, carries plenty of value for its $7.99 retail price point.
DETAILS
Renew will be constructed of the longer staple and finer grade California cotton yarn. It will be offered in 10 colors and sized at 27" x 54" with a 14-pound weight.
PATRICIAN
DIRECTIONS
Patrician follows the lead of Grand Patrician and introduces only three new towel patterns and seven new beds. The Answer Bed remains the core of WestPoint Stevens' line with retail price points ranging from $199 to $299 for the bagged bedding line.
DETAILS
Terrazzo, Scottish Plaid and Romance are all unveiled as towel patterns. Each is sized at 25" x 50" with a 13-and-a-half-pound weight. Terrazzo features a vintage '60s look, while a traditional tartan rotated on its bias is featured on Scottish Plaid. Romance rounds out the towel introductions with its oversized flowers framed by a woven trellis. For the bedding line, Dekorai, Cobblestone, L'Arabesque, Allegria, Cynthia's Floral, Geurlain and Spring Blossom each have 230-count, 100 percent cotton sheets. Dekorai features a heat-transfer, printed engineered leaf design on a jacquard, while Cobblestone is a large-scale colorblock plaid with a woven in matelasse texture. Metallic silvers and bronzes make up L'Arabesque, while a contemporary scroll motif makes up the lightweight Allegria. A traditional formal floral decorates Cynthia's Floral, while a scroll design with accompanying paisley motif adorns Geurlain. Spring Blossom rounds out the offering with a chenille tapestry look.
PATRICIAN PLUS
DIRECTIONS
WestPoint Stevens tackles a new $12.99 price category with its newest line, which is designed to take the place of the Esprit licensed collection. All of the towels are sized at 27" x 50" with a 14-and-a-half-pound weight.
DETAILS
Cut-paper stencils of irises on a background of soft geometric panels adorn Iris, which is available in four tonal colors, neutral, blue/green, blue/teal and mauve/purple. Vineleaf combines vine, leaf and spiral motifs in uneven, vertical stripes and is also available in four colors: linen, pecan/charcoal, blue/green and navy/purple.
REVMAN INDUSTRIES
DIRECTIONS
Three new beds from the Laura Ashley collection lead Revman's assortment, followed by new lines for its Bed2Go and P.O.S.H. lines as well as new ensembles for its tweener line, Dorm 2 Go.
DETAILS
Stockton displays mini-printed roses done in chambray blue and apple green on a white ground, framed by a wide miter of yellow and blue homespun plaid on the comforter face. A mini calico of stylized leaves on a chambray ground decorates the reverse. Katrina, in rose pink, cherry red, willow green and turquoise, pieces three different mini-floral prints together and frames them with a double miter on the comforter face. Banbury takes a more formal approach with cream and beige accented with mauve, plum and jade. Plum roses adorn a soft beige stripe ground and is trimmed with a mini-print ruffle on the comforter face. An embroidered matelasse coverlet and shams, called Paisley, as well as two sheet sets, Echo and Devon, are also new for this collection. Four new ensembles-Venetto, Orchids, Uptown and Rosa-debut from the Bed2Go line. Venetto's colors range from amethyst to a deep plum highlight with a comforter face featuring a monotone mix of textural prints in an informal patch layout of damask patterned squares with metallic highlights. Orchids utilizes a pale lavender palette highlighted by pearlescent accents on a basketweave texture background. A menswear look of plaid, houndstooth and foulard in camel, burgundy and black is seen on Uptown, while Rosa is inspired by vintage-style florals from the 1940s and '50s and is done in peachy pinks across a pale aqua ground. The Bandana and Denim Blue collections will debut in the popular Dorm 2 Go collection, part of the Back-to-School Collection. As part of Dorm 2 Go, a vinyl duffel bag will have an extra long fitted sheet, flat sheet, pillowcases, comforter, standard pillow and mattress pad cover enclosed.
THOMASTON MILLS
DIRECTIONS
Thomaston's new design team has brought a new direction and an updated style. While traditional florals are still part of the mix, more contemporary designs and colors are introduced, as is a Southwestern-flavored ensemble with accessory lines.
DETAILS
The newest line from Thomaston, Silverado, starts off with Chimayo, as well as its accompanying coordinate ensembles, Cheyenne, Calgary and Shadow Square. Done in warm earthen tones with a textured look, elements from each of the coordinates may be mixed and matched with Chimayo or each other. The introductions for the 230-count, 60/40 polyester/cotton blends are updated with Blossom, Impressions, Bellagio, Nightfall, Danielle, Elizabeth, Miranda, Talisman and Alistair. Dogwood blossoms on a neutral background adorn Blossom, while grays and purples on a textured background highlight Impressions. Nightfall is done in a dramatic blue, while long-stemmed blossoms done in lavenders and neutrals complete Bellagio. Brick reds and olive greens are featured on Danielle. A photo-realistic flower in persimmon pink is the design of Elizabeth, while traditional florals adorn Miranda. Talisman is a hand-blocked batik pattern, while Alistair features a quirky flower print done in a contemporary flavor. Long Pond, Orchid and Shadow Leaf are new from the 200-count cotton collection. A marble texture sheet program is common to all three. Long Pond is done in relaxing tones of beige and blue, while detailed orchids and lilies on a patchwork complete Orchid. A simple vine-like floral in green and beige complete Shadow Leaf. Jillian, Obi, Van Gogh, Sienna and Kashmir are all the latest from the printed jacquard collection. A dramatic red, black and white Japanese geometric pattern highlights Obi, while blue and white with gingham accents complete Jillian. Van Gogh is an interpretive seascape; Kashmir, a blend of matching and clashing reds; and purples and yellows highlight Sienna. Completing the spring market introductions are 14 ensembles for the 180-count collections. Vanessa, Vanity, Eyelet, Borghese, Larsen, Lenox, Circles, Rap, Batik, Raffia Stripe, Memoirs, Awesome, Gypsy and Maritime are all new.
UTICA
DIRECTIONS
Sized at 25" x 50" and 30" x 50" and with retail price points ranging from $4.99 to $5.99, Utica, like its higher-class cousin Martex, is adding more bang for the buck.
DESIGNS
Emperor Royal Stripe and Satin Rugby will debut three and four new colors respectively. The 30" x 50" Emperor Royal Stripe will carry a retail price point of $5.99, while the 25" x 50" Satin Rugby will be offered at $4.99.
WAMSUTTA
DIRECTIONS
Two new sheeting programs from Springs Industries push the high-end luxury envelope, while colors seem to gravitate towards the neutral and deeper, richer tones. A new bagged bedding ensemble also enters the market, utilizing more background movement and more updated designs of traditional themes.
DETAILS
The 400 Sateen solid color and the 320 Supima stripe sheet collections give the Wamsutta brand two more entries into the high-end market. Both lines are available in six muted colors, while the 400 Sateen line is available only in queen and king. In the 320 Supima Solid collection, white, ivory, mist and fawn are new. Four new colors have been introduced into the 250 Elite Sateen group, sterling and willow on the lighter side of the color spectrum, and midnight and peacock on the darker side. The 250 Sensuous Brushed Cotton group will unveil two new colors, espresso and eclipse, catering to rich, spice tones and complementing the earthen tones already in the collection. Also unveiling deeper, richer tones to its color palette is the 250 Egyptian Cotton collection. Brandy, maize, black and mocha will debut as will higher retail price points for full ($21.99), queen ($32.99) and king ($42.99) size sets. A retail price decrease will be seen in the 250 Soft & Easy sheets, as will seven new colors, with twins now being offered at $5.99. Three patterns are new for the Wamsutta Bedroom Solutions II Decorator Collection, Kirna, Chiara and Innsbruck. Kirna, made in king and queen sizes only, is a Middle Eastern-influenced jacquard in aqua and teal with metallic accents. Chiara features a rich textured paisley design on a multi-colored stripe with a printed houndstooth reverse and a printed stripe sheet with a wide jacquard ribbon trim. Innsbruck is a Bohemian madras plaid matelasse in elegant neutrals such as gray and tan. Each has a 250 sateen sheet and all will carry a $379.99 retail price point. From the popular mainstay Bedroom Solutions, Tanda, Siena, Gwyneth, Manchester, Chablis, Topanga and Fontina are all new. Each comes with 220-count cotton sheets and is domestically manufactured. Tanda features a multi-colored plaid with twisted yarn accents, while Siena is an impressionistic floral printed on a formal scroll jacquard in soft golds. Gwyneth is a floral bouquet in olives and amethyst done on crushed voile, a first for this company, while a classical damask stripe in mink and gold with forest and aubergine accents for a formal, tailored look is Manchester. Also done in a damask, but with a floral pattern and in gold and cream, is Chablis. Geometric blocks in blues, purples and golds gives a fresh look to Topanga. Done in grays and mauves is Fontina, which has textured blocks with a Middle Eastern influence, also on crushed voile. Springs latest bagged bedding introductions are Celeste, Morning Dew, Shadow and Raine. Shades of blue in a soft watercolor floral adorn Celeste, while warm tones of silver, pewter and grays done in elegant blossoms adorn Morning Dew. Shadow features contemporary blocks with plant elements and pearlescent accents, while Raine features a delicate floral vine on a soft ombre ground. From the 220 blend bed-in-bag collection, all with a $99 retail price point, are Memento, Fair Isle, Sweet Dreams, French Quarter, Lelani, Lilly, Kirkley, Ambrose, Linear and Aquarius, from antique florals to spring blossoms to modern circles and stripes.
WESTPOINT STEVENS
DIRECTIONS
WestPoint Stevens is rolling out its extensive Disney Home collection, complete with color-coordinated packaging, several decorative pillow sizes and a coordinating solid-color sheeting program for juveniles and adults. The licensed Joe Boxer line, represented by Mr. Lickey, attracts a younger audience.
DETAILS
Mickey, Princess, Winnie the Pooh, Tigger and Buzz Lightyear will represent WestPoint Stevens' initial introductions for its Disney Home label. A printed collection for each character will be available as will a collection of complimentary solid sheeting and coordinating decorative pillows. Ranging from twin to full for the printed ensembles, construction will be a 120-count 70/30 polyester/cotton blend. Seven different character patterns will be among the initial introductions. The solids, to accommodate adult interest, will range from twin to queen and be a 50/50 blend.
Mr. Lickey will once again take to the towels with new introductions, including Missing Links, Wipeout, Piece, Love and Happiness, and Reef Rodeo beach towels. The 60" x 70" Missing Links is a beach towel for two depicting two well-toasted hot dog buns complete with condiments. Piece, Love and Happiness features the smiley-faced character on a multi-colored jigsaw, while on Reef Rodeo he adorns the faces of whimsical starfish. Multi-colored graffiti decorates the urban look Wipeout.
Related Content By Author
Live From New York: Fashion Comes Across the Pond

More Videos
Subscribe to
Home & Textiles Today eDaily
Receive the news you need to know about the trends in the industry delivered right to your inbox.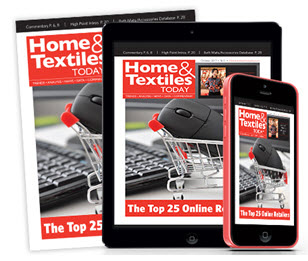 See the October 2017 issue of Home & Textiles Today. In this issue, we look at the Top 25 Online Retailers. H&TT's exclusive annual ranking of the biggest online sellers of home textiles finds that while pure play etailers continue to fly, bricks & clicks are digging into omnichannel. See details!