Supplier Giants
Bath Accessories

'06 Sales $mil
'05 Sales $mil
% Chg.
Comments
1. Allure Home CreationBoonton, N.J.
$83
$83
0%
Maintained programs and business with core retail customer base.
2. Springs GlobalFort Mill, S.C.
61
70
-13
Market share hurt as mid-level and department store retailers pared back on coordinated bath accessory displays.
3. Creative Bath ProductsCentral Islip, N.Y.
55
51
8
Increased business with existing and new customers in the department store and specialty chain channels; gained placement for free-standing programs.
4. Croscill HomeNew York
45
45
0
Maintained core programs amid a shrinking customer base at department store level; focused on free-standing, more generic looks for broader cross-merchandising.
5. Ex-Cell Home FashionsNew York.
18
17
6
Expanded product lines and assortments of free-standing accessory programs.
Wrap-Up With the consolidation of the department-store channel, where bath accessories has long had a sizeable presence, the top five players stood to lose some important business. But they found a balance with new placements at home textiles specialty chains and some discount stores.
In product development, the previous year's trend persisted in favor of free-standing and generic looks vs. the once-popular full-coordinate groups and novelty themes.

Bath Rugs

'06 Sales $mil
'05 Sales $mil
% Chg.
Comments
1. Mohawk Home Sugar Valley, Ga..
$194
$190
2%
Maintained core programs and saw modest market share gains at existing channels; experienced steady business for its growing imported offerings.
2. Springs Global Fort Mill, S.C.
130
130
0
Its mass market business under pricing pressure, the company consolidated domestic production into a single facility.
3. Maples Industries Scottsboro, Ala.
120
110
9
Gained new placement through Cannon program.
4. Shaw Living Dalton, Ga..
57
54
5
Saw success with imported cotton programs; gained business at higher retail tiers, including department stores.
5. Bacova Guild Ltd. Cartersville, Ga..
25
20*
25
Gained by cross-merchandising some solid-color programs with bath accessories line; tapped traditional accent rug customer base; and emphasized natural fibers for higher-end customers.
Wrap-Up Imported natural fiber bath rugs were a bright spot of category sales for these top suppliers. Most players attribute these goods, made of cotton, bamboo, and some organic fibers, for part — if not most — of their sales increases. The higher price points they carry helped boost sales in an environment where little shift was otherwise felt.
As 2007 looks to be a period ready for higher-end, better quality goods at retail, these suppliers are preparing to further expand natural fiber offerings.
Bath Towels
'06 Sales $mil
'05 Sales $mil
% Chg.
Comments
1. WestPoint Home New York
$335
$400
-16%
New ownership cut domestic production and struck a joint venture with Indus Dyeing & Manufacturing Co. for production of towels in Pakistan.
2. Springs Global Fort Mill, S.C.
290
270
7
Its branded lines hit by retail-direct programs, the company's direct-import business out of Brazil lagged due to unfavorable exchange rates.
3. Welspun New York/Mumbai.
184
—
—
Having built U.S. direct-to-retail business ahead of quota elimination in 2005, landed new programs and expanded existing channels.
4. 1888 Mills Griffin, Ga.
160
150
6
Placements continue to be strong, and 1888 has more capacity coming on line in 2007 at its facilities Pakistan and Bangladesh.
5. J.R. United Miami
87
79
10
Planning solid growth following fall 2006 launch of Casa Cristina at Kohl's and upcoming Oscar de La Renta debut this autumn.
Wrap-Up Production shutdowns continue in the United States as off-shore leaders — including Welspun, which makes its first appearance on the Top 5 — picked up more major direct-to-retail replenishment programs. In an effort to break out of price-only grids, suppliers introduced an array of new fibers and technologies.

Blankets

'06 Sales $mil
'05 Sales $mil
% Chg.
Comments
1. Sunbeam Boca Raton, Fla.
$109
$127
-14%
Mild autumn weather cramped sales of warmth-related home fashions, notably automatic blankets, with retail promotions fizzling and stockpiles bulging.
2. WestPoint Home New York
100
110
-9
Sales of WestPoint's once rocket-hot Vellux blankets tapered off, but growing demand for cotton thermals picked up some of the slack.
3. Charles D. Owen div. of Springs Global Fort Mill, S.C.
95
101
-8
More than a century since the founding, family scions Charles D. Owen Jr. and Charles Owen III leave as the business blends into Springs' basic bedding unit under Harvey Simon.
4. Berkshire Blanket Ware, Mass.
85
55
54
Berkshire sold a 70% stake to an investment group, and did $100 million in total sales — using packaging, marketing, and impeccable service.
5. Pendleton Woolen Mills Portland, Ore.
21
18
17
Adding to its venerable base in Native American looks, Pendleton builds a new franchise in decorative home with clean, contemporary looks.
Wrap-Up The guys at the top of the heap had the toughest going in 2006, with core products slowing down, notably Vellux at WestPoint Home, and automatics at Sunbeam, hobbled by warm winter weather. Nipping at their heels and making gains were smaller players like Berkshire and Pendleton, who leveraged fresh designs and polished service into strong sales, meeting little resistance to their higher price points.

Comforters

'06 Sales $mil
'05 Sales $mil
% Chg.
Comments
1. Springs GlobalFort Mill, S.C
$380
$410
-8%
Amid pricing pressures, Springs lost some accounts and dropped others as it reorganized following its merger with Coteminas.
2. American PacificSan Francisco
164
190
-14
Some licensed lines exclusive to major retailers began to lose steam as key accounts added newer house labels to their mix.
3. WestPoint HomeNew York
150
200
-25
In transition under new ownership, WestPoint lost market share, some of it by design as it narrowed focus to pursuing more profitable business.
4. Dan RiverDanville, Va.
110
116
-5
Acquired by GHCL of India, much of the company's manufacturing was relocated from the U.S. to India.
5. Croscill HomeNew York
110
110
0
As retailer-exclusive labels claimed shelf space from national brands like Croscill, the company is producing private label for its better customers.
Wrap-Up A flood of smaller, off-shore start-up players gained traction last year in the comforter category, a business now largely driven by sets. As the sets themselves got bulkier — some with up to 28 pieces — pricing pressure on traditional comforter sets grew even more fierce.

Curtains/Draperies

'06 Sales $mil
'05 Sales $mil
% Chg.
Comments
1. CHF Industries New York
$152
$140
9%
Products with higher-value content, whether silk fancies or room-darkening interlinings, found a receptive consumer, especially in the second half of 2006.
2. S. Lichtenberg New York
140
130
8
Styling and pricing came together this year across all retail segments; meld of FIT-educated designers and China-based production working well.
3. Springs Global Fort Mill, S.C.
88
91
-3
Some steam came out of the category as the company reorganized following its merger with Coteminas.
4. Croscill Home New York
75
75
0
Fashion led the way with successes like heavier-weight products at a major account; layering continued strong; re-designed hardware program had good start.
5. Miller Curtains San Antonio, Texas
65
63
4
Dollar volume increased despite absorption of lower prices from foreign plants. New store and non-store customers boosted sales; licensed program is set to debut.
Wrap-Up Suppliers indicated with some enthusiasm that the market is in a fashion cycle, with retailers well aware that some consumer segments are stepping up average purchase prices as they buy into better fabrics, more elaborate trims and accessories, and other features that satisfy the nesting trend. With off-shore production a given, suppliers will watch carefully how China responds to calls for re-valuation of the yuan.

Decorative Pillows

'06 Sales $mil
'05 Sales $mil
% Chg.
Comments
1. Brentwood OriginalsCarson, Calif.
$131
$144
-9%
Experienced continued sales declines in its micro-bead novelty pillow line; maintained core pillow business
2. Arlee Home FashionsNew York
50
64
22
Lost business for basic line because major retail chains, particularly discounters, reduced shelf space for the category and imported much of the remaining programs.
3. Mohawk HomeSugar Valley, Ga.
26
27
-4
Offshore competition increased, causing the company to lose some business at retail.
4. Newport/LaytonPortland, Ore.
23
24
-4
Suffered from continued price compression in the market place; eliminated select unprofitable retail programs to concentrate on placements with key retailers.
5. Fashion IndustriesGriffin, Ga.
23
22
4.5
Increased imported programs to company's highest rate ever; offered more competitive price points; boosted business with new pet bed line.
Wrap-Up Suppliers said they saw retailers' direct importing activity for the category level off in most channels, except at discount department stores, where the category is quickly shrinking and the little left is heavily focused on private label goods.
Buoying business for some decorative pillow players was the pet bed trend, which ticked way up last year and created new business – in many cases with atypical retailers like pet supply stores.

Down (& Down Alt.) Comforters

'06 Sales $mil
'05 Sales $mil
% Chg.
Comments
1. Pacific Coast Feather Seattle
$97
$106
-9%
Positive impact from intro of Eddie Bauer license in down and down alternative items. Cannon program also key.
2. Down Lite International Mason, Ohio
82
71
15
Merger of Federated Department Stores with May Co. brought new placements; product innovation continues to provide margin opportunities.
3. Phoenix Down Totowa, N.J.
71
68
4
Gained with specialty and department stores; imports and W. Coast warehousing grew; adding surface features to improve down alternative margins.
4. Blue Ridge Home Fashions Irwindale, Calif..
58
52
12
New accounts offset loss from department store consolidation; better synthetic fills commanding strong price points; Royal Velvet gains placements.
5. Hollander Home Fashions Boca Raton, Fla.
53
47
13
Success with broad range of retailers, especially in color- and print-driven down alternatives goods; unit sales outpacing dollar volume.
Wrap-Up The increasing demand for down-alternative products made a powerful impact across the marketplace, generally dampening price points. Suppliers found that this is not always the case, however, as both fashion on the outside and special-feature fills can provide value-added offerings that consumers will embrace.

Foam Pillows/Toppers

'06 Sales $mil
'05 Sales $mil
% Chg.
Comments
1. Sleep Innovations West Long Branch, N.J.
$280
$250
12%
As the company works to expand placements with existing accounts, it is also finding growth with its emergent foam mattress business
2. Carpenter Richmond, Va.
99
93*
6
Continues to emphasize technologically driven product enhancements and target better channels of distribution.
3. Sleep Comfort Systems Carthage, Mo.
45
43
5
Serta-branded business gained in 2006. Also experienced growth in the department store and Internet channels.
4. Hudson Industries Richmond, Va..
33
27
22
Deepened penetration with existing customers, along with the addition of some new accounts.
5. Louisville Bedding Louisville, Ky.
25
31
-19
Business hurt primarily by off shore imports and retail consolidation. Bright spots included unique constructions combining different foams for enhanced comfort at velocity price points.
Wrap-Up The impact of Hurricane Katrina in 2005 pushed up price points in raw materials, which many retailers accepted. The amount of shelf space devoted to the category by volume retailers appears to have topped out, pitting suppliers in a battle for shelf space and innovation. At the same time, suppliers are looking for additional retail niches to accommodate product.

Kitchen Textiles

'06 Sales $mil
'05 Sales $mil
% Chg.
Comments
1. Franco Manufacturing Metuchen, N.J.
$71
$68
5
Maintained programs at the discount department store level; expanded distribution under proprietary retail brands.
2. Town and Country Living New York
65
52
25
Made gains in private label and branded programs with core customers.
3. The John Ritzenthaler Co. West Conshohocken, Pa.
63
60
5
Increased its newer fashion business at the specialty store level; maintained core business of basic programs.
4. Elrene Home Fashions New York.
20
17
18
Continued success with basic kitchen line; added placement due to strong sell-throughs; licensed programs with Echo and Jonathan Adler added kitchen items.
5. Avonhome Braintree, Mass.
13
15
-14
Business suffered as company concentrated efforts on new product categories, particularly beach towels.
Wrap-Up For the year's two biggest winners – Town and Country and Elrene, both of whom newly made it into this chart over the past two years – a driving force proved branded programs with designer labels. In the former's case, it pushed Town and Country's ranking up a notch to second.
Core basic programs kept overall business steady, and private label offerings also remained important in maintaining sales. But retailers continued to direct-import many programs, suppliers agreed.

Mattress Pads

'06 Sales $mil
'05 Sales $mil
% Chg.
Comments
1. Louisville Bedding Louisville, Ky.
$90
$100
-10%
Retail consolidation and inventory tightening a challenge; three major initiatives set for Feb. market to revive this stalled classification.
2. Perfect Fit Charlotte, N.C.
48
48
0
Third-quarter consumer spending slowdown impacted sales; positive on 2007, with waterproof segment providing growth opportunity.
3. Pacific Coast Feather Seattle
44
46
-4
New programs already making positive impact for 2007: Sealy brand and comfort-based products key to marketing push.
4. Springs Global Fort Mill, S.C.
45
35
29
Focus on innovative constructions propelled the business.
5. Hollander Home Fashions Boca Raton, Fla.
40
34
18
Mattress toppers with added-benefit features a hit with consumers seeking "nesting" solutions; higher prices continue to check well.
Wrap-Up Suppliers have turned to new design offerings, luxury versions with high thread count toppers, and related ways to "romance" the category. Brands also have a major role in some cases, such the Sealy license by Pacific Coast Feather.

Rugs

'06 Sales $mil
'05 Sales $mil
% Chg.
Comments
1. Mohawk Home Sugar Valley, Ga.
$336
$323
4%
Maintained core programs and saw modest market share gains; and experienced steady business for its growing line of imported offerings.
2. Shaw Living Dalton, Ga.
231
220
5
Made gains in the independent flooring channel; also saw steady sales at discount department stores with accent rug programs, made in a variety of constructions.
3. Oriental Weavers/Sphinx Dalton, Ga.
207
147
41
Made significant gains at the mid-level department store level, and at home centers with woven area rug programs.
4. Maples Rugs Dalton, Ga.
150
150
0
Maintained all placements at core customer base, including discount and mid-level department stores; overall sales remained steady.
5. Springs Global Fort Mill, S.C.
64
85
-25
The area rug business -- not part of merger with Coteminas that created Springs Global – spun off instead to C.S. Brooks.
Wrap-Up Many retailers, particularly at the discount department store level, early on discovered it was not going to be easy to directly source their floor coverings. So the doors have been re-opened to top suppliers to again supply key programs.
Related to that, an interest in imported wool products at the mass merchant level proved unsuccessful for these retailers. This created renewed interest in synthetic and domestic products from major suppliers.

Sheets & Pillowcases

'06 Sales $mil
'05 Sales$mil
% Chg.
Comments
1. Springs Global Fort Mill, S.C.
$642
$690
-7%
Springs' Wamsutta continued strong at specialty retail; Springmaid remains the only national brand in Wal-Mart's sheet department.
2. WestPoint Home New York
325
400
-19
Repositioning under new ownership, WestPoint lost some business and walked away from some other programs it felt would be unprofitable.
3. Divatex New York
169
140
21
Store expansion by major accounts, with bread-and-butter, higher thread count replenishment programs driving the business.
4. Franco Manufacturing Metuchen, N.J.
109
108
2
Held its own in a competitive environment that saw major accounts walking away from the middleman.
5. Welspun New York/Mumbai
93
—
—
Already on the vendor matrix at several key retailers for towels, the company leveraged those relationships to ramp up its sheet business.
Wrap-Up Thread counts continued to drive the sheet category, with 400-count becoming the new 300-count, and 600s making the leap from department stores to mass market shelves. Domestic sheet-making operations were pared further. Meanwhile, off-shore capacities exploded.

Shower Curtains

'06 Sales $mil
'05 Sales $mil
% Chg.
Comments
1. Ex-Cell Home Fashions New York
$85
$75
13
Expanded product selections in basic programs and fashion curtains.
2. Allure Home Creation Boonton, N.J.
75
75
0
Maintained programs and business with core retail customer base.
3. Springs Global Fort Mill, S.C.
53
57
-7
Market share hurt as mid-level and department store retailers pared back on coordinated bath accessory displays.
4. Maytex Mills Yonkers, N.Y.
62
52
20
Gained placement with new retail customers, particularly major chains; and expanded free-standing offerings.
5. Creative Bath Products Central Islip, N.Y.
34
31
10
Increased business for shower liners made of fabric and vinyl; and gained new business at the discount department store level.
Wrap-Up After preserving a stronghold at the top for several years, Allure slid down one notch to make room for Ex-Cell's new claim as the No. 1 shower curtain supplier.
As was the case for its bath accessories sister business, the shower curtain industry found itself focused on basics and free-standing, generic looks.

Sleep Pillows

'06 Sales $mil
'05 Sales $mil
% Chg.
Comments
1. Hollander Home Fashions Boca Raton, Fla.
$200
$170
18%
Expansion fueled by innovative technology that meets comfort needs and provides solutions for health concerns.
2. Pacific Coast Feather Seattle
136
129
5
Value-added and trade-up products boosted the synthetic fill category; Sealy and other brands also exciting consumer interest.
3. Springs Global Fort Mill, S.C.
115
105
10
Company managed to ride the category upswell, even as it reorganized following its merger with Coteminas.
4. Louisville Bedding Louisville, Ky.
50
44
14
Strategic operational initiatives yielding market-share gain in key volume price points; new efficiencies will boost down alternative segment.
5. WestPoint Home New York
45
60
-25
Sales fell sharply as WestPoint walked away from unprofitable businesses, bottoming out and leveling off in the second half of the year.
Wrap-Up Suppliers found an expanding base of consumers who badly need a good night's sleep — and are counting on feature-packed pillows to help deliver it. Technological innovations are proving supportive of price point advances, as long as the health and comfort benefits are clearly spelled out to shoppers. Two of the key suppliers however, have suffered from the inevitable market dislocation caused by ownership changes.

Table Linens

'06 Sales $mil
'05 Sales $mil
% Chg.
Comments
1. Town and Country New York
$163
$151
8%
Increased sales at department stores, countering cutbacks by discounters; offered designer goods to coordinate with kitchen lines.
2. Elrene Home Fashions New York
65
63
3
Continued success with Elrene and Newbridge lines; new accounts for Jonathan Adler and Echo licenses and for proprietary and exclusive brands.
3. Bardwil Ind. New York
59
57
4
Micro-fiber products continued strong in solid-color and seasonal; Lenox license thriving; Liz Claiborne program gained new accounts.
4. Avonhome Braintree, Mass.
55
55
0
Maintained core programs while competing with direct sourcing by retailers.
5. Ex-Cell Home Fashions New York
23
23
0
Maintained same key programs as prior year.
Wrap-Up As was the case with sister category kitchen textiles, the table linens category leaned on designer brands and some private label exclusives to buoy results.
Retailers continued the experiment with direct sourcing activity for this category, particularly for the seasonal aspects. A major discount department store scaled back some of its inventory in the category and sourced much of what remained, hurting some suppliers.
Cross-merchandising between the two categories also helped sales.

Throws

'06 Sales $mil
'05 Sales $mil
% Chg.
Comments
1. The Northwest Company Boca Raton, Fla.
$93
$80
16%
This top-dog throw supplier continues to gobble up market share on the strength of a diversified line of licensed product, including sports and novelties.
2. Manual Woodworkers Hendersonville, N.C.
67
71
-6
This pioneer producer of cotton jacquard throws continues to diversify as it steps up off-shore sourcing and targeting product to the gift trade.
3. Mohawk Home Fort Mill, S.C.
57
61
-7
Once the leader after buying into the business, Mohawk lost its footing when the jacquard segment collapsed; now seeking the right decorative niche.
4. Biederlack of America Cumberland, Md.
38
40
-5
Regrouping after a leadership change elevated Peter McCabe to the top spot in the U.S.; bolstered core line with textured looks and beach blankets.
5. Berkshire Blanket Ware, Mass.
25
15
67
After playing second fiddle for years, Berkshire moves into Top Five, leveraging multiple strengths in fleece, creative packaging, and innovative marketing.
Wrap-Up Reflecting the continuing turmoil in the throw business, three of five largest players lost ground in 2006, in part because of rampant price deflation at retail, which continues to pressure margins — forcing some players to turn their backs on unprofitable accounts as they decide the bottom line counts for more than the top line.
Related Content By Author
Live From New York: Fashion Comes Across the Pond

More Videos
Subscribe to
Home & Textiles Today eDaily
Receive the news you need to know about the trends in the industry delivered right to your inbox.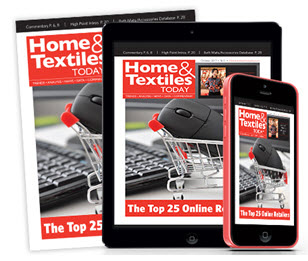 See the October 2017 issue of Home & Textiles Today. In this issue, we look at the Top 25 Online Retailers. H&TT's exclusive annual ranking of the biggest online sellers of home textiles finds that while pure play etailers continue to fly, bricks & clicks are digging into omnichannel. See details!