SUPPLIER GIANTS
Bath Accessories

'05 Sales $mil
'04 Sales $mil
% Chg.
Comments
1. Allure Home Creation Boonton, N.J.
$83
$83
0%
Maintained programs and business with core retail customer base.
2. Springs Industries Fort Mill, S.C.
70
78
-10
Sales impacted by price deflation, particularly in the mass market, and movement of programs to retail-direct sourcing.
3. Creative Bath Products Central Islip, N.Y.
51
49
4
Gained sales increase from business with new customers; experienced flat or slightly lower sales with existing retailers over prior year.
4. Croscill Home New York
45
44
2
Maintained key placements with retail customers; offset raw material price hikes with alternative constructions.
5. Ex-Cell Home Fashions New York
17
17
0
Added many new freestanding patterns and maintained the same number of full bath coordinates as prior year.
Wrap-Up: With resin, an oil-based material, long being the dominant construction for bath accessories, category players looked to keep their numbers steady by diversifying their lines with other materials to offset costly raw material prices. More affordable materials, like wood, metal and ceramic, made comebacks in the place of resin over the course of the year. Also buoying the category was an increased demand for stand-alone collections, independent of coordinate shower curtains, towels and rugs. The result: a combination of flat or slight gains among the top five players last year.

Bath Rugs

'05 Sales $mil
'04 Sales $mil
% Chg.
Comments
1. Mohawk Home Sugar Valley, Ga.
$190
$187
2%
Stepped up imports; gained placement for core solid color synthetic line; built retailer-specific programs. Expanded luxury lines with natural fibers, like bamboo.
2. Springs Industries Fort Mill, S.C.
130
145
-10
Sales eroded by retailer-direct programs.
3. Maples Industries Scottsboro, Ala.
110
100
10
Gained placement with two new retailers through branded Royal Velvet program, and expanded presence with existing retail customers.
4. Shaw Rugs Dalton, Ga.
54
50
8
Retailers carrying Shaw area rugs added bath rugs; line added cotton and cotton-blend varieties, thicker, heavier constructions; Shaw branded offerings expanded.
5. Bacova Guild High Point, N.C.
25
24
4
Acquired Lacey Mills, moving the company into the top five list; gained momentum and developed new programs in the category.
Wrap-Up: Raw material cost increases, mixed with some price deflation, created obstacles for bath rug suppliers in 2005. Yet most of the top five players pulled through, increasing sales, even if modestly. Synthetic varieties were prevalent but cotton and cotton-blended constructions became more important to consumers, helping suppliers offset some added expenses stemming from oil-based cost increases.
Bath Towels
'05 Sales $mil
'04 Sales $mil
% Chg.
Comments
1. WestPoint Home New York
$400
$555*
-28%
Lost business with some key retail customers who instead sourced programs directly themselves from overseas manufacturers.
2. Springs Industries Fort Mill, S.C.
270
330
-18
As retailers stepped up their direct sourcing programs in replenishment towel programs, gave back a chunk of the business it had picked up earlier from Pillowtex.
3. 1888 Mills Griffin, Ga.
150
110
36
Continued expanding its global manufacturing facilities, while maintaining a U.S.-based manufacturing platform.
4. J.R. United Miami
79
72
10
Gains in fashion, higher-end product. Izod led action in branded goods; other movers: solid color towels priced at $9.99, seasonal products, jacquards at all price points.
5. Santens of America Anderson, S.C.
54
54
0
Made gains with department and specialty store customers but was off slightly in sales at the mass merchant level. Saw success with its jacquard offerings.
Wrap-Up: Suppliers spent the year battling against direct importing activity by retailers. Wal-Mart, for example, announced it would vastly grow its direct importing activity in bath towels and other home textiles categories. New product innovations and higher-end constructions helped keep the category interesting and maintained price points; some firms posted sales gains. 1888 Mills expanded its global presence and the effort paid off. J.R. United diversified its offerings in product and price point, benefiting the company's sales.

Blankets

'05 Sales $mil
'04 Sales $mil
% Chg.
Comments
1. Sunbeam Boca Raton, Fla.
$127
$115
10%
Sales of automatic blankets perked up in 2005, helped by rising heating oil prices, which rattled consumers and provided fresh opportunities for stores.
2. WestPoint Home New York
110
110*
0
Sales of the flagship Vellux flocked blanket remained under pressure, but were reinforced by microfiber raschels and continued gains in automatics.
3. Charles D. Owendiv. of Springs Swannanoa, N.C.
101
101
0
The veteran U.S. producer continued to step up off-shore sourcing in response to retail demands for lower prices. Fleece continues to make inroads into the market.
4. Berkshire Blankets Ware, Mass.
55
33
67
Building a trade-up story, Berkshire scored with Serasoft, an upstairs version of the core fleece blanket. Liz Claiborne and Nautica licenses gained, notably Nautica in wool.
5. Pendleton Woolen Mills Portland, Ore.
18
17
6
Pendleton continues to build a new franchise in decorative home looks, and at the same time plays to strength with its core Native American motifs.
Wrap-Up: Blankets remained a tough sell, as they have in recent years, as the continued commoditization of solid-color product designed for the mass market put pressure on dollars, if not necessarily units. But the product got something of a lift this year when gas and home heating oil prices caught fire, forcing retailers and consumers to take a fresh look at what had been a stagnant category.

Comforters

'05 Sales $mil
'04 Sales $mil
% Chg.
Comments
1. Springs Industries Fort Mill, S.C.
$410
$405
1%
Although mass market customers' retail-direct programs put pressure on sales, moved quickly to pick up business that rival WestPoint walked away from.
2. WestPoint Home New York
200
255*
-22
Comforters, bed-in-a-bags and accessories were all under pressure from direct sourcing and pricing declines.
3. American Pacific San Francisco
190
138
38
American Pacific continues to drive fashion bedding collections across multiple brands and retailers.
4. Dan River Danville, Va.
116
116
0
The company maintained business with retail accounts and started shipping on newer lifestyle brands in late spring.
5. Croscill Home New York
110
113
-3
Business slid in the category as the company continued to balance sharper price points and global sourcing.
Wrap-Up: Economic conditions remain difficult for most in the comforter category as price deflation and Asian imports continue to erode business away from domestic manufacturers. Other issues plaguing the category include retailers sourcing direct, reverse auctions, bed-in-a-bag business and increasingly sharper price points.

Curtains/Draperies

'05 Sales $mil
'04 Sales $mil
% Chg.
Comments
1. CHF Industries New York
$140
$142
-1%
Although units are up, dollars are down in the category due to price-point erosion and increased direct-to-customer business in Asia.
2. S. Lichtenberg New York
130
140
-7
S. Lichtenberg was even on units, but price deflation hurt. Joint-venture factory in China provided lower-cost goods. Uses design assets to diversify product offerings.
3. Springs Industries Fort Mill, S.C.
91
96
-5
Price deflation took its toll on what is for Springs an ancillary category.
4. Croscill Home New York
75
81
7
Croscill reported a better second half during 2005, with sales flat to up over the same period a year prior. At retail: solid product placement across lines and distribution channels.
5. Miller Curtain San Antonio, Texas
63
70
-10
Miller, with company-owned factories in China and Mexico, suffered from price deflation. However, Internet and catalog were bright spots.
Wrap-Up: The combination of retail-direct sourcing, price deflation and retail consolidation once again took a bite out of the top line for leading soft window producers. Some reacted by expanding window hardware, looking to regain space in the hard lines side of the window department. Volume curtain retailers continued to flesh out self-branded and house-branded programs; and although top suppliers furnish some of those programs, the house brands battled supplier labels for primacy.

Decorative Pillows

'05 Sales $mil
'04 Sales $mil
% Chg.
Comments
1. Brentwood Originals Carson, Calif.
$144
$157
-8%
Saw declines in its bead-filled novelty pillow line, which made sales soar in 2004 when it launched at retail.
2. Arlee Home Fashions New York
64
74
-14
Lost part of a program with a major discount department store.
3. Mohawk Home Sugar Valley, Ga.
27
28
-4
Further expanded reconfiguration of assortment to emphasize fashion imported products. Experienced declines in core tapestry offerings.
4. Newport/Layton Home Portland, Ore.
24
25
-4
Lost some business due to retailers directly sourcing some core programs.
5. Fashion Industries Griffin, Ga.
22
20
10
Expanded fashion side with imported assortment; gained additional placement with core customer base.
Wrap-Up: As major retailers, particularly discount department stores, grow their direct importing efforts for the decorative pillow category, suppliers are paying the price in their sales results. Almost all reported declining sales. They are fighting for shrinking available shelf space, and face depreciating price points that have gone down about 25 percent for higher quality products. For the players that traditionally relied on domestic product, imports are becoming more important to stay competitive. Those who have always imported continue to do so in a more competitive landscape overseas.

Down (& Down Alt.) Comforters*

'05 Sales $mil
'04 Sales $mil
% Chg.
Comments
* 2004 numbers were revised to include down alternative filled comforters. ** Revised downward by WestPoint Home from a previously reported $46 million.

1. Pacific Coast Feather Seattle
$106
$110
-4%
The hospitality business was soft and major programs rolled out the prior year; in the core business, moderate to better goods were strong and opening price point goods slow.
2. Down Lite International Mason, Ohio
71
64
11
The increase was due to newly acquired accounts in the hospitality trade and retail stores. Down Lite also saw continuing strength in luxury down alternative-filled goods.
3. Phoenix Down Totowa, N.J.
68
67
1
The company brought in a lot more promotional goods m China this year while pushing higher-end domestic merchandise.
4. Hollander Home Fashions Boca Raton, Fla.
47
60
-22
Hollander's customers were buying more direct imports this year, reducing the company's sales in the category.
5. WestPoint Home New York
40
40**
0
Down comforters remained unchanged as the Ralph Lauren down program rolled out mid-year at Federated, which offset some softness with another retailer.
Wrap-Up: Higher prices on raw material and finished goods as well as less retailer interest in down products, allayed to costs associated with the avian flu, significantly impacted the category. Many retailers cut back on down products last year as a result of these combined issues. On a positive note, the down alternative business has been strong and trending up. Interest in solid-color programs continues to plateau, prompting a move to introduce more fashion-oriented customers to the category.

Foam Pillows/Toppers

'05 Sales $mil
'04 Sales $mil
% Chg.
Comments
* Revised downward by Sleep Innovations from a previously reported $228 million. *** Revised upward by Louisville Bedding from a previously reported $35 million.
** New name of Leggett & Platt's urethane division. Source for all chart information: Home Textiles Today market research.

1. Sleep Innovations West Long Branch, N.J.
$250
$190*
32%
Foam toppers and pillows keep growing rapidly for Sleep Innovations, which continues to open new retail accounts.
2. Carpenter Richmond, Va.
80
69
16
By pushing into foam mattresses, Carpenter has opened up new channels of distribution for its foam products, even though mattress sales are not reflected in these numbers.
3. Sleep Comfort Systems** Carthage, Mo.
43
31
39
Major increase is due to expanded placements at mass, significant growth with online retailers and deeper penetration with the big boxes.
4. Louisville Bedding Louisville, Ky.
31
37***
-16
Hot product classification is maturing, pressured by market over-saturation; mergers and consolidations among retailer clients put assortment decisions on hold.
5. Hudson Industries Richmond, Va.
27
22
23
Growth through new product intros and greater depth with current customers; increase also impacted by dramatic raw material costs that affected pricing in the fourth quarter.
Wrap-Up: There was increasing interest in the category at retail this year with more and more companies getting into the topper business. Some prices tumbled on certain key products such as contour pillows as competition heated up, primarily at mass. Unprecedented raw material increases since August played a significant role in the category — causing the price of finished goods to go up and impacting top-line sales in the final part of the year.

Kitchen Textiles

'05 Sales $mil
'04 Sales $mil
% Chg.
Comments
1. Franco Manufacturing Metuchen, N.J.
$68
$59
15%
Gained business with new retail customers; expanded fashion line with a focus on private-label programs.
2. The John Ritzenthaler Co. West Conshohocken, Pa.
60
37
62
Acquired the kitchen textiles division of Charles Craft (which had reported sales of $18 million); expanded placements; gained business with new accounts.
3. Town and Country Living New York
52
35
48
Took over programs left behind by the exits of Barth & Dreyfuss and Cecil Saydah International.
4. Elrene Home Fashions New York
17
n/a
n/a
Moved into top five by replacing some programs left behind by Barth & Dreyfuss and Cecil Saydah. Expanded licensed Jonathan Adler and Echo programs into kitchen.
5. Avonhome Braintree, Mass.
15
n/a
n/a
Also a newcomer to top five list; expanded program with one major discount department store; and entered Max & Lucy license program at various stores.
Wrap-Up: With the absence early in the year of two major forces in the table linens category — longtime number one company Barth & Dreyfuss and 2003's third largest supplier, Cecil Saydah International — the kitchen textiles top five list found itself with two vacancies.

Mattress Pads

'05 Sales $mil
'04 Sales $mil
% Chg.
Comments
1. Louisville Bedding Louisville, Ky.
$100
$112
-11%
As the dust settles in the post-Pillowtex era, Louisville Bedding's mattress pad business has subsided to approximately five percent above 2003 levels.
2. Perfect Fit Charlotte, N.C.
48
38
26
The company gained significant business in mattress pads from the competition; made additional progress due to a strong domestic market.
3. Pacific Coast Feather Seattle
46
44
4
The Sealy brand has continued to be very strong in the category; the company also picked up some business that other brands lost when they migrated to mass.
4. Springs Industries Fort Mill, S.C.
35
34
3
The development of sleep solution stories and fiber enhancements has boosted business in better goods, off-setting pricing pressure in the mass market.
5. Hollander Home Fashions Boca Raton, Fla.
34
20
70
Hollander attributes its dramatic increase to a focus on developing more innovative, higher-end products.
Wrap-Up: The trend continues toward providing tangible benefits with an emphasis on functional features and performance, as opposed to constructions. In addition, suppliers are seeing a trend of mattress pads working with toppers for added sales: consumers are using one to protect the other as toppers work to enhance the sleep surface. Furthermore, thread counts have gone up with dobby and jacquard weaves. Prominent distribution issues included key brands migrating to lower-tier distribution channels.

Quilts

'05 Sales $mil
'04 Sales $mil
% Chg.
Comments
1. PHI San Francisco
$79
$66
20%
Double-digit increase and jump to the top spot are due to opening new accounts, more penetration with current customers, and significant expansion in direct-imports.
2. Sunham Home Fashions New York
65
70
-7
While Sunham has been focusing its growth on other top-of-bed categories, retail consolidation, particularly at department stores, has squeezed sales.
3. Keeco San Francisco
62
85
-27
Direct-import business impacted total dollar amount, however units remained consistent with last year.
4. American Pacific San Francisco
52
48
8
Strength in American Pacific's branded business helped the company maintain and grow some market share.
5. Britannica Home Fashions New York
48
50
-4
Retail-direct programs have impacted sales.
Wrap-Up: The category as a whole has been down-trending in terms of growth. Retailers have lost significant interest in traditional quilts, while modern and contemporary styles that can serve as layering components to top of bed are still strong. The emphasis continues on bed coverings that can transition from quilts to comforters, as well as higher-end products with quality fabrics such as cotton, chenille, velvet, silk and jacquards.

Rugs

'05 Sales $mil
'04 Sales $mil
% Chg.
Comments
1. Mohawk Home Sugar Valley, Ga.
$323
$340
-5%
Lost a major home center and a major discount chain, but gained in mid-tier and specialty. Built sales in tufted and woven goods; less success with printed rugs.
2. Shaw Living Dalton, Ga.
220
150
47
Made significant gains with a major home center and a major discount department store; and enjoyed continued success with woven rugs.
3. Maples Rugs Scottsboro, Ala.
150
150
0
Maintained programs with retail customers; saw higher demand for shags but a slight decline in orders for solid olefin varieties.
4. Oriental Weavers USA Dalton, Ga.
147
147
0
Merged its Oriental Weavers and Sphinx divisions, resulting in a refocus on major mass merchants and home specialty chains — a smaller, core retail customer base than in the past.
5. Springs Industries Fort Mill, S.C.
85
102
-17
Has held the rug business out of its pending merger with Coteminas while exploring a possible sale to the competition.
Wrap-Up: War was waged for business at the mass merchant and home center retail sectors among the top five players in 2005. At the mid-tier and specialty store level, the wealth was spread out more among suppliers. In terms of product, it was a good year for woven rugs. Category-wide, the first half of the year saw flat to limited sales increases. The second half offered suppliers new opportunities and had better results, balancing out final results.

Sheets & Pillowcases

'05 Sales $mil
'04 Sales $mil
% Chg.
Comments
* Revised downward by WestPoint Home from a perviously reported $520 million.

1. Springs Industries Fort Mill, S.C.
$690
$685
1%
Managed to hold the top line steady by picking up programs rivals walked away from because of margin concerns.
2. WestPoint Home New York
400
495*
-19
Sheet sales declined due to customers directly sourcing even more product themselves, coupled with WestPoint transitioning its operations toward more global sourcing.
3. Divatex Home Fashions New York
140
120
17
Double-digit growth is attributable to increasing doors with major retail accounts and launching larger programs in better goods, jumping the company up a rung to No. 3.
4. Dan River Danville, Va.
136
136
0
The company points to maintained business with its key retail accounts; also has been supplying better-quality goods to broader distribution channels.
5. Franco Manufacturing Metuchen, N.J.
108
103
5
Progress in the tween demographic and in private-label programs spurred increase, along with juvenile and adult bedding.
Wrap-Up: The category remains under pressure from retailer-direct programs. Global competition has been heating up mainly from China, India and Pakistan, where new manufacturers from other areas have entered the business. The industry has been abuzz with alternative fabrications and finishes, creating new opportunities and consumer interest. Retailers are also realizing that it's not just thread counts but yarn quality and finishing techniques that produce better goods.

Shower Curtains

'05 Sales $mil
'04 Sales $mil
% Chg.
Comments
1. Allure Home Creation Boonton, N.J.
$75
$75
0%
Maintained programs and business with core retail customer base.
1. Ex-Cell Home Fashions New York
75
71
6
Emphasized solid-color offerings; placed more focus on fashion vinyl varieties and stepped up line of freestanding shower curtains.
2. Springs Industries Fort Mill, S.C.
57
70
-19
Affected by the malaise in its overall bath business as mass market customers brought production of more commodity goods in-house.
3. Maytex Mills Yonkers, N.Y.
52
41
26
Increased placement with existing accounts; gained sales with new retailers; enhanced freestanding offerings; continued success with private-label programs.
4. Creative Bath Products Central Islip, N.Y.
31
31
0
Sales dipped slightly on existing product programs, but the decline was compensated by the liquidation of obsolete inventory with substantial discounts.
Wrap-Up: Major shower curtain suppliers were lucky to post flat sales in 2005, a year when retailers across the board stepped up their direct importing activity for the category. Over the course of the year, suppliers – including smaller ones not on this top five list – noticed mass merchants, home specialty chains and department stores establishing offices in India, China and elsewhere to import bath accessories and shower curtains themselves. Among the top five only Maytex Mills could boast a major percentage increase in sales. Ex-Cell Home Fashions also enjoyed some growth. In both cases, freestanding products helped them make strides.

Sleep Pillows

'05 Sales $mil
'04 Sales $mil
% Chg.
Comments
* Revised downward by WestPoint Home from a previously reported $82 million.

1. Hollander Home Fashions Boca Raton, Fla.
$170
$134
27%
This gain reflects the firm's efforts in promoting higher quality, comfort-driven pillows.
2. Pacific Coast Feather Seattle
129
124
4
Company saw significant improvement through refreshing Pacific Coast-branded products; also the Sealy brand scored a great year in sales growth.
3. Springs Industries Fort Mill, S.C.
105
98
11
The former AFI business, now Springs' utility division, proved its most successful operation by pursuing higher-quality, higher-price parts of the retail business.
4. WestPoint Home New York
60
70*
-14
Sleep pillows declined due to a planned exit by WestPoint Home of unprofitable businesses in the category.
5. Louisville Bedding Louisville, Ky.
44
44
0
Less hit by the post-Pillowtex era, Louisville Bedding's sleep pillow business stays level despite skyrocketing polyester pricing; back-to-school business was strong.
Wrap-Up: This year, sleep pillow suppliers saw business improving in the non-foam categories as down alternative and down and feather fills have been taking back some of the spotlight away from foam, due to raw material cost issues and some over-saturation in the lower priced channels. The focus was on distinct, functional, performance-based benefits with a trend towards providing tangible features as the consumer seeks better quality products.

Table Linens

'05 Sales $mil
'04 Sales $mil
% Chg.
Comments
1. Town and Country Lakewood, N.J.
$151
$140
8%
Expanded designer license programs; enhanced high-end line with new products such as chair covers; and gained placement with new and existing retail customers.
2. Elrene Home Fashions New York
63
57
10
Enjoyed success from its Echo licensed program; continued to make strides with its Jonathan Adler designer license; and expanded coordination with kitchen textiles.
3. Bardwil Linens New York
57
54
6
Solid color programs continued to be a core line for the company; micro-fiber products were popular; and the Lenox branded line continued to be a bright spot.
4. Avonhome Braintree, Mass.
55
51
8
Saw sales spur during second half of 2005 through its partnership with the Max & Lucy license.
5. Ex-Cell Home Fashions New York
23
25
-8
Lost business in its everyday programs as it increased emphasis on its seasonal offerings.
Wrap-Up: As is the case most every year, it was largely due to licensing that table linens suppliers saw healthy sales gains in 2005. Town and Country and Elrene Home Fashions hooked on to designer brands to motivate shoppers, respectively Nicole Miller and Echo, among others. Avonhome banked and continues to lean on Max & Lucy to attract attention and build the company's product roster. And Bardwil had Lenox to thank in part for a good year. Seasonal goods are still a key component of the category, as Ex-Cell discovered. And cross-pollination with kitchen textiles is another motivation for shoppers to coordinate with table linens.

Throws

'05 Sales $mil
'04 Sales $mil
% Chg.
Comments
1. The Northwest Company New York.
$80
63
27%
This rocket-hot producer gobbled up market share last year by focusing on its core license business and taking sole possession of the NFL license it once shared with a rival.
2. Manual Woodworkers Hendersonville, N.C.
70
$71
-1
The pioneer producer of cotton jacquards stepped up off-shore sourcing and will continue to focus on quick shipping for fast turnaround to key customers.
3. Mohawk Home Sugar Valley, Ga.
61
67
-9
Mohawk once topped the list after buying into the category, but lost its footing after collapse of cotton jacquards. Sales fell in 2005 after 26-percent drop in 2004.
4. Biederlack of America Cumberland, Md.
40
49
-18
Biederlack took a big hit when it lost its piece of the NFL license to its larger rival, The Northwest Company. It also decided to jettison some unprofitable, low-end business.
5. Phoenix Down Totowa, N.J.
18
15
20
The 58-x-74-inch down or down-alternative throw is major for Phoenix, but with a currently limited customer base: two big off-price retailers are the key buyers.
Wrap-Up: It was another tumultuous, challenging year for the key throw producers — and making that point the hardest way possible, three of the top five lost ground during 2005, recording sales declines that ranged from minor to major. Price deflation continued to take its toll, forcing some to walk away from big accounts rather than take a beating on margins. Ever evolving, a new variation is rung into the category with the growth of down and down-substitute throws showing up in traditional throw sizes, admitting Phoenix Down into the top five, displacing Brentwood Originals.
Related Content By Author
Live From New York: Fashion Comes Across the Pond

More Videos
Subscribe to
Home & Textiles Today eDaily
Receive the news you need to know about the trends in the industry delivered right to your inbox.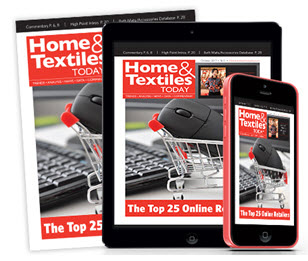 See the October 2017 issue of Home & Textiles Today. In this issue, we look at the Top 25 Online Retailers. H&TT's exclusive annual ranking of the biggest online sellers of home textiles finds that while pure play etailers continue to fly, bricks & clicks are digging into omnichannel. See details!