Suppliers keep focus on value, fashion
Value, value, value. It has been the watchword for more than a few seasons as manufacturers and suppliers grapple with price pressures from both retailers and consumers in an increasingly pressure-filled world. From the major mills to the small niche players, value is the sell — if only because "value-added" has increasingly become another tool in the battle for price retention.
In reality, much of what is now considered added value — at least as far as retailers are concerned — goes on behind the scenes in the form of better service, faster production times and better distribution and replenishment.
New lines rolling out from major branded suppliers this season again offer up enhanced value — with richer constructions, handcrafting details (or print techniques that mimic detail work) and dressmaker details sprinkled throughout various lines.
But in the struggle to make the business about more than mere inventory management, fashion is still the driving force.
Cannon
Directions
The reintroduction of the brand originally scheduled for October 2002 has been pushed back to fall 2003. A shakeup at the corporate level resulted in the shelving of the idea for at least several months. Although a few beds are taking the showroom floor, for now, the focus at Pillowtex remains its Charisma and Royal Velvet brands.
Charisma
Directions
The Charisma shop-within-a-shop opened during the summer at Macy's Herald Square store in New York. Encouraged by the results, Pillowtex is promising more Charisma stores by the end of the year. In design, the trend is "creative and unusual," in fabrications and embellishments.
Details
Mykonos, colored in soft green pastis and oxygen, combines a duvet cover printed at Mascioni that features soft pools of watercolor in bands of color across the bed. Gwyneth features a soft watercolor medley of roses, Indian-inspired motifs and paisleys for a romantic effect. The duvet cover features a quilted patchwork. Notting Hill is a loose watercolor rendition of a traditional botanical with a printed duvet cover in lavender and sage accents, and hand-plaited and knotted grosgrain ribbons for the euro shams and accent pillow. Pleated dressmaker details adorn Callandra, which is done in a shade of cassis for the silken duvet cover. A jacquard woven coverlet and euro shams feature a version of a classic Jacobean design. Shangri La Ivory is a version of the original white Shangri La, only with a warmer palette. Mustique is built around a tonal embroidery of blooms and leaves on a silken ground. Iridescent butterflies adorn Flights of Fancy, which is colored in a lapis softly calendered for an almost glossy finish. Tossed floral bouquets with a detailed embroidery on a taupe taffeta ground makes up Alycen.
On the bath side, four new towels are on the showroom floor: Honeybee, Athens, Jasmine and Madeline. Each features highly embellished looks. The jacquard Honeybee depicts honeybees on a carved honeycomb ground, while Athens features classic Greek bathing vessels on a carved ogee ground. Jasmine borrows details from the Charisma bed of the same name, including venise lace and embroidery. Madeline offers rayon accents with tile motifs.
Croscill
Directions
Croscill is building out from its foundation of opulent master bedroom looks with a broad array of more casual lifestyle looks as well as the introduction of some novelty motifs. Master bedroom is still the guiding motif, of course, but Croscill is putting its own spin on broader trends in bedding, such as the quilt phenomenon. Global is a strong lifestyle trend for Croscill as well, and the supplier also is rolling out a complete coordinate line under a British colonial theme.
Details
In casual lifestyles, coordinating comforter/quilt bedding ensembles are constructed of yarn-dyed woven patchworks and include Re-Thinking Pink, which has an embroidered top and reverses to a yarn-dyed stripe; and Camden, which uses ties as accents and reverses to a yarn-dyed plaid. Sunset Park is a quilt patchwork with embroidered squares on a pique yarn-dyed print with eyelet trim. Montreal is a small square patchwork using chambray, florals and plaids on the comforter and ribbon embroidery on a chambray quilt.
Casual lifestyle looks also include four beds that interpret the British colonial motif as a master bedroom look. Bali is printed on a 100 percent cotton duck ground with accents of clipped chenille and natural raffia on accessory pieces. Hemingway is a woven cotton/poly jacquard with a satin face and clipped chenille trim. Hawaii presents a dimensional palm tree motif printed on cotton sateen with embroidered raffia accent pieces.
In contemporary looks, Ventura is an updated Southwest look, a wet print on poly/cotton. Luxor employs novelty weaves with yarns in gold on an overall aqua color story with lavender accents. Porcelain uses micro-denier yarn woven in traditional fashions. And reflecting the global look, Arabella uses space-dyed yarn wrapped with lurex in pieced woven patterns that are overprinted with striping.
Dan River
Directions
This venerable mill continues to focus on what it does best: print-based bed-in-a-bags in several different constructions. While recent financial news may have taken some of the fire out of the company's stock, the Home Fashions division (serving specialty and department stores) says its multi-tiered business is following a positive growth plan. The company is also making great strides for its highest level, the Marquis Interiors line, which is comforter sets with coordinate solid-color sheet sets.
Details
Leading off here are the Marquis Estates ensembles, which are marketed as comforter sets with coordinate sheet sets. Rialto features a needlepoint woven technique in shades of adobe and neutral sage tones with plenty of details. Positano has a matelassé look with a dramatic yet soft design in blue and white.
Next are the three bed-in-a-bag ensembles of the Marquis Interiors line. Charlemagne is an engineered needlepoint jacquard in soft neutral tones, while Montage is a very masculine look in gold, black and sable accents with a foulard reverse and filigree detailing. Canterbury is a silk damask stripe in blue with brown accents.
Next up is the Marquis Specialty line of ensembles with four introductions — Logan, Mirelle, Bliss and Coquette. Perhaps the most striking of the beds here is Bliss with hand trapanto simplistic flowers in tone-on-tone colors.
For its Studio Embellished line with 250-count blend sheets, Dan River presents Kate's Bouquet Blush, Aubrey, Contessa and Carolina. Bouquet Blush features double ruffles and eyelet detailing with a floral motif in shades of peachy rose. Aubrey, in blue, features colored embroidery, while Contessa is a documentary floral with a wallpaper stripe reverse. Carolina is an all-over large-scale floral on a teal ground.
Jasmine, Lillia, Prelude, Evening Mist and Jefferson are all part of the Studio collection with 220-count cotton sheeting. Jasmine features a hyacinth/iris pattern on a seafoamy gray ground, while an ethereal lily adorns Lillia. Amethyst and lilac tones decorate Evening Mist, while Jefferson is a printed jacquard look in gold with teal accents. Prelude is a floral in smoke blue with all-over geometric coordinates.
The Studio line with 250-count blended sheets offers Alanis, Villeroy, Sonnet, Barrymore and Cassidy. The standout here is Alanis, with a textured solid look in sand and adobe with olive accents.
Studio with 210-count blended sheets offers Opera, Monroe, Phoebe, Romantic Garden and Bellagio. Romantic Garden is an all-over rich floral on a maroon ground, while the masculine Monroe achieves its look thanks to a Bohemian-flavored medallion combined with a distinct paisley. Texture, neutral tones and a simplistic floral adorn the rest of the line.
The Studio 180-count blend presents Henderson, Lucinda, Corsica and Ashford.
The Alexander Julian Home line sheets have been repositioned from a $9.99 opening lead point for a twin to $7.99. According to the company, the Julian business is very strong and the demand has been better than expected.
Design Works
Directions
Design Works continues to add ensembles to its assortment with coordinating 450-count Egyptian cotton sateen sheets. The beds are also layered with yarn-dyed silk quilts, euro shams and decorative pillows in coordinating colors.
Details
Castleton is a woven tapestry jacquard with chenille yarns done in shades of olive, camel and accented with russet. The floral bouquet is a dimensionally woven fabric with many unique weaves. A chenille stripe makes up the ruffle and euro shams. Java Floral combines both traditional and English colonial-inspired motifs utilizing a sophisticated, stylized scroll and a leaf floral. Raphael is an elaborate detailed geometric in a hexagon repeat in teal with gold accents. Saxon features a unique weave rib texture and a lyrical pattern with soft scrolls and roses. Warm camels, ivory and shades of wheat with accents of blue gray and deep pink are all used. Silk Paisley is a paisley print with a very delicate line-work design of random paisleys on 100 percent silk. The color story is a sophisticated use of silvery taupe, pale olive, hyacinth blue and burgundy accents. The yarn-dyed Taliesin is a jacquard panel that focuses on gradual changes of multi-color, embroidery-like weaves. The sienna color flows into shades of earthy gold, browns and olives.
Fieldcrest
Directions
This mainstay is due for a review, and Pillowtex said has that on its agenda for next market. According to the major mill, the Fieldcrest label has almost become a private label for retailers and has lost its identity. When the overhaul is completed, expect the label to have a new platform and a new focus. Pillowtex is also augmenting the label with new bath rugs, a step intended to increase coordination and drive add-on sales.
Details
The Fieldcrest line of beds has been supplemented with Freestyle, a young, contemporary youthful line aimed at the 30-year-old customer/first-time-home-buyer market in the hopes of gaining some market share there and perhaps laying the groundwork for future generations to turn to other Pillowtex labels. Five Fieldcrest beds are on the showroom floor this market, catering to traditional tastes.
And for the first time, Pillowtex unveils its Fieldcrest line of bath rugs. Two sizes and two shapes are offered this market with retail prices starting at $24.99. The rugs have a tufted nylon center, multi-colored polyester/propylene chenille braid, a non-skid latex backing and are machine washable. Eight colors are offered, taken directly from the towel palette.
Grand Patrician
Directions
The Seduction towel continues to build momentum with WestPoint Stevens, and another version has been subsequently added this market along with five new colors. The staple Grand Patrician line also continues to build on its "fancies" line, adding two new motifs.
Details
Petal, shell, oyster, bamboo and black are all new for the Seduction color palette, while Staccato, a rhythmic stripe with four colors per towel, joins the non-solid solid product offering. The color combinations available are soft blue/green, neutral with sage or shell accent, tonal amethyst/petal and merlot/indigo.
Under the Grand Patrician label, Acanthus and Urban Tweed are new. Acanthus pairs a traditional acanthus motif border with a diamond-quilted solid terry body. Five tonal colorways are available: white with blue, linen with sage accents, slate, shadow green and thistle. Urban Tweed combines a textured non-solid body with a geometric border. Teal, slate, neutral, charcoal and a thistle/desert rose coloration are available.
On the bedding side, Park Lane is new and is offered in white or black. Featuring a simple, refined elegance, the ensemble is embellished with hombre satin stripes in shades of champagne, platinum and taupe. The comforter set is constructed from 200-count cotton. The Grand Patrician solid-color offerings include Isola and Makela. The menswear-inspired Isola offers a yarn-dyed design in 280-count sateen paired with a smaller shirting gingham to create a crisp, tailored look. Makela mixes a traditional floral damask with a contemporary woven texture combined with a palette of six different colors.
Martex
Directions
The Martex line of towels takes two different directions this market. Under the Atelier Martex label, WestPoint adds a new construction and two coordinates. Meanwhile a new offshoot, Martex Novellas, caters to the whimsical with themed borders.
Details
A 100 percent Supima cotton towel augments the Atelier Martex line. Sized at 30" x 58", the towel is offered in a 20-color palette and a retail price point of $12.99. Two coordinate towels are also offered, Weekend Retreat and Crosstown. Weekend Retreat combines bands of waffleweave with terry loops in six spa colors, while Crosstown is a richly colored simple geometric design.
Answering the novelty trend, making its way throughout the industry, is Martex Novellas, which offers a themed border and a solid-color body for $7.99 retail. Gone Sailing, Offshore, Coral Reef, Garden Delight, Elephant Parade and Palm Trees all feature designs ranging from a fleet of navy ships to tropical fish to playful monkeys and tropical palms.
Joining the Martex Emperor line is the Grid Stripe towel, which is meant to tie back to the original Emperor solid towel. Priced at $5.99 retail, four colorways are offered.
Satin Handkerchief joins the Utica Satin Stripe line. Priced at $4.99 retail, this towel updates the Satin Stripe coordinates with a towel-sized version of a men's handkerchief.
The Martex bed-in-a-bag collection offers Winslow and Moroccan Patch this market, while the down bed-in-a-bag offers Claire, Barlow and Dynasty.
Patrician
Directions
WestPoint Stevens continues to place a lot of emphasis on this brand, which is priced around $279/$299 at retail. The top-of-bed is all woven as well as oversized, while the sheets remain at 230-count cotton. However, WestPoint is going forward with a "completer set," a valance and decorative pillow package, to augment Patrician's offerings, give consumers more of a coordinated look and drive up sales.
Details
Scarborough, Madrasa, Daybreak, Claudette and Silk Pajamas are all new. Scarborough is filigree and fretwork-inspired with a woven stripe of rust, burnished gold and eggplant running down the face. The 230-count cotton sheeting design has a wide decorative border and a delicate filigree body. Madrasa, colored in sage and taupe, features a mixture of antique paisley shawls to create a patchwork effect. A detailed border and a tonal paisley adorn the accompanying sheeting.
Iridescent moires, chenille damasks and embroidered ribbons all inspired the look for Daybreak, which is colored in shades of blue, navy and burnished gold. Claudette features a classic traditional medallion floral framed on two sides by a woven diamond design, and Silk Pajamas, a Larry Laslo design, has been re-colored in more modern, neutral and muted tones.
Revman
Directions
Revman continues to emphasize its entire stable of brands, whether it is designers such as Tommy Hilfiger, Laura Ashley or Nicole Miller or design houses such as Echo Home and P.O.S.H. The Echo Home brand may receive more attention than usual this market, as Revman and Echo are positioning the look as a complete lifestyle brand with ensembles for the older master bedroom as well as younger customers.
Details
Bamboo, Pretty in Paisley, Samantha and The New West are all new looks for the Echo Home brand. The Feng Shui-influenced Bamboo utilizes pale sage patterned sheets and raffia decorated pillows and European shams. Metallic touches in the comforter add depth. Pretty in Paisley features a romantic, feminine paisley in light pink, cream and ivory colors. Pearlized sheets and embroidered velvet and pintucked organdy decorative pillows complete the look. Samantha is inspired by a scarf and features a unique panel print lace comforter in gold on black. The euro shams are fur trimmed, while the decorative accents are adorned with turn-out velvet. The New West, with its Southwestern feel, features deep saturated tones of red, black and gray on a creamy ground. The accessories are trimmed with red faux suede paired with black denim. The latest addition to the Core Collection is Polly. Its comforter face is a mix of blue, pink, yellow and green sweet peas reversing to a simple blue-and-white plaid. The coordinating sheet is a small tossed floral, also in blue and white, embellished with a self-ruffled hem and blue accent insert.
The Laura Ashley Decorator Collection, introduced last market, has been augmented with two new ensembles, each with 400-count sateen sheets with sateen comforters and decorator-style accent accessories and trims. The sateen sheets are reactive printed.
The Nicole Miller Home collection is adding four ensembles — Modern Whimsy, Sheer Bliss, Potpourri and Bohemian Rhapsody. Coordinating sheets, bedskirts, shams and decorative pillows are all included.
The Tommy Hilfiger Home collection adds five ensembles — Harbor Hideaway, Shell Beach, Zuma Beach, Catalina Cove and Lavender Blues — while the Crest collection adds two ensembles — Bedford and The Hedges. Harbor Hideaway is inspired by English cottages on a bay and features a navy-based floral with pale blue windowpane and navy gingham bedding. Shell Beach features a multitude of shells in blue-toned photographic prints with micro-dot sheets. Oxford stripes edged in plaid with reversible windowpane and madras-inspired bedding make up Zuma Beach. Catalina Cove is made up of a retro-inspired floral print duvet slightly glazed with glitter and palm leaf print sheets. Lavender Blues features pop art-styled daisies on a blue sky with white clouds. Bedford showcasess rich sapphire combined with cream and Asian toile sheeting against a damask and a crisp stripe sateen. A medley of textures in garnet and gold make up The Hedges.
Royal Velvet
Directions
Pillowtex's Royal Velvet line has been augmented with seven new looks but is not undergoing any price changes and continues to range from its $279 queen price point. In addition, an RV Stripe has been added to the Royal Velvet Intrigue sheeting collection, which coordinates to all of the solid colors offered. Three colorations of the Stripe are available: pastel, neutral and deep.
Details
Victoria is a finely woven jacquard floral in a rich earth tone coloration. Rayon silk euro shams highlight the bed, while the decorative pillows are corded with an intricately woven plaid. The soft and feminine Weskit is offered in subtle shades of lavender and taupe and a design inspired by arts and crafts. Trading Post's theme is taken directly from a Native American rug and features a panel with a luxurious chenille pattern. Vegetable-dyed shades of blue and rusty red color the ensemble, while turquoise-beaded medallions and tooled leather and fringe complete the look. Marrakesh is inspired by a hand-woven mantle cloth from the Metropolitan Museum of Art in an array of colors. Cinnabar features dramatic red poppies on a black ground on cotton sateen with an antique texture and printed poppy hem on the sheet. Beijing is a richly woven jacquard with traditional Chinese motifs in grayed blue and gold with touches of bright colors in the sheet complementing the look. Festive Stripe is inspired by the paintings of Gustav Klimt and offers a woven jacquard in shades of gold and copper and sheets with painterly triangles for a soft, contemporary look.
Wamsutta
Directions
Springs is putting an emphasis on added value in Wamsutta through upgrading the complexity of its designs with new fabrications and more pieced constructions. When pieced constructions aren't used on more low-moderate goods, Springs is employing pigment printing techniques that mimic the look of pique and jacquard grounds. This market also marks the incorporation of the Burlington House bedding business into the fold, which will continue to be marketed under the Burlington House brand.
Details
New this market will be Artistique mini-duvet sets, a high-value but lower-price-point alternative to Artistique sets, which include complete bed ensembles with hand-crafted details at under $300. Priced at $79.99 all sizes for a duvet and two shams, the five designs in the all-cotton program use pigment printing techniques to replicate jacquard and piqué grounds overlaid with embroidered accents and ribbon embroidery motifs.
Springs also will introduce three new categories of quilts. Quilt Styles aims at the high-touch/high-value mark for moderate price points. Priced at $99 for a queen quilt, the program employs cotton facing, a cotton back and cotton batting. Fabrics across the collection include yarn-dyed chambray and mixed patchworks of toiles and stripes as well as traditional block patchworks with embroidered accents. Ribbon embroideries and appliques figure among the enhancements. The program includes coordinating shams and dec pillows. An opening-price-point quilt program also is being sold open stock at either a $59/$79/$99 price grid or at $79 all sizes. Cotton-faced and poly-filled, the collection features trend-directed and Americana patchwork looks. Finally, promotional quilt sets, which might go to market under the Burlington label, include a plethora of looks from Back-to-School designs to botanicals to brights. Priced at $39.99 all sizes, the sets are faced in poly/cotton printed patchwork designs, backed in solid white or ecru, and use poly fill.
In Craftique comforter sets and sheet sets, Springs will add five new ensembles. Representative is Annabell, a patchwork of silks and sheers with a delicate embroidered crewel vine. In Artistique, four new patterns will be offered, using a variety of high-touch techniques such as ribbon flowers, scalloped edges and printing techniques that mimic pique and jacquard grounds.
Two additions to the Susan Sargent line will be unveiled with appliqued top-of-bed vs. the previous printed top-of-bed. Can Can features fuchsia and pink vining flowers on a cobalt field, with a coordinating quilt. Samba uses sage and tangerine vines on a black ground, also with a coordinating quilt.
In bed-in-a-bag, Wamsutta will hew closer to traditional master bedroom looks across its array of programs — all-cotton, 250 blend and 220 blend. In higher-value offerings, Springs also will turn out sateen ensembles under both the Wamsutta and Bill Blass brands as well as piecework ensembles under Pat Farrell and Eileen West.
Related Content By Author
Live From New York: Fashion Comes Across the Pond

More Videos
Subscribe to
Home & Textiles Today eDaily
Receive the news you need to know about the trends in the industry delivered right to your inbox.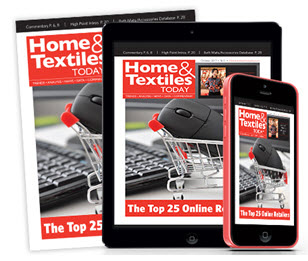 See the October 2017 issue of Home & Textiles Today. In this issue, we look at the Top 25 Online Retailers. H&TT's exclusive annual ranking of the biggest online sellers of home textiles finds that while pure play etailers continue to fly, bricks & clicks are digging into omnichannel. See details!