Wal-Mart Leading, But JCPenney Narrows Gap
Texas-Based Retailer Increases Lead on Target
Carole Sloan, July 25, 2005
New York —
Wal-Mart continued to lead the home textiles retail sales derby in 2004, picking up $310 million, bringing its total to $3.36 billion, up 10.2 percent from 2003.
But in contrast to 2003, Bentonville, Ark.-based Wal-Mart lost some of its dollar lead to JCPenney, which held on to second place with 2004 home textiles revenues of $2.85 billion, a gain of 14.5 percent. The gap between the two major players narrowed from $560 million in 2003 to $508 million in 2004.
And again, in reverse of the 2003 results, Plano, Texas-based Penney pulled ahead of third place Target, widening its lead from $65 million in 2003 to $252 million in 2004. Minneapolis-based Target had home textiles sales of $2.6 billion in 2004, up 7.2 percent, compared with 2003's $2.43 billion.
With Union, N.J.-based Bed Bath & Beyond increasing its home textiles sales to $2.47 billion, the gap between Target and fourth place Bed Bath & Beyond narrowed to $130 million, compared with $141 million in 2003.
Linens 'n Things, based in Clifton, N.J., retained its No. 5 slot in the Top 5 with home textiles sales for 2004 of $1.35 billion, up 9.3 percent from 2003's revenues of $1.23 billion.
The Rich Stay Rich
The Top 5 in Home Textiles Today's exclusive Top 50 Retail Giants survey remains the same as in 2003.
The Top 5 also increased its share of the Top 50 home textiles business moving its percentage share to 56 percent, up from 54 percent in 2003. Sales for the Top 5 were $12.63 billion compared with 2003's sales of $11.48 billion, a 10 percent increase, the largest segment increase within the Top 50.
The Top 50 had 2004 home textiles revenues of $22.6 billion, up 6.8 percent from the 2003 total of $21.2 billion for the same group. The home textiles retail universe increased 3.2 percent to $25.9 billion, from $25.1 billion in 2003.
In another instance of the big getting bigger, the market share of the Top 50 increased more at the top of the group's rankings and finally held even at the Top 25. The same held true for the Top 50's share of the total home textiles business. Beyond the Top 50, there was an estimated $3.3 billion in home textiles sales at retail compared with $3.9 billion in 2003.
Looking at the Top 10, the players once again remain the same, with a minor change in positions: Sears, No. 8 in 2003, has changed with T.J. Maxx/Marshalls that was No. 9. Hoffman Estates, Ill.-based Sears' sales slipped 3.6 percent to $530 million, down from $550 million in 2003. T.J. Maxx/Marshalls, based in Framingham, Mass., increased sales 4.5 percent to $575 million from $550 in 2003.
Small Steps Back
In the Top 10, only Sears and No. 6 Troy, Mich.-based Kmart showed sales declines, with Kmart dropping 4.1 percent to $1.18 billion, down from $1.23 billion in 2003, a continuation of the massive changes from store closings to merchandise mix and marketing taking place over the past two years. Store closings in '04 were 31, significantly down from the 316 units shuttered in 2003.
Within the Top 10, the largest sales gains were recorded by San Francisco-based Pottery Barn in the No. 10 position with a gain of 17.8 percent at $450 million, up from $382 million in 2003, JCPenney with 14.5 percent and No. 7 Kohl's, based in Menomonee Falls, Wis., with a gain of 11 percent, bringing its sales to $807 million up from $727 million.
The Top 10 increased its share of the Top 50, bringing its share to 72 percent, up from 70 percent in 2003. Sales for the Top 10 increased to $16.17 billion, up 8.4 percent from $14.92 billion.
New to the List
Two newcomers joined the ranks of the Top 50 in 2004 — Dodgeville, Wis.-based Lands' End, a unit of Sears, at No. 47, and Dallas-based Army & Air Force Exchange Service at No. 49. Lands' End, with home textiles sales of $85 million, and AAFES, with sales of $83.4 million, represent the catalog and military exchange segments respectively.
The newcomers in 2003 — West Chester, Pa.-based QVC and Northbrook, Ill.-based Crate & Barrel, at No. 28 and No. 49 respectively in 2003, each moved up in 2004's rankings. QVC edged up to No. 27 with a 5.6 percent increase bringing it to $158 million, while Crate & Barrel gained 14.4 percent, bringing it to $97 million for 2004, and gaining the No. 44 position.
Interestingly, the Top 15 players remained the same, with only Family Dollar and Mervyn's shifting places from No. 13 to No. 12 for the pair. Matthews, N.C.-based Family Dollar recorded a 9.6 percent increase, bringing its sales to $358.5 million, while Mervyn's, based in Hayward, Calif., had a 9.4 percent decline, lowering its sales to $308 million.
Overall, the Top 15 also saw its share of the Top 50 edge up slightly to 79 percent from 78 percent in 2003. The group's home textiles revenues were $17.76 billion, up 7.8 percent from 2003.
Looking at the Top 50, there were 11 retailers with double-digit sales increases for 2004, while 18 retailers recorded sales losses in home textiles.
In the Top 20, Anna's Linens, based in Costa Mesa, Calif., which recorded the highest sales gain of 42.7 percent, jumped into this group at No. 18, from its 2003 position of No. 24, and Plymouth Meeting, Penn.-based Ikea, which moved from No. 22 in 2003 to No. 19, are that group's newcomers. Anna's Linens had sales of $214 million in home textiles, and Ikea had sales of $205 million.
Ross Stores, based in Newark, Calif., moved up to No. 16 from No. 18 with sales of $235 million, while The Company Store Group and Macy's West each dropped a notch to No. 17 and No. 20 respectively.
The Top 20 increased its share of the Top 50 slightly to 83 percent, up from 82 percent. Total home textiles sales for the group were $18.83 billion, up 7.9 percent. The Top 25 saw its sales held even at an 87 percent share of the total, up 7.7 percent to $19.75 billion.
CORP. RANK
CORPORATION
HOME TEXTILES SALES ($MILLIONS)
PERCENT CHANGE
SHARE OF HOME TEXTILES RETAIL SALES
NUMBER OF STORES
1. Includes No. 1 Wal-Mart and No. 32 Sam's Club
2. Includes No. 20 Macy's West, No. 23 Macy's East, No. 30 Bloomingdale's, No. 42 Rich's-Macy's/Lazarus-Macy's/Goldsmith's-Macy's, No. 46 Burdines- Macy's, plus Bon-Macy's which does not rank on the Top 50.
3. Includes No. 8 T.J. Maxx/Marshalls and No. 24 HomeGoods
4. Includes No. 9 Sears and No. 47 Land's End
5. Includes No. 33 Marshall Field's, No. 40 Filene's/Kaufmann's, No. 41 Robinsons-May/Meier & Frank, No. 43 Hecht's/Strawbridge's, No. 50 Foley's, plus Famous-Barr which does not rank on the Top 50.
6. Includes No. 39 ShopKo, plus Pamida which does not rank on the Top 50
Source: Home Textiles Today market research

1
Wal-Mart, Bentonville, Ark.
$3,490.0
$3,185.0
9.6%
13.5%
3,617
3,487
2
Federated, Cincinnati
$764.0
$842.0
-9.3%
2.9%
459
459
3
TJX Companies, Framingham, Mass.
$753.0
$702.0
7.3%
2.9%
1,684
1,600
4
Sears Roebuck, Hoffman Estates, Ill.
$615.0
$631.0
-2.5%
2.4%
890
887
5
May Dept. Stores, St. Louis
$563.0
$589.0
-4.4%
2.2%
430
428
6
ShopKo, Green Bay, Wis.
$154.0
$157.0
-1.9%
0.6%
360
359
Related Content By Author
The Countdown to the ICON Honors Continues featuring Christophe Pourny

More Videos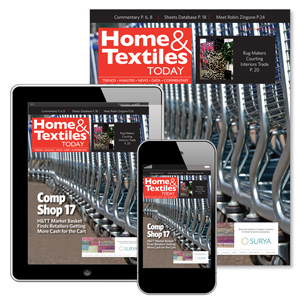 See the May 2017 issue of Home & Textiles Today. In this issue, we discuss our annual Market Basket survey, which finds higher prices and more polyester at leading retailers. See details!