It's Showtime!
Second Half Show Preview
NEW YORK -
Consumer buying behavior has vacillated from month to month so far this year - beating estimates in February only to cool off in March, then rebounding in April and making a surprisingly good show in May.
     The negatives - unseasonably cool spring weather, anemic jobs growth and the expiration of the payroll tax holiday - have played off against an improving housing market, improving consumer confidence and income gains for higher earners.
The mood among exhibitors and buyers during the winter/spring markets of 2013 was what one might term "decently optimistic," although not "pop the champagne" gung-ho.
     Soon the roster of second-half trade fairs will begin, providing a look at how industry players are feeling about the prospects for business going into 2014.
     Here,
HTT
presents a brief run-down of the highlights for 13 shows of importance to the home textiles industry. They include one new show - Surtex Asia - and one newish show, the second annual Home Sourcing at Magic.
July
10-17
Atlanta International Gift & Home Furnishings Market
AmericasMart, Atlanta
(404) 220-3000
www.americasmart.com
The Made in America temporary collection returns to the July Market on Floor 2 of Building 3. There will also be two new temporary categories at the show: Gardens Luxe and Tabletop Luxe. Both juried collections of high-end goods will be located in the lobby areas outside the exhibit halls of Building 2.
     Educational sessions will include a roster celebrity designers, home décor experts, and business leaders. Among the highlights:
     • Jonathan and Drew Scott of HGTV's Property Brothers will present "Champagne Dreams on a Beer Budget," with tips about how to search for the best pricing on products on July 11.
     • Residential, commercial and landscape architect John Gidding, host of HGTV's Curb Appeal: The Block, will present "Maximize Curb Appeal in Minimal Space" with suggestions for enhancing the curb appeal of an outdoor space regardless of its size on July 12.
     • Three of the South's best-known interior designer and bloggers Haskell Harris, Jamie Meares and Lindsey Coral Harper will present "Styling in the South" on July 12.
     • Stylist Emily Henderson, winner of HGTV's Design Star, will present "Make Your Tabletop Pop," with the latest trends in tabletop accessories on July 13.
     The annual Icon Honors 2013 will celebrate the professional achievements of industry memebers July 11 at the Atlanta Marriott Marquis. The event begins with cocktails at 7 p.m., followed by dinner and the awards presentation at 7:30 p.m. Singer/songwriter Peter Frampton will be the headline entertainer. Honors will be presented to home and gift retailers, manufacturers, sales agents and service providers from across the industry. Tickets and tables can be purchased at www.americasmarticonhonors.com.
11-14
Atlanta International Area Rug Market
AmericasMart, Atlanta
(404) 220-3000
www.americasmart.com
AmericasMart in July is further integrating its Home and Rug collections in Building 1 so buyers can source a fuller array of home furnishings, home décor and rug options in one center, a project that began during last January's show.
     The Oriental Rug Association (ORRA) will hold a series of educational sessions during the show.
     On July 12, "Knot to be Missed" is part of the certification process and runs from from 1:30-2:30 p.m. in Building 1, Floor 4, Room 4-B-1.
     In addition, ORRA's new "Appraisers Forum" program is designed for those taking the Certified Rug Appraiser's exam. It takes place July 12 is takes place from 3:00- 4:00 p.m. in Building 1, Floor 4, Room 4-B-1.
     On July 13, the organization will present a session on proper rug appraisal techniques at 12:30 in in Building 1, Floor 4, Room 4-B-1. That will be followed by Certified Rug Appraiser's exam in the same space from 1:00- 4:00 p.m.
     After the exam, a "Rug ID Walk Through CRA Re-Certification" session will take place at 4 p.m., also in Building 1, Floor 4, Room 4-B-1. Current CRAs should re-certify every five years, according to the association.
16-18
Home Textiles Sourcing Expo
Jacob K. Javits Convention
Center, New York
(770) 984-8016
www.HomeTextilesSourcing.com
After setting a new record last year, this summer's show is expected to draw even more exhibitors next month, with 150 companies represented. Running in tandem with the Texword USA and Apparel Sourcing shows, the Home Textiles Sourcing Expo will feature furnishings fabrics as well as finished soft home products.
     Seminars organized by fiber manufacturer Lenzing will take place in room 1B03. Among the highlights:
     • "Textiles on the Move: Where the Home Textiles Business is Today and Where it's Headed." HTT editor-in chief Jennifer Marks will discuss both design and business trends. July 16 at 10:30 a.m.
     • "Stylesight Trend." Jamie Thomas, director of global trend services for Stylesight will present the latest developments in materials for fall/winter 2014. July 16 at 3:00 p.m. and July 17 at 11:00 a.m.
     • "Oeko-Tex." Sam Moore, managing director of Hohenstein Institute America, will review newest standard in sustainable textiles production, the International Oeko- Tex Step certification. July 17 at 9:00 a.m.
     • "Home Pantone - Style & Substance in Home Furnishings for 2014." Laurie Pressman, vp, Pantone Color Institute, will reveal the colors and color combinations that will be key for home furnishings for 2014. July 17 at 2 p.m.
     • "West Coast Point of View on Color and Home Trends for Fall 2014." Fran Sude, vp, Design Options, will discuss design trends particular to the West Coast. July 18 at 10:30 a.m.
     • "The Future of Global Sourcing: Dreams and Nightmares." Josh Green, ceo, Panjiva, will lead a discussion on the future of global sourcing. July 18 at noon.
29 - Aug. 2
Las Vegas Market
World Market Center, Las Vegas
(702) 599-9621
www.lasvegasmarket.com
International Market Centers announced recently that it is expanding and realigning its temporary gift and home décor exhibition space onto three floors of Building C during the summer market, and will now house approximately 325 temporary exhibitors in 10 themed product sections, including Gift, Global, Gourmet, Home, Made, Style, Textiles, Trend, Vintage and Carry. Notable temporary exhibitors in the Textiles category on C5 include Amity Home, Cottonbelle, Jiti and Softline Home Fashions; along with a number of first-time exhibitors including 425 South, Jellybean, Pillow Bar, Scents and Feel, Sustainable Threads and Tourance.
     The market's annual Ahead of the Curve live show will feature of group of designers - Alexa Hampton, Ron Woodson and Windsor Smith - in a panel moderated by designer and Today Show contributor Susanna Salk on July 31 at 9 a.m. in Building B's WorldView Ballroom.
     Other events of note include:
     • Rep Appreciation Party, July 28 from noon to 2:00 p.m. in the Grand Plaza;
     • Market Kick Off Party, July 29 from 6:00-8:00 p.m. in the Grand Plaza;
     • Up on the Roof: Fundraising Event Benefiting Gift for Life on July 30 from 6:00-8:00 p.m. at the WorldView on B16. Tickets to the event cost $25 each; anyone purchasing four tickets will get a fifth ticket for free. Tickets can be purchased at http://upontheroofgala.eventbrite. com/, and onsite during Las Vegas Market in the lobbies of both Building A and Building C.
August
18-21
Home Sourcing at Magic
Las Vegas Convention Center, Las Vegas
www.Magiconline.com
Running in tandem with Sourcing at Magic, the home show will feature more than 100 exhibitors from China, India, Pakistan, Turkey and the Americas. Offerings include textiles, décor, accessories, wall coverings, rugs, gifts and handicrafts.
     There will be seminars focused on the home industry:
     "WGSN Trend Edit: New Macro Directions for Design & Product Development" will take place Aug. 19 at 9:30 a.m. in the Las Vegas Convention Center/North Hall/Upper Level, Room N257/259. The focus will be macro trends for the autumn/winter 14-15 season both fashion and interiors.
     "Home Décor Meets the Fashion Market - Powerful Trends to Increase Sales" will take place Aug. 20 at 1:30 p.m. in the Las Vegas Convention Center/North Hall/Upper Level, Room N257/259. Speakers will be Laurie Pressman, vp of the Pantone Color Institute, and Warren Shoulberg, editorial director of HTT.
17-21
NYNow
(Formerly the New York International Gift Fair)
Jacob K. Javits Convention Center, Pier 94, New York
(914) 421-3200
www.nynow.com
The long-running New York International Gift Fair unveils a format this summer as it becomes NYNow - The Market for Home & Lifestyle.
     The show is being reorganized into four major sections: Home, Lifestyle, Handmade and New.
     NYNow Home will showcase about 1,200 suppliers of home furnishings, home textiles, tabletop and gourmet housewares. It will also feature the juried Accent on Design, an exhibition of contemporary design in the home and lifestyle industry.

     Three broad categories of merchandise will be presented under the Home umbrella: Home Furnishings + Textiles, Tabletop + Gourmet Housewares, and Accent on Design.
     Home Furnishings + Textiles will group exhibitors by aesthetic - such as traditional or contemporary - as well as price point. Notable exhibitors include Ann Gish, Authentic Models, Barreveld International, Cisco Brothers, Design Legacy by Kelly O'Neal, DK Living, Dransfield & Ross, Gold Leaf Design Group, Jamie Young Company, John Robshaw Textiles, Lazy Susan, Made Goods, Matouk, Natural Curiosities, Peacock Alley, Pine Cone Hill, SDH Enterprises, Sferra, Trowbridge, V Rugs & Home and others.
     The 62nd annual Retailer Excellence Awards sponsored by HTT sister publication Gifts & Decorative Accessories will take place Aug. 18 from 6:45-10:00 p.m. at The Lighthouse at Chelsea Piers. Benefiting Gift for Life, the event will include the presentation of the 2013 Industry Achievement Award to Gregg Corzine and David Klass of Archipelago. For information, visit www.giftforlife.org. Tickets $185 each, including cocktails and dinner, are available through www.giftsanddec.com.
     For the second year in a row, One Kings Lane is teaming with HTT and its sister publications Home Accents Today and Gifts & Decorative Accessories to present the Open House display, a curated collection of trend-forward products from the show's exhibitors. Warren Shoulberg, editorial director for HTT and GDA, will conduct a seminar on key trends for home products Aug. 18 from 8:30-9:30 a.m. at the Javits Center room 1A02-03. Tickets are $20 in advance and $25 at the door. For information, contacts contact Rachel@CathySteelAssociates.com.
     A full roster of NYNow's seminars and events is available on the show's web site.
25-27
Surtex Asia
Kerry Hotel, Pudong Shanghai
(914) 421-3297
www.surtexasia.com
Surtex Asia will make its debut this summer as a B-to-B environment for proprietary surface design for product development. Approximately 1,500 textile manufacturers are expected to attend from China, Southeast Asia and the Middle East.
     The event will feature more than 50 textile design studios from Great Britain, Europe, North America, South America and Japan.
     The show will draw manufacturers from a broad range of markets, including decorative fabrics, home textiles, wall coverings, curtains, upholstery fabrics, floor coverings, contract textiles, apparel textiles, and related home products.
     Among the studios confirmed to participate are Artwork Design (United Kingdom), AVA CAD/CAM Group Ltd. (United Kingdom), Crea Concepts (Germany), Diane Harrison Designs Ltd. (United Kingdom), Jerome Thilly (France), and TrendArt (Italy/United Kingdom).
     Textile manufacturers confirmed to attend include Beautiful Day Craft & Painting Factory, Changzhou Yierman Bedding, Chaozhou Fengxi Spyker Ceramic Factory, Dalian East Technology Textiles, Dongguan City Mingshang Homeware, Fujian Changle City Changyuan Textile, Guangzhou WeiLa Garment, Hangzhou Meike Fashion Textile, Hubei F&M Textile Corp., Jiangsu Lansiyu Home Textile, Nanjing Herun Textile, Ningbo Sunny Textile, Shanghai Blue Rose Trading, Shanghai Tulip Carpet Manufacturing, Shaoxing Kino Home Textile Products, Wujiang YunJie Textile, and hundreds more.
     Off the show floor, a conference program interpreted for the Asian community will introduce manufacturers to the latest surface design trends including color, style and pattern. Speakers will include design and home textiles industry experts, including HTT editorial director Warren Shoulberg. Presentations will have simulcast interpretation for the primarily Chinese audience. The full schedule will be announced in a few weeks.
27-29
Intertextile Shanghai Home Textiles - Fall Edition
Shanghai New International Expo Centre
Shanghai, China
+852 2238 9983
www.messefrankfurt. com/hk
The international presence on the show floor gets a big boost this year from Intertextile Shanghai's alliance with Proposte, the Italian trade show for fine European fabric and window coverings.
     The new Proposte China Pavilion@Intertextile will include approximately 25 Euro.pean exhibitors interested in doing business with Asian retailers. In addition, there will be pavilions from Belgium, Greece, Korea, India, Italy, Taiwan and Turkey.
     Overall, the event is expected to draw 1,400 exhibitors from 29 counties and 42,000 visitors from around the world.
     To reflect the growth areas in the Chinese home textiles and furnishings market, the fair is being arranged in five distinct areas: Branded Bedding and Towelling Zone, the Interior Decoration Zone, the Wall Coverings Zone, the Carpets Zone and the interactive Intertextile Design Boutique, which features designer studio displays, booths, workshops and a resource sharing lounge.
     Intertextile International Lifestyle Trend Forum in Hall W1 is being expanded this year. Assembled by a new committee of seven global design experts, the forum will provide insights on lifestyle trends in the Chinese interior decorations market. The panel was headed by French trend forecaster Nelly Rodi, who has spearheaded Messe Frankfurt's trend hall for the annual Heimtextile show each January in Germany.
     Intertextile Design Boutique, returning for the second time, will include designer studio displays, booths, workshops and a design-related resource sharing lounge.
September
6-10
Maison & Objet
Parc des Expositions, Paris-Nord Villepinte
(888) 522-5001
www.maison-objet.com
The overall theme for the fall show is Energies, and Maison will spotlight Designer of the Year Odile Decq, Designer of the year for the now! Design à vivre section Edward Barber and Jay Osgerby, and the creator of the scènes d'intérieur Joseph Dirand.
     Maison will present forward-looking curated exhibits by style consultant Elizabeth Leriche, trend tracker Vincent Grégoire and stylist François Bernard.
     The show will overlap with Paris Design Week, which takes place from September 9-15. The Neighborhood by Night Comes Alive program will take place in St. Germain des Pres on Sept. 9; Le Marais, Sept. 10; The Champs Elysées, Sept. 11; and Saint Ouen on Sept. 13. On Sept. 12, Design Week will celebrate NOW! Le Off to the Docks City of Fashion & Design, a platform for more than 80 emerging young artists.
     Revelations, the first international Biennial of art and creation, will also take place from Sept. 11- 15 at the Grand Palais with nearly 300 exhibitors.
23-26
New York Home Fashions Market
Home Fashions Product Association
(212) 297-2131 (Kellen Co.)
www.homefashionproducts.com
The showroom-based market for volume retailers and suppliers is likely to have more new showroom locations than usual. With 7W New York owner MMPI consolidating showrooms on a consecutive series of floors to make way for office space, three will relocations within the building as well as new tenants in other showroom buildings
     The week will get stated with HTT's semi-annual Kickoff Party on Sept. 22 from 5:30-7:30 at the 230 Club at 230 Fifth Ave, 20th floor.
October 19-24
High Point Market
International Home Furnishings Center, Other locations
High Point, NC
(336) 869-1000
www.highpointmarket.org
Registration opens July 9 for the fall market. Details about special events and educational sessions will be announced later this month.
     Exhibitors can get pre- and post-show exposure by uploading product images to the High Point Market Residential Library on http://TODL.com. The lead-enabled product brochure for the trade is accessible to all market registrants, exhibitors, media and TODL's 70,000 trade members.
     A video review of the leading trends to emerge during the spring market is available on the High Point web site.
November 9-12
International Hotel/Motel +Restaurant Show
Jacob K. Javits Convention Center, New York
(212) 754-7920
www.ihmrs.com
The Hospitality Leadership Forum will precede the show on Nov. 9. Details will be announced closer to the event.
     The 33rd Annual gold Key Award for Excellence in Hospitality Design will take place Nov. 10 from 6 p.m. to 8:30 p.m. Finalists and winners in 14 categories will be announced at the gala and will receive feature coverage from event sponsors Boutique Design Magazine and Hotels Magazine. Deadline for entry is July 1. For more information, visit the ihmrs web site.
December 8-11
Showtime
Market Square, Textile Tower
High Point, NC
(336) 885-6842
www.itma-showtime.com
The largest decorative fabrics event in the Western Hemisphere concluded its summer show earlier this month. Events for the winter show will be announced closer to the show date.
     Showtime hosts more than 800 buying companies and offers an online appointment format to help attendees schedule their visits.
     The International Textile Market Association, producers of Showtime, has announced a date shift for December 2015 event. The original dates of Dec. 13-16, 2015 have been changed to Dec. 6-9, 2015.
Related Content By Author
The Countdown to the ICON Honors Continues featuring Christophe Pourny

More Videos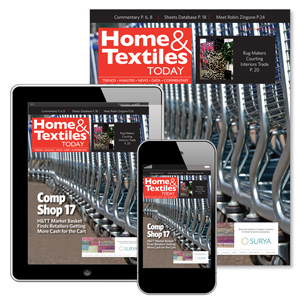 See the May 2017 issue of Home & Textiles Today. In this issue, we discuss our annual Market Basket survey, which finds higher prices and more polyester at leading retailers. See details!