Port Program Undergoes Makeover
Growth Requires Changes to Methods
Anthony Guerra, Staff Staff, August 8, 2005
Washington — The Customs Trade Partnership Against Terrorism (C-TPAT) program, initiated after the terrorist attacks on Sept. 11, has undergone some tightening to keep up with a massive growth in participation.
That tightening involves C-TPAT launching a tiered system of benefits in April to replace a one-size-fits-all approach and adding dozens of field inspectors to speed on-site validations, while commissioning a cost/benefit study of the program due out this fall.
"Some of the companies came to us and said, 'I've been in since Day One, and I've been going above and beyond, but I get treated the same as the new guy,'" said Todd Owen, C-TPAT director.
Tier 1, the most basic level of C-TPAT participation, offers reduced Automated Targeting System (ATS) scoring. ATS is a risk-based level of scoring companies and determines how often their cargo is inspected. Tier 1 also makes members eligible to participate in the Importer Self-Assessment Program (ISA) — a program which further reduces the likelihood of a Customs audit by relying on members to ensure their cargo is secure. ISA members are also promised future access to a C-TPAT Web site for communication with other members.
Applicants reach Tier 1 or become "certified" after they have agreed in writing to meet the minimum criteria and have their plans for compliance approved, along with receiving a clean background check.
However, it is only after they have their supply chain "validated" by C-TPAT supply chain security specialists in the field that importers reach the Tier 2 level of benefits. But getting validated is far from guaranteed. Owen noted that 23 companies have been expelled from the program for gross violations, while 65 have been suspended until they make improvements. He explained that expulsions occur when almost nothing attested to in the application has actually been done, while suspensions can take place as the result of more minor "security incidents."
Tier 2 members receive further reduction in ATS scoring, making it even less likely they will be subject to port inspections. Owen said C-TPAT is working to add staff so more validations can be conducted in a timely manner.
He said that C-TPAT has increased its number of specialists conducting field validations from 40 in January to 72 today, and noted that the agency had brought on another 20 inspectors in the past few weeks. Additionally, Owen said C-TPAT would be borrowing 40 field officers from other agencies to do inspections until it can reach its permanent staffing goal of 157. Owen said C-TPAT hopes to have that intention realized by the end of the year, but stressed the importance of bringing on people with the right skill set.
Tier 3 is reserved for members that have gone "above and beyond" the minimum criteria by implementing the best practices established throughout the importer world. Benefits for Tier 3 members include receiving "Green Lane" designation — meaning importers are only subject to infrequent random inspections.
A Program in Flux
C-TPAT — run by U.S. Customs and Border Patrol (CBP) — calls for importers to improve security along their supply chains in exchange for reduced inspections at U.S. ports. Since its inception in November 2001, the program has grown from seven members to over 9,000 today.
In response to that growth, Owen said a set of minimum security criteria had to be defined. (see sidebar) The new criteria were established following a dialogue with the industry that started in October of last year.
George Tuttle, a San Francisco-based lawyer who focuses on customs and U.S. international trade regulations, said a voluntary program like C-TPAT couldn't be too onerous at its inception or no one would have joined.
"Originally, C-TPAT was just trying to get bodies involved, and now the program is tightening up and customs is squeezing the importers to squeeze their suppliers," he said.
Though many have already joined the program, Owen said that a cost/benefit analysis of C-TPAT, which has been sponsored by the organization and is due out this fall, may convince reluctant companies to jump on board. "We hope to capture that information and put it back out there," he said.
One of the ways for members to demonstrate that best practices are being followed is by shoring up container security. Implementing new "Smart Box" technology can go a long way toward satisfying C-TPAT inspectors that a company is going the extra mile.
Omar Hijazi, a senior principal with A.T. Kearney, a global management consulting firm, said Smart Box technology can provide importers and customs officials with more reliable shipping information. This is accomplished with the use of RFID tags, specifically active RFID tags.
In the Smart Box scenario, active RFID tags are affixed to each container. The tags are then "read" at different points along the supply line. Rather than relying on the veracity of written information to ascertain the cargos previous path, the RFID tag can be read electronically upon arrival at a U.S. port and the manifest downloaded electronically.
Hijazi notes that the move to active tags, which give off a strong signal, as opposed to passive tags, results in much better "read rates" — levels that now make the RFID investment worthwhile.
"Smart Box technology provides a level of detailed information that you were not able to get before," said Hijazi, noting that some carriers are "nervous about this because it exposes people who are inefficient" by recording how long a shipment may languish at any one point.
Hijazi noted that with Smart Box (which is not C-TPAT mandated but encouraged) and other C-TPAT affiliated programs like the Container Security Initiative (CSI), the government is trying to push security farther out into the international supply chain so shipments arriving at U.S. ports have already been checked to some degree.
"The further you can reach out, the better," Hijazi said.
Model Application
Companies considering the program that are also members of the National Retail Federation have access to a model application, thanks to JCPenney.
Sandra Fallgatter, customs trade manager, JCPenney, said the retailer is part of the program because "it's the right thing to do."
She also admits that it's good for business.
"I am seeing minimal exams or no exams and that is very important for us because, as retail importers, is it is very important that our merchandise not be held up at the ports," Fallgatter said. "As soon as the merchandise clears, it has to go to the warehouse and then to the stores — usually to meet a promotion. We hold very little inventory and are more and more becoming a just-in-time operation."
Sound management, rather than exponential growth, is the goal of C-TPAT right now, CBP's Owen said, seeing as the organization has already added 3,000 companies per year.
"We feel, at this point, that we need to make sure the companies that are in are meeting their commitment. We are doing that by increasing the number of supply chain specialists so we can do more validations," he said. "Basically, we want to more clearly define our expectations and make sure those expectations are being met."
Fallgatter said the key to future success is for C-TPAT to exchange its information with other agencies so companies aren't subject to unnecessary inspections. "The challenge is to get the other government agencies — such as the Food and Drug Administration — to participate in this," she said.
Erik Autor, vice president and international trade counsel with the National Retail Federation, also hopes that information is shared across government agencies so importers are not repeatedly asked to provide the same information.
He also said that while the NRF thinks the program is largely positive, it is hopeful that commercial compliance issues do not bleed into a program focused on security.
"Our angle is to ensure that C-TPAT is focused on what is within its realm — which is cargo security. In the past, information has been requested around commercial compliance that has nothing to do with security," he said. "We don't want to provide the same information to multiple agencies multiple times."
Related Content By Author
Live From New York: Fashion Comes Across the Pond

More Videos
Subscribe to
Home & Textiles Today eDaily
Receive the news you need to know about the trends in the industry delivered right to your inbox.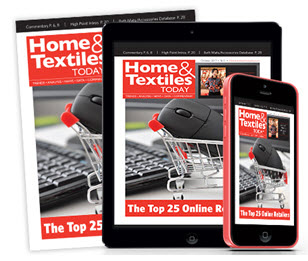 See the October 2017 issue of Home & Textiles Today. In this issue, we look at the Top 25 Online Retailers. H&TT's exclusive annual ranking of the biggest online sellers of home textiles finds that while pure play etailers continue to fly, bricks & clicks are digging into omnichannel. See details!