Pillow Manufacturers Pummeled by Costs
Michele SanFilippo, Staff Staff, September 26, 2005
New York — In the wake of escalating transportation and petroleum-based raw material costs for poly fiber, vinyl and chemicals needed to create foam, U.S. pillow producers remain convinced price increases will be inevitable in the first quarter of '06.
"Chemical prices continue to batter all of us," said Lonnie Scheps, vice president of sales and marketing at Hudson Industries. "The greatest impact we've ever seen in the history of this classification has been taking place in the last six months. Virtually every chemical manufacturer supplying polyester and urethane foam technologies has announced no less than three increases in the last three months."
Joe Blazar, director of marketing-consumer products for Leggett & Platt's urethane division, recalled, "We saw one increase per month between October 2004 and April 2005 for chemicals used in pouring foam — basically a 30 percent total price increase." He said the increases flattened out in late spring but started up again in late August.
"Hurricane Katrina will continue to have a negative impact on the supply as local manufacturers' ability to produce was interrupted," he stated, adding that his firm announced an increase in March and might have another this fall.
"We are faced almost daily with price increases on polyester fibers and non-wovens," said Scott Walters, director of product development at Louisville Bedding. "These increases often mirror what you're seeing at the gas pump: jumps of 10, 15 or even 20 percent are not uncommon. We've absorbed most of that cost so far, but if oil continues to rise in price we will have to have some difficult discussions."
In addition, Walters commented that with the high cost of fuel, truckers choose which loads they want to take, "so we've definitely seen an effect on timely pick up of shipments." He added that ocean freight continues to increase as well, dramatically impacting retail-ready products of high-cube items that are by and large air-like bed pillows, also contributing to higher shell prices.
Bob Altbaier, senior vice president of Down Lite International, has seen price increases of 10 percent on synthetic fill in the past year with more on the way. "We can't continue to absorb the increases without passing them along to retailers and consumers," said Altbaier, adding that consumer prices will be going up at retail in early 2006.
"Pricing has been our biggest challenge," stated Beth Mack, senior vice president of basic bedding at Hollander Home Fashions. "Although we are not seeing a supply issue yet, our costs for all oil-based products have been increasing at extreme rates. We are working at trying to offset these increases with retailers, but if costs do not drop and/or stabilize, we will be forced to review our current cost structure."
Manufacturers can't afford to eat higher raw material costs for more than a season without having to walk away, according to Bob Hickman, vice president of sales and marketing at United Feather & Down. "The reality is retailers are reluctant to increase price structure on running programs despite the obvious increases in raw material costs," he said. "The most natural evolution of price increases results from new product introductions because no one comes to market with a product that can't make money."
David Fuchs, executive vice president of sales and marketing at Sleep Innovations, commented, "All these raw material costs going up will force manufacturers to position themselves to further deliver quality innovative products that meet and exceed consumer expectations."
Art Birkins, president and general manager of WestPoint Home's basic bedding division, believes consumer purchases will now be made on more of a need versus want basis. "As we're developing new product, we're looking at the latest costs of raw material in the price structure."
In 2004, sleep pillows represented 9 percent of total retail bedding sales or $725 million, by HTT estimates. According to research from WestPoint Home, less than 5 percent of pillows are directly sourced by retailers. Most pillows are still filled domestically due to bulk; and traditional mill brands and licenses still dominate the category, compared to the growth of private labels in other categories.
"Although retailers are not sourcing a lot themselves today, this figure is projected to rapidly increase as barriers to China are lifted and the increased freight cost is offset by a decrease in the cost of finished product," said Jodie Ayres, director of market research at WestPoint Home.
Hollander's Mack added that better fabrics, more elaborate value-added constructions and down alternatives continue to be the top features in bed pillow innovation. "Many of the sleep solution pillows create the idea of better sleep, but do not actually prove to be helpful. Sales at retail remain in the niche category," she said
"As long as the claims are real, (solution-oriented products) are doing very well," countered Dan Schecter, vice president of sales and marketing for Carpenter's consumer products division. "A number of retailers are touting wellness but are selling regular old bed pillows — the marketing is mostly smoke and mirrors," he explained. "Products that have been proven to interact with the body to produce specific and proven results continue to do well in all segments." He added that technology-driven products continue to trend up.
Louisville's Walters agreed. "Technology, in all forms, is dominating the trends and innovations, providing valuable, tangible, benefits to the end consumer. Everyone's looking for a better night's sleep, so solutions-oriented pillows continue in force. The promise of better sleep is what has driven the whole foam movement." There also seems to be resurgence in the awareness of health-related issues, he said, with allergen-free, allergen-reduction, and anti-microbial products on the rise.
WestPoint's Birkins added there's a continuing trend for better fabrics, higher thread counts, luxury fibers and premium cottons as well as more gussets, decorative piping and touches of color. WestPoint is doing counts of up to 600 on pillow shells in bamboo, silk, Pima, Supima and Egyptian cotton. The solutions-oriented pillow niche is less affected by decreases in disposable income, he added. "The trend is for firmer pillows today as there are more back sleepers because of aging baby boomers."
"Dressing up the shell is an excellent opportunity to add more perceived value to the product," added Leggett & Platt's Blazar. "The better the story is told, the more the consumer responds."
John Angelini, vice president of marketing at American Textile Company, said his company has been doing well with its allergen-barrier collection of pillows and mattress pads in the last year. "I think consumers respond very positively to any kind of bedding products that are solution-oriented."
"The biggest area of growth we've seen is in moderately priced natural fill feather pillows because the price-value relationship is high," contributed Altbaier. "There's also a shift away from separate standard and queen pillows to combo products sized in the middle. We've seen more density stories becoming important because it gives the customer a better idea of which product to pick and enables informed buying decisions."
Fritz Kruger, senior vice president of marketing at Pacific Coast Feather, is continuing to see better differentiated product on retail shelves, more pillow compartments and densities with various levels of support in different places, and higher-performance fabrics. "There's a much stronger proposition for the consumer with benefits-oriented products. Plus alternative fibers like Ingeo are increasingly becoming less of a premium," he said.
Scheps added that retailers are open to bringing in new skus to basic bedding offerings. "Sales are flat in opening price points, and retailers want to fill that void with a higher-end, more exciting product. The aging boomer generation is looking for a better night's sleep and is increasingly willing to invest in solutions-oriented products," he said, adding that "work in bed" pillows are the latest as bedrooms become casual home offices today.
Hickman thinks solutions pillows make it easy for the consumer to recognize what the pillow can do for them since they can quickly evaluate the assortment to find what they want or need. "I think retailers recognize that to compete with Wal-Mart they can't carry the same products but need to invest in better quality pillows that offer benefits," he said.
However, there's no getting away from the rising costs dilemma. "Higher energy prices touch everybody, but the people who can least afford it get hurt the most," he mused.
Related Content By Author
The Countdown to the ICON Honors Continues featuring Christophe Pourny

More Videos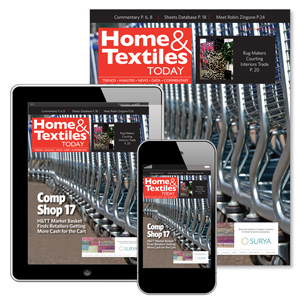 See the May 2017 issue of Home & Textiles Today. In this issue, we discuss our annual Market Basket survey, which finds higher prices and more polyester at leading retailers. See details!