Market Intros
Bedding
AMERICAN CENTURY HOME
Salisbury, N.C. (704) 857-0088
A transitional Isla botanical is heat transfer printed on a faux silk slub ground as part of American Century Home's latest collection. It is accented with a variety of grass cloths, sheer boucles, shell buttons and apricot and aloe color accents. This ensemble is casual and reflects the growth in the botanical/tropical category.
Also, from the Chelsea Frank Hotel Collection, American Century Home introduces Florentine, a white 300 thread count 100% cotton base featuring an offset meandering floral embroidery design. It is simply styled, to bring the hotel look into the home.
ANNE DE SOLÈNE
Bedford, N.Y. (914) 234-6317
Exubérance/Audace from Anne De Solène features large hibiscus flowers redolent of a colorful exotic garden; multicolored bubbles bring a mood of lightness to the whole. Anne de Solène also introduces accessories like cushions and plaids to coordinate with the bedding.
ARLEY CORP.
New York (212) 686-0908
For the master bedroom, Arley presents Soho, a contemporary design of solid horizontal bands overlaid with linear motifs and accented with circular elements. An all-over coordinate and horizontal stripe sheet complete the bed.
ASHLEY MCBRIDE
New York (212) 779-2976
Ashley McBride debuts several new collection, include the Jacquard, made of polyester jacquard fabrics. All sets are trimmed with coordinating two-tone cording all around the comforters, shams and pillows, and designs also have a piping element. Patterns include Regal Rose, which comes in three colors.
Another new collection is Royal Home, which consists of micro-fiber patched designs. Designs include Rebecca, which employs tufted and embroidered elements and comes in three colors.
BLUE RIDGE HOME FASHIONS
Irwindale, Calif. (626) 960-6069
Esteem debuts as part of the company's down and down-alternative comforter collection. Autumn Leaves is the first launch; this overfilled end-to-end, puff-box down comforter combines a solid color and a beautifully designed multi-colored leaf pattern with a matching multi-colored piping. This down comforter is priced at $65 to $85.
CHF INDUSTRIES
New York (212) 951-8042
CHF Industries presents loft style in the brand Avalon: 100% cotton, T-250 percale sheets as part of a complete bed set.
The Opus Pink bed set includes a 60% cotton/40% polyester comforter and shams, with 100% cotton/T-180 percale sheets.
DESIGN WEAVE, INC.
Carmel, Ind. (317) 910-1836
Design Weave, Inc. introduces the complete Outlast Sleep Solutions System of sheet sets, down and down alternative comforters and blankets. Thread counts being offered are from 300 to 400 sateen or damask weaves. Outlast fiber (developed forNASA) is a blend of cotton and Outlast Viscose Fiber. Outlast provides a solution for everyone: normal sleepers in search of a more comfortable night's sleep, thermally incompatible couples and women experiencing symptoms associated with menopause.
DWI HOLDINGS/BARBARA BARRY
New York (212) 845-4148
Streamer is a happy print which has a graceful rhythm that dances across the bed in a soothing swirling motion. Printed on percale with a natural linen texture.
Ornamental Blossom features a delicate floral print that is a crisp and fresh as decorated china. Paired with the Cloud Nine coverlet in moonlight white, and an exquisite Ornamental Blossom decorative pillow, this bed invites you to a night of dreamy repose.
Inspired by the transparent tones of watercolor, Watertint is a large scale stripe that is as restful as it is beautiful.
The soft drama of Poetical, this large modern floral in classic gray and white is both bold and soothing. The Quiet Curve Quilt in Seaglass brings an additional element of softness, and a linen decorative pillow embellished with appliqué accents completes this refreshingly modern bed.
DIVATEX
New York (646) 981-6625
The Ethnic Print Collection from Divatex comes in an array of colors such as espresso, silvery grey, gold, and glitter silver that enhance a fresh glow to the collection.
Desert Rose is part of the Botanical print collection which comes in shades of blue to complement the dominant mosaic coordinates that bring out the beauty in the design. These wonderful prints are 100% cotton and can be featured on any construction.
ELLERY HOMESTYLES
New York (212) 448-4448
New Williamsburg-branded models are included in bedding intros by Ellery Homestyles.
The Davenport bedding ensemble includes coverlets and shams (standard, king, and Euro) is stitched from a chocolate and cream floral cotton matelassé (machine washable) woven in Portugal. Available in two colors: chocolate and blue.
HOME SOURCE INTERNATIONAL
Atlanta (404) 355-0114
The Heirloom bed from Home Source International is a beautiful linen/cotton blend jacquard woven fabric. Linen/cotton blended fabric is machine washable while 100% linen is not, increasing functionality. An oversize duvet cover will fit a high loft mattress, sold as a duvet set with linen/cotton pillow shams with a 2-inch tailored flange, mitered corners and a tailored linen/cotton bedskirt with split corners and a longer 16-inch drop.
RAYMOND WAITES DESIGN
New York (212) 447-8700
The Spring 2009 collection is all about creating a sense of luxury, reflecting on both the classical decorative elements and on nature while maintaining the lavish aesthetic that is Raymond Waites. A variety of sophisticated techniques were used to achieve the elegant bedding ensembles presented.
Among them is Francesca, with its playful baroque print and inspired decadence offering the appeal of all that is glamorous and romantic. The ornamental print top of bed, in soft blue and grey, is set in contrast to a pin stripe reverse. The European shams and accessories are adorned with opulent embroideries that make this ensemble the epitome of Haute Femme.
REVMAN INTERNATIONAL
New York (212) 278-0300
Revman International for Tommy Bahama creates a blend of modern sensibility and comfort for the sophisticated consumer who wants a personal retreat with the comfort of a luxury resort. Arthur's Town features an indigo floral block print on a hemp sateen ground, engineered to create dramatic borders on the comforter face and shams.
Michael Kors showcases three new fashion bed ensembles which take a step up in luxury with Italian sateen sheeting and European jacquard woven fabrics for the outer bed and accessories. Bali is a luxurious jacquard sateen floral print; Tokyo is an oversized modern floral; Jaipur draws the eye with a glitter of gold. Building on the hotel sensibility of his Five-Star Collection, Carnegie Hill offers top-of-the-line luxury in six signature solid color essentials on 500 thread count cotton sateen.
SUNHAM HOME FASHIONS
New York (812) 378-8872
Included in Sunham Home Fashion's bedding offerings is The Votive Collection, featuring designer bedding that infuses traditional motifs with contemporary styling and feel. Patterns are layered to create an entirely new effect with added dimension. Oversized quilts, comforters and decorative accessories are offered as open stock and retails would range from $99 - $199 for bedding and $24 - $49 for accessories.
Bath
AVANTI LINENS
Moonachie, N.J. (201) 641-7766
The company is expanding its recent drop-ship monogrammed bath ensemble collection, which it calls Ultima. Originally launched in May as a 10-sku banded and embellished assortment created for Bloomingdale's, Ultima is now broadening its offerings to service other higher-end specialty retailers, including single-unit shops.
Avanti has partnered with Canadian towel manufacturer Cambridge, which supplies the 18-pounds-per-dozen 100% Egyptian cotton bath, hand and tip towels. Avanti then creates the single-initial monogramming and embellishments.
Available in the alphabet's 26 letters, in seven towel-and-thread color combos -- white with ivory, white with black, mocha with blue, sage with ivory, granite with silver, ivory with mocha, linen with mocha.
FAMOUS HOME FASHIONS
Montreal, Quebec, Canada (514) 735-4566
Famous hopes to cover the globe and all its design inspirations with its newest collections, which span "upscale elegance to classic chic, contemporary to global sophistication along, with traditional American classics."
Silhouettes, energy, tradition, upscale, and global sophistication feature. Each comprises full coordinates and freestanding shower curtains and accessories.
Featured designs within the global sophistication collection include Diamonds are Forever and Saville Row.
GINSEY INDUSTRIES
Bellmawr, N.J. (856) 933-1300
Ginsey is introducing a new bath tub and mats collection Aquatouch Contempo.
With an eye toward organic and contemporary textures created by New York designer Fabrice Covelli, the breadth of the line extends into natural earth tones, soothing hues and chic black and white.
LOFTEX
New York (347) 227-4402
Loftex is inspired by nature and the world around it: introducing the Inspired Collection, featuring an array of solids and jacquards that took form from the vast imagination and the architectural influence of the Spanish architect Antonio Gaudi.
Immerse yourself in a unique world where the organic-ness is in the design. Imagine the opulence and transcendence of the manmade mixed with the natural, shades of blue and green, with accent hints of raspberry and metallic.
The consumer and the retailer want products that make them feel good about their purchase, and this collection does that. An example is the Vita towel, an eco-conscious blend of cotton and aloe done in updated sophisticated shades. It gives you the best of both worlds: design and an earth friendly construction.
Jacquards that are anything but traditional emerge. Designed in nouveau impressionism, their task is to enhance your décor, to bring renewal to the bath experience. The result: an overpowering display of texture, color and mosaics to leave you "organically inspired."
MOHAWK HOME
Dalton, Ga. (800) 843-4473
Mohawk is building on its natural fibers collections with several new styles.
Ravishing is a luxurious shag that blends super-fine polyester and Lurex. Details is Mohawk's latest cotton design collection that employs an innovative machine technology that creates intricate overlaid patterns — a more sophisticated product that calls for better-to-best price points. Tangy Brights is a fun and colorful cotton introduction in casual constructions.
Mohawk will also introduce rugs branded with the Invista 2020 nylon product. The bright luster, soft hand and larger denier size of this product creates a new aesthetic for bath rugs.
SUNHAM HOME FASHIONS
New York (812) 378-8872
Keying off Mother Nature's bountiful design inspirations, the Wind & Wave Collection reflects an organic feel, as the colors move from purely warm earth tones to the cool and inviting colors of water. Motifs shift from the more inert natural influences to those more visually stimulating, like birds, sea creatures and sea botanicals. While ecology is a central theme graphically, performance, durability and sustainability are essential components to any product representing this trend.
Familiar and sentimental motifs are revisited, but are enlivened by clean, clear colorations. White represents purity and becomes the backdrop for all designs, and round and oval shapes are included. Sensory elements are essential and it is all about being "soft," with cotton trellis looks, wispy solid shags and fresh florals in handgun and print overtuft constructions.
Bright, colorful and intentionally shocking characterizes the 1980s Memphis Collection styling. The designs are willfully provocative, certainly high energy, high shine and intense color, but decidedly minimalist. Fabrications are slick and sleek. The Memphis design trend has captured a whole new generation of enthusiasts since the exhibition last fall at the Design Museum in London and also in L.A.
UNIVERSAL HOME FASHIONS
New York (212) 481-7112
There are two new bath collections being introduced by Universal this market.
Jolie dons an all-over Jacobean lace pattern in denim, ice blue and white colorways. Its shower curtain is printed, the accessories are ceramic, the rug is tufted and the bath ensemble is embroidered.
Seaside, a brightly colored whimsical fish pattern in various shapes and sizes, has a printed shower curtain, resin accessories, printed rug embroidered bath ensemble.
VIVATEX HOME COLLECTIONS
New York (212) 685-0055
New bath rug sets include the Orient and Bloom collections.
To the bath towel category, Vivatex is adding the Lynne and Talia three-piece embroidered sets to its assortment. Shower curtains have been made to match to these towel programs.
Kitchen/Tabletop
THE ARLEE GROUP
New York (212) 689-0020
The company's Table Trends table linens division is introducing 12 new collections of coordinating placemats and chair pads. Among them are: Organic, a grouping of six hand-screened prints on 100% cotton in five colorways — wheat, oat, tumbleweed, driftwood and sea grass; Loft, a textured color-block design in terracotta, earth and silver sage; Raj Stripe, a 100% cotton hand-woven assortment in natural, sea spray, sage and spice; and Basketweave, a faux suede style in moss, chocolate, natural and red.
All 12 collections also match up to soft window treatments from the company's Lee's Curtain Co. and to decorative pillows from the Arlee Home Fashions division.
BOSTON WAREHOUSE TRADING
Norwood, Mass. (781) 352-1709
Boston Warehouse Trading makes easy work of all kitchen chores with the introduction of their new kitchen tools such as Penguin Kitchen Mitt, also available in a choice of a Dog, Cat, or Pig ready to grab all those hot pots and pans.
Kitchen Grips are smaller, handle-sized mitts and are sold in sets of two. Both Kitchen Mitts and Kitchen Grips are available at a suggested retail price of $12.
DOMAY
Montreal (514) 383-8989
100% cotton tablecloths from Domay feature a relaxed, easy lifestyle look, in a large variety of assorted woven yarn dyed checks.
FLYING FIG ACCESSORIES HOME
New York (212) 922-9169
The new Starry Blooms table linen collection includes a 14-by-20 placemat, 20-by-20 dinner napkins and a 16-by-72 runner. Custom sizes also available. In white linen or cotton flax, these pieces feature hand embroidery in black, gold or silver.
There is also a collection of challah covers bedecked with hand-embroidered designs and finished with tassels. Available in a 16-by-24 size, they come in linen or cotton flax. Patterns are Stargazer, Unicorn, Misty Palms, Poppy Fields and Flying Jewels.
MESSINA AND ZUCKER
New York (212) 889-3750
Messina and Zucker expand with their printed kitchen slice rug and matching 20-by-44 sink runners. New styles include Fruits and Veggies, Sunflowers, Roosters, Florals and Novelty prints.
THRO
New York (212) 838-0822
Summer colors the Metro placemats; printed napkins to match. Sparkle throw comes in three luscious colors; Spring Cub pillows in Thro's signature micro-plush fabric.
New embroidery zebra and elephant designer pillows are offered, as animal prints continue to be strong.
Thro introduces contemporary wood and metal placemats in shades of gold and silver as fun accents for the home. Suggested retail $8 - $12.
TRENDEX HOME DESIGNS
Saint-Laurent, Quebec, Canada (514) 363-5220
Two new table linens collections, made to complement each other, are Emma and Caron.
Emma is a jacquard in large multi-colored stripes; Caron depicts an all-over thin multi-colored stripe pattern.
Made of polyester, both comprise tablecloths, placemats, runners, napkins and chair pads. Colorways are Wedgwood, grass, saffron, mocha and bronze for Emma; and steel, gold and saffron for Caron.
Area Rugs
BALTA US
Dalton, Ga. (706) 278-8008
Several new collections debut. The Softline collection carries a new innovation in polypropylene yarn extrusion; the company said it has developed a new type of polypropylene yarn that mimics the soft touch and density of a million-point rug but can sell at the same price bracket of an opening price point heat-set product. Available in multiple creel colors, there are six groupings within Softline.
With the launch of the Picasso collection comes the introduction of a new polypropylene frisé quality from Balta. The strong structure used in these rugs ensures that hardly any footprints are left behind and it prevents dark and light areas from forming in the carpet. Dedicated production techniques give these rugs a lively pile that almost feels like real wool.
The EasyLiving collection also represents a new construction avenue for Balta. This heat-set group is made via a new yarn technique that makes the rug softer.
BON MOTIF COMPANY
Emeryville, Calif. (510) 655-2000
The Botanica area rug collection is handmade in India of 100% wool blends — a variety from Argentina and Bikaner, India. These rugs feature a heavy intricate floral and leaf design.
CREATIVE HOME IDEAS/YMF
New York (212) 213-1096
Creative Home Ideas/YMF is introducing its Shag Frieze collection of tufted-with-frieze heat-set rugs. Designs include Salinger, tri-color, Burton stripe, chambre stripe, charter stripe, chambre and horizon. Earth tones, tonal blues, greens and reds make up the palette, and sizes range from 20-by-30 to 5-by-8.
Also new for market is an all-loop constructed accent rug collection at opening price points.
MAPLES RUGS
New York (212) 545-8780
The new Harmony collection comprises printed level cut-and-loop look accent rugs. They come in two sizes — a 30-by-50 set to retail for $59 and a 21-by-34 priced at $29.
RAYMOND WAITES DESIGN
New York (212) 447-8700
Raymond Waites Design's four year relationship with Mohawk Home continues with
Pagoda, a smart modern twist on a traditional lattice. Offered in palates of smoky noir and luscious lacquer red.
SUNHAM HOME FASHIONS
New York (212) 695-1218
Everything old is new again! The Sunham Home Fashions Bath Division presents recycled, reclaimed, repurposed materials in several collections.
In the Art & Nature Collection, Denim Blues and Denim Shag will feature flat woven and shaggy recycled denim scrap materials in blue, black and stone washed versions.
Art Landscape in two natural colorways is created from 100% recycled cotton. Plain and printed bamboo rugs will be displayed in Malay and Bamboo Orient.
Art Texture and Art Zig Zag are natural, recycled and flat woven textural compliments to this group. Look for recycled paper in Paper Shag, Paper Loop and Paper Weave that is machine washable.
In the Modern & Memphis Collection, The Times featuring recycled newspaper in colorway BWR (Black, White and Read, get it?) and Bag-it! weaves recycled plastic bags for a glittery highlight in natural, blue jewel and virtual pink colors. Colorful bamboo rugs Parfait Mod and Parfait Stripe are a part of this collection as well.
Dec Pillows
THE ARLEE GROUP
New York (212) 689-0020
Arlee Home Fashions is introducing one of its largest collections ever — more than 100 new skus – of new fabrics. They are applied to all product categories, including pillows that coordinate with soft window treatments, placemats, and chair pads.
The new fabrics include textured looks, crushed velvet, embroidered styles, grass cloth, metallic fabrics, damask, 100% cotton hand-screened motif looks, and woven stripes — many with embellishments.
Oversized decorative pillows with down fill are also available this market.
CALDEIRA USA
New York (212) 532-2285
Several new offerings debut at Caldeira USA. There is a bamboo fiber-made line that comprises large floral and paisley patterns, among other looks.
Also expanding at Caldeira USA: signature velvet styles with new additions like the Flower Vine Belgium Velvet and the four-color Stripe Belgium Velvet.
Quilted Silk represents another vibrant, new collection of themes.
ELLERY HOMESTYLES
New York (212) 448-4448
The Garden Bloom Collection from Ellery Homestyles includes a soft mix of stripes, plaids, solids, and floral prints to make a sweet and sophisticated springtime decorative pillow assortment.
DECOR BY BEADER'S TOUCH
New York (212) 391-0020
Décor looked to the sea for inspiration in developing its new collection of contemporary pillows aptly titled Coral and Sea Shell. The collection embroiders these motifs on a mock linen texture fabric embellished with a gilded lacquer finish. The pillows come in 20-inch squares and 12-by-22.
PACIFIC COAST HOME FURNISHINGS
Commerce, Calif. (323) 838-7808
Debuting are 40 new pillow collections in multiple colors. The pillows are rich with detail, a perfect mix of trend, style and color. A metallic gold embossed design with hues of modern green silk is an eye-catching accessory.
SULLIVAN'S INC.
Sioux Falls, S.D. (605) 339-4274
Sullivan's came up with a small garden of decorative pillows for its new line. Included are the 14-inch Sunflower pillow in a cream and black colorway and the 14-inch Cone Flower pillow, also in a cream and black palette.
SURE FIT
New York (212) 869-6633
Sure Fit has added a Soft Suede pillow collection to complement its bestselling line of Soft Suede Furniture covers. They coordinate with multiple selections of the Soft Suede color palette and offer the consumer a convenient way to accessorize their slipcover purchase.
Also new for Spring 2009: the Clairemont pattern. This updated traditional style is printed on 100% cotton duck and available in celadon, camel, and brown colorways. It embodies some of the season's most prominent trends with its printed texture and damask motif.
TRADEWINDS IMPORTS
Westport, Conn. (203) 227-2234
The company is showing a collection of outdoor replacement cushions and decorative pillows. Made of 100% polyester for durability and weather resistance, the pieces are UV- and fade-proof. They come in more than 100 patterns and colors and a variety of sizes and shapes: 19-inch chair cushion, 19-by-44 settee cushion, 23-by-74 chaise cushion, and assorted decorative pillows.
Pillows, Pads, Blankets & Throws
AMERICAN TEXTILE COMPANY
Duquesne, Pa. (412) 948-1084
Among the key introductions this market: the Rest Right zippered QuadraPower Pillow Protector. This innovative product from American Textile Company provides a high-performance barrier between you and your pillow, to protect you from the pillow dust, allergens, spills, and stains that come from everyday use.
DOWNLITE
Mason, Ohio (513) 229-3696
Downlite has paired PrimaLoft the luxury down alternative polyester fiber and Nano-Tex, bringing together comfort, breathability, durability, stain resistance and stain removal to all products while still maintaining the softness demanded in luxury bedding.
The showcase products in the PrimaLoft/Nano-Tex line boast an exclusive 350 thread count, 100% cotton woven stripe and can be found in comforters, pillows and mattress pads.
HOLLANDER HOME FASHIONS
New York (212) 354-6942
The new Xtreme products are lightweight and made with the crinkling texture of the 350 thread count 100% polyester fabric that will be in exciting and fun colors specially developed for this product. The line will consist of a down alternative comforter, down alternative throw, and a down throw.
Hollander is also showing various polyester and cotton blankets unfilled in different weave patterns in various colors. The most important basic mainstream products in this category are the Peachy blankets and throws in reversible color combinations.
The last grouping in the blankets and throws area is made up of high-end down and down alternative filled blankets in different fabric constructions, fabric blends, and colors.
Hollander will unveil a variety of new jacquards for the Laura Ashley bed pillow programs, showing more than 20 new designs in both synthetic and natural fill pillows. Highlights are new quilting techniques employed on gussets and main bodies of the pillows. Innovative cross merchandising between pillows and down alternative comforters tie the pillow, comforter and mattress pad categories together.
Six new colors across several designs will launch in September for Laura Ashley plush throws and pillows. Darby, a diamond plush and Aurora, a flower bud plush design, are two of the motifs to be offered in body pillows, cuddle rolls and throws.
Hollander also introduces Laura Ashley throws and blankets. This initial offering will feature five throw designs in fabrications from acrylic to bamboo to cotton and in five or more colors. They will offer basics in an acrylic rib and cotton while showing fashion basics such as an acrylic herringbone.
LOUISVILLE BEDDING COMPANY
Louisville, Ky. (502) 495-5397
Under Louisville Bedding Company's Nautica line comes the launch of three distinct collections.
The Harborside luxury collection will feature high thread counts with Egyptian cottons. Nautica Naturals features a broad assortment of feather and down items with natural fabrics and natural packaging elements. Nautica J-Class is the performance section, which will contain Tencel cottons, hypo-allergenic components, etc.
Louisville is completely re-directing their Croscill line. Having secured the license for feather, down and down alternative products, there is a large representation of these branded items. Additional sub-brands include Croscill White Label, Croscill Cotton, Croscill Solutions and Croscill Home.
Croscill White label and Croscill Cotton are luxurious lines, with distinct differences and demographics. Croscill Solutions is a sub-brand created with Croscill that features solutions-based components such as waterproof, fire resistant, stain release, allergen reduction treatment, etc.
Louisville also launches several sub-brands of the Simmons license: Simmons Beautyrest, Simmons Luxury, Simmons Allercare, Simmons Eco-Smart and Simmons Deep Sleep. These sub-brands run the gamut to meet all consumers' needs, from value driven to super premium.
Finally, Louisville will launch their private label.
MICROTEX
New York (212) 845-9488
Organic Cotton Blankets from Microtex are 100% organic cotton, which is grown using methods and materials that have a low impact on the environment. Organic production systems replenish and maintain soil fertility, reduce the use of toxic and persistent pesticides and fertilizers, and build biologically diverse agriculture. Products include: coverlet, sheet set, blanket, throw, robe and apparel for both children and adults.
Microtex Tencel Blankets are a 50% Tencel and 50% cotton blend. Natural cooling nano fibrils deliver outstanding moisture management and inhibits bacteria growth, while the smooth fiber structure is irritation free and suitable for sensitive skin.
THE NORTHWEST COMPANY
New York (212) 725-6996
The Batman - The Dark Knight throw is 50-by-60 micro raschel and called Reflection. The wicked Joker is poised behind a frosted glass wall, writing "Why So Serious?", the movie's famous tagline, on the wall in blood. A chilling way to warm up — and emblematic of the graphic daring of the entire Northwest Company program this market.
UNITED FEATHER & DOWN
Des Plaines, Ill. (847) 296-6500
United Feather & Down will introduce three new and exciting sleep systems in the company's award-winning Personal Comfort Pillow Collection. Years of research and experience in bedding trends and Americans' sleep habits have resulted in the new sleep systems' nine unique, patented-pending new constructions — custom designed to fit the many ways consumers sleep and the desire for more versatility in their bedding products.
Window Coverings
ACHIM IMPORTING CO.
New York (212) 686-6652
Carrington from Achim Importing features elegant rose trellis embroidery on a poly/silk colored ground. The variegated embroidery enhances the luxurious look of these panels, with available decorative top treatment. Colors: chocolate, beige, cinnabar, blue and gold. 100% polyester.
THE ARLEE GROUP
New York (212) 689-0020
The company's Lee's Curtain Co. division is introducing 18 new styles in window treatments, including: Arlington, a thermal jacquard in six colors; Aspen, a soft twill in six colors; Basketweave, a thermal peach-skin in four colors; and Nouveau in eight colors.
All fabrics coordinate with decorative pillows and chair pads from the company's Arlee Home Fashions division and placemats from its Table Trends division.
Also new is the introduction of one of Arlee's largest collections of new fabrics spanning more than 100 skus. Many are employed in soft window treatments.
CHF INDUSTRIES
New York (212) 951-8042
CHF Industries introduces Alesandra, a gorgeous asymmetrical embroidered panel on faux silk, making a statement of luxury. The 100% polyester fabrication comes in rose, sage, cinnabar, ivory, gold, eggplant, and chocolate.
The collection of toppers adds coloring and tailoring to window. A bit more traditional in styling than kitchen ties, but not as decorative as long length pairing – a great alternative to finish your room!
Among the topper items: Taffeta Stripe valance; Windsor valance is scalloped with fringe; Pleated Taffeta valance is scalloped; Mallorca is a tailored valance with beads. All come in gold, ivory, cinnabar, and chocolate, and are100% polyester.
DOMAY
Montreal (514) 383-8989
A key item, Domay's two-piece kitchen curtain set is crochet lace made from 100% polyester and includes topper valance.
ELLERY HOMESTYLES
New York (212) 448-4448
As part of its new introductions this market, Ellery Homestyles presents Janie, an elegantly fluid window treatment that can be layered in order to give a more formal look, or as a stand alone window panel hung on clip rings for a more contemporary look. Janie is available in a range of colors.
PARK B. SMITH LTD.
New York (212) 889-1818
The new Eco Bowery Jumbo Grommet panel measures 84 inches and comes in three colors: denim, loden and mushroom.
The Recycled Cotton Eco Astor Magic Blind comes in the same three colors and measures 30 inches.
Infant & Juvenile
ECOSNUG
Philadelphia (215) 588-0085
The company presents a range of luxury goods for infants, keyed by the Royal Silk line. The Royal Silk Jacquard baby pillow in ivory is 12-by-16, mulberry silk-filled with 19 mm jacquard silk cover; the Royal Silk Charmeuse baby pillow in champagne, 12-by-16 +1 inch, mulberry silk-filled with 16mm charmeuse silk cover; and Super Deluxe baby pillow in white, size 12-by-16, mulberry silk-filled pillow with 300 thread count cotton sateen cover.
JLA YOUTH
Freemont, Calif. (510) 490-9788
JLA Youth, a division of JLA Home, encourages kids to rock out with whimsy, in the introduction of their Rock Star collection for Bobby Jack; the cartoon quality of the ensemble is age-appropriate for younger children and attractive to boys and girls.
LAWRENCE HOME FASHIONS
Town of Mount Royal, Canada (514) 343-3740
Restrikted for boys from Lawrence Home Fashions: in the Restrikted Collection, there is Traffic and Tatoo. Both collections have coordinated 200 thread count poly cotton sheet sets. Unique packaging and fun trinkets are included.
Lawrence Home Fashions also presents Zoey & Chloe for girls. In the collection there are Funky Floral Girls World and Smooth Moves: three prints all dressed up with decorative pillows.
NORTHWEST
New York (212) 725-6996
Northwest goes high-tech with the shell and fill of the Wall-E fiber optic pillow based on the Disney/Pixar movie. In 100% polyester at 13-by-12. Batteries are included; the on/off button can be found in a Velcro pouch on the top of the pillow.
WHISPER SOFT MILLS
New York (212) 213-1135
Flights of Fancy from Whisper Soft Mills features brightly colored butterflies and flowers on a soft aqua ground and pink border.All of the icons are appliqués in vinyl.
Related Content By Author
Live From New York: Fashion Comes Across the Pond

More Videos
Subscribe to
Home & Textiles Today eDaily
Receive the news you need to know about the trends in the industry delivered right to your inbox.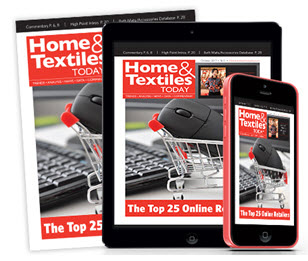 See the October 2017 issue of Home & Textiles Today. In this issue, we look at the Top 25 Online Retailers. H&TT's exclusive annual ranking of the biggest online sellers of home textiles finds that while pure play etailers continue to fly, bricks & clicks are digging into omnichannel. See details!