Optimism a key element at Atlanta rug show
While retailer turnout is expected to be below January's event, particularly among mid-tier department stores, those attending the bi-annual Atlanta International Area Rug market share a positive outlook for the category for fall and winter, and will be aggressively shopping the showrooms this week.
"We plan on closing up our inventories for the fall selling season at the rug market," said Gary Cissell, director of flooring for Omaha-based Nebraska Furniture Mart. "We're very excited about the fall selling season. With the (U.S. presidential) election coming up, we feel a sense of optimism in the air among consumers."
Specialty retailer The Great Indoors, based in Hoffman Estates, Ill., will be looking for merchandise to fit its newly expanded rug offerings with more promotional buys and added scatter sizes, said Angela Chu, area rug buyer.
"We're expecting huge increases in rug sales during the fall and winter months," Chu explained. "We're planning on offering many promotions and broadening our value offerings. We'll have in place for the end of this year and 2005 great promotional programs. Our customers now have more disposable income and we need to tap into that — it's just a matter of positioning assortment to fit their needs."
In terms of style, Chu said she will be looking for more contemporary and transitional looks, "which is where we see business turning."
Home Shopping Network's soft lines buyer, Natalie Doig, sees similar buying trends among her customers. But she will also have an eye out for traditional looks that have been updated with more fashion colorways, as well as for scatter rugs and shaped rugs — all at higher price brackets than the opening price points the television-based retailer has normally tagged on its wool rug offerings.
"Our rug business is up from last year but plays an equal percentage as last year to the overall soft home business," Doig said. "Most of the balance of this year has been planned out, but I will be shopping aggressively for 2005 for we see a huge opportunity for rugs. We are confident that if business continues as it has we will have a great fall and winter. Typically, we see a spike in sales in September, October and November in this category, and we plan on maximizing it."
With rugs making strides at Dallas-based Tuesday Morning, the chain said it will be at the market "shopping for the same thing we always look for — value. We don't shop price point because what we sell is value," said Bill Kendall, vice president of the textiles and rugs division. "This market will be no different for us."
Expecting a 6 percent hike in sales for year-end, Jerry Noack, director of stores (43 units) for Macy's Home Store will be looking for casual lifestyle looks.
"We want to expand our casual lifestyle with more of a contemporary to monochromatic type look and softer shades," he said. "We are selling a ton of casual lifestyle rugs and the price points are pretty moderate — $800 to $1,500 for an 8-by-11. Right now we're having a very good rug season, and we think it will continue."
Added Keith Arlinghaus, senior buyer at Macy's Home Store, "It seems the business has shown signs of recovery in the last few months or so, and we're looking aggressively and encouraged for the fall selling season."
828 INTERNATIONAL TRADING CO.
Greenville, S.C. (800) 733-0828
The company is launching its licensed PGA Tour Home rugs collection, comprised of handmade rugs. The initial line includes rugs that are hand-hooked of wool with a loop texture. In gold, green, black and red, the collection is available in both accent and area rugs sizes, from 2-by-3 to 9-by-12. A 5-by-8 is set to retail for $299.
BALTA US INC.
Dalton, Ga. (877) 565-0497
New patio-style and kitchen-motif designs are being added to the Natura collection, which consists of 100 percent polypropylene flat-woven rugs made for indoor and outdoor use.
For Balta's Luxus Collection, four transitional patterns will be showcased, including Asian Floral. These 1 million-point rugs are made of 100 percent polypropylene rugs.
For Balta's fastest growing collections — Samarkand and Kashmar — there are 13 new introductions. These new rugs are surged, made of 100 percent polypropylene on precision machinery in Belgium.
Two new displays to help consumers merchandise their Balta rugs have been developed and will be introduced at the market. One rack will hold roll-runners and one will hold accent-sized rugs.
Lastly, Balta's Sedona Collection is the newest to be added to the company's offerings. Made up of earth-tones and warm colors, the rugs complement a casual lifestyle. The collection has been finalized and the latest design to be added is a transitional block pattern that will debut in Atlanta.
CAPEL INC.
Troy, N.C. (800) 334-3711
Capel brings both contemporary and traditional styles to the forefront with the modern hand-tufted collections and classic Capel braids.
Chincoteague and Elk Lodge are two new collections that will be on display at market for the first time. Chincoteague is a colorful, hand-loomed flatwoven of rayon and chenille in vibrant colorways. Elk Lodge is a hand loomed and flatwoven collection made in India of a combination of New Zealand wool, jute and cotton. Basketweave from licensee Colonial Williamsburg is a rectangular braided rug woven to mimic a traditional basketweave design. It is constructed with a cotton-polyester blend making it soft to the touch and is available in five warm colorways.
Tempo and Andes, both hand-tufted collections, offer patterns reminiscent of modern art paintings in color palettes of terra cottas, scarlets, blacks, golds and limes. Geometric and abstract patterns dominate these collections, made from 100 percent semi-worsted wool.
Finesse and Weatherwise, machine-woven rugs in 100 percent olefin, are part of Capel's indoor/outdoor collections.
Inspired by the colors of Tuscany, Finesse designs are embellished with scrolls, floral patterns, blocks and geometric patterns. Weatherwise has a natural fiber look in shades of sisal and cocoa.
CLAIRE MURRAY
Osterville, Mass. (508) 428-5816
New to the market are the Vintage Rose and Vintage Rose Geometric collections, both wool hand-hooked in construction. Vintage Rose is made in the classic hooked style for an antique look.
Also new is the Cat Boat collection, which comes in various designs featuring cat boats at sea. These collections are available in various sizes, including scatter and area rug rectangulars, runners, rounds and ovals.
CMI
Pawtucket, R.I. (800) 343-9339
The company has created its "4 Sale" campaign to help retailers better promote the CMI's Simply Home collection of braided rugs.
Available until Dec. 31, the promotion offers for $499 four Simply Home rectangular and four classic oval rugs. It also includes baskets with accent rugs and chair pads and four money-saving incentives: 90-day terms, free freight, dollar-for-dollar on samples and an additional $250 in co-op advertising funds. Included in this promotion are the company's 5-by-7 rectangles featuring the Boardwalk, Rally, Hopscotch and Line Dance designs as well as the classic 5-by-8 Twilight, Jefferson, Deerfield and Botanical Isle oval collections.
COURISTAN
Fort Lee, N.J. (800) 223-6186
Couristan is introducing two new additions to its Royal Kashimar collection — Cypress Garden and Ushak. The collection features classic Persian area rug designs and up to eight colors in each rug. Power-loomed in Belgium on the company's face-to-face Wilton looms, these rugs are made of 80 percent semi-worsted New Zealand wool and 20 percent faux silk.
Also getting two additional designs is the Metropolis collection of abstractly designed rugs in earth-tone colorways. These rugs are power-loomed and made of heat-set polypropylene. The Everest collection of power-loomed polypropylene rugs has two new designs in traditional styles. Sinai in mesa beige and Tropical Swirl in new khaki are the two new designs being added to the Scala collection of 100 percent New Zealand semi-worsted wool area rugs.
The Super Indo-Natural collection's two new designs are Austin and Astra in white. They are made of blends of un-dyed wools.
EBISONS HAROUNIAN IMPORTS
New York (800) 966-6666
Five collections from various countries — India, China, Pakistan, Turkey, Afghanistan, Nepal and Iran — will be introduced: Gabbeh, featuring contemporary looks in terra cotta and green; SoHo and Matrix, both wool hand-tufted collections in contemporary designs; Golden Horizon, which includes Sino Persian designs in 160-, 200- and 230-line styles; Retro-Peking, 100 percent wool rugs in traditional Chinese patterns; and Peshawar, antique replicas of Ziegler, Mahal and Sultanabad designs made by Afghan refugees.
FEIZY IMPORT & EXPORT
Dallas (214) 747-6000
Feizy is adding eight new collections to its Home Collections catalog of rugs. The company is also broadening two of its more popular collections with new designs and adding a new offering to its Fine Rug collection.
For its accent size offerings, the company is adding two boldly colored collections. Chameleon features thick wool strands of solid-color blocks and Sorbet features brightly colored stripes. More contemporary designs are being added to the Izmir collection of traditional rugs. Similarly, the Pietra collection has been expanded to include the Pietra Bella collection.
HELLENIC RUG IMPORTS
Brooklyn, N.Y. (718) 260-9282
Hellenic is expanding its offerings of machine-made and power-loomed polypropylene rugs in various constructions. The new collections are: Imperia, a 100 percent New Zealand wool power-loomed collection made through a new partnership with a Moldavian manufacturer; Marseilles, a heat-set polypropylene yarn and faux-silk collection in traditional European designs; Kayseri, a traditional and transitional designed collection made of heat-set polypropylene; and Urban, which features geometric shapes with carving and texture.
The company is also adding new designs to some existing collections, including new Flokati colors, shags and hand-knotted and hand-tufted constructions.
KARASTAN
Sugar Valley, Ga. (800) 843-4473
The new Emperor's Hunt is the companion rug to the Oushak design introduced earlier this year. It is an addition to the Antique Legends collection and features a pomegranate red field with a landscape design of flowering trees, birds, lions and tigers in an antique wash style.
The Persian Renaissance collection is being expanded with two new additions. In red, black and ivory, the additions are also made of wool and silk.
KAS
Somerset, N.J. (800) 967-4254
The company will launch its linen collection — a new category for KAS. Made of 100 percent linen in a hand-hooked construction with a cotton backing, the collection ranges in size from accent to area. A 6-by-9 is set to retail for $499.
New design additions are also being introduced to the Signature collection, comprised of 100 percent wool hand-tufted and hand-carved rugs in contemporary designs that are available in scatter to room-size rugs.
KAS is showing several new scatter collections made in natural fibers, including paper, jute, bamboo and sisal.
KAS is also showing a number of new designs to handmade and machine-made collections.
MILLIKEN
LaGrange, Ga. (800) 241-8666
Milliken is showing its new Pastiche Traditional collection, a group of five designs in five color families. The 300-sku collection of tufted nylon rugs contains some of the first to use the new Stainmaster soft fiber technology developed through a two-year collaboration of Milliken and INVISTA. Twelve sizes are available, including a 7'7"-by-7'7" octagon and a 7'8"-by-10'9" oval. A 5'4"-by-7'8" is set to retail for $229 to $249.
MOHAWK HOME
Sugar Valley, Ga. (800) 843-4473
Mohawk Home is expanding some of its successful collections with new designs.
The Stratford collection comprises traditional designs as well as some contemporary looks.
Urban Dimensions is getting eight to 10 contemporary designs in a three-dimensional construction.
For its licensed program with designer Raymond Waites, the company is adding six to eight new rugs and two new color palettes. Urban Retreat, a shag collection, has four new patterns and five new fashion colors. New Heritage, an oval braid collection, has four new colorways — green, gold, ash and platinum — as well as two new patterns. Modern Elements, a tufted collection, is being expanded with six new contemporary designs.
Finally, for its printed rugs, Mohawk Home is introducing 30 new designs ranging from contemporary to traditional.
MOMENI
New York (212) 532-9577
The design catalog for Momeni's popular New Wave contemporary-styled collection has been expanded to 70 designs total. These rugs are all made of 100 percent wool and are hand-tufted in China.
For the Sienna collection of contemporary 100 percent wool dhurrie rugs that are flat-woven in India, 10 new designs have been added.
Two new designs have been added to the Champagne collection, which employs traditional designs in more contemporary colorways. These rugs are hand-tufted in China of wool with silk highlights. The Delano collection of 100 percent hand-knotted wool rugs featuring hand-carving effects has one new design.
Four new contemporary and transitional designs on a plush pile have been added to the hand-tufted Lama collection, which is made in India of 100 percent New Zealand wool.
Taj Mahal, a collection 100 percent wool hand-tufted rugs from India, now has two new Oriental designs that are traditional in style but updated in colorways. To the 100 percent wool hand-tufted Agra made in India, five new designs in a new palette of colorways are being added.
NATCO/CENTRAL ORIENTAL
West Warwick, R.I. (401) 828-0300
Up for introduction for Natco are several new design additions to five collections of synthetic-fiber-made rugs that are all made domestically: Canyon, which is made of 100 percent heat-set polypropylene; Twilight, a tropical-themed collection made of 100 percent BCF olefin; Troika, which has new lodge and tropical designs that are made of 100 percent heat-set polypropylene; Stratford, made of 100 percent heat-set polypropylene; and Interlude, which now has new geometric designs made of 100 percent heat-set heavyweight polypropylene.
For the Central Oriental division of the company, two new collections will be introduced: Silk Roads, a Turkey-made 1 million-point collection featuring fine denier yarn with a needlepoint finish and soft wool look; and Vista, a 280,000-point promotional entry-level heat-set polypropylene collection.
NOURISON
Saddle Brook, N.J. (201) 368-6900
New power-loom debuts for the market include: nine new designs to Ashton House, an assortment of European-inspired designs woven using 100 percent New Zealand wool and special looms able to produce up to 24 different shades of color in a single rug; and three new designs added to Hamilton House, which features interpretations of traditional Persian design motifs on a 100 percent wool pile.
For its handmade debuts, Nourison is adding new designs to five collections: Heritage Hall, which comprises designs inspired by the carpets of 17th century Persia made of 100 percent wool hard-twist yarns; India House, which features both classic traditional styles and contemporary motifs, all made of 100 percent wool pile in a hand-tufted construction; Jaipur, a collection of handmade 100 percent New Zealand wool rugs in traditional designs using an herbal wash technique for an antique patina; Mandalay, which features abstract and modernist motifs on a 100 percent wool hand-woven Tibetan construction; and Sixteenth Century, featuring a hand-stitched micro-hook construction in 100 percent wool yarns.
SHAW LIVING
Dalton, Ga. (800) 282-7429
A new design being added to Impressions series, "Maple," features large scale asymmetrical leaves positioned across a dark striated field. The construction employs a high/low weaving effect to add dimension and texture to the Wilton-woven, machine-made 100 percent olefin rug. Maple is available in five sizes, from 2'2"-by-3'2" to 7'8"-by-10'10", with a 5'5"-by-7'8" set to retail for $429.
TRANS-OCEAN
White Plains, N.Y. (914) 949-5656
From the Liora Manné Collection, Trans-Ocean is introducing new contemporary designs at three price-point levels for 5-by-8 rugs — $299, $499 and $799. At $299 are: Mardi Gras, made of 100 percent wool pile hand-tufted in China and available in six designs and colorways; and Sahara, a 100 percent wool pile hand-tufted in China and available in nine designs and colorways. At the $799 bracket is Images, a 100 percent wool pile hand-knotted in China collection available in seven designs.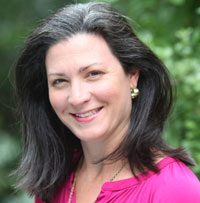 Cecile Corral
|
Senior Product Editor, Home & Textiles Today
ccorral@homeandtextilestoday.com
Related Content By Author
The Countdown to the ICON Honors Continues featuring Christophe Pourny

More Videos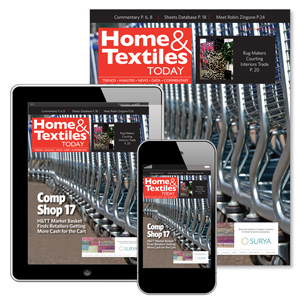 See the May 2017 issue of Home & Textiles Today. In this issue, we discuss our annual Market Basket survey, which finds higher prices and more polyester at leading retailers. See details!