The Sky Is Not Falling
Retail Niches Abound for Opportunistic Suppliers
New York — As retailers of every type strain to "beat yesterday" by looking for new or allied products for their incremental sales, home textiles manufacturers and suppliers are seeking out new channels of distribution.
The time is now for new combinations of producers and buyers as, not unlike Wal-Mart's recently enunciated strategy, these big and small retail boxes —without the "mart," "beyond" or "things" in their names — are using soft home to enhance their selling propositions.
In the midst of fewer traditional outlets and surging worldwide competition, home textiles suppliers are figuring it out. It's not exactly a cheer-up, blue-skies scenario, but then, the sky isn't falling, either. There are opportunities. Home textiles are being sold in supermarkets and pet stores, furniture and mattress stores, gift shops and hardware stores. And suppliers are wrestling over accounts among hotels, motels and timeshares.
In the supermarket industry, entry into soft home is both opportunistic and defensive. Deal-bought and seasonal home textiles are now found in most grocery stores, but some chains, like Texas-based HEB, are moving in full-bore. The HEB Plus! chain has added 40,000 new skus, some in towels, sheets, bedding and bath accessories in the larger units, which range up to 190,000 sq. ft.
The change has been fueled by "more competition that's more intense than ever before," said Todd Hultquist, a spokesman for the Food Marketing Institute, noting that traditional grocers, clubs, supercenters and even drug and dollar stores are engaged in fierce wrangling. "Conventional supermarkets, in order to appeal to a lot of shoppers, are discovering two things," he explained. "One, they need to offer more one-stop shopping opportunities. Two, they need to address more niche-based formats."
Supermarket titan Kroger has stepped into that space with Marketplace, the Whole Foods chain has already been there, offering in some stores unusual mats and rugs spun from plastic. The Marketplace test will expand in August and September with two new stores near home market Cincinnati, and eight more planned by 2008. There are already 30 such 100,000-sq.-ft. stores in Phoenix and other Western markets, with about 40% of floor space dedicated to nonfoods, including linens and area rugs.
None of this even addresses the largely promotional or novelty business being found in supermarkets and drug chains, like Stop n Shop or CVS, frequently with rug suppliers like Natco, which offer self-contained, case-cut displays that may be literally dropped on the floor and forgotten until empty. Thank the warehouse clubs, which years ago pushed for that package innovation.
Furniture and mattress stores are slowly coming to see the home textiles category as a natural extension, again with sharply selected skus, and carefully targeted to a specific niche. For example, Thornton House Furniture (Lodi, Calif.) carries window coverings only as an adjunct to its designer services, said Al Nunes, owner.
"We're a full line furniture store with designers on staff, and basically it's used like carpet would be, or pillows: it's more an accessory to the room," said Nunes.
Many mattress stores still look at soft home as a promotional opportunity. One store operator who declined to be identified offered, "There are only so many ways you can promote a rectangle." He added, "If you can offer something that may be exciting to the consumer by offering a high thread count sheet, something with quality, it can help out."
Viewing itself as its own retail class of trade, the hospitality industry serves a highly defined, high-volume institutional consumer. Figure the typical towel gets replaced after 50-60 washes, three or four sets of sheets per room per year, said John Roth, senior vp for the American Hotel Register Company, among the largest linens and domestics suppliers to the hospitality industry.
The quality and branding of the textiles play a strong contributing role in the hotels' branding of their various properties.
"Everyone's looking at differentiating their brands within and without the corporation, and segmenting their brands vertically," Roth explained. Consider Marriott and Courtyard by Marriott, along with all the other sub-brands, Add the franchise standards and the business becomes even larger — spread among all quality levels.
The linens segment in the hospitality industry is well north of $100 million in sales, he indicated.
Peter McCabe, president of Biederlack of America, a throw and blanket supplier, has been sniffing out alternative channels — including sporting goods retailers, logo shops and home shopping parties — for almost 20 years, starting with an extensive line-up of sports team logos on throws that put the product into college shops and sporting goods stores.
"We've done things like wildlife throws, and that's gotten us into some catalogs you might not think of," McCabe said.
And he's convinced it's the way to go: "It's a nightmare just getting some of the big guys to talk to you anymore. The future is getting smaller, and getting more profitable, by filling the niches."
A case in point is a new Rolling Thunder blanket Biederlack is developing for the sleeper cabs of long-haul trucks. "That'll go into truck stops," he noted. "We've got the Ford and Chevrolet licenses. That's got us into auto parts stores, and we're working on getting that into dealerships. It's not as developed as I'd like, but it's getting there. We're working on a blanket that people like Century 21 can give away as a house-warming gift. It's inexpensive and it's great advertising for them."
"We do custom logos for high schools and boarding schools. We make all the bed blankets for [military school] The Citadel," he said.
"All these things add up into a nice little business. Actually a not-so-little business," McCabe remarked. "These days business is all about scrambling and scratching those little niches."
But often the discovery of just which channels are yielding results can become a closely guarded secret, as in the case of Arlee Home Fashions, whose president and ceo, Bud Frankel, observed, "We have discovered two alternative channels of distribution that we never worked with before, and most in our industry have never worked with before, either. And it's working out fabulously for us. The product is the same we've always done, except we've adjusted our packaging to accommodate their different merchandising."
One retail category that home textiles suppliers are finally trumpeting, after having quietly courted, is pet supply retailers.
PETCO (San Diego, Calif.) is an 800-unit, national chain whose spokesman Don Cowan said, "Pet beds is certainly a growing category for us. I can't disclose our total volume but we are definitely seeing an expansion in our sales volume in this area. In fact, what we're seeing is a higher demand for better quality and more upscale looks."
"We are to a degree seeing more and new vendors approach us," Cowan continued. "We're seeing more non-traditional pet suppliers now providing, developing, and manufacturing these products. We just came back from the American Pet Products Manufacturers Association event, and we saw many more of these vendors there than ever before."
One of those vendors at the show was Home Fashions International (New York), which got into the pet bed business just last fall, and has since seen requests from retail partners "more than triple," they told HTT during the February home textiles mini-market.
Neil Zuber, executive vp, Home Fashions International, said, "People today are looking for fashion in their home, including for their pets. Their dog might not care if its bed is blue, yellow or green. But the lady of the house wants fashion and she is looking for styles that are decorative." The company is growing its pet bed assortment, focusing on better fabrications and higher-end looks that employ their own line of fashion fabrics and trims.
As elsewhere, it's all about the mix — a rather eclectic one, at that — at Curious Sofa, Prairie Village, Kans., which has carried soft home from the day of its opening about five years ago.
The home furnishings boutique, which offers an antique feel with both real old and made-to-look old products, sells home knick-knacks, accent furniture, kitchen, bath, bedding, stationery, gifts, baby goods and a bit of jewelry, according to owner Debbie Dusenberry. Highly focused assortments of home textiles help to enhance the treasure hunt. The textiles offerings initially began with linens from Transylvania and have since expanded to four lines, ranging from C&F at the opening price point, to Bella Notte at the top — a $150 to $650 range. The mid-priced line comes from Pine Cone Hill.
The store, which some have compared to Anthropologie in style, started with the Shabby Chic line, but Dusenberry quickly dumped it after Target signed on.
Of the mix, she said, "It's a crap shoot. We hear it all the time: 'I came in to buy a candle and I'm leaving with a quilt.'"
Related Content By Author
The Countdown to the ICON Honors Continues featuring Christophe Pourny

More Videos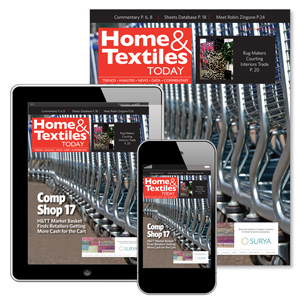 See the May 2017 issue of Home & Textiles Today. In this issue, we discuss our annual Market Basket survey, which finds higher prices and more polyester at leading retailers. See details!