Market Bullets
BATH
FAMOUS HOME FASHIONS —
The company is offering a Patio bath collection of textured poly-resin blended bath accessories that comes in pink, black, white, kiwi, lemon, lilac and blue.
FASHION INDUSTRIES — The company's rug division is introducing its luxury-oriented "super plush" collection, featuring a boucle fringe bath rugs. Colorways are soft and neutral.
FLO BARON DESIGNS LLC — The three new bath accessories groupings under the company's Tuscan collection are: Sequoia, made of resin with a wood-like finish; Vines, also made of resin and featuring a carved-vine design in gold on a linen-embossed surface, available in bronze or rouge; and Umbria, made of metal that is treated to look like aged plaster and featuring a golden-scroll design.
JENNY AND JEFF DESIGNS — Jenny and Jeff Designs, Inc., a product design firm specializing in complete lifestyle programs for home decor, will launch a new bath collection called Sheer Magic. Sheer Magic features a tonal floral print shower curtain in shades of blue, aqua and rose with an organza overlay that is topped in 3D floral appliqués and embroideries. The décor collection is made of clear resin with floating dimensional flowers. The collection is targeted to mid-tier retailers.
KAREN LAWRENCE — The company is showing its Art Deco, Art Nouveau and Contemporary resin bath accessories collections. Designs include Savoy and Ritz for Art Deco, Art Nouveau for Art Nouveau and Continental, Express and Fromage for Contemporary. Also being introduced this market are new resin towel stands to match all bath accessories collections. Other new bath accessories introductions include the expansion of its Classical collection with 15 new resin pieces.
LAWRENCE HOME FASHIONS — The company is offering coordinating shower curtains in all its collections. In Maison de Vie, it will be introducing the following shower curtains: Allure, Horizon, Provence, Prelude and Whisper. In the new Suite Couture Collection, new introductions include Nouveau and Babylon.
MATOUK — The company is featuring its Milagro collection bath towels made in Portugal of 100 percent Egyptian cotton in a zero-twist construction. Available in white, ivory, linen, sky blue, periwinkle, celadon, loden, butter, pink, rose, clay, straw and milk.
MIKE + ALLY — The company's Foliage collection of hand-enameled bath accessories — made to order — includes a soap dish, cotton ball jar, trinket jar, vanity tray, lotion pump, towel holder, tissue boutique, wastepaper basket and tumbler. It is available in bronze, white jade and garnet on gold.
SPLASH HOME (formerly Shelly's Designs) — The company is introducing a line of resin bath accessories donning stripes with a 1960s feel in fruit colorways. They can be mixed and matched with other designs, like poppy florals, polka dots and tie-dyes.
SULTAN'S LINENS — The company is showing its translucent vinyl bubble bath mat, which coordinates with bath accessories. Available colors are fuchsia, blue, sage, clear, rose and burgundy.
VISION IN TOWELS — The company is showing several new varieties of bath ensemble collections, including: combed cotton, Egyptian cotton, zero-twist cotton, double jacquard and embroidered, as well as a bath spa collection. Two new fashion collections are Fiesta, of pigment prints and fiber reactive towels, and the La.
BEDDING
ACECO INCORPORATED — The new bed-in-a-bag four-piece comforter sets from Aceco come in twin through king sizes and include a comforter, two pillow shams and a bed skirt. The new bed-in-a-bag four-piece sheet sets, available in queen and king sizes, include a flat sheet, a fitted sheet and two standard pillow cases.
AMERICAN TRADING CO. — The company is featuring flower prints and solid colors for the fall, as well as new designs for its 100 percent polyester comforters.
AUSTIN HORN COLLECTION — Austin Horn Collection introduces Trapunto, with quilted silk accented by delicate floral embroidered silk, soft velvet and pleated silk dupioni with sleek trims. All in subtle tones of Sea Mist.
BELLATANO FINE LINENS BY RITA TANOS — The company is introducing the classically designed Empire Collection in black on ivory, yellow on white, clue on white, or café on ivory. This new collection is available in an embroidered sheet set, shams and duvet cover in 400-count, Egyptian cotton sateen.
COMMONWEALTH HOME FASHIONS — Commonwealth is offering Fiesta, a Latino look in bold shades of red. Included are comforter ensembles with several decorative accessories aimed at the better quality market.
ELIZABETH ALLEN ATELIER — The company is showing its 19th century French-inspired Oasis Octavia collection, which comprises new 250-count percale sheets with French cotton trim on the shams and pillows.
HOME FASHIONS INTERNATIONAL — HFI will introduce over 30 new bedding ensembles this fall. Looks include a complete introduction under the company's new brand, called etc, including several new fil coupe constructions, a contemporary, called Just Rocks, and a more traditional pieced, Rutherford. In addition, HFI is continuing its new lifestyle introductions with a patchwork of ultra suede, Dakota, and embroidered linen designs, including Bamboo and Spot.
JAITEX — Jaitex is introducing its new bedding line. There is a complete array of products that start with sheet sets in muselin, percale and flannel, bedspreads, comforters, complete sets of bed-in-a-bag, throws and serapes.
KIMLOR MILLS — Kimlor Mills, a provider of outdoor lifestyle patterns in the True Grit line, has two introductions for fall. The Lake is a patchwork array of moose, wolves, and deer accented with multiple plaids. Available in percale and flannel bedding products. Dream Team is by nature artist Persis Clayton Weirs.
MATOUK — Two new bedding collections are being introduced. Block Island is a 100 percent cotton stripe seersucker with matching bias tape scallop. Colors are white, blue, willow, petal and truffle. Lowell is a 600-count Egyptian cotton percale that features a one-inch sateen trim. It is white with trimming in leaf, coral, bronze or navy.
MELANGE HOME — Using the inspiration of couture wedding dresses, Melange Home Fashions introduces Ruche bedding which features flesh tone colors in sheer fabrics.
NEWPORT — Newport is introducing 16 new bedcovering collections. Emphasis will be on heavily pieced and embellished comforters and duvet covers.
PEGASUS HOME FASHIONS — New for the fall are 100 percent cotton tapestry quilts and shams. These products come in four multi-colored patterns.
RIVER ROAD — The company is presenting new coverlets in multiple styles and textures. Coverlets in patchwork sherpa and multi-patchwork design on colored patchwork — backed in sherpa fleece — are among the new styles. There are also coverlets in faux fur made of acrylic and polyester blends backed with suedes.
KITCHEN & TABLETOP
AMERICAN TRADING CO. — Brand new from the company is a 5-piece kitchen ensemble set in various designs and colors. Also new are tablecloths for kitchen designs and kitchen appliance covers. The company's embroidered table covers have also just arrived from China.
JAY FRANCO & SONS — In kitchen, Jay Franco is showing a new ensemble in Disney's Winnie the Pooh featuring a dish towel, pot holder, oven mitt, place mat and table cloth.
THE JOHN RITZENTHALER CO. — The company is expanding its printed kitchen textiles offerings, pursuing the printed ensemble segment of the business.
MATOUK — The Umria collection of table linens is made of 100 percent cotton bird's eye pique with an easy-care finish. The items come in wide widths and feature a tailored hem. Available colorways are white, oyster, Nile, spice, sun, tannin, periwinkle and loden.
M/S. SAMRUDDHA OVERSEAS LTD. INDIA — New kitchen furnishings from the company include an apron, a cook's cap, a kitchen towel and floor mats. New tabletop products include table runners, squares, placemats and napkins, table rounds and mantel covers.
THE OXFORD HOUSE COLLECTION — The new Fascination from Oxford is a transitional sheer group of table linens that coordinate with window coverings. The design features a dimensional engineered embroidered look and all edges are scalloped.
QUAKER LACE — Quaker is introducing a silk smocked tablecloth in jewel tones. It is also showing novelty lace styles in holiday patterns featuring designs of ornament as corner embellishments. Also showing is an enzyme washed denim cloth with frayed edges.
SULTAN'S LINENS — The company is expanding its program of coordinating kitchen textiles and tablecloths to include new spring and summer designs including stripes and barbecue motifs. Also new is a line of foam mats for the kitchen. These all coordinate with kitchen textiles and tablecloths.
AREA RUGS
AMERICAN TRADING CO. — Just in from China are the company's 100 percent polyester scatter rugs available in many different designs and colors.
CLAIRE MURRAY/ANB INTERNATIONAL INC. — Two new collections of hand-hooked wool rugs from China are the Rainforest and Claire's Cottage collection.
CMI — CMI (Colonial Mills) is adding new styles to its simply home collection with designer Janelle Lampp. These indoor/outdoor rugs are made of 100 percent polypropylene in a braided texture and come in 26 colorways and color combinations.
FEIZY RUGS — The Chameleon collection is debuting. It comprises 100 percent wool hand-tufted rugs in bright colorways and geometric designs.
HAROUNIAN RUGS INTERNATIONAL — The company's Emerald collection comprises rugs hand-knotted in China using wool and silk highlights in Persian designs. The Pacific collection represents HRI's latest hand-tufted offerings. These rugs are hand-made of 100 percent wool and feature Oushak styling and color palettes. The Space collection of twisted wool, hand-tufted rugs made in India features Gabbeh motifs.
HOMEMAKER INDUSTRIES — The company is expanding its indoor/outdoor category with new collections: Summer Breeze, a 100 percent polypropylene stripe rug that is UV, mold and mildew resistant and is anti-microbial; and Tracks, a two-tone border design that is also resistant to the elements.
KAS RUGS — Kas is focusing on both contemporary and natural products, introducing programs in different weaves of jute, sisal and linen. Room-size rugs feature contemporary, large-scale floral designs, machine-made constructions and high-density jute offerings made with different weaves.
THE RUG MARKET — The company is introducing Doily Rose, a detailed mosaic pattern in a hand-tufted wool construction.
DECORATIVE PILLOWS
ASHFORD COURT — Ashford Court is introducing seven new luxury pieced pillow collections, each consisting of four to six highly embellished pillow designs — including animal skins, elegant fabrics, tapestries, jacquards and brocades. The company is also expanding its Modern collection with new designs and colorways.
COMPANY C — The company's Pebbles collection pillows are made of 100 percent cotton are stuffed with feathers. These 18-inch square pillows feature textured yarn dots and are available in the colorways cherry, tiki blue, creamsicle, grape and limeade.
DOWN LITE INTERNATIONAL — Down Lite is launching a newer updated suite of decorative pillows in a wide array of colors under a new label called Duke & Mason. One of the new patterns in this collection is Narrow Stripes.
MELROSE HOME — The company is offering its Bianca Decorative Pillows with feature chenille jacquard in an Asian floral pattern accented by antique gold tassels in saturated colors of thyme, mimosa, and cider.
PJ KIDS — PJ Kids is showing a washable Fuzzy Butterfly floor pillow that is acrylic mohair and overstuffed with a zip-off cover. The company also has cotton twill overstuffed sports balls in football, baseball, soccer and basketball shapes.
PURE STREAM ENTERPRISE GROUP — The company's Reversible collection of toss pillows features different motifs on either side of each pillow. Such designs include embroideries and patchworks in chenille and jacquard textures.
SIW THAI SILK INC. — SWI's Sonoma Sky collection comprises an assortment of luxury 100 percent hand-woven silk pillows and coordinating wall hangings, table linens and scented sachets. The pillows come in four designs and sizes.
WORLD DESIGN GROUP — With lots of neutrals and a splash of color, World Design's new decorative pillow line comes in pure linen and handwork that is focused on new styling.
PILLOWS, PADS, BLANKETS & THROWS
ACECO INCORPORATED — Aceco's new 100 percent polyester fleece throw comes in the twin, full/queen and king sizes. Available colorways are ivory, sand, light blue and sage.
AMERICAN TRADING CO. — American Trading Co. is showcasing 100 percent cotton blankets in solid and print designs. Also available are 95 percent goose and 85 percent down throw pillows that come in all sizes.
AUSSINO — Aussino has added new blankets to its program. Focusing on the tactile senses, the blankets give a feel of affordable luxury with texture and quality.
CBK — This diversified producer of throws, kitchen textiles and novelty items, intros new throws, including a pink and blue Jamavar paisley in wool with hand-knotted fringe. In floor cushions, a 24-inch square patchwork box style look in leather with button accents and a 20-inch square stripe with solid corded edge and hidden zipper; and a 20-inch square geometric tapestry design with suede side panel and cording.
ELIZABETH ALLEN ATELIER — The company is offering throws in a handful of exclusive cotton prints backed with luxe cotton velveteen in ruby, blush, sage and trimmed with sand cording.
THE KOKO COMPANY — The company's Adobe collection is made of wool-felt tie-dye gauze and comes in a warm palette. It coordinates throws with decorative pillows, some featuring a mix of cable knit designs.
LEVINSOHN TEXTILE — Levinsohn's WoolTara Australian Wool Collection features a wool-filled comforter with 400-count cover and quilted Australian wool fleece with reversible mattress topper. The collection also features wool-filled cotton-covered bed pillows and quilted wool blankets.
MELROSE HOME — The company is offering Curly, a plush faux fur in a soft fabrication — bordered and backed in faux suede. It is available in two color stories: one, a muted autumn palette, the second, a hot, bright, tweener.
M/S. SAMRUDDHA OVERSEAS LTD. INDIA — The company is offering throws and blankets in different colors and constructions with different GSMs. Pillow covers come with velvets, jerry embroidery, frills, tassels, and hand worked.
OGALLALA COMFORT COMPANY — Ogallala has added additional pillows to its line. It now has a Super Soft Pillow available in addition to previously available soft, medium, firm and extra firm. Ogallala has over 218 different pillow options available.
RIVER ROAD — Adding to its growing line of pillow and pads, River Road will unveil a new heavy weight with mercerized cotton herringbone woven blanket. It will also introduce a down alternative blanket with a 223 soft woven baffled box design filled with cluster fiber which acts like down. An added touch of luxury is satin binding on the head and foot of the blanket.
SOFT-TEX MANUFACTURING — Therapedic Sleep products introduces Memory Flex. The Memory Flex bed pillow is a combination of memory foam clusters blended with down alternative sofloft fiber. It is available in a jumbo size. The Memory Flex Fiberbed is made of the same construction and is available in twin, full, queen and king sizes.
WINDOW COVERINGS
COMMONWEALTH HOME FASHIONS — The company's Siam is a yarn dye single pintuck plaid pattern available in pole top panels with a decorative beaded Patriot valance. Pasha is a faux pashmina in a broad array of colors that is available in panels, valances and accessories.
HERITAGE LACE — New this year are Heritage Designer Blinds and Heritage Privacy Sheers. Heritage Privacy Sheers work with vertical blinds to control and diffuse light, either providing a clear view of the outdoors or privacy. The product is made of warp-knit jacquard and available in eight styles. Heritage Designer Blinds offer a look in thematic scenes and classic allover patterns.
M/S. SAMRUDDHA OVERSEAS LTD. INDIA — The company is Introducing window curtains, door curtains, curtains with loops, curtains with frills, curtains with embroidery/ hand work etc.
INFANT & JUVENILE
ACECO INCORPORATED — New juvenile fleece throws from Aceco are made of 100 percent polyesters fleece and feature embroidered appliquéed designs of cartoon-like animals. They measure 30-by-40 and are available in white, light blue, ivory, pink, yellow and navy.
ESPALMA BY COBRA — A collection of jacquard bath ensembles is coming from Espalma — all of which coordinate with bath rugs — in a variety designs, including dots and daisies. In beach towels, the approach is tweeners, with designs including butterflies, bugs, surfboards and frogs. All coordinate with backpacks.
FASHION INDUSTRIES — There are four new comforters and eight new quilts from Fashion Industries, ranging in design and style from high-tech satin to retro poodles. Other designs include dots backed with stripes, fiesta brights, ribbons and satin, retro black and white checks with pink accents.
JAY FRANCO & SONS — In bedding, Jay Franco is showing a new ensemble in the Fantastic Four as well as focusing on its licenses.
KAS RUGS — The new Savannah collection from Kas is a super-point hand-hooked rug made of linen. Sizes range from scatters to area as well as a 7-foot 6-inch round.
LAWRENCE HOME FASHIONS — Lawrence Home Fashions is introducing two new tweener designs for this market. Kaleidoscope, a spirographic design for girls in pinks, purples and accented with black on a white ground, and for boys, a denim skate board design called Graffiti.
OLIVE KIDS — Country Baby bedding is a new line of infant bedding from Olive Kids. Pastel colors make this set easy on the eyes and the different farm and animal shapes will be enjoyable for the infant. The set has a comforter, bumper, and mattress pad available in the Country Baby design.
THE OXFORD HOUSE COLLECTION — Oxford is showing its Love Ewe group of juvenile table accessories and window coverings debuting is a simple patterning of curly-coated sheep on a knit jacquard construction with scalloped edges. Available colors are white and ecru.
QUAKER LACE — New tweener looks for the window from Quaker include enzyme-washed denim with frayed edges and embellished with grommets and buttons. These panels are available in mix-and-match colors. The company is also expanding its burn-out Daisy pattern.
SUMERSAULT LTD. — The company will be introducing a multi-pastel group that has velvet flower appliqués in soft pastels, along with embroidery details throughout. Laura Ashley Samantha has a soft palette that is very soothing and the added texture lends a comforting feel. The velvet satin backed receiving blanket with embroidery completes the special group.
WHISPER SOFT MILLS — Whisper Soft Mills has partnered with Save the Children to offer a new collection of bedding, window treatments, accent rugs and decorative pillows to debut this market.
WORLD DESIGN GROUP — With cute motifs and natural fibers World Design Group tried to keep the new line pure but trendy. It is using soft colors and less fuss pillows for practicality.
Related Content By Author
Live From New York: Fashion Comes Across the Pond

More Videos
Subscribe to
Home & Textiles Today eDaily
Receive the news you need to know about the trends in the industry delivered right to your inbox.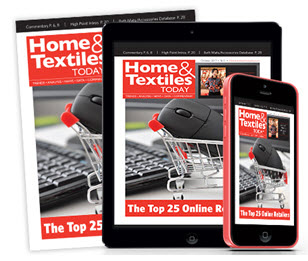 See the October 2017 issue of Home & Textiles Today. In this issue, we look at the Top 25 Online Retailers. H&TT's exclusive annual ranking of the biggest online sellers of home textiles finds that while pure play etailers continue to fly, bricks & clicks are digging into omnichannel. See details!