Brazil Seeks to Grow Exports After '05
Heath E. Combs, Michele SanFilippo, July 11, 2005
Blumenau, Brazil — As the world's fifth largest textiles producer, exporting $327.1 million in home textiles to the United States in 2004, Brazil has the ambitious goal of doubling its exports by 2008.
Currently, Brazil's exports represent only 8 percent or $2.1 billion of the total market, but the country believes it is on the fast track to changing that.
In Brazil, nearly all of the country's top manufacturers are vertically integrated, handling goods from raw materials to finished product. According to the Brazilian Textile and Apparel Industry Association, the nation is trying to increase its visibility worldwide as well as expand the country's textiles industry, which currently employs 1.5 million people.
Udo Döhler, president of Döhler S.A., has seen the Brazilian industry go through a lot of changes recently. "In the last three years, exports have grown nearly 25 percent. Brazil is becoming more of an exporter to the rest of the world," he said.
He believes that the popularity of China is actually stimulating business in South America because that nation is starting to face shortages of water, energy and labor. "The situation is not going to last very long because China doesn't operate as a market economy," said Döhler. "China has inundated the world with its products, but India will soon become the next cheapest country."
"We've reached a point of saturation of Chinese products on the market, and I believe that countries around the world are starting to wake up to the situation now," he continued. "This year will be a very difficult one for the external market, but after 2005, we will start to grow our exports again."
His advice to other manufacturers: keep bringing to market products with increasing value that are as far away from commodities as possible.
According to Luiz Fernando Brandt, director and president of Teka, the biggest problems in Brazil are political.
"This weakens our market due to macroeconomic issues, such as the high exchange rate which makes exports more expensive and imports less expensive. The higher value of the Brazilian reais has made business more difficult," he explained.
Brandt thinks the country should create a better business relationship with the United States through a free trade agreement. However, he says, Brazil is very competitive in its own right. "We have excellent cotton quality that is 20 percent less than American cotton and have abundant sources of hydroelectric power," he said, adding that Brazil is on track to recover politically and economically.
Buettner's João Henrique Marchewsky, director and president, echoed this sentiment. "The biggest problem we have in Brazil is our government, which does not support business," he commented.
But he added that having its own domestic cotton supply is a big advantage for Brazil. "Unfortunately the world market has not been too concerned with the environment or labor conditions when it comes to Asia," added Marchewsky.
Eduardo Abdelnur, president of Toalhas São Carlos, said that because the euro is much higher than the dollar, Brazil has been selling more to Europe recently. Abdelnur added, "Chinese products are not under the same rigorous standards as those in Europe, the U.S. and South America. They are not regulated in terms of child labor, humane work environments, cancer-causing agents, etc."
He believes the world market should impose the same regulations across the board. "Brazilians have to follow these rules, and we want the Chinese to play fairly. We are trying to enforce rules all market economies need to follow," said Abdelnur.
In his view, the Brazilian government has to maintain laws that favor exports and lower taxes.
"We have some of the highest tariffs and taxes in the world, and this makes it very hard for us to compete with other countries that have more favorable business conditions," he said. "I also think the U.S. could gain from joining forces with the Americas through a trade agreement. We could form an Americas block to strengthen this relationship. We have a lot to offer, but there's been lots of talk and no action."
Rui Altenburg, director and president of Altenburg, said his company has been encountering a lot of obstacles in exporting to the United States in recent years, particularly with competition from Asia. "We are having problems with high competition, because today there is no other country that can compete with the Chinese," he said. "Each country has to come up with its own rules to protect its domestic industries."
João Karsten Neto, vice president and domestic/exports director for Karsten S.A., agreed with this assessment.
"In truth, China is a worldwide menace because it is able to grow so quickly and dramatically since it doesn't follow the rules of market economies," said Neto, adding that Brazil competes in the world market with quality, design and innovation. He hopes the U.S. and European governments will place safeguards on the industry to put a limit on the quantity of products coming in. "The volume of products from Asia is now greater than the demand worldwide," he added.
According to Neto, some of the biggest issues in Brazil include 20 percent taxes and high insurance costs. "When there isn't a stable currency, it makes it much harder for businesses to come up with a budget and invest in new machinery and technology," he added. Neto also pointed to Brazil's labor force, energy and cotton supplies, which he says are much cheaper than in the United States or Europe, for example.
Leveraging Brazil's competitive advantages with a good dose of flexibility is key, said Rafael Buddemeyer, sales director for the Americas at Buddemeyer, "We try to be very flexible with all the countries we work with and launch three or four new collections each year for each since retailers are using more of a fashion lifecycle today," he said.
The biggest problem Buddemeyer sees with the home business is that it competes with everything else at retail. He believes the removal of quotas has made it more difficult for the Brazilian textiles industry than before because of increased competition. "But Brazilian companies are positioned to do well in the future because of their design, competency in delivery, service, quality control and grade of domestic cotton," he said.
TOP MANUFACTURERS: BRAZIL

Company Name
2004 Sales (millions)
% Export to U.S.
*Total company sales were $711.9 million. Source: HTT research
METHODOLOGY
Data for the International Top Manufacturers report series is compiled from published financial filings and analyst reports as well as through discussions with sources in the United States and overseas. In cases where no hard data was available, HTT used estimates based on market research.

1. Coteminas
$410.1*
23.7%
The country's biggest-volume producer has 16 factories for bedding, bath, table linens and apparel products and partners with Springs Industries in the U.S. market.
2. Teka
150
7.5
With exporting offices in Germany, Argentina and the United States, Teka aims to produce more value-added products that carry higher retails and explore new channels of distribution.
3. Karsten S.A.
120
25
Karsten S.A. will continue investing in the U.S. market, growing Karsten America and implementing additional technological advancements.
4. Döhler S.A.
90
16
Döhler S.A. plans to focus on adding more value to its product line, such as its three- and four-star hotel program, and offer differentiated products that embrace technology.
5. Toalhas São Carlos
80
11
An investor in technology, Toalhas São Carlos plans to double its capacity by 2006 and expand exports to all markets, including the United States, where it works with Cobra Trading.
6. Buettner
70
17.5
The company opened a new European office in Barcelona in late 2004 and plans to grow its exports to the United States and other markets.
7. Altenburg
46
N/A
This bedding and bath manufacturer is trying to establish a U.S. presence and grow its total exports from 10 percent to more than 20 in the next five years
8. Buddemeyer
33
15
The bedding and towel supplier specializes in high-quality towels for export to department and specialty stores; it increased production 25 percent last year.
Related Content By Author
The Countdown to the ICON Honors Continues featuring Christophe Pourny

More Videos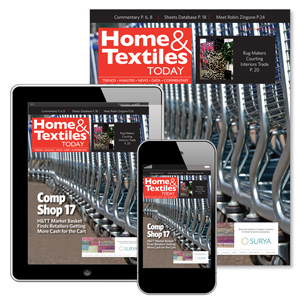 See the May 2017 issue of Home & Textiles Today. In this issue, we discuss our annual Market Basket survey, which finds higher prices and more polyester at leading retailers. See details!