Atlanta Rolls Out Red Carpet for Rugs
Atlanta — Armed with confidence from having experienced a year of solid sales gains, area and accent rug retailers are coming to the Atlanta International Area Rug market this week with their minds and order books open — making suppliers optimistic about new opportunities.
"The holiday business ended up on the plus side and, therefore, we are expecting a healthy market turnout of buyers over last January," said Merle Johnson, vice president, marketing, Sugar Valley, Ga.-based Mohawk Home.
Added Brian Denning, brand manager of area rugs and logo products with LaGrange, Ga.-based Milliken Rugs, "With the continued growth of hard surface flooring, we see the rug category continuing to grow this year."
And Jeff Meadows, division vice president of Dalton, Ga.-based Shaw Living is also expecting "a strong turnout."
Coming off a strong 2004 in its area rug category, Atlanta-based Expo Design Center's Jeanne Love, soft flooring product merchant, said she is bringing with her "a very optimistic attitude" and an eye out for mid- to high-end priced rugs in upscale designs and constructions. "We see area rugs as a category of growth for this year," she said, "and from what we see from the traffic at our stores, our customers are asking for more high-end product."
Expo's customers, Love said, want more themed collections of rugs that carry varied designs but complement each other.
"I'm looking for companion rugs that share a theme but are different," she said.
"I'm looking for more wools, more fashion-forward and contemporary looks — contemporary is hot, hot, hot right now — and price points that hit that mid to high range."
Menomonee Falls, Wis.-based Kohl's area rug buyer Gary Nickolie sees this coming market as an "opportunity to keep up with the trends in rugs," he said. "I'm not going with any major objectives or any preconceived notions. I'm meeting with several suppliers and just seeing what's new out there. I'm going with an open mind."
Kohl's area rug business continues to see strong results and "will continue to be proportionally what it is now" for the store's total rug business." But Kohl's is also seeing growth in its kitchen rug business, "which is becoming more important now for us," he added.
Color, design and competitive pricing are on the list for Keith Arlinghaus, senior rug buyer, New York-based Macy's Home Store.
"I'm looking for modern looks, new wave looks," he said. "I'm looking for new transitional, contemporary product. It's been so hot for us in many facets of business. And new wave looks keep growing. Construction is really irrelevant."
This market represents a milestone for Arlinghaus, a longtime rug buyer for Rich's Lazarus Goldsmith's. He was recently promoted to his post, now assigned to buy all area rugs for the consolidated Macy's Home Store operation.
"I'm coming this time with different eyes, or rather, bigger eyes, you could say," he said.
He added that for this market, his open-to-buy "is probably as good as ever. I'm ready to roll and find the best out there. Price points should be competitive, but the last thing I want to do is drive down retail price points. With the right color and design, we can maintain price points as they have been."
Birmingham, Ala.-based Saks Department Store Group is walking the market in search of high-end indoor/outdoor rugs, "beyond the jutes, sisals and polypropylenes out there already," said Bruce Morel, vice president, product development for textiles and housewares.
The store is also looking for a new generation of contemporary looks.
"The customer doesn't want so much of that SoHo or urban look anymore, but not traditional looks, either," he added. "It's more of a transitional contemporary look we're looking for."
Jacque Lemay, rug buyer for Portland, Ore.-based Fred Meyer, said while she is "very happy with my current assortment right now," with product turning quickly on the selling floor, she is making a quick two-day trip to market "to see what everyone is doing in rugs."
"I'm only shopping if my suppliers have something they want to replace with something new and more innovative from what they already have with me," she explained. "I have a very wide assortment right now, from leather to flokati, and it's all doing very well. But I do like to keep up with what is going on and am open to a change if I find something that really jumps out."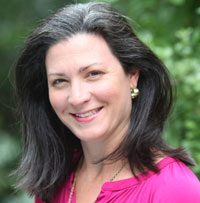 Cecile Corral
|
Senior Product Editor, Home & Textiles Today
ccorral@homeandtextilestoday.com
Related Content By Author