3D Printing Redesigns Housewares Design
A closeup of MakerBot's Replicator 2 Desktop 3D Printer, which is the company's fourth-generation machine.
The rapid rise of 3D printing has led to astonishing feats in the worlds of design and medicine and is revolutionizing the way housewares are being modeled today. Textiles may not be far behind.
     Much of the attention grabbing news about 3D printing has been the creation of objects beautiful, mundane and shocking - things like a Victoria Secret corset, spare parts, guns and human ears (yes, you read that correctly). But equally impactful is the fact that 3D technology offers the housewares industry the ability to rapidly design and tweak prototypes, shaving the process from months to weeks. Suppliers who are sitting on the sidelines could be missing one of the biggest shifts in modern manufacturing.
     Wohlers Associates, which has been tracking the growth of 3D printing, said that the market for 3D printing in 2012, consisting of all products and services worldwide, grew 28.6% to $2.204 billion. This is up from $1.714 billion in 2011, when it grew 29.4%.
     Forecasts call for strong double-digit growth for the 3D printing industry over the next several years. By 2017, Wohlers predicts the sale of 3D printing products and services will approach $6 billion worldwide, and by 2021, Wohlers forecasts the industry to reach $10.8 billion.
   Vicki Matranga, who leads Design Programs and Services for the International Housewares Association, has been following the growth of 3D printing in design for several years. She said the technology "is probably close to the point of universal acceptance in the design of housewares products. Design firms and staff design departments at large housewares companies have had rapid prototyping machines in their studios for quite some time, but now that the machines are easily affordable at the consumer level, many have MakerBots [3D desktop printers] in their studios for testing prototypes."
     In certain respects, 3D printing is helping to level the playing field between players large and very, very small. Matranga points out one of the advantages of 3D printing for start-up companies: She's observed "an explosion of designers using 3D printing to create prototypes for Kickstarter campaigns to make products that they sell directly to purchasers." She sees this as a new route for products to store shelves.
Textile pieces designed by Vincent Greco show the capabilities of 3D printing.
Long-term investment
     Lifetime Brands saw the value of 3D printing 10 years ago and continues to invest in the technology. According to Bill Lazar off, senior vp of industrial design and product development for the major housewares supplier, the company has a number of 3D printers with different capabilities for producing prototypes.
     "Having the ability to produce multiple versions of a design to explore aesthetics and ergonomics is invaluable," Lazar off said. "So much of the process is tied into proof-of-concept, particularly as it relates to new ideas, i.e., things that have never been done before, and the rapid prototype machines help speed us through much of the inevitable trial-and-error that is required to fully explore new concepts. The time saved on any specific project is quantify able for sure, and clearly offsets the initial purchase cost, maintenance and supplies for the machines when you view this long-term as we do."
     As a result, Lazar off said, "We really feel as if we can take on any project internally because we have the tools with which to bring our ideas to reality." Looking ahead, Lifetime is planning to add four more machines in 2014. "We are looking forward to the day - hopefully within the next five years - when we will have the same capabilities for rapid prototyping in metal as we currently do for plastic. That is coming soon, and I know we will be first on line," he said.
A 3D printed soap dish created by Tom Kerpert features drainage though the letters.
New way of thinking
     In many ways, 3D printing is a story about the new millennium and it even requires new ways of thinking about sacred things like intellectual property. On the one hand, designing products gives companies greater control over their ideas. As Lazar off pointed out, with the recent change in patent law [patents are now granted to whoever files an application first, not whoever invented it first] "it's even more important to maintain complete control over your new ideas. Keeping everything under wraps until we are ready to show our ideas outside the company is vital in today's intensely competitive environment."
     But at the same time, fantastic, mind-boggling achievements are being shared freely. For example, a design for a 3D printed prosthetic hand, which gave a little boy in South Africa born without fingers a new hand last year, is available for free download. Thousands have been downloaded from thingiverse.com, a repository of 3D printable items.
     Designers and inventors are sharing their work online, not just the images of the finished project, but the files used to create them - giving others a blueprint and a green light to copy and upgrade their work. The process is called remixing and this culture is being credited with accelerating innovation.
A 3D printed bracelet is fl exible enough to twist.
Giving away ideas
     It could be an earth-shattering concept for many housewares manufacturers. For a good number, copyright infringement is a sore subject, and freely sharing proprietary designs an alien concept.
     "Giving away stuff is the new business concept. As a designer it is very difficult to become known, so I see it as a means to show my abilities and hopefully land commercial assignments," said Tom Kerpert, an industrial designer based in South Africa who creates housewares. "Also being based in South Africa was very limiting in the past, but now it does not matter if the designer is in South Africa, the toolmaker in China and the manufacturer in the United States."
Thinking in 3D
     If one searches for soap dish on thingiverse.com, 57 results appear. One of them is a soap dish (created by Kerpert under the alias Alofus), made with the word "soap" printed in wide script two times - with one of the "soaps" flipped over and joined with the other top to bottom, so it could be read in either direction - with drainage though the letters. It's obviously a popular design - it has been viewed 780 t
3D Printing Redesigns Housewares Design
imes and downloaded 169 times. Comments posted on the project page offer technical suggestions.
     3D printing helps designers like Kerpert communicate with clients.
     "Visualisation - that's the key to a successful design," said Kerpert. "Designing in 3D on a CAD system gets you 95% there, but building a prototype quickly will reveal any potential design flaws and produce a proof of concept.
     It is also especially useful for client presentations as not many people have to ability to 'think in 3D'."
Kerpert also sells an elegant bowl-shaped soap dish on Shapeways, an online printing service and marketplace, with a script word "soap" inscribed inside the dish. It comes in a variety of materials, from $63 for ceramic in a range of colors to $1,000 for polished steel.
     On both sites, searches for other housewares products such as shower hooks, towel bars, shelves and bins turn up a modest selection.
     When it comes to textiles, 3D printing appears to be in its infancy, but the infant shows a lot of promise, according to observers, one that should not be neglected.
New York fashion designer Francis Bitonti designed Verlan, a 3D printed dress, which is made with MakerBot's new fl exible polyester-based fi lament.
     If home textiles manufactures "are not taking notice of the advances in 3D printing, they need to become aware," said Andrew Dent, PhD., vp, Library and Materials Research for Material ConneXion, regarded as an authority on materials.
Getting a toehold
     He sees a "huge future" for the technology in textiles, even though currently 3D printed textiles appear limited to apparel, like fashion statements, such a pair of Victoria's Secrets angel wings and corset worn in last month's annual fashion show, made by Shapeways. Other examples include a futuristic 3D printed dress, called Verlan, created by New York designer Francis Bitonti in conjunction with MakerBot. The dress featured MakerBot's new flexible filament and was printed over a two-week period to create the dress in 59 parts.
     Perhaps the best known example comes from Nike. While shoe manufacturers have been making 3D printed prototypes for years, the Nike Vapor Laser Talon marks the first shoe to use 3D printing for the final product, creating an ultra-light football shoe.
     A material called CosyFlex, a 3D printed fabric made by a company called Tamicare, based in Manchester, U.K, is being used to created underwear, for now. According to published reports, each of the company's $3 million printers can produce 10 million disposable, biodegradable panties a year. Tamar Giloh, Tamicare's ceo, told ABC News that the nonwoven material is "breathable, stretchable and drapes," and said she has fielded calls from a variety of industries interested in its application.
3D printed textile pieces such as these show promise for use as home accessories.
     If one searches for textiles on Shapeways, one can see the design process for 3D printed textiles at work. Members have posted some samples of 3D printed fabric, which at first glance look like small squares of knitting. For example, there's a piece of 3D printed nylon plastic with a matte finish and slight grainy feel. It is made of 84 links and is 3.031-inch by 3.031-inch by 0.197-inch and sells for $21.90. Other colors are available for higher prices.
     Dent reviewed images of the samples and noted they have "a very coarse format and the links are rigid." However, he agreed that 3D printed textiles like these could be used for fabric-like accessories, such as table runners, placemats or window panels. And as the technology improves "the confluence of non-wovens and 3D printing has the potential for incredible stuff," Dent said.
     Vincent Greco, an engineer who lives near Paris, designed some of the fabric squares on Shapeways. He said that among the many challenges involved in designing 3D printed textiles, including size and stretch, it is cost that prohibits making 3D printed textiles, for now.
     "All of these issues are likely to be solved in the coming years -- or perhaps months," he said.



3D Hubs is collaborative production platform for 3D printer owners and 3D makers with the goal of making 3D printing accessible. Users upload .STL fi les and search for a 3D printer by location, called a Hub, and coordinate pick up when the project is complete. As

a result of connecting these 3D printers and users, 3D Hubs has a birds-eye view of what is going on in 3D printing today and produces monthly charts tracking the industry.
Related Content By Author
Live From New York: Fashion Comes Across the Pond

More Videos
Subscribe to
Home & Textiles Today eDaily
Receive the news you need to know about the trends in the industry delivered right to your inbox.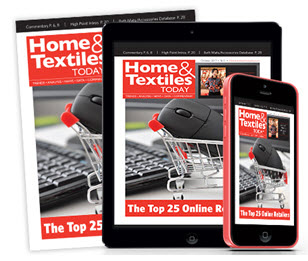 See the October 2017 issue of Home & Textiles Today. In this issue, we look at the Top 25 Online Retailers. H&TT's exclusive annual ranking of the biggest online sellers of home textiles finds that while pure play etailers continue to fly, bricks & clicks are digging into omnichannel. See details!