A trip to Birch Lane
Wayfair nurtures new online site with traditional catalog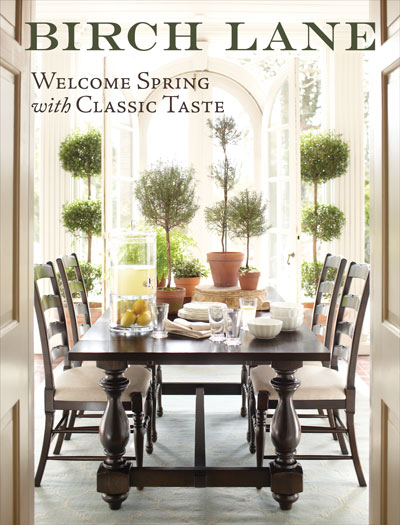 New York--If a tree falls in the woods, new brand launches online, can anyone hear it?
Mega online home furnishings retailer Wayfair is not taking any chances with existential riddles. Its new private label site, Birch Lane, went live at the end of March, accompanied by something one doesn't often see in the age of e-commerce: a print catalog, to make consumers aware of the new brand.
Half a million copies were mailed in early April and mailings will occur every six weeks, introducing Birch Lane's rugs, drapery, bedding, tabletop, lighting and décor. While sister brand DwellStudio, acquired in 2013, has had a catalog, it was Wayfair's first book from scratch.
"Furnishings are such considered purchases that we wanted the tactileness of catalog, so consumers could tear sheets for inspiration," said Christiane Lemieux, Wayfair's executive creative director and founder of DwellStudio, at a March press event in New York City.
Birch Lane is not taking chances with inventory. The brand offers a far more edited selection than Wayfair.com, with an initial launch of 800 items. (Wayfair.com offers more than seven million items. Other siblings include AllModern and Joss & Main.)
Birch Lane features traditional-style furnishings, for which Wayfair executives think there is pent-up demand, a conclusion based on careful data mining. The company found that Joss & Main and Wayfair customers seeking traditional furnishings were spending more time on the site and spending at least 35% more money, according to John Mulliken, svp of strategic initiatives for Wayfair and the founder of Joss & Main, who was also at the event.
"We sell so many sofas on Joss & Main and we saw a cluster of sales in this category we like to call 'traditional twisted,'" or traditional with a modern twist, he explained.
Lemieux said hunting in Paris flea markets for vintage fabric let to the creation of some of the bedding. Offerings include sheet sets, patterned and solid duvet cover sets, quilts and throws, bed skirts, and decorative pillows. One show stopper is the Laurel white duvet set, made of 100% cotton voile with hand turned knots and ruched details. It is priced at $229 for a full/queen size.
Wayfair executives began discussing the new brand only last August – just a heartbeat in retail time. Lemieux credits longstanding relationships with vendors for the fast launch as well as Birch Lane's ability to offer lower price points than the competition. The Montgomery sofa, for example, retails for $1,299. "Getting something at that price point is unheard of," she said.
Lemieux said fulfillment stymied her as she tried to grow DwellStudio on her own. "We couldn't scale to the same extent." Wayfair, on the other hand, has an established logistics network, which is crucial for Birch Lane.
"Let's face it – you are shipping across the country. It's the moment of truth for a company. Customers are emotionally invested. If you can't carry that item to the customer's home without damaging it, then don't carry it," Lemieux said.
In other words, don't take chances.
Related Content By Author
advertisement
advertisement
advertisement