Macy's: Online order/in-store pick-up in all stores this summer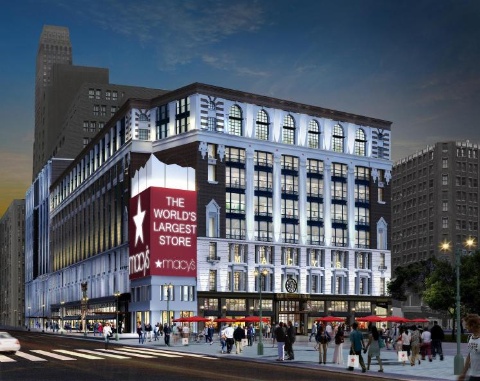 Exterior view of the restored Macy's Herald Square building along Broadway. (Photo: Business Wire)
New York – With Macy's Inc.'s first quarter report looming on the horizon, cfo Karen Hoguet couldn't discuss the current state of business when she appeared at the Nomura Consumer Conference here earlier this week. Instead, she addressed longer-term strategic initiatives, including omnichannel efforts and the expansion of Bloomingdale's Outlet stores.
Following a test of an online order/in-store pick-up service in 10 Washington area stores, Macy's will complete rollout out the technology to every store by July. "Customers loved it," she said.
Once a shopper has placed an online order with the intent to pick it up locally, Macy's sends a text within three hours letting her know the item is available at the nearby store. The window allows Macy's to ensure there is more than one of the item in stock so that it doesn't get sold out before the customer arrives to claim it.
"In Washington, it was 99.9% accurate when we told you we had it," added Hoguet.
Macy's originally developed the technology to support same-day delivery for e-commerce orders, "if we ever decide to do that," she said.
In terms of the 800-lb. gorilla in e-commerce – Amazon – Hoguet pointed out the pure play retailer doesn't overlap Macy's in many of its key apparel and accessories categories, "although they're coming." At the end of the day, however, she believes Amazon's lack of a store base will prove a competitive disadvantage.
She noted that while Macy's allows consumers to ship unwanted online merchandise directly back to the distribution center for free, "nobody is using it. They like coming back in the store" to make returns. That, she said, gives Macy's an opportunity to sell them additional merchandise.
Turning to Bloomingdale's Outlet stores, which currently number 13, Hoguet said the company will begin adding more units in 2015. Where outlets are sited near Bloomingdale's department stores, such as in Bergen County, N.J., they've served to drive new customers into "the mother store," she said.
"We're quite bullish on outlets for Bloomingdale's. We're not talking about 100 outlet stores, but certainly more than 13," said Hoguet.
Macy's Inc. will release its first quarter operating results on May 14.
advertisement
Related Content By Author
advertisement
advertisement
Other Home Furnishings Sites