Charisma — And More
With soft home a hot spot, Costco makes more room for bedding, bath, rugs and accessories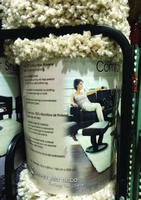 Carpet-Art-Deco's comfort shag collection comes in three solid colors, and is available in 6-by-9 for $149.99.
Costco called its domestics category a "standout" in its recent quarterly earnings conference call, and it's no wonder, based on a recent visit to the club in the West Miami-Dade neighborhood.
Charisma is king here, with a dominant role in sleep pillows, towels, sheets and beach towels.
But Costco makes room for other major industry brands and suppliers, including Tommy Bahama, Sunbrella, Sleep Innovations, Hollander, Welspun, MultyRugs, Carpet-Art-Deco, and Brentwood — all of which are represented across various categories, including bedding and bath linens, rugs and home accessories.
The department's two-and-a-half aisles and two endcaps located off the main racetrack are amply stocked with products beckoning shoppers, not just because of the smart price points but because of the labels and quality they boast.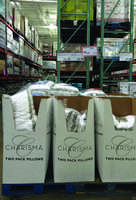 Charisma has a strong presence in Costco's soft home assortment, including these two-pack pillow sets available in two sizes — jumbo and king.
The department's first endcap offers two-pack sets of Charisma sleep pillows, jumbos for $11.99 each and king-size for $15.99, merchandised in typical Costco style: shipping cardboard boxes stacked together, prelabeled by the manufacturer.
The second end-cap features related bedding items, also at sharp prices: Sleep Innovations' Novaform memory foam 14-inch mattresses at $499.99; MultyRugs polypropylene floor runners at $9.99; Divatex's "tranquilnights" sixpiece sheets sets, available in more than a dozen solid color and printed pattern styles, at $19.99 for a queen; and 40-by-72 jacquard beach towels by Kirkland for $11.49.
Inside the aisles is where sheet sets, towel ensembles, kitchen towel packs, decorative pillows and rugs reside.
Sheet sets spill over into the aisle from the end-cap. About half of the mix comprises Divatex's sets, and the other half is a higher-end collection of sets — some of them by Charisma for $39.99, others in Costco's Kirkland private label brand for $59.99, both in queen size.
More than half of the full aisle along one side is dominated by Charisma bath towels, hand-towels two packs, washcloth packs and bath sheets. Color options are solid and neutral — ivory, dark gray, dark brown and beige.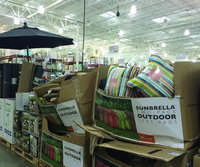 Outdoor dec pillows donning the Sunbrella brand are available in two-pack sets and a variety of striped and botanical patterns. They are merchandised alongside other al fresco furnishings, including umbrellas and PET-fiber rugs that are priced at $19.99 for a 6-by-9.
Farther along the aisle, after several luggage sets in bright colors, shelving is occupied by a sampling of nubby "comfort shag" rugs by Carpet-Art-Deco in three solid colors — white, beige and gray — for $149.99.
More beach towel styles come next, including a Charisma assortment for $9.99 each and soft-hued tropical patterns on Tommy Bahama cotton styles for $16.99 a piece.
After that, it's all about kitchen towel 10-pack sets dubbed "Chef's Pantry" and sixpack set of bath towels and 24-pack sets of washcloths — both by Welspun.
A splash of color in this otherwise solid-colored and neutral palette of products is created by a box of Brentwood dec pillows, which come in two-color spring/summer patterns and are packaged in sets of two for $15.99.
Seasonal accessories are also part of Costco's current home fashion mix. But these items are merchandised with other colorful, fun-in-thesun items in the center of the racetrack, nestled among the beach chairs, beach umbrellas and tent, and big patio storage containers. This is where shoppers will find a variety of solid-colored and textured PET-fiber 6-by-9 rugs, available in charcoal and beige, for $19.99, and Sunbrella-branded dec pillow two-pack sets in a variety of styles for $19.97.
With soft home fleshing out in response to members' demands, the next line of business for Costco is going to be the addition of furniture pieces, one clerk told H&TT during a recent store visit.
But will Costco's current fleet of alreadyjumbo shopping carts have enough room for family packs of beef, frozen lasagnas and 36-beer packs with all these rugs and pillows taking up space?
Maybe the groceries can wait for another trip.
advertisement
Related Content By Author
advertisement
advertisement
Other Home Furnishings Sites