Microplane rethinks the box
Russellville, Ark. – Microplane is reimagining the traditional box grater with a new version that is truly cube-shaped.
The company, which is celebrating its 20th anniversary, is offering the diminutive 3.25-inch-by-3.25-inch Cube Grater, which features three of Microplane's best selling surgical steel blades in fine, ribbon and coarse to grate soft and hard ingredients.
Key features also include a transparent cover that doubles as a catch feature with 1.5 cup capacity and measurement marks on three sides.
The fine blade is ideal for grating citrus without lifting the bitter pith underneath the peel. The fine blade also excels at grating aromatics, such as shallots, onions, garlic, ginger, and, and transforming Parmesan cheese into powdery mounds for garnishing pasta and other savory dishes.
The ribbon blade, which grates in both directions, is the ideal tool for grating chocolate, apple, soft and hard cheeses, and vegetables for a beautiful salad -- such as onion, cabbage and zucchini.
The coarse blade is the best match for grating medium to hard cheeses, such as Parmesan, Romano and cheddar, as well as grating a wide range of fruits and vegetables, from apples and coconuts, to carrots and potatoes. The new Microplane Cube Grater comes in black, red and green. It will be available at retail nationwide in August at $19.95 suggested retail.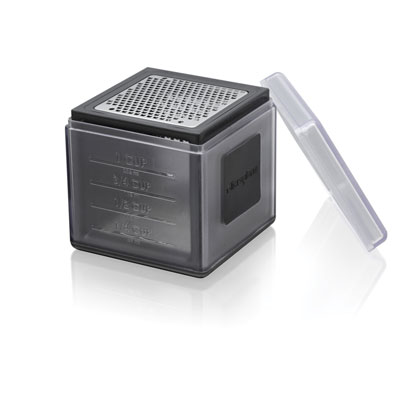 The new cube grater from Microplane's features three blades.
advertisement
Related Content By Author
advertisement
advertisement
Other Home Furnishings Sites