Show Business
The 2015 winter/spring trade event season will offer new products, trend forecasts and educational sessions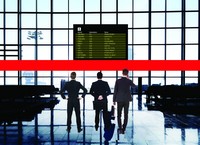 Coming off what was at best an uneven third quarter at retail and heading into a brutally promotional holiday season, exhibitors and attendees preparing for the upcoming crop of trade shows will have plenty to talk about.
There's the issue of West Coast ports and how to work around any future work slow-downs or strike threats. With polyester pricing in China inching up recently, product developers may once again find themselves recalibrating the ingredients in their blends. And Europe's weakened economy could prompt manufacturers heavily concentrated on the market to seek opportunities elsewhere.
In the meantime, there will be new products to introduce, new trends to explore and new accounts to pursue. Here,
H&TT
presents a brief run-down of the highlights for key shows of importance to the industry during the first half of 2015.
January
6-13
The atlanta international gift & home furnishings market
AmericasMart,
Atlanta (800) ATL-MART or (404) 220-2437
AmericasMart will unveil its Floor 15 expansion this January. As of press time, nine exhibitors were committed for the debut. The development is a major expansion for Americasmart's home furnishings product mix, adding more than 100,000 square feet of space created for high-end furniture, lighting and accents.
The first showrooms anchoring the new Home & Design floor include: Design Legacy by Kelly O'Neal, Codarus, Gabby, Bliss Studio, Calvin Klein by Veronica Flam, Rene Cazares by Veronica Flam, Lowcountry Originals , Jamie Young Company and Wendover Art Group with more to come. The floor will also feature recognize Home brands including: Abyss, Bandhini Homeware Design, Barbara Cosgrove Lamps, Bella Notte, Benson Cobb Studios, Couture Lamps, Dash & Albert, Fresh American, Gilded Nola, Habidecor, Lili Allessandra, Low Country Luxe, Moss Studio, Pine Cone Hill, Pom Pom at Home, Square Feathers Home, Waylande Gregory and Zoe Bios Creative.
The centerpiece of the floor will be the new Designer Workspace created to accommodate the on-site client consultation both during market and in daily non-market visits. The 6,000-square-foot space will support the opening of the expansion of the home furnishings product mix through the addition of more than 100,000 square feet of space created for furniture, lighting and home accents.
All Floor 15 showrooms will be open Monday through Friday between markets so buyers and designers can access the product throughout the year. The collection joins an additional full floor of design-focused home accents and furnishings on Floor 14 as well as six floors of Home Accents, furnishings and fine linens products, four floors of integrated home and rug collections, and five floors of holiday, floral and home décor product in AmericasMart Building 1.
7-10
The atlanta international area rug market
AmericasMart
Atlanta (800) ATL-MART or (404) 220-2437
Enhancements to AmericasMart will be be ready for the January markets. This includes a new Floor 6 bridge between the Home & Rug collection in Building 1 and the Gift collection in Building 2. Highlights for January's event include new and newly expanded area rug showrooms and new product introductions.
New exhibitors this year include:
■ Azad Rug Co., Building 1, 4-G-3
■ String Theory Rug & Textile, LLC, Building 1, 5-D-1
■ South Africa's Lifestyle Hub, Building 1, 5-E-16
■ Sultanhan LLC, Building 1, 3-D-14
Exhibitors expanding or relocating for this market include:
■ Aminco, Inc., Building 1, 4-E-6
■ F.J. Kashanian, Building 1, 4-E-5
■ Kalaty Rug Corp., Building 1, 4-E-9
■ Kas, Building 1, 4-C-5
■ Kashee Brothers, Building 1, 4-E-12
■ Loloi Rugs, Building 1, 4-D-2
■ Mastour, Inc., Building 1, 5-E-10
■ Momeni, Building 1, 4-B-2
■ Stylecraft, Building 1, 4-A-2
The annual America's Magnificent Carpets Awards will be held Jan. 9 at 6 p.m. at The Westin Peachtree Plaza. Visitors can view the winning rugs and meet the designers at the inaugural Breakfast of Champions on Saturday, Jan. 10 from 10 a.m. to 11 a.m. at AmericasMart Building 1, Floor 4, 4-B-1.
The market will once again include the National Oriental Rug Show Jan. 7-10, with the Temporaries area open Jan. 8-10.
14-20
Dallas total home & gift market
Dallas Market Center, Dallas
Tens of thousands of buyers are set to visit Dallas for the Total Home & Gift Market. The latest trends in home decor, accessories, gifts, furniture, holiday and seasonal items, gourmet food, floral, stationery, toys, jewelry, and fashion accessories will be on display. Dallas Market Center also offers special events, seminars and networking opportunities during the show, which will have a Thursday through Saturday date pattern.
The Grommet, an influential platform for launching new and innovative products, will debut in Dallas for at the Dallas Temp Show, Jan. 15-18 during Total Home & Gift Market. The company's mission is to launch undiscovered products from the Maker community. The Grommet Wholesale will be located in Lifestyle Temps (World Trade Center 12th floor), bringing 40 new-to-market products including unique gifts, innovative gadgets, items made in the USA or handcrafted locally, as well as products that are eco-friendly or crowd funded.
Another highlight at market will be an appearance by Bravo's Jeff Lewis. Lewis is regarded as America's most well-known house flipper and designer, transforming homes on Bravo's "Flipping Out" and "Interior Therapy." He will participate in a moderated Q&A session at the World Trade Center (WTC) Hall of Nations on Friday, Jan.16 at 1 p.m. and also appear at Codarus, WTC 5-546, for a meet and greet in celebration of the company's 10th anniversary.
14-17
Heimtexil
Messe Frankfurt
Frankfurt, Germany
+49 69 75 75-0
heimtextil.messefrankfurt.com
In a major change, the Trend Hall will relocate from Forum 0 and will be expanded under the banner of 'Theme Park' in Hall 4.0 in the middle of the Frankfurt Fair and Exhibition Centre. An exhibition highlight is called 'Experience' that will present the latest developments in textiles design. The Material Gallery section of Theme Park will offer a selection of the exhibitors' fabric collections and an overview of the latest home-textile trends, including the latest color trends.
Heimtextil will also expand the offering of digital printing products in a special section in Hall 4.0. Major suppliers of technologies and machines for digital textile printing will include HP, Reggiani Macchine, POD – Equipamenta, Durst Phototechnik, Kornit Digital Europe, Epson Europe, Xeikon International, Digital Graphics and J. Zimmer. According to the most recent figures a total of eleven exhibitors will be presenting their innovative printing techniques (2014: six exhibitors).
The World Textile Information Network (WTiN) and Messe Frankfurt will hold the 2nd annual European Digital Textile Conference on Jan. 15 in Hall 4.0, Europa Room. The presentations will be made in English. Topics will include: market figures and trends, advantages of digital printing over screen printing, new machines and technologies, printing on fabrics made of polyester, cotton and cellulose fibers, optimum color management and fabric pre-treatment, the use of modern print heads and successful examples of digitally printed home textiles.
More than 180 international exhibitors will be presenting creative designs for home and household textiles in hall 4.2, amongst them some new studios being represented at Heimtextil for the first time. They will be showcasing their work in a newcomer area created especially for them.
For the first time, Heimtextil will be presenting the Young Creations Award: Upcycling. Students were asked to create pieces for interiors out of recycled materials according to the principle of sustainability. Visitors to hall 4.2 will judge the projects on display on site.
18-22
Las vegas market
World Market Center, Las Vegas
(888) 416-8600 or (702) 599-9621
The market will launch its new C5 floor to January 2015, about six months earlier than originally planned. The floor was initially set to debut during the summer 2015 show as part of the third and final phase of Las Vegas Market's three-year strategic growth plan.
A hybrid of permanent showrooms and temporary exhibits, C5 will feature high-end home décor, home textiles and accessories.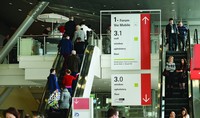 Heimtextil plans to step up its digital printing space.
For its debut, C5 will include a presentation of boutique showrooms featuring home textiles and accessories resources alongside home-focused temporary exhibits in five categories. The home fashions product mix on C5 will include top-of-bed and coordinating bedroom ensembles, portable lighting, wall art, decorative accessories, floor coverings, accent furniture, decorative pillows and other accessories.
The launch will be anchored by vendors transitioning from temporary exhibition spaces into permanent showrooms, as well as newcomers to the market. Companies confirmed to participate include Amity Home, Festoni, Gold Leaf Design Group, Mitchell Black, Oliver Gal, Phylum, Pillow Bar, Ro Sham Beaux, Softline, Tommy Mitchell and Watson & Co. In total, about 25 new showrooms are expected to debut in 40,000 square feet.
Ultimately, C5 will feature an additional 30 new home textiles and home décor showrooms with over 60 more permanent showrooms to be added for Summer 2015.
Four categories of home-focused temporary exhibits – Gallery, Home, Style and Textiles — will remain on C5 for the winter 2015 market before relocating in summer 2015 to the Pavilions, existing permanent tent structures on the Las Vegas Market campus.
23-27
Masion & objet
Parc des Expositions, Paris-Nord Villepint Paris
(212) 564-0404
Maison & Objet is celebrating its 20th anniversary this January. The show will present the theme "Make," which will be expressed in the areas of "Nature Made", "Human Made" and "Techno Made."
The semi-annual event draws buyers, architects, interior designers and journalists from around the globe. Design, furniture, accessories, home textiles, tabletop and other categories are among the show's highlights.
Its Observatoire de la Maison identifies innovative ideas. The Designers of the Year and Talents à la Carte will once again be featured. Maison's lecture series will explore major themes by international experts, offering exclusive and forward-looking information on design trends.
The event will also provide a space to six up-and-coming names in the world of design present their work to professionals from around the world. A selection of six young Mexican designers will be showcased.
Jan. 31-February 4
Ny now
Jacob K. Javits Convention Center
(914) 421-3200
More than 2,800 exhibitors will include an anticipated 400 new companies for the winter 2015 edition of NY Now. As of press time, nearly 20 new and returning exhibitors have confirmed their participation in two Home Collection categories – Home Furnishings + Textiles and Tabletop + Gourmet Housewares. Newcomers for the winter 2015 edition include: Artifacts Trading, Oohlong, Paliwal GDR Homestyles Pvt Ltd., Ro Sham Beaux and Trillium Collection within the Home Furnishings + Textiles category; and Benguela Trading, Farmhouse Pottery, Hella Bitter, Island Stoneware, Joseph Wesley Black Tea, Livliga, Maryland China, Merritt International, Monbento, Mottahedeh & Company, Pfielring of America, Q-Squared, Sertodo Copper and Silver Needle Tea Company within the Tabletop + Gourmet Housewares category.
Educational sessions and after-hours events are also on tap for the show. In addition, awards for product excellence and special feature displays will spotlight and celebrate the industry's best product designs in several categories. Industry experts will share design and color trends, social media and related marketing strategies, the basics of importing and other business-building advice.
Four seminar "tracks" — Handmade, Home, Lifestyle and New! Ideas — are designed specifically to complement NY Now's collections. Nearly 40 sessions are planned to address issues and opportunities. Most sessions cost $20 in advance, and $25 onsite, and advance registration is suggested. To register and access more information, visit www.nynow.com/programs.
The show will also feature three special products displays, including the debut of a special NY Now New! Preview Display spotlighting products from exhibitors new to NY Now and the market's three collections: Home, Lifestyle and Handmade. For the first time, the "Made in USA" display will be curated by CRAFT (Craft Retailers & Artists For Tomorrow), showcasing the best in handcrafted and factory-produced American-made home and lifestyle products. The SustainAbility: design for a better world display will feature eco-friendly and socially-responsible home and lifestyle products and producers.
March
7-10
International home+ Housewares shows
McCormick Place, Chicago
(847) 292-4200
This year's show will feature more than 2,100 exhibitors from 34 countries, and more than 20,000 buyers from over 100 countries. This includes 400 companies new to the show.
According to the International Housewares Association (IHA), the show's owner and operator, the show was already 90% sold out as of late October. A Power Hour from 5:30-6:30 p.m. on Saturday through Monday offers exhibitors and buyers an opportunity to extend meetings for an additional hour after show closes. Appointments for Power Hour are encouraged
A sampling of first-time companies as well as some well-known suppliers returning after an absence includes:
Dine + Design Expo: Beeline Creative, Carmie's Kitchen, Cosmoplast, Primitives by Kathy, Rigamonti Pietro & Figli s.r.l., Sambonet, Shiraleah, Stone Candles and Terre Etoilee.
Discover Design: Black + Blum, Crow Canyon Home, Fiskar Brands, iittala, Neolid, New Soda and Poppin.
Wired + Well Expo: Brita, Brookstone, Kenmore (floor care and small appliances), LauraStar, Maytag Vacuums, Smeg and Taurus.
Clean, Contain + Sustain Expo: Addis Housewares, Ltd., Grund America LLC, Moda At Home, Inc., PetSafe, Primetime Petz, SimplyKleen™, Ultimate Shield and Wenko.
23-26
New york home fashions market
New York showrooms
(212) 297-2122
The showroom-based market for volume retailers and suppliers will get started with H&TT's semi-annual Kickoff Party on March 22 from 5:30-7:30 p.m.
May
12-15
Maison & Objet Americas
Miami Beach Convention Center
Miami Beach, Fla.
(212) 564-0404
Making its first foray into North America, Maison & Objet Americas will touch down in Miami Beach for its inaugural event. The show is designed to bring together designers and interior professionals from North America and Latin America.
The show will be deliberately limited to 200 selected brands in order to guarantee a certain level of quality with an offer that will appeal to professional visitors. Applications will be approved by a selection committee based on criteria including level of creativity, show design, brand awareness and commercial presence in the region.
Maison & Objet Americas will be presenting a Designer of the Year award. The winner will be selected from among top American designers who have distinguished themselves in their design fields and will be invited to design a dimension of the Miami Beach show and serve as an ambassador for Maison&Objet Americas. Americas Rising Talents, a showcase of six of the region's hottest new creators, will also be spotlighted
Miami will also be the site of The Interior Design & Lifestyle Summit. This series of conferences will offer visitors an opportunity to decipher current and future trends and see what the most prestigious designers are working on.
As with Maison's Paris edition, furniture, objects, lighting, tableware, furnishings, upholstery fabric, decorative accessories, linens, materials and decoration concepts will be represented.
May
16-19
International Contemporary Furniture Fair (ICFF)
Jacob K. Javits Convention Center
New York
(800) 272-7469 or (212) 204-1060
More than 31,000 interior designers, architects, retailers, representatives, distributors, facility managers, developers, manufacturers, store designers and visual merchandisers are expected at the 27th annual edition of the ICFF in May. More than 600 exhibitors from 38 countries are slated to attend.
Categories including furniture, carpet and flooring, textiles, wall covers and materials will be represented. Special exhibits and events including talks and the annual Editors Awards will also be announced in early 2015
17-19
Surtex
Jacob K. Javits Conventions Center,New York
(914) 421-3200
Surtex is expecting more than 325 exhibitors from the United States, United Kingdom, Europe, Japan and America. Attendance of 6,000 from 49 countries is also projected.
The event is set to showcase artists, designers, studios, agents and licensing firms selling and licensing art and design for a multitude of product end-uses: decorative fabrics, linens and domestics, contract textiles, wall coverings, floor coverings, apparel textiles, stationery, greeting cards, gift wrap and other paper products, tabletop, giftware, toys, ceramics, packaging and publishing.
The conference program for 2015 has not yet been announced, however the educational sessions conducted at the 2014 edition are available on video through the Surtex website. Surtex will once again host Trend Theatre with daily presentations focusing on the latest trends impacting home and accessories, textiles, tabletop, fashion, paper, stationery, packaging and gifts. Schedules of additional networking and social events will be available online.
19-23
Evteks
CNR Expo, Istanbul, Turkey
+90 212 465 74 75
Evteks expects to receive more than 130,000 visitors from Europe, America, Asia, Russia, the Middle East and Africa for its 21st edition. Over 1,000 exhibitors will be on hand.
While more details about the 2015 edition will soon become available, the Trend Area will present design directions. In addition, the show will present Dizanyist, a special section of the show devoted to international design studios. The show will also feature a series of educational trend sessions.
The latest designs and innovations in wall coverings were presented by exhibitor companies in WALLart special section for the first time in 2014
31-June
3 Showtime Fabric Fair
Market Square, Textile Tower
High Point, N.C.
(336) 885-6842
The largest decorative fabrics event in the Western Hemisphere was just beginning its winter show as this issue went to press. Events for the summer show will be announced closer to the show date.
Showtime hosts more than 800 buying companies and offers an online appointment format to help attendees schedule their visits.
Related Content By Author
Live From New York: Fashion Comes Across the Pond

More Videos
Subscribe to
Home & Textiles Today eDaily
Receive the news you need to know about the trends in the industry delivered right to your inbox.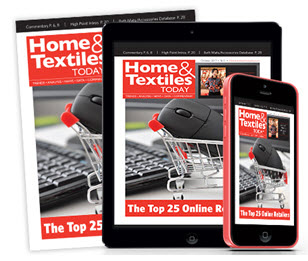 See the October 2017 issue of Home & Textiles Today. In this issue, we look at the Top 25 Online Retailers. H&TT's exclusive annual ranking of the biggest online sellers of home textiles finds that while pure play etailers continue to fly, bricks & clicks are digging into omnichannel. See details!