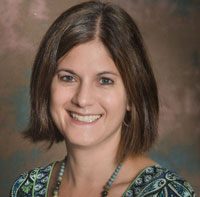 Mismatched sets and perfect imperfections
June 16, 2014
Maybe I saw one too many matching sets. Or maybe I heard the phrase "coordinating pieces" once too often. Whatever the reason, at a trade show this spring I found myself drawn to housewares that didn't match perfectly.
Take the Sophie Conran Christmas Collection from Portmeirion, which has a set of four cups and saucers with four different patterns. It's a found-it-in-the-flea-market look, which if you tried it, is not easy to pull off, unless you have the right eye and loads of confidence or you are a magazine editor. Putting it together for the consumer takes some of guesswork out – but there's still an element of sophistication required to appreciate such a look.
"Our intent was to provide a collectable holiday set inspired by Sophie Conran's vintage antique finds. Setting a holiday table with a few select items not only makes it festive, but also handcrafted in feel, as if each item has its own special story and value. There's a lot of interest in this pattern which will be available online and in retail stores this fall," said Wendy Motlaq, corporate vice president for Portmeirion Group.
But not all retailers appreciate a mismatch. "A table reflects personality, you have to be bold," Daniel Da Silva , president of Vista Alegre USA, told me. The company, which has fashion cred with its Christian Lacroix line, also offers a dinnerware collection called Mix Me, intended to be mixed and matched.
Da Silva showed me a plate from another collection with a wide border created by hand. He said some stores would reject it because of the small, handmade imperfections.
There's something about imperfections, though. They signal individuality, one of a kind, vintage. Not matchy matchy.
Robinson Home Products also got into a vintage vibe with its Oneida 1899 heritage flatware pattern – the date a reference to when the company was founded. And Anchor Hocking reached back to its roots for its Isaac J. Collins 1.5 gallon drink dispenser, a square glass vessel with old fashioned embossed lettering. Who was Isaac J. Collins? The company founder, of course.
Is reaching for the past or playing up imperfections or mismatches the right move? I think so. It taps into a desire for objects that have a history. Just ask the Gap and Levi's, both of which have launched major heritage campaigns in the past. And look at the money people shell out to buy ripped and faded, decidedly imperfect, blue jeans.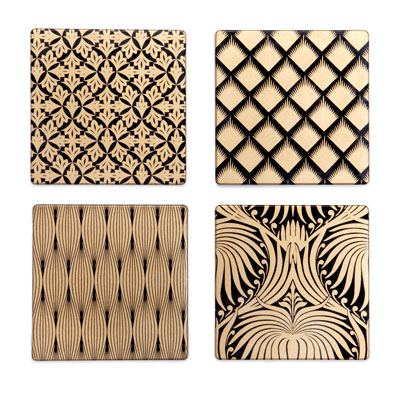 Essex coasters from Q Square work together because the patterns have the same scale and colors.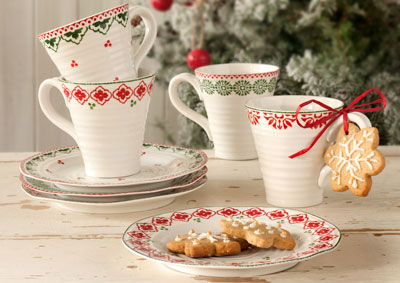 The Sophie Conran Christmas Collection from Portmeirion has a vintage feel with its mismatched mugs.