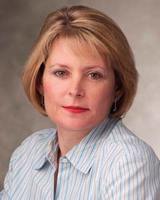 Don't Make a Face, Darling
September 16, 2013
I remember my first home textiles heartbreak, a shower curtain from Saturday Knight Ltd. Boldly colored, over-scaled flowers printed on a gorgeous white cotton cloth. Scarlett O'Hara would have yanked it off the rod and had it made into a gown.
Several months later, I encountered the piece in the real world - Kohl's bath department. The scale of the print had been knocked down a bit, the clean cotton swapped for a textured poly with something of a yellowish tint. I was horrified.
I was also being educated. Right now, boxes are arriving every day in showrooms on and around Fifth Avenue, brimming with new products that will be merchandised more lovingly and thoughtfully than they will ever be treated on the retail floor.
To make the journey from showroom to nameplate, many will also find themselves de-speced to some to degree. Often, the best and most forward-looking designs never travel beyond the supplier's display space.
As has been noted here before, many companies pin their hopes on Bed Bath & Beyond and Macy's, in that order. But it's a big world out there, and the rapid expansion of ecommerce makes it even more so. Off-pricers are only now getting into the game, creating huge new venues for product.
So it's best not to get too snotty about it all - a reminder that arose during a recent episode of "Project Runway."
Contestants were challenged to make fashionable work-out wear. After the winner was announced, fashion designer Zac Posen, one of the judges, suggested the top garment might be a good item for a home shopping retailer. The winning contestant's face bunched into a scowl, her head wagging emphatically. Cue fellow designer Michael Kors, who knows a thing or two about selling to the masses."Well, don't make a face, darling," he admonished. "You want the register to ring? Trust me, it's a good thing."
Which brings us back to that beautiful shower curtain. I'll wager Kohl's knows more about its customers' preferences than I do, and if the final product was a watered down construct of the original, the shopper is none the wiser. I hope it blew out the door.