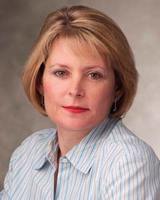 Vicki Payne: Consumers living "smaller" in their homes
March 15, 2011
Vicki Payne, the host of the syndicated program "For Your Home," is spending a few days in the Royale Linens showroom at 7W for the launch of her bedding line there.
Since she deals with all areas of home - from construction and remodeling to decorating - I asked her what broad lifestyle trends she's seeing in home.
"People are living smaller - they're right-sizing their homes," she said.
Although people are moving into smaller homes, "they're going to get so much more use out of the space now."
Yesterday's furniture is too big, she adding. One of the biggest selling mattress sizes now is twin because rooms are becoming more multi-purpose, she said.
"We're also starting to take the labels off our rooms," said Payne. "Maybe you never use that formal dining room, but you need a space where your kids can have work stations and you can keep an eye on what they're doing on the computer."
She added: "For the first time, we're saying we don't have to do it the way our parents did it - that no-touching living room. The younger generation gets it."
Window treatments are getting less formal. Kitchen cabinets are going back to white, but also showing up in green or red.
The theme of her show last season and this season: "I Love My House Again."
Payne also has some nifty tips for decorating that I will definitely be e-mailing to my sisters and friends once market week wraps. Here are three:
Shop your home. "The best store in the world is in your home," said Payne. "You have all these things you haven't used and can repurpose." An example: the nice wooden salad bowl you only bring out for company. Fill it with fresh lemons and pop it on the coffee table.
Redecorate with what you're already using. Take every lamp in the house and put it in the dining room. Move them all back out - but in a different room than the one they'd been in before. "You'd be surprised what a difference it makes," said Payne.
Freshen up décor seasonally with on-hand items. Pick a color of the season; pull out every bowl, plate and platter you have in that color, then use them as décor pieces - including hanging a piece or two on the walls. "The two best places to update your look are the front foyer and the fireplace mantel," she said.
Payne will be at Royale Linens through Wednesday.