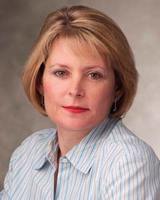 A Day at the NY Gift Fair
January 27, 2009
I spent yesterday at the Javits Center, concentrating on the Home Textiles Market area if the New York International Gift Fair.
Exhibitors who had also shown at the Atlanta International Gift Fair earlier in the month reported better traffic in  New York opening day, which was Sunday, Jan. 25. The traffic yesterday struck me as fair, with the larger and more established suppliers such as Sferra, Peacock Alley, Pine Cone Hill et al appearing to be constantly busy.
As is always the case, smaller and newer exhibitors had hit and miss business, although I saw a lot of people writing orders. I was told by several exhibitors that retailers still aren't re-ordering at 100%. 
A few exhibitors complained about the ratio of interior designers to retailers, but I found one or two who are able to supply the true one-sie business that is the interior design trade. One vendor of hand-crafted throws explained that while an interior designer only pieces one piece at a time, he or she might buy up to four or five pieces over the course of the year — roughly equivalent to the amount of annual business the vendor would do with a boutique retailer. 
With economic woes hitting even luxury consumers, several exhibitors noted ways in which they were featuring basics, offering new simple fashion top-of-bed that can refresh existing lines, and/or working on fast-ship or drop-ship programs to lighten the load on inventories for retailers.
I had hoped to get out to the piers and showrooms today but have gotten bogged down in the office. I hope to get out into the market tomorrow morning and will follow up with what I see.