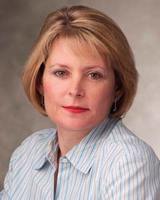 Market Week -- First Impressions
March 8, 2009
Remember a few years ago when seemingly everybody had at least one thing in their showrrom that was an interpretation of Shabby Chic? Now it's Anthropologie.
That's the read I've gotten so far from a series of market preview appointments we had last week. Here are a few other top-of-the-head impressions based on  what I've seen so far:
Color is back with a vengeance. Deep, rich blues. Aubergine. Lavender. Oranges. Peeps of yellow. Pale gray. Platinum. Brown, brown and more brown paired with blue, blue and more blue.
Nature-inspired prints and embroideries.
Shiny cotton.
Linen blends and faux linen.
Metallic threads subtly applied.
Velvet accents on top of bed. Also in coordinate dec pillows.
In throws: sherpa backed with whatever.
Contemporary quilts.
Solid color coverlets with geometric stitching techniques. Speaking of which: asymmetrical rings.
Big emphasis on packaging to create endcap items or giftable sets. Some companies combining textiles with other home goods — flower pots, beach totes, mixing bowls, etc.
Commitment to 100% organic constructions when there's a relevant brand identity to anchor it. Otherwise, more of a swing toward sustainable fibers blended with cotton.
I've seen two patent-pending introductions so far and one patented item. Hope its a trend.
More impressions throughout the week as market appointments progress…