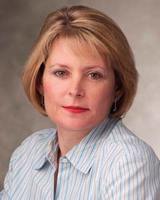 Heimtextil Day 2 - A Visit to the Trend Forum
January 15, 2009
The consensus so far holds there are no emerging trends evident on the floor or in the art section, save a slight elevation in color. That doesn't mean people aren't buying art. It's that as yet I have not run into anyone who has had a "Eureka!" moment.
I visited the Trend Forum this morning and must preface my remarks with the caveat that I am far more sensitive to the whiff of a potential news story than a subtle gradation from peach into coral. This eye does not detect the vibration of the new Next Thing.
But I can tell you what I saw in abundance, and will get to that after a brief digression to talk about a couple of really cool things I saw.
Cool Thing No.1
A gauzy, opaque synthetic (I think) that felt like a cross between felt and wool, woven to as to encapsulate what looked to me like an exploded jack-o-lantern plant (also called winter cherry or Chinese lantern plant). Each opened, flattened, faded pod took on an imperfect floral quality, and the hard, nutty bump that had once been attached to the stalk strained lightly against encompassing fabric. From Siscos. Hall 1.1 C02.
Cool Thing No.2
A pillow roughly - and I mean roughly - 50 inches in circumference and six inches deep, covered in wool cylindrical 'strands' about 1 inch in circumference. These woolen coils braid into one another as they radiate toward the center of the pillow face. I'd call the color olive with a touch of grass. By Christien Meindertsma.
Now, to things I saw in abundance in the Trend Forum:
* Loads of metallics
* Bales of gauzy fabrics with a variety of texturization techniques applied.
* Plenty puckered and rouched fabrics.
* Shags with asymmetrical yarns.
* Lots of open, mesh-like weaves.
Traffic-wise, the day got off to a much snappier start and was still holding up at mid-day when I peeled off to write this post.
Finally, an update on yesterday's mention of retailers confirmed at the show. Add to that list: Costco, Overstock.com, Amazon, Ross Stores, Kohl's and — in defiance of what everyone believes to be the truth — a small contingent of Macy's folk.
Over and out for now.