International Developments - Pakistan | Home Textiles Today
Home Alone 3

Warren Shoulberg

January 16, 2017

Just flew back from Heimtextil…and boy are my sheets and towels tired. As anyone who has visited the world's largest textiles show knows, the fair is gargantuan in size, overwhelming in scale and limitless in opportunity. It's just sorting all of that out that is the tough part. So, some off-the-schnitzel observations as the overall show is still being digested: The Guten: If you need an overall reality check on the state of the global home textiles business, this is the only place to be. And generally, that state is OK. Cotton and raw materials prices remain ...

The Thread

Jennifer Marks

January 16, 2017

Were you surprised last week when the National Retail Federation announced that holiday sales exceeded expectations? I sure was. Total November and December retail sales rose 4.0% to $658.3 billion, besting NRF's forecast. Non-store sales jumped 12.6% to $122.9 billion, again higher than NRF's forecast. Out in the stores it sure didn't feel like it. But then again, take a look at the non-store growth. Trying to figure out what's going on with U.S. shoppers was a common topic of conversation at Heimtextil last week. What do they want? Why aren ...

The Thread

Jennifer Marks

January 4, 2017

Last summer I got a call from a reporter working on Inc. magazine's annual "Fastest Growing Companies in America report." What, she wanted to know, could I tell her about eLuxurySupply.com. Who? As it turned out, eLuxurySupply.com clocked in as the 4th fastest growing company in the country. The Indiana-based seller of bedding, bath, home and garden products generated a revenue spike of more than 26,000% in 2015, ending the year with $30.6 million in sales. The e-comm retailer will mark its eighth year in business in 2017. That's emblematic of the state of ...
All Blogs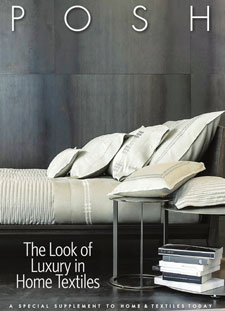 Welcome to POSH, the new publication on the luxury home textiles market from Home & Textiles Today. Take a look and you'll see features on fashion, but there's also much more on demographics, marketing and trend directions. And watch for the debut later this summer of the POSH e-newsletter as well as the next print edition this winter. Click on the cover image above to take you to the digital edition of the very first POSH.
See the issue.
CGTA Gift Show

January 29, 2017 - February 2, 2017

Toronto, CA

Intirio

January 29, 2017 - February 1, 2017

Gent, BE

NY Now

February 4, 2017 - February 8, 2017

New York, NY
More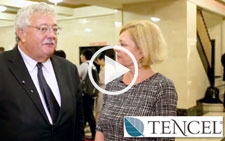 Join HTT Editorial Director Warren Shoulberg and Editor-in-Chief Jennifer Marks as they report from the Fall 2016 New York Home Fashions Market. Each day they will share news about the trends coming out of showrooms and the hot topics of the market week. See the videos! Video coverage sponsored by Tencel.