Home Textiles Merchandsing - Retail & supplier news
News covering home textiles product development, merchandising and in-store presentation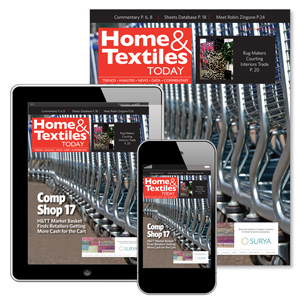 See the June 2017 issue of Home & Textiles Today. In this issue, we discuss how U.S, ports are gearing up for the future, and what to expect from second half trade shows. See details!
On The Beat

Cecile Corral

June 16, 2014

Hispanics are good for the home furnishings business, says a recent report titled "Upscale Latinos: A Bright Outlook for High-End Marketers." These "upscale Latinos" fall within the $50,000-$100,000 annual income bracket and tend to have a "consistent level of optimism about safety, well-being and wealth creation," according the report released in late May by Neilsen and the Association of Hispanic Advertising Agencies (AHAA). That level of consumer confidence leads to increased spending levels that "make this segment an imperative to the U.S. economy and prestige brands," the report notes. Here are some encouraging take-ways from the ...

The Thread

Jennifer Marks

February 18, 2014

There are a lot of things one can dink Sears for. And I'd wager every opinion piece coming out of H&TT in recent years that had "Sears" in its title has done just that. Not today. Today we give Sears a tip of the hat for its recently announced In-Vehicle Pickup service. If the process works as advertised, Sears has really raised the bar on ecommerce-to-local-store integration. Here's the deal. Members of Sears' Shop Your Way loyalty program can download an app that lets their local store know they're on their way to retrieve merchandise they ...

Home Alone 3

Warren Shoulberg

February 18, 2014

If there was ever a moment for the home furnishings industry to take its turn in the technical spotlight this is it.Coming out of the huge Consumer Electronic Show last month, the talk was no longer about hi-def, 3D or how big your screen was.Instead everyone was talking about wearable tech and the Internet of Things.... two trends that play perfectly into the hands of the home textiles and housewares industries.The wearable tech talk had to do with devices you could put on your body - on your wrists, your head or various points in between - that would ...
All Blogs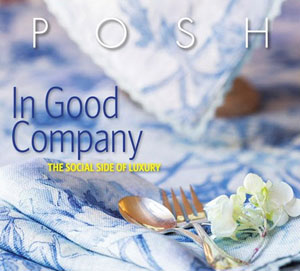 POSH marks our first anniversary with a tribute to friendship in the luxury textiles industry. Social Media is an increasingly critical component to marketing luxury brands. As explored in Social Climbers, Instagram and Facebook are proving the best paths to reach discerning shoppers.
You can also sign up to receive our POSH e-newsletter for free the first and third Wednesday of every month. Click here to start your free online subscription.
Texworld USA

July 17, 2017 - July 19, 2017

New York, New York

Home Textiles Sourcing Expo

July 17, 2017 - July 19, 2017

New York, NY

Las Vegas Market

July 30, 2017 - August 3, 2017

World Market Center Las Vegas

Las Vegas, Nevada , US
More