International Developments - India | Home Textiles Today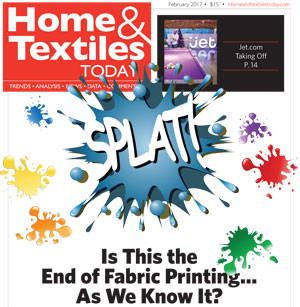 See the February 2017 issue of Home & Textiles Today. In this issue, we discuss the next era of fabric printing. Consumer demands for more personalized products and faster delivery have digital textiles printing providers feeling good about their model. See details!
Home Alone 3

Warren Shoulberg

January 30, 2017

Yes, this is yet another story about the most over-analyzed, over-scrutinized and often over-exposed generation, the Millennials, since … well, since the last over-analyzed, over-scrutinized and very often over-exposed generation, the Baby Boomers. And yes, it's written by one of those aging Boomers who somewhere deep in his subconscious probably resents the fact that the torch has been passed and life itself does not revolve around him and his co-generationals. But unlike every other endless tirade about these folks, this one is going to unlock the real truth about the Millennials and why they are having such a big impact ...

The Thread

Jennifer Marks

January 30, 2017

Here's what the future looks like for the home textiles industry. It's faster, it's more fragmented in the way it delivers products to consumers and it's more sustainable. Digital textiles printing, the subject of our February cover story, doesn't just have the potential to provide quickly produced, uniquely personalized products to the masses — it's already doing it. Jo-Ann Fabric, Spoonflower and Zazzle are giving consumers a world of fabric design options, while companies like Springs Creative work the back-end fulfillment. And if you're tired of hearing about e-commerce it's probably time to ...

Home Alone 3

Warren Shoulberg

January 16, 2017

Just flew back from Heimtextil…and boy are my sheets and towels tired. As anyone who has visited the world's largest textiles show knows, the fair is gargantuan in size, overwhelming in scale and limitless in opportunity. It's just sorting all of that out that is the tough part. So, some off-the-schnitzel observations as the overall show is still being digested: The Guten: If you need an overall reality check on the state of the global home textiles business, this is the only place to be. And generally, that state is OK. Cotton and raw materials prices remain ...
All Blogs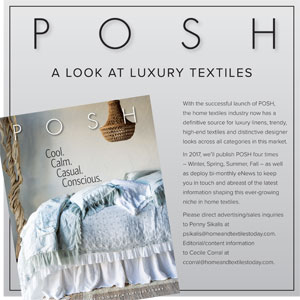 Check out the latest issue of POSH, Progressive Business Media's luxury textiles publication. Inside you'll find features on current trends in high-end home fashion, retail, demographics, marketing and product innovations.
You can also sign up to receive our POSH e-newsletter for free every 1st and 15th of the month.
Click here to start your free online subscription.
More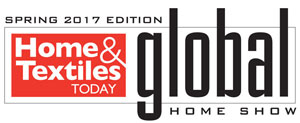 H&TT's Global Home Show is set for March 26-30, 2017. It is the ideal venue for U.S. and foreign-based suppliers looking for temporary space for Market Week. All exhibitors also get strong marketing support from H&TT, in print and online. It's the most cost-effective and convenient way to show at New York Home Fashions Week. Get details!