International Developments - Other International Regions | Home Textiles Today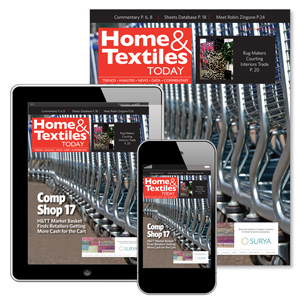 See the June 2017 issue of Home & Textiles Today. In this issue, we discuss how U.S, ports are gearing up for the future, and what to expect from second half trade shows. See details!
The Thread

Jennifer Marks

July 19, 2017

Here's a number that should make any solidly established retail entity quail: 78% of consumers would like to see more pure play retailers open physical stores. So even as some 5,000 name brand store locations are in the process of going dark, shoppers would like to see more etailers emulating Warby Parker and Bonobos. The GPSShopper survey that turned up the result also found that 86% of consumers would prefer to shop "experiential-based stores." They want to test products in person, then buy via mobile or online. Pure play bedding and bath retailer Parachute is obliging. A few ...

Home Alone 3

Warren Shoulberg

July 19, 2017

Low Tech is Better than No Tech

Remember the old industry joke about the greatest technological advancement in the history of the home textiles business? The fitted sheet. Well, maybe the punch line isn't quite as fitted as it used to be as the industry slowly — but surely — starts to embrace the role of technology and innovations in its products. And just in the nick of time, it should be added. Since about the invention of the pillow, the home textiles industry has relied on two things to sell its products: price and fashion. Often times the purchasing pendulum has overwhelmingly swung in one direction or ...

Strategic Insights

PBM Strategic Insights

July 18, 2017

Crowdsourcing: A different way of doing business

When companies crowdsource, they use an external group of people (a crowd) to obtain a needed service or idea. Different than outsourcing, crowdsourced work comes from an undefined public rather than a specific group. While first officially coined in a 2006 article by Wired magazine, the earliest example can be argued back to the mid-1800s with the collection of words for the Oxford English Dictionary when a group known as the Philological Society contracted more than 800 volunteer readers to collect words from all available books and document their usages. Click here to get complete details.
All Blogs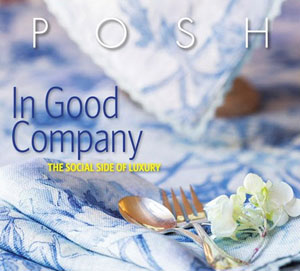 POSH marks our first anniversary with a tribute to friendship in the luxury textiles industry. Social Media is an increasingly critical component to marketing luxury brands. As explored in Social Climbers, Instagram and Facebook are proving the best paths to reach discerning shoppers.
You can also sign up to receive our POSH e-newsletter for free the first and third Wednesday of every month. Click here to start your free online subscription.
Las Vegas Market

July 30, 2017 - August 3, 2017

Las Vegas, Nevada, US

Las Vegas Market

July 30, 2017 - August 3, 2017

World Market Center Las Vegas

Las Vegas, Nevada , US

ASD/AMD Las Vegas

July 30, 2017 - August 2, 2017

Las Vegas, Nevada
More