Eco-friendly home furnishings
Product information on eco-friendly home furnishings, green design, environmental regulations, recycling techniques and sustainable forest resources.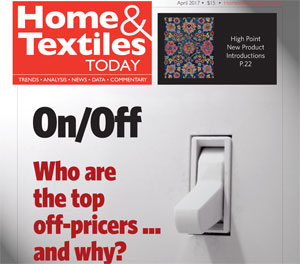 See the April 2017 issue of Home & Textiles Today. In this issue, we discuss High Point Market introductions, plus the latest trends in bedding, accessories, window, bath and rugs. See details!
Clint's Notes

Clint Engel

April 25, 2017

Amazon furniture move dings Wayfair stock? Here's why that doesn't make sense.

Furniture Today's report Monday that Amazon was pitching a new program to furniture stores at the High Point Market may have played into a 5.4% drop in Wayfair shares that day. That's according to some national business news outlets that picked up on the story. But it's not making much sense to me. Let's start with the news. Amazon representatives were here pitching a platform change designed to make it easier for furniture stores to sell on the e-commerce marketplace by dropping a longstanding requirement that these sellers must offer national delivery. Most furniture stores ...

Bedding Today

David Perry

April 24, 2017

Ergomotion, Manwah, MyPillow join High Point bedding scene

A trio of newcomers will add some spice to the bedding contingent at the High Point Market this week. Two of them are bringing products from China to High Point in an East Meets West pairing. The third features a Made in the U.S. story. The product categories these newcomers feature are adjustable beds, sharply priced mattresses and pillows. Those happen to be three popular categories these days. The newcomers are fast-growing adjustable bed producer Ergomotion, with a big manufacturing complex in China; Chinese manufacturing powerhouse Manwah; and MyPillow, the heavily promoted pillow line. Ergomotion is showing in the ...

Furniture Everyday

Bill McLoughlin

April 20, 2017

5 strategies to leverage the power of your store

Hardly a day goes by that a story isn't published somewhere about the decline of retail stores and the growing dominance of the Internet. And there's little doubt that some stores, both within the furniture space and without, will go away. However, there is a growing awareness that store-based retail offers some powerful opportunities for consumer engagement, entertainment and interaction that simply can't be duplicated by a computer screen or cell phone, as Amazon's increasing experimentation with stores attests. Furniture Today's High Point Market issue offers several case studies of retailers who are using their ...
All Blogs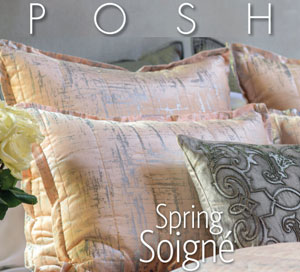 Check out the latest issue of POSH, Progressive Business Media's luxury textiles publication. Inside you'll find features on the brands, retailers and designers participating in the April High Point Market – along with the newest introductions. See the issue here.
You can also sign up to receive our POSH e-newsletter for free every 1st and 15th of the month. Click here to start your free online subscription.
More