Eco-friendly home furnishings
Product information on eco-friendly home furnishings, green design, environmental regulations, recycling techniques and sustainable forest resources.
advertisement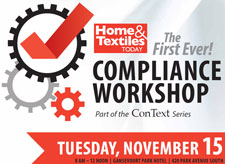 The most important issue of the decade for the home textiles industry is the subject of this unprecedented halfday session with presentations from industry authorities on standards, fiber and fabric authentication, testing and compliance processes. See Details!
One Stop Shop

Alex Milstein

December 6, 2016

Why your furniture company needs a blog and how to accomplish it

It may be hard to remember a time when blogs weren't a thing, but it's generally agreed that the first blogs started showing up around 1994. Their purpose evolved as their popularity grew, and before we knew it, personal help blogs, mommy blogs and cooking blogs were popping up left and right. Then business blogging came into play and opened up a new world. These days if you don't have a blog for your business, you're going to fall behind. Blogs build confidence, relationships and sales, spark conversation and sharpen your business focus. In the furniture ...

Furniture Everyday

Bill McLoughlin

December 2, 2016

As I sit here writing this, the Furniture Today Leadership Conference has just concluded. The focus of the conference this year was transformative change and leading organizations through it. Day one was packed with speakers describing the increasing pace of change the industry confronts and offering a plethora of strategies to confront it. Day two concluded with three bright, passionate and knowledgeable future leaders laying out a vision for tomorrow that cannot help but make one optimistic about the industry's future. We will have complete coverage in next week's paper. But sometimes the most profound learning takes place ...

Bedding Today

David Perry

November 30, 2016

'The original sleeping pill' makes a powerful point

The mattress industry needs to do a better job of marketing itself. We need a catchy slogan to help us stand out from the crowd. I hereby propose this one: The original sleeping pill.Yes, our product does deliver a better night of sleep, and thus ushers in the long list of benefits that come with that: You look better, feel better, are less likely to gain weight, perform better on tests, perform better on the athletic field and perform better in life.Who wouldn't want those benefits?But, for a number of reasons, our industry has never been ...
All Blogs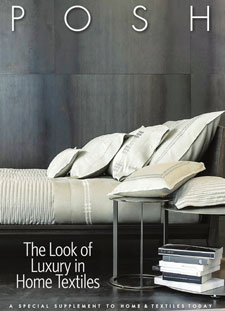 Welcome to POSH, the new publication on the luxury home textiles market from Home & Textiles Today. Take a look and you'll see features on fashion, but there's also much more on demographics, marketing and trend directions. And watch for the debut later this summer of the POSH e-newsletter as well as the next print edition this winter. Click on the cover image above to take you to the digital edition of the very first POSH.
See the issue.
More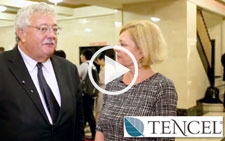 Join HTT Editorial Director Warren Shoulberg and Editor-in-Chief Jennifer Marks as they report from the Fall 2016 New York Home Fashions Market. Each day they will share news about the trends coming out of showrooms and the hot topics of the market week. See the videos! Video coverage sponsored by Tencel.
advertisement