Eco-friendly home furnishings
Product information on eco-friendly home furnishings, green design, environmental regulations, recycling techniques and sustainable forest resources.
Bedding Today

David Perry

January 18, 2017

RSAs need to master digital world

The digital world plays a vital role in the mattress shopping journey, a new research study reveals. Unfortunately, retail sales associates are not as well connected as they should be to the elements that bring success in that world. The research, conducted by Furniture/Today in cooperation with our research sponsor, Top 10 bedding producer Restonic, provides a detailed outline of the rapidly changing mattress shopping experience. Perhaps more important, it suggests specific steps that retailers can take to better compete in the online shopping world. One of the big findings of the survey is that 83% of consumers say ...

One Stop Shop

Alex Milstein

January 17, 2017

Do you talk about politics at work?

There are three things you don't talk about at work: sex, religion and politics. However, the most recent U.S. presidential election was a different story. The unusual candidates, heated debates and important policy issues made this election something many could not help but to discuss. And some people took it farther than others. Much farther. Matt Maloney, CEO of food delivery service Grub Hub, called for all employees who agree with Trump's rhetoric to resign. He claimed people that have that mindset have no place at Grub Hub. Politics can be a hard topic to avoid. In ...

Bedding Today

David Perry

January 17, 2017

China trip spotlights Ergomotion's growth story

JIAXING, China – I came face-to-face with a fierce-looking Chinese creature on my whirlwind trip to China the other day. But no worries: This creature, one of two etched in stone at the headquarters of the Shufude Electric Bed Co. here, is a mythical animal who is a symbol of good fortune. And fortune has been smiling on Shufude, which has grown into a worldwide leader in the adjustable bedding category with a focus on quality, officials told me on my quick trip to China, my fourth for Furniture Today, but the first devoted to an adjustable bed maker. I saw ...
All Blogs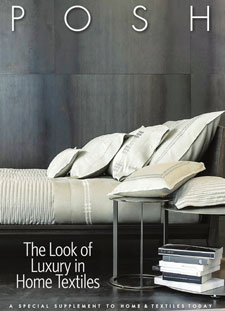 Welcome to POSH, the new publication on the luxury home textiles market from Home & Textiles Today. Take a look and you'll see features on fashion, but there's also much more on demographics, marketing and trend directions. And watch for the debut later this summer of the POSH e-newsletter as well as the next print edition this winter. Click on the cover image above to take you to the digital edition of the very first POSH.
See the issue.
Maison & Objet

January 20, 2017 - January 24, 2017

Paris Nord Villepinte

Paris, FR

Las Vegas Market

January 22, 2017 - January 26, 2017

Las Vegas, Nevada

Texworld USA

January 23, 2017 - January 25, 2017

Jacob K. Javits Convention Center

New York, NY
More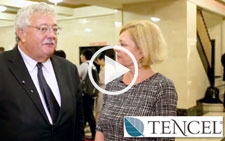 Join HTT Editorial Director Warren Shoulberg and Editor-in-Chief Jennifer Marks as they report from the Fall 2016 New York Home Fashions Market. Each day they will share news about the trends coming out of showrooms and the hot topics of the market week. See the videos! Video coverage sponsored by Tencel.