Eco-friendly home furnishings
Product information on eco-friendly home furnishings, green design, environmental regulations, recycling techniques and sustainable forest resources.
Consumer Confidence Index inches up in June

The Conference Board Consumer Confidence Index increased slightly in June from the previous month and now stands at 118.9 (1985=100), up from 117.6 in May, according to The Conference Board. More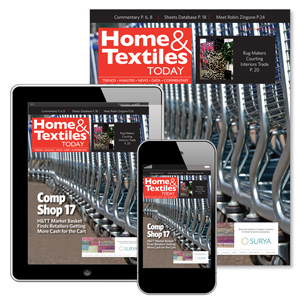 See the June 2017 issue of Home & Textiles Today. In this issue, we discuss how U.S, ports are gearing up for the future, and what to expect from second half trade shows. See details!
Bedding Today

David Perry

June 27, 2017

5 business lessons Ed Lilly teaches today

One of the highlights of our recent Bedding Conference was our presentation of a Lifetime Bedding Achievement Award to Ed Lilly, who has distinguished himself throughout his 40-plus years in the industry. During our video tribute to Lilly, which we aired during the awards dinner, we heard salutes from bedding leaders who have worked with Lilly for decades and attested to his record of achievement. They spoke of his passion, his integrity and his professionalism. As I listened to those tributes, and to the gracious acceptance speech that Lilly made a short time later, I was struck by some of ...

On the Slant

Erin Berg

June 26, 2017

A brand is not a singular thing that you do in marketing; it encompasses a number of things — both tangible and intangible — that comprise the soul of your company. What that implies is that there is a soul upon which to build a brand. Earlier in my career, I worked at ad agencies collaborating with the marketing department of companies in a variety of industries from aerospace to film and television. I can't tell you how many times we worked on brand development, and, in almost every case, it started with creating or redesigning a logo. It seems logical ...

Furniture Everyday

Bill McLoughlin

June 22, 2017

Organic eggs, Swiss chard and sofas, oh my!

What do Swiss chard, organic eggs and sofas have in common? They could all soon be ordered on and delivered by Amazon.com within a day or two, possibly within hours. The e-commerce giant's recent acquisition of Whole Foods opens up a whole range of possibilities for Amazon, not the least of which are more than 460 potential new distribution points across the U.S. in the form of Whole Foods store locations. (For more, see story on page 1). Now exactly how "soon" is soon and how fast the delivery will ultimately be are details that remain to ...
All Blogs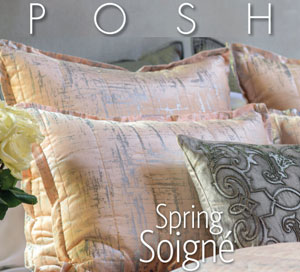 Check out the latest issue of POSH, Progressive Business Media's luxury textiles publication. Inside you'll find features on the brands, retailers and designers participating in the April High Point Market – along with the newest introductions. See the issue here.
You can also sign up to receive our POSH e-newsletter for free every 1st and 15th of the month. Click here to start your free online subscription.
More