Eco-friendly home furnishings
Product information on eco-friendly home furnishings, green design, environmental regulations, recycling techniques and sustainable forest resources.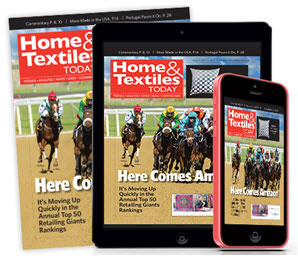 See the August 2017 issue of Home & Textiles Today. In this issue, we look at the Top 50 Retailing Giants Report, plus Manufacturing: Made in the USA gaining ground; International: Portugal ramping up exports; New products: NY Now home textiles introductions; Outlook: Commentary from H&TT's editors; and Planning: Trade show calendar.
See details!
Bedding Today

David Perry

August 15, 2017

Summer Las Vegas Market: Missed opportunity for retailers

Another Las Vegas summer market is in the books, and, as usual, reports on traffic varied widely. While I got a number of positive reviews in on-the-record conversations with bedding exhibitors, their private assessments were generally not as positive. One even went so far as to say the summer market should be "euthanized." When I asked one leading bedding exhibitor for his impression of traffic, I received this clever response: "I am amazed at the traffic." Was he amazed at how good the traffic was, or was he amazed at how light the traffic was? He wasn't saying, which ...

Mattress Math

David Perry

August 14, 2017

Furniture store reality check: A look at 4 key bed metrics

This is the percentage of selling space that furniture stores devote to bedding. Why it matters: If you can't measure it, you can't improve it. That's the key point behind our look this week at key bedding metrics recorded by furniture stores. And this is an important number for furniture stores, one that represents a good benchmark for them to examine. This is the percentage of sales generated by bedding at furniture stores. Why it matters: This is an even more important number, as it reveals bedding's ticket-boosting power. No other major category can match bedding ...

On the Slant

Erin Berg

August 14, 2017

Who's the J.K. Rowling of furniture? Learn how to tell your story

As a reporter, my job is to listen to stories and retell them. So it should come as no surprise that one of the most common statements I hear is: We have a great story, and we just need to tell it. Actually, it's not quite that simple. A story is only as good as the storyteller. Most people are not blessed with the gift of great storytelling, and there's a good reason why they call it an art. Since we're all toiling away in the furniture business short of the wealth and fame of J.K ...
All Blogs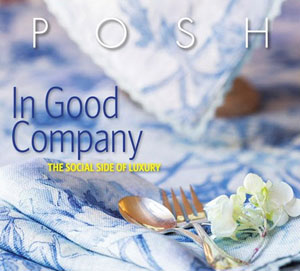 POSH marks our first anniversary with a tribute to friendship in the luxury textiles industry. Social Media is an increasingly critical component to marketing luxury brands. As explored in Social Climbers, Instagram and Facebook are proving the best paths to reach discerning shoppers.
You can also sign up to receive our POSH e-newsletter for free the first and third Wednesday of every month. Click here to start your free online subscription.
More