Eco-friendly home furnishings
Product information on eco-friendly home furnishings, green design, environmental regulations, recycling techniques and sustainable forest resources.
advertisement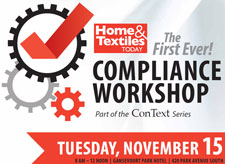 The most important issue of the decade for the home textiles industry is the subject of this unprecedented halfday session with presentations from industry authorities on standards, fiber and fabric authentication, testing and compliance processes. See Details!
#MattressTags

Thomas Lester

October 20, 2016

#MattressTags: 4 ways to sleep better

Best ways to get better sleep We all know that it's important to get a good night's sleep and that the proper mattress is a critical piece of the puzzle. Here, Steptohealth.com offers four more things that might help folks sleep better. Use them in your in-store conversations with consumers to position yourself as a sleep expert. Fostering a better community Top 100 retailer Mattress Firm does a lot of work in its communities to help foster kids. This month, it is collecting shoes as part of its Mattress Firm Foster Kids Shoe Drive, and it's ...

An Inside Look

Thomas Lester

October 20, 2016

Rug showrooms generating market buzz

Plenty of goings-on are taking place inside rug showrooms at this week's High Point Market. Buyers and designers who visit will have the chance to see big names, get a first look at plenty of new product and have the chance to cut loose and try new things after long days. A number of special guests will be in rug showrooms to help promote their branded products. In the early portion of the week, the husband-and-wife design tandem, the Novogratz (best known for shows on HGTV and Bravo), will spend plenty of time in Momeni's International Home Furnishings ...

From A Rep's Perspective

Mike Root

October 20, 2016

Make Market the Pivotal Event For Advancing Your Career

Market is a perfect time to look outside of your current situation and stretch your center of influence within the industry. There are three important Points you should focus on during this market: Product Presentation, Analysis of your Factories Fit, and Overall Networking. Point One: Certainly putting on the most professional presentation you can during market is one key to your success. Spend the time to learn the product, position it for your customers that you will see, and how the product competes in the marketplace are all important elements of a professional sales associate. If you do the work ...
All Blogs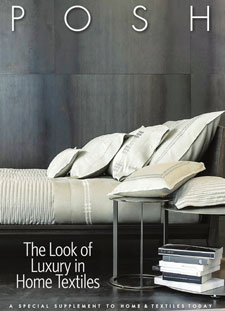 Welcome to POSH, the new publication on the luxury home textiles market from Home & Textiles Today. Take a look and you'll see features on fashion, but there's also much more on demographics, marketing and trend directions. And watch for the debut later this summer of the POSH e-newsletter as well as the next print edition this winter. Click on the cover image above to take you to the digital edition of the very first POSH.
See the issue.
More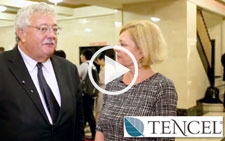 Join HTT Editorial Director Warren Shoulberg and Editor-in-Chief Jennifer Marks as they report from the Fall 2016 New York Home Fashions Market. Each day they will share news about the trends coming out of showrooms and the hot topics of the market week. See the videos! Video coverage sponsored by Tencel.
advertisement