Eco-friendly home furnishings
Product information on eco-friendly home furnishings, green design, environmental regulations, recycling techniques and sustainable forest resources.
Beaver, McHugh join FSA Logistix

Michael Beaver has joined FSA Logistix as vice president of operations and business development. He is responsible for managing existing business units as well as growing the company's final-mile furniture channel. More

Kittle's Furniture has promoted Sawyer Kittle to manager of the company's Below Market furniture store in Fishers, Ind. More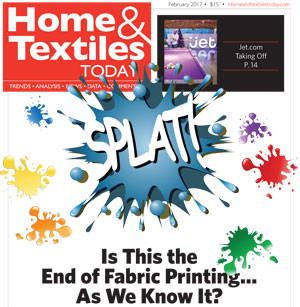 See the February 2017 issue of Home & Textiles Today. In this issue, we discuss the next era of fabric printing. Consumer demands for more personalized products and faster delivery have digital textiles printing providers feeling good about their model. See details!
Clint's Notes

Clint Engel

March 23, 2017

Retail Prophet Stephens warns furniture stores: Without a remarkable experience, "your days are numbered."

During the upcoming High Point Market, Furniture Today will delve into the topic of in-store experience and what it takes to get consumers off of that sofa and into the store to buy a new one. We'll look at unusual display and technology ideas, the leaders in so-called "shoppertainment" and the kind of out-of-the-box thinking that leads some stores to offer up more than just product and price to encourage consumers to move from the small screen and into brick-and-mortar theaters to buy. We also have an interview with retail futurist Doug Stephens, founder of Retail Prophet, who just ...

Furniture Everyday

Bill McLoughlin

March 23, 2017

When furniture and philanthropy come together

I'd like to shift gears this week from our regular focus on strategies to improve your business and instead talk about some people who are working to improve the lives of others less fortunate. On May 16, the Salvation Army of High Point will hold its inaugural Darrell and Stella Harris Champion of Hope Dinner. The event honors the long-standing commitment of Furnitureland South founders Darrell and Stella Harris, who generously supported the organization both professionally and personally. In speaking recently about the event with Captain Bobby Jackson who runs the local chapter, he recalled the deep and consistent ...

Bedding Today

David Perry

March 21, 2017

5 reasons new Herobed not just another bed-in-box

So we have yet another entrant in the ever-expanding online mattress retailer category. But this player, Herobed, says it is not a bed-in-a-box copycat. More on that in a moment. Elsewhere in this issue you'll find my news story on the launch of Herobed, the creation of brothers Jeff and Mark Quinn, who teamed up to launch Spink & Edgar USA and now add Herobed to their day jobs. They say they are combining cause marketing with a smart new mattress that delivers comfort and support for all types of sleepers in one mattress. Not surprisingly, given Mark Quinn's ...
All Blogs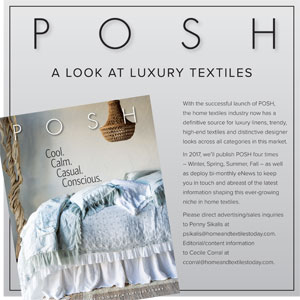 Check out the latest issue of POSH, Progressive Business Media's luxury textiles publication. Inside you'll find features on current trends in high-end home fashion, retail, demographics, marketing and product innovations. See the issue here.
You can also sign up to receive our POSH e-newsletter for free every 1st and 15th of the month.
Click here to start your free online subscription.
New York Tabletop Market

April 4, 2017 - April 7, 2017

New York , New York

DesignBloc

April 5, 2017 - April 6, 2017

New York, New York, US

Home Expo India

April 16, 2017 - April 18, 2017

Delhi, IN
More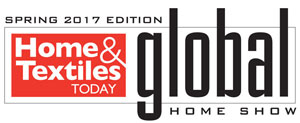 H&TT's Global Home Show is set for March 26-30, 2017. It is the ideal venue for U.S. and foreign-based suppliers looking for temporary space for Market Week. All exhibitors also get strong marketing support from H&TT, in print and online. It's the most cost-effective and convenient way to show at New York Home Fashions Week. Get details!