Eco-friendly home furnishings
Product information on eco-friendly home furnishings, green design, environmental regulations, recycling techniques and sustainable forest resources.
As the home furnishings industry grows, expands and changes form, we're witnessing the evolution of business enhanced by technology and real-time data. And, there's no better example than Moe's Home Furnishings. They're a step ahead online with visible inventory that solves for customer pain point (out-of-stock items) before the pain becomes a problem. More

January furniture store sales increase 1.2%

January sales for furniture and home furnishings retailers edged up 1.2% from the same month last year and were flat with the month before, again underperforming overall retail sales reported by the government. More

'Digital Dale Carnegie' to keynote 2017 Bedding Conference

Erik Qualman, the "Digital Dale Carnegie," will be the keynote speaker at Furniture Today's 2017 Bedding Conference here. The event is set for May 10-12 at the PGA National Resort and Spa. More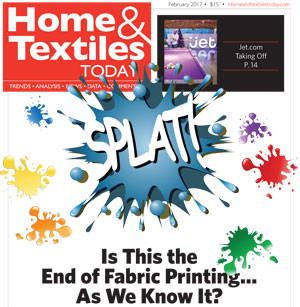 See the February 2017 issue of Home & Textiles Today. In this issue, we discuss the next era of fabric printing. Consumer demands for more personalized products and faster delivery have digital textiles printing providers feeling good about their model. See details!
Clint's Notes

Clint Engel

February 23, 2017

Four points from the Havertys 4Q call

ATLANTA — Top 100 company Havertys typically holds its cards close to the vest, but in its fourth quarter conference call with securities analysts, the retailer offered up a few interesting tidbits. Presidents' Day was good. Chairman President and CEO Clarence Smith suggested it in so many words by noting written sales for the last three weeks were up 7.5% from a year ago and that the periods included the Presidents' Day events for both years. He said the "recent strong sales helped us recover from the softer New Year's event." Havertys is expanding and remodeling. A new Greensboro ...

From Fabric to Frame

Cindy W. Hodnett

February 23, 2017

How much is that sofa in the window?

Despite the inference, this is not a blog about price. While the industry is preparing for spring markets, product introductions and logistical challenges, an up-and-coming entrepreneur in the computer science arena is developing an app that may add another layer of marketing strategy to the future business plans of furniture manufacturers and retailers. The company is Grokstyle, and the innovator behind it is Sean Bell. Bell, a Cornell 2016 graduate who is working with Prof. Kavita Bala in the field of computer vision, is in the process of creating a universal app that will allow people to identify furniture and ...

Conversations.

Dean Horowitz

February 23, 2017

Beer run, only this one was automated

With "Proudly Brewed. Self-Driven." displayed on the delivery truck, last year OTTO and Budweiser partnered on a self-driving truck test: 51,744 cans of beer were hauled 120 miles in Colorado. The senior director of logistics strategy at Anheuser-Busch said: "I see a future where this technology becomes ubiquitous; it becomes similar to automatic transmission or cruise control." Please watch this video about how the test was conducted. It doesn't eliminate human involvement in the delivery process, but it does offer a solution for our industry that has been discussed and speculated about for a few years. What do ...
All Blogs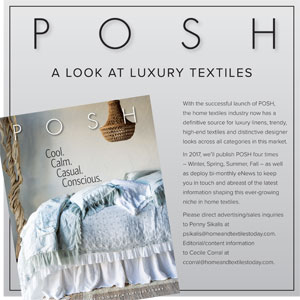 Check out the latest issue of POSH, Progressive Business Media's luxury textiles publication. Inside you'll find features on current trends in high-end home fashion, retail, demographics, marketing and product innovations. See the issue here.
You can also sign up to receive our POSH e-newsletter for free every 1st and 15th of the month.
Click here to start your free online subscription.
More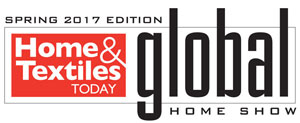 H&TT's Global Home Show is set for March 26-30, 2017. It is the ideal venue for U.S. and foreign-based suppliers looking for temporary space for Market Week. All exhibitors also get strong marketing support from H&TT, in print and online. It's the most cost-effective and convenient way to show at New York Home Fashions Week. Get details!