Eco-friendly home furnishings
Product information on eco-friendly home furnishings, green design, environmental regulations, recycling techniques and sustainable forest resources.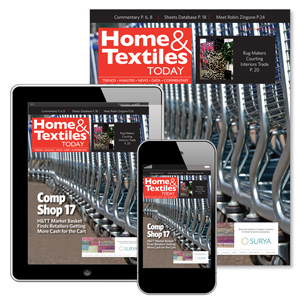 See the May 2017 issue of Home & Textiles Today. In this issue, we discuss our annual Market Basket survey, which finds higher prices and more polyester at leading retailers. See details!
One Stop Shop

Alex Milstein

May 23, 2017

5 innovations propelling the furniture industry into the future

Over the past few years, great strides in technological innovations have been made within the furniture industry, but we have only begun to see the potential of advanced technology for the industry. Here are five innovations that are just beginning to propel the industry into the future. Augmented reality. We've all heard about AR by this point. From Ikea to Williams-Sonoma, AR apps for retail are gaining ground like never before. AR's ability to show what furniture looks like in a customer's home, and even test if it will fit in a certain space, is changing the ...

Mattress Math

David Perry

May 22, 2017

6 figures document furniture store issues

A look at bedding industry issues by the numbers may shed some light on why furniture stores have been losing market share for years. This is the market share, in dollars, enjoyed by hybrids in furniture stores in 2014 and 2016, respectively. Why they matter: Hybrids, the fastest-growing mattress technology in bedding specialty stores – a gain of nine percentage points in the last two years — are also growing in furniture stores, but at a significantly slower rate. Still, a gain of five percentage points in just two years is not inconsequential. This is the market share, in dollars, enjoyed by ...

Bedding Today

David Perry

May 22, 2017

Online marketing guru Qualman sees physical stores' advantages

Erik Qualman, whose explorations of the online world have earned him the title of the "Digital Dale Carnegie," is not forecasting the end of brick-and-mortar retailers. Quite the contrary. Those retailers have "huge assets," he told me. And he cited brick-and-mortar moves by online specialists to make his point. Looking specifically at the world of mattresses, Qualman noted the importance of trying out a bed before buying. And, however compelling the marketing claims of online retailers, the fact remains that consumers can't lie down on a mattress in cyberspace. There's another brick-and-mortar store advantage. "Some people want to ...
All Blogs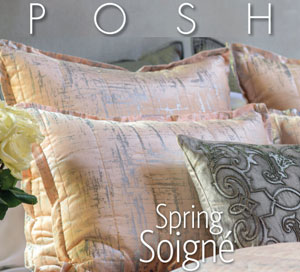 Check out the latest issue of POSH, Progressive Business Media's luxury textiles publication. Inside you'll find features on the brands, retailers and designers participating in the April High Point Market – along with the newest introductions. See the issue here.
You can also sign up to receive our POSH e-newsletter for free every 1st and 15th of the month. Click here to start your free online subscription.
Canadian Furniture Show/Salon canadien du meuble

May 26, 2017 - May 28, 2017

International Center

Mississauga, ON, US

Showtime

June 4, 2017 - June 7, 2017

High Point, N.C.

Home Furnishings Manufacturing Solutions Expo (HFMSE)

June 7, 2017 - June 8, 2017

Georgia World Congress Center

Atlanta, GA, US
More