Eco-friendly home furnishings
Product information on eco-friendly home furnishings, green design, environmental regulations, recycling techniques and sustainable forest resources.
An Insider's View

Jerry Epperson

January 20, 2017

Not too old to spend money on new furniture

My wife and I are enjoying our new condo looking over Richmond. Some days we can see the planes going in and out of the airport, which only reminds me how much I dislike flying. We have been to several social functions and visited a few neighbors. Most are older that my wife and me, or as one of my friends describes it, our condo is for "the elderly and their parents." Being as close to Williamsburg as Richmond is and being in the OLD South, we have always thought of Richmond as a dark wood, traditional furniture town. The ...

Furniture Everyday

Bill McLoughlin

January 20, 2017

Measuring time frame for change in months, not years

As you read this a new president has just taken office, bringing with him significantly different views than his predecessor. This is always true when a new administration takes office, particularly when it represents a shift from one political party to another. In this case, the change in direction is expected to be even greater as this President built his campaign around promises of dramatic change. It is always unclear following an inauguration how much of a candidate's agenda is campaign rhetoric and how much will actually translate into public policy. What is clear at this point is that ...

A Rep's Perspective

Mike Root

January 19, 2017

Winter Las Vegas Market is a chance to start the new year off right

After sitting through an ice storm this past weekend, a trip to Las Vegas does not sound like that bad of a deal. That is until I realize we are ostensibly going there to work. By some standards, what we do would not be considered work … hanging out in well-displayed climate-controlled showrooms, telling jokes while waiting for customers, enjoying the company of retailers and vendors, and going out at night to some great places (if we so choose). As glamorous as that sounds, I believe reps are the pure essence of free enterprise. We get to enjoy the largesse of ...
All Blogs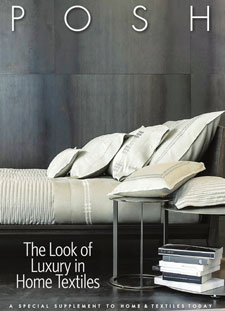 Welcome to POSH, the new publication on the luxury home textiles market from Home & Textiles Today. Take a look and you'll see features on fashion, but there's also much more on demographics, marketing and trend directions. And watch for the debut later this summer of the POSH e-newsletter as well as the next print edition this winter. Click on the cover image above to take you to the digital edition of the very first POSH.
See the issue.
CGTA Gift Show

January 29, 2017 - February 2, 2017

Toronto, CA

Intirio

January 29, 2017 - February 1, 2017

Gent, BE

NY Now

February 4, 2017 - February 8, 2017

New York, NY
More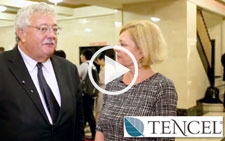 Join HTT Editorial Director Warren Shoulberg and Editor-in-Chief Jennifer Marks as they report from the Fall 2016 New York Home Fashions Market. Each day they will share news about the trends coming out of showrooms and the hot topics of the market week. See the videos! Video coverage sponsored by Tencel.