Eco-friendly home furnishings
Product information on eco-friendly home furnishings, green design, environmental regulations, recycling techniques and sustainable forest resources.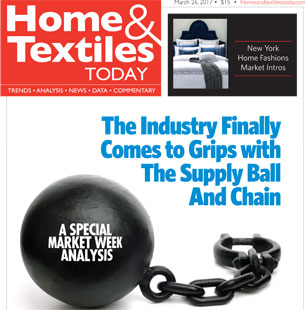 See the March 2017 issue of Home & Textiles Today. In this issue, we discuss the ther supply ball and chain, plus the latest trends in bedding, accessories, window, bath and rugs. See details!
Furniture Everyday

Bill McLoughlin

April 20, 2017

5 strategies to leverage the power of your store

Hardly a day goes by that a story isn't published somewhere about the decline of retail stores and the growing dominance of the Internet. And there's little doubt that some stores, both within the furniture space and without, will go away. However, there is a growing awareness that store-based retail offers some powerful opportunities for consumer engagement, entertainment and interaction that simply can't be duplicated by a computer screen or cell phone, as Amazon's increasing experimentation with stores attests. Furniture Today's High Point Market issue offers several case studies of retailers who are using their ...

One Stop Shop

Alex Milstein

April 18, 2017

Why your furniture brand needs to be using Snapchat

I like to think furniture brands have the upper hand when it comes to visual content platforms like Snapchat. Although many consumers like to touch and feel furniture before buying, furniture is visually appealing, and visual content platforms can emphasize that beauty. Why do you need to use Snapchat? First, the facts: Growing larger every day, Snapchat has more than 100 million daily active users and is extremely popular with Millennials and Generation Z. More than 400 million Snaps are sent every day. More than 10 billion videos are watched by Snapchatters every day, and more than 8,000 photos ...

A Rep's Perspective

Mike Root

April 18, 2017

Strategy 9: The presentation of product meeting

In my many years of working for various factories, I have seen the good the bad and the ugly of sales presentations. Since market starts this week, this column should be as helpful to the factory as it is to the rep. The good factories make sure their sales associates have all the tools they need to help a retailer make an informed decision. This includes a good picture, correct pricing, dimensions and fabric swatch if applicable. If the product mixes with other products from a certain factory, then those items that mix together should be identified. Going into market ...
All Blogs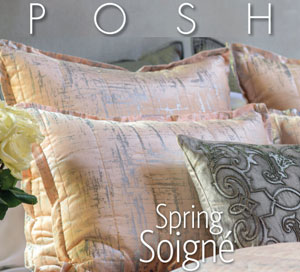 Check out the latest issue of POSH, Progressive Business Media's luxury textiles publication. Inside you'll find features on the brands, retailers and designers participating in the April High Point Market – along with the newest introductions. See the issue here.
You can also sign up to receive our POSH e-newsletter for free every 1st and 15th of the month. Click here to start your free online subscription.
More