Home Textiles store brands, private brands, national brands & designer brands
News covering home textiles brands, designers, and marketing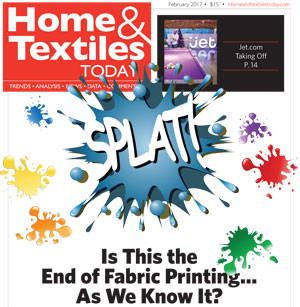 See the February 2017 issue of Home & Textiles Today. In this issue, we discuss the next era of fabric printing. Consumer demands for more personalized products and faster delivery have digital textiles printing providers feeling good about their model. See details!
On The Beat

Cecile Corral

March 10, 2015

I experienced some déjà vu this weekend while binging on the newly released Season 3 of "House of Cards" on Netflix. (NOTE: Show fans – Stop here if you don't want a spoiler) In episode 8, fictional presidential candidate Heather Dunbar, who is on the campaign trail in Cedar Rapids, gives a motivational speech to a cheering crowd of blue-collar workers on the need for Walmart to raise its minimum wage. Had she lived in the real world, she'd be about two weeks too late. On Feb. 19, Walmart said it was raising the minimum wage to $10 ...

On The Beat

Cecile Corral

November 12, 2014

Since Macy's announced last month its plans to open its doors earlier than ever – 6 p.m. – on Thanksgiving Day, it seems like all the major retailers have begun announcing their also-early store hour schedules for to the holiday season kick off. And it has been getting me down. I recently came across a news report on the website of NBC affiliate WGRZ Channel 2 in Cheektowaga, NY, that only made me sadder. A mall is forcing all of its retail tenant to open their doors by 6 p.m. on Thanksgiving Day – or be charged a $200 fine ...

On The Beat

Cecile Corral

August 6, 2014

There will always be a place for school spirit on t-shirts and caps. But among the rapidly growing tres chic crowd this back-to-campus season, college and university logos might not make the grade for many of today's dorm dwellers. If you've been shopping lately in stores or online, you'll know what I'm talking about: Much of the latest dorm décor items out there -- from Target, Ikea, and BBB to Dormify.com, ModCloth.com, and PBteen – target a student body that is tapped into trends and eager to seek out and spend on fashionable finds that ...
All Blogs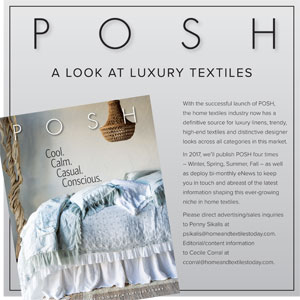 Check out the latest issue of POSH, Progressive Business Media's luxury textiles publication. Inside you'll find features on current trends in high-end home fashion, retail, demographics, marketing and product innovations. See the issue here.
You can also sign up to receive our POSH e-newsletter for free every 1st and 15th of the month.
Click here to start your free online subscription.
More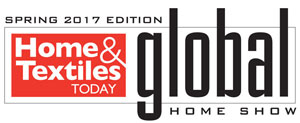 H&TT's Global Home Show is set for March 26-30, 2017. It is the ideal venue for U.S. and foreign-based suppliers looking for temporary space for Market Week. All exhibitors also get strong marketing support from H&TT, in print and online. It's the most cost-effective and convenient way to show at New York Home Fashions Week. Get details!