International Developments - China | Home Textiles Today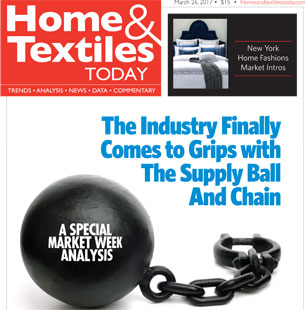 See the March 2017 issue of Home & Textiles Today. In this issue, we discuss the ther supply ball and chain, plus the latest trends in bedding, accessories, window, bath and rugs. See details!
The Thread

Jennifer Marks

March 13, 2017

To invest or divest, that is the question

It's been an eventful first quarter, filled with some surprising initiatives and some not-so-surprising store closings and layoffs. It's hard to decide which came as the bigger bombshell, Target's announcement that it will become a radically different retailer over the next three years or TJX Cos.' decision to launch a new home furnishings chain. Apparently TJX hasn't heard the country is overstored. Neither has Ross Stores, which will add another 90 units this year. Nor Dollar Tree, which plans to open 650 new units on top of the 14,000-plus it already operates. Then there were ...

Home Alone 3

Warren Shoulberg

March 13, 2017

Have you heard that the death of the American department store is imminent and that poor old Macy's is about to be history? Have you heard the one about the three buyers who walk into a bar and…? Before anyone gets their planograms all bunched up in a wad, let's do a little realty check. Maybe, just maybe, some of these reports are just stories chasing headlines. Fake news, anybody? 1. Like virtually every other retail business that gets the vast majority of its sales from physical stores, department stores – Macy's included – are having a tough time ...

Home Alone 3

Warren Shoulberg

February 20, 2017

Farewell to the heyday of the Great American Shopping Center. We knew thee well. But it ain't over yet. The waning days of many malls have been in progress for over a decade and if the pace is accelerating more recently, it's not surprising. With Macy's closing 100 stores, Sears baling out of centers as fast as they can and others likely to follow, it doesn't take a real estate scientist to figure out that malls are, if not an endangered species, at least a diminished one. A lot of the B and C malls are ...
All Blogs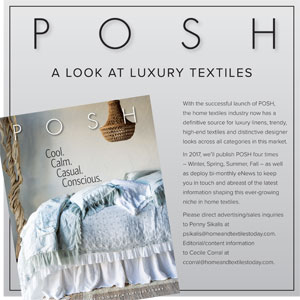 Check out the latest issue of POSH, Progressive Business Media's luxury textiles publication. Inside you'll find features on current trends in high-end home fashion, retail, demographics, marketing and product innovations. See the issue here.
You can also sign up to receive our POSH e-newsletter for free every 1st and 15th of the month.
Click here to start your free online subscription.
New York Tabletop Market

April 4, 2017 - April 7, 2017

New York , New York

DesignBloc

April 5, 2017 - April 6, 2017

New York, New York, US

Home Expo India

April 16, 2017 - April 18, 2017

Delhi, IN
More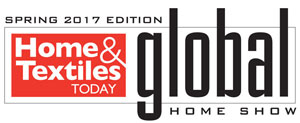 H&TT's Global Home Show is set for March 26-30, 2017. It is the ideal venue for U.S. and foreign-based suppliers looking for temporary space for Market Week. All exhibitors also get strong marketing support from H&TT, in print and online. It's the most cost-effective and convenient way to show at New York Home Fashions Week. Get details!