International Developments - China | Home Textiles Today
advertisement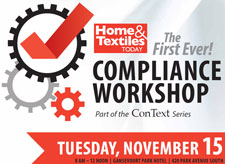 The most important issue of the decade for the home textiles industry is the subject of this unprecedented halfday session with presentations from industry authorities on standards, fiber and fabric authentication, testing and compliance processes. See Details!
The Thread

Jennifer Marks

November 21, 2016

It's cold today in huge swaths of the U.S. – the first day for hats, scarves and gloves. Arriving right on cue ahead of the kick-off to the holiday season, it's the kind of weather that should put people in the mood for shopping. But it wasn't cold, or nearly cold enough, during the holiday 2015 shopping season. That left a lot of retailers sitting on a pile of unsold coats, jackets and other cold weather goods. They vowed in the aftermath they would not make the same mistake this year. Many of them put a name ...

Home Alone 3

Warren Shoulberg

November 21, 2016

No one's ever going to accuse retailing of being the same-old/same-old. There's always something new going on when it comes to how stores do business. Case in point: retail plans for Thanksgiving. They are most certainly an ever-changing – and largely inconsistent – state of affairs. It was maybe only about five years ago when retailers initially jumped the gun on Black Friday and started to open earlier. It began with midnight openings, spread to evening hours and then eventually crept into a virtual all-day affair for many stores. Another sacred cow slaughtered by the retail gods. While a ...

The Thread

Jennifer Marks

November 7, 2016

While a sense of caution seems to pervade some of the largest home textiles retailers, it's worth noting several companies continue to move very aggressively — regardless of consumer uncertainty. Let's start with the one that's positioning itself to become the Amazon of the home furnishings world: Wayfair. As of Nov. 1, it has launched 21 initiatives involving new products, category expansions, new services and additional customer support operations. Those were just in the U.S. market. Its newly announced monthly installment financing option takes aim at consumers loathe to use credit (especially, Millennials) as well as, one ...
All Blogs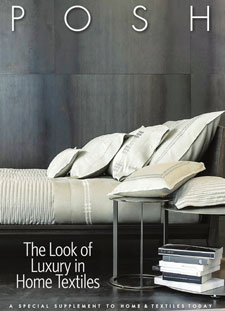 Welcome to POSH, the new publication on the luxury home textiles market from Home & Textiles Today. Take a look and you'll see features on fashion, but there's also much more on demographics, marketing and trend directions. And watch for the debut later this summer of the POSH e-newsletter as well as the next print edition this winter. Click on the cover image above to take you to the digital edition of the very first POSH.
See the issue.
More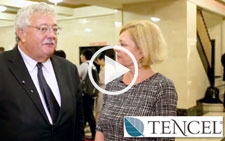 Join HTT Editorial Director Warren Shoulberg and Editor-in-Chief Jennifer Marks as they report from the Fall 2016 New York Home Fashions Market. Each day they will share news about the trends coming out of showrooms and the hot topics of the market week. See the videos! Video coverage sponsored by Tencel.
advertisement